Are Your Display Ads Failing? 3 Easy Ways to Get Them On Track
Did you know that you're more likely to die of a heart attack than click on a display ad? There's a reason for that.
I mean, a display ad like this would give most people a heart attack…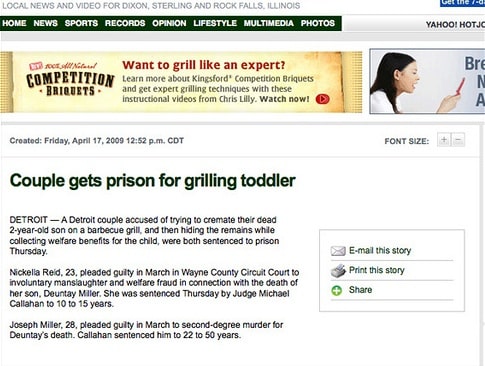 Now, admittedly, most display ad placements aren't quite this bad, but every online advertiser struggles to get their banner ads in front of the right audience.
But, if you can get your ads to perform, display advertising can be great for brand awareness and a powerful way to drive people to your site who might not encounter your business otherwise.
Fortunately, most advertisers already have the analytics data they need to get great results from display advertising—they just need to know how to use it.
Here are 3 easy ways to use your analytics data to improve the performance of your display advertising:
1. Refine Your Display Ad Placements
If you leave everything up to Google, your ads will end up on a ton of websites. That's great…unless you're on the wrong sites.
For example, a company like Salesforce, Slack or Moz might decide to target their ads using a topic like "Business & Industrial > Advertising & Marketing > Marketing."
While the topic seems logical, their ads won't just show up on business sites like Inc.com, they'll also show up on sites like GetJar: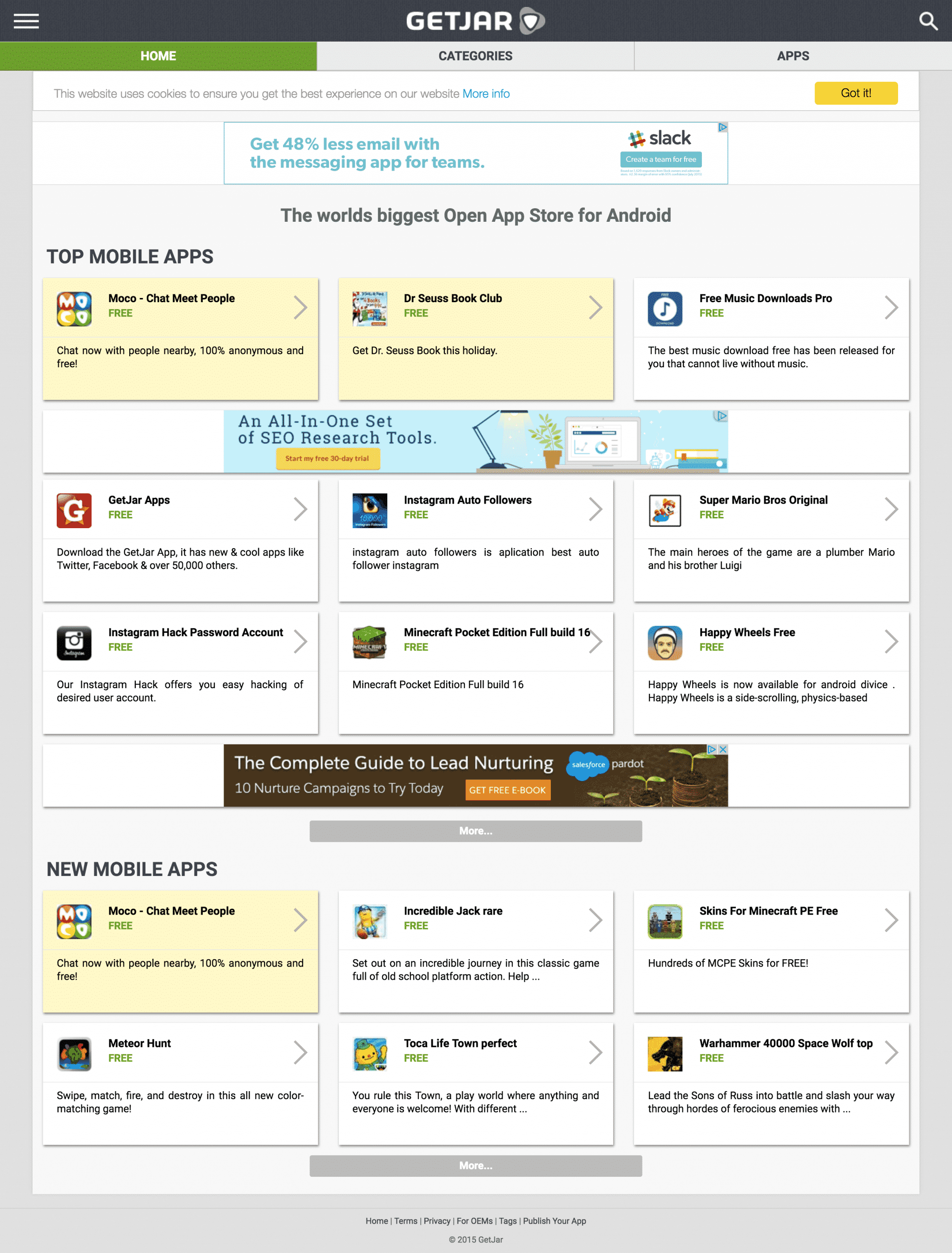 It's just a shot in the dark, but I'm betting that Salesforce, Slack and Moz aren't all that interested in Instagram password hackers…
Even if Slack is using an in-market audience to target by interest—if you happen to be an Instagram hacker who is in a CRM purchasing pattern—you still might see their ads on GetJar.
In this case, you're probably more likely to click than the average GetJar visitor, but if you're looking for ways to hack Instagram passwords, you're probably not thinking a whole lot about your company's instant messaging needs.
So, even though GetJar might fall under the topic or interest Slack picked for their display ads, it's probably not the best placement for their business.
However, if your ads are showing on GetJar or a similarly irrelevant site, it's pretty easy to fix things.
Open AdWords, set your time window to the last 6-12 weeks, choose the appropriate campaign and click Display Network.
From there, click on "Placements" to see where your ads have been displayed during your time frame: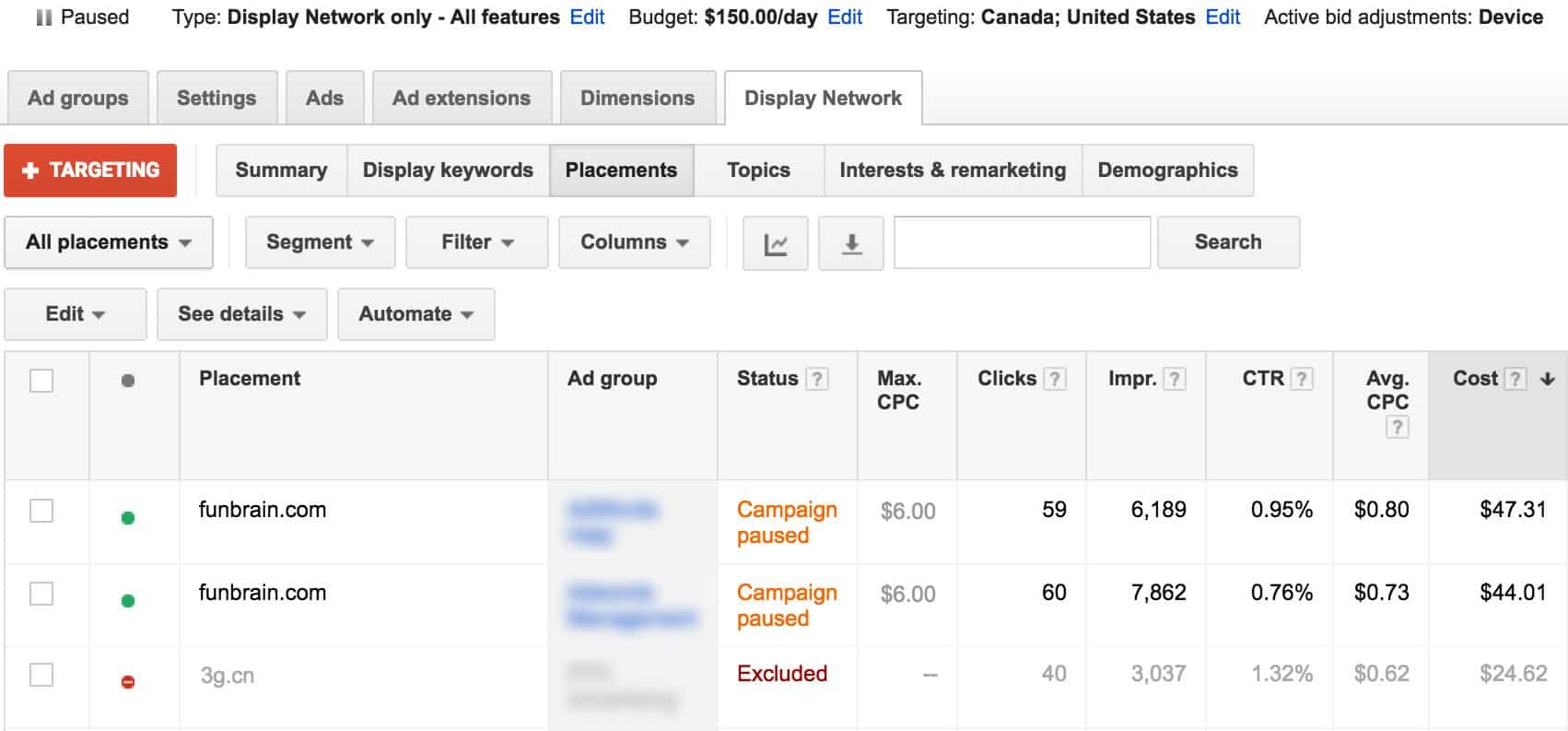 Note, if you specifically told AdWords to display your ads on specific websites, those placements will have a "Managed" status. Sites that Google chose using your targeting setting will have an "Automatic" status.
Now that you can see where your ads are showing up, sort your placements list by cost and/or impressions.
Do you have a lot of clicks but very few conversions on a particular site? Do certain sites have a lot of impressions but few clicks? Is most of your ad spend going towards a site that isn't producing value for your business?
If you find a site that doesn't make sense for your business, click "Edit" and exclude it. On the other hand, if you find a winner, click "+ Targeting" and add it as a managed placement.
This approach takes consistent time and effort, but it can cut a ton of wasted spend and help you get much better results from topic- or interest-based targeting.
2. Target the Right Keywords
Where topics and interests targeting use Google's site categories to target your ads, contextual targeting uses lists of keywords to determine where ads will show up.
Choose the right keywords and this approach can be great. Choose the wrong keywords and you might end up advertising your grilling briquets in regrettable places…
Contextual targeting is completely reliant on Google's ability to match your keywords to relevant content. Unfortunately, while Google's bots are good at finding pages and sites that use your keywords, intent and meaning often escape them.
So, if you want contextual targeting to work well, you need to know which keywords and phrases your target audience associates with your niche.
This might sound like a bit of a guessing game, but if you're running paid search campaigns in addition to your display ads, you can easily figure out what words and phrases people use when they are interested in your product or offer.
To see how people find your text ads, open AdWords, set your time window to 6-12 weeks and click on the Keywords tab. Next, click on "Search terms":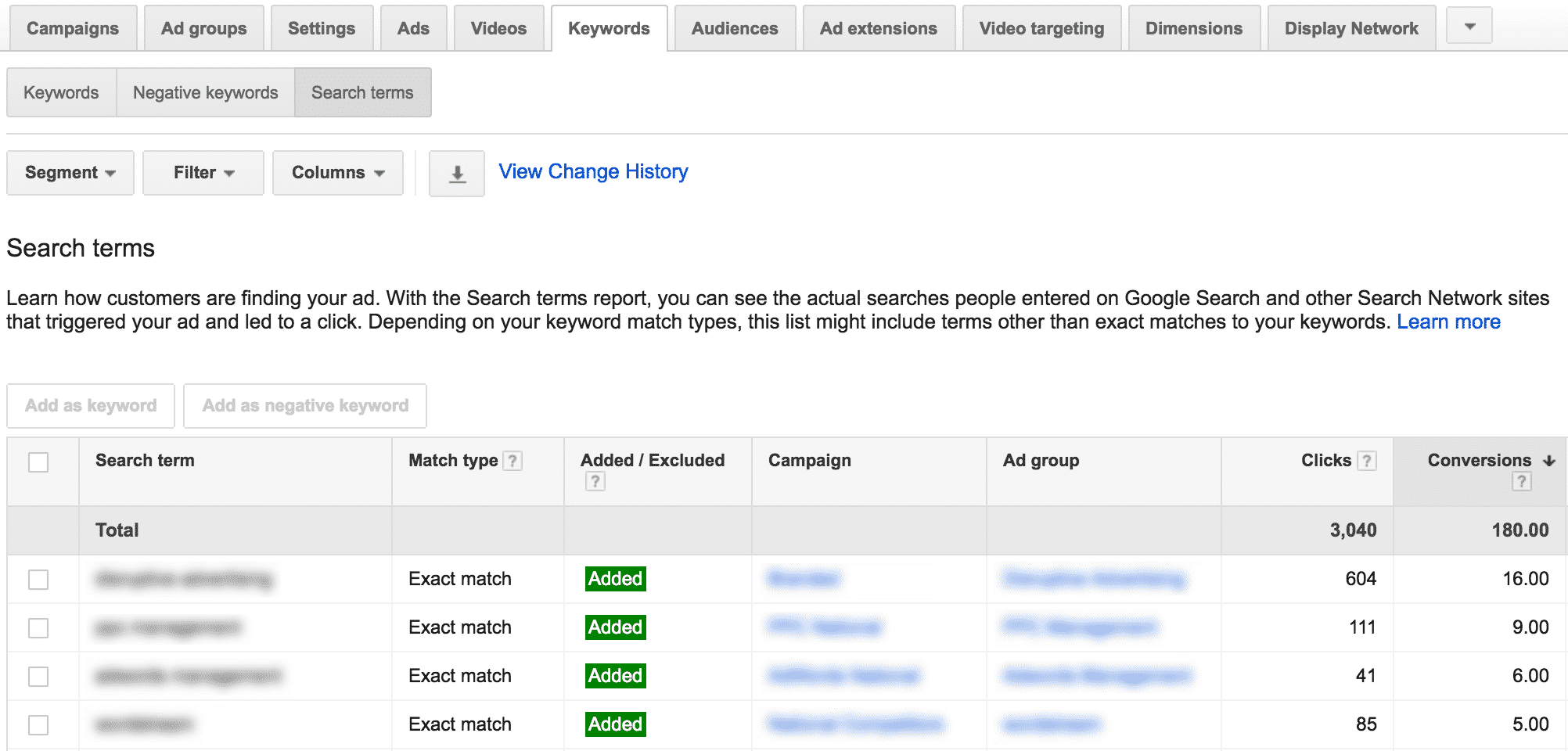 From here, you can use Impressions, Clicks and/or Conversions to identify the search queries that produce your best traffic.
If you're like most businesses, you'll probably have one or more groups of similar, high-producing search terms that you can use to build your keyword lists.
Once you've identified and uploaded your keywords, you'll want to wait for a month or two while Google finds the right sites and ramps up your ads. Once that's done, you can filter through your placements and decide which websites are worth keeping (see above).
3. Use Your Demographic Data
Although it seems simple, many advertisers overlook the power of demographic data in display advertising.
For example, if your target market is women under 25 and your ads are primarily showing to 65+ year old males, you may need to tweak something.
To see who your target demographic should be, open Google Analytics, click on "Audience," expand the Demographics submenu and then click on "Overview."
Then, change your segment to "Converters":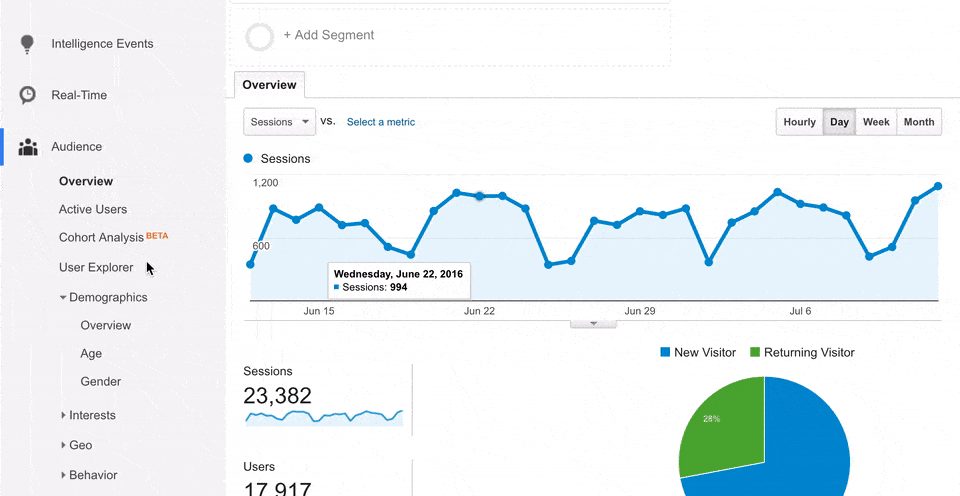 Using this report, you can easily see which age and gender demographic you should be targeting with your display ads.
For example, if you're like the client in this GIF, targeting people younger than 25 or older than 44 probably isn't a great idea. This client simply doesn't get conversions from pentagenarians.
You can also learn more about your target audience using the AdWords Report Editor: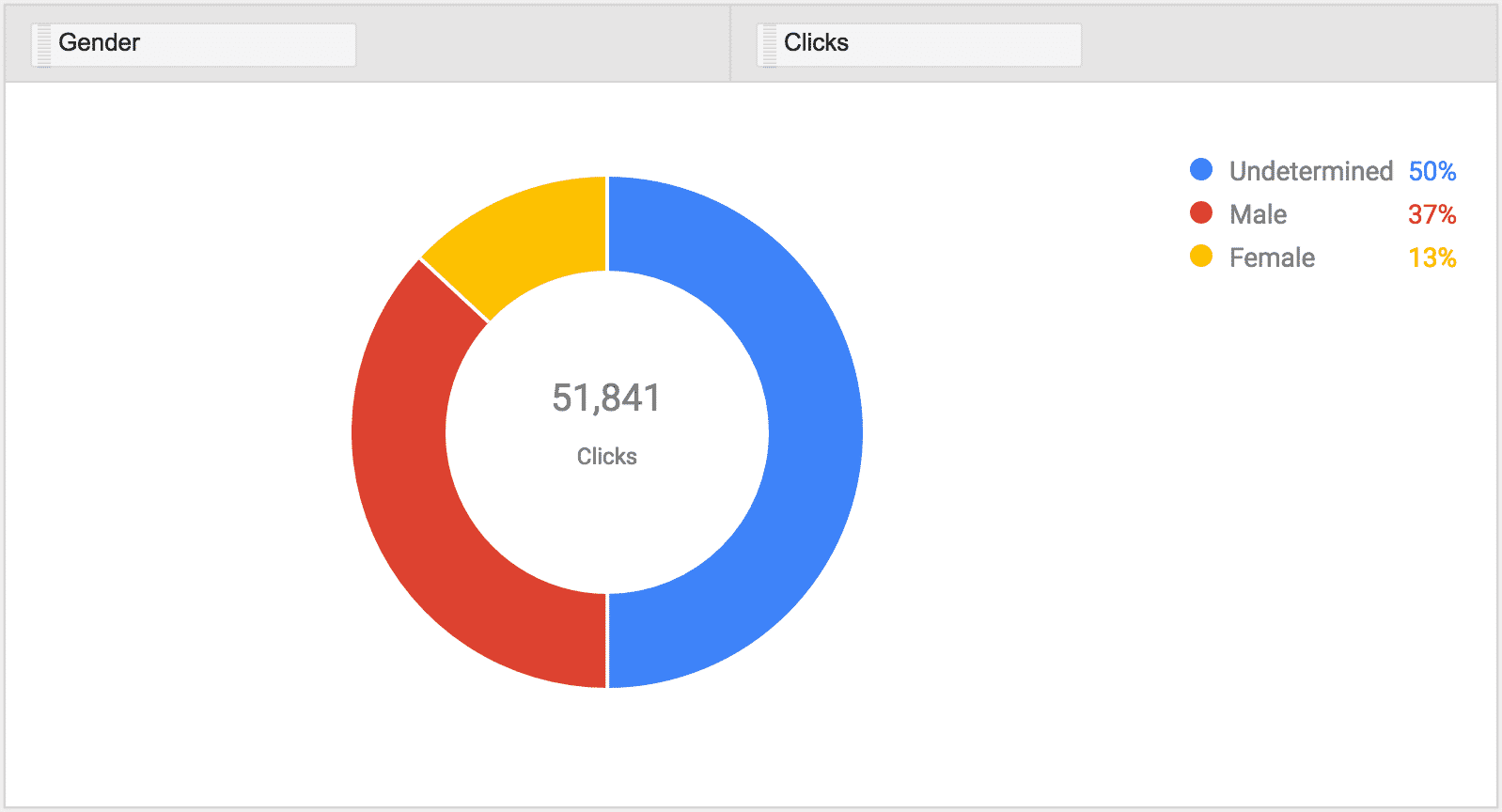 In this case, this client is receiving 3x as many clicks from men as they get from women. For this client, exclusively targeting women would probably be a bad idea.
Once you've got this data in hand, it's time to take a look at your display advertising demographic data.
Open AdWords, click on the appropriate campaign and click on Display Network. Click Demographics:

Notice the similarities between the last two reports and this one?
In this report, AdWords shows you the age, gender and parental status of the people who see, click on and convert from your ads.
The above example is showing data from the same client as the Report Editor and Google Analytics data we looked previously. If you compare the data sets, it's clear that the display ads are reaching about the same age ranges and gender distribution as their search ads, so it looks like they're targeting the right audience.
However, if there was a mismatch between this data and the paid search or Google Analytics findings, changing up the demographic targeting would be an easy way to get more out of this client's display ads.
Conclusion
Unfortunately, if you want your display ads to deliver great results, you're going to have to put a little extra effort into your campaigns.
Otherwise, your ads might end up in a situation like this: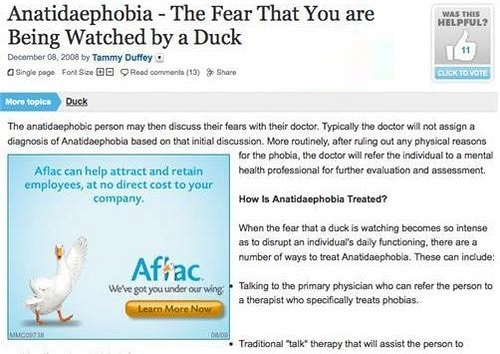 But, if you're willing to pull and use your analytics data, you can easily put together the kind of targeting that drives real results for your business.
By the way, if you'd like me to take a look at your advertising campaigns and give you some advice on how you can improve you display advertising results, let me know here or in the comments!
You've heard my two cents, now I want to hear yours. How do you use your analytics data to improve display ad performance? Have you ever seen any epic display ad fails?
Leave a comment