Opening an eBay Store: Everything You Need to Know
Aden Andrus• May 16, 2018
If you run an eBay-based ecommerce business, you're probably thinking about opening an eBay store. What could be more natural?
Unfortunately, compared to other online shopping subscriptions like Amazon FBA, creating an eBay store doesn't offer a ton of perks.
When you get right down to it, opening an eBay shop really only gives you a small discount on listing and final value fees and the ability to put your fixed-value items on hold while you go on vacation.
Those are nice, but hardly game-changing perks.
Still, for many eBay sellers, opening an eBay store can be a great move—especially if you know how to make the most of your store. And, in this article, we're going to help you with all of that.
First, we'll discuss some minimum criteria for opening an eBay store and then walk you through how to set up an effective store. Sound like a plan? Let's get started!
Should You Open an Ebay Store?
While owning an eBay store isn't all that it's cracked up to be, the service isn't necessarily bad. In fact, if you meet certain criteria, signing up for an eBay store can save you a few hundred dollars a month.
Here's when opening an eBay shop is a smart move:
You create 200+ profitable listings a month. If you've made $500 or more from a couple hundred listings a month for at least 2-3 months, creating an eBay store is probably a good move. You have a decent chance of getting some value out of your store page and switching to a subscription will probably save you some money on fees.
You primarily sell electronics. Even if you don't sell a ton of items on eBay, if you're selling electronics, signing up for a Basic or better plan can save you 4-6% on final value fees. On most electronics, that discount should allow you to recoup the cost of your subscription fee with a handful of sales.
You primarily sell big-ticket items. If you sell items for over $3,000 at least once a month, an eBay store can potentially save you a lot of money on final value fees, since those fees cap out at $250 for stores, rather than the $750 cap regular sellers face.
If you don't meet the criteria above, it probably isn't worth investing in an eBay store. You can always start as a regular seller and then—once you meet one of these criteria—upgrade to store status, so why not save a little money while you get your eBay business to viability?
Choosing the Right eBay Store Subscription
If opening an eBay store makes financial sense for your business, you'll need to pick the right subscription level. Here are the different levels eBay offers to sellers:
eBay Store Monthly Fees and Free Listings
Store Type
Monthly Renewal
Yearly Renewal
Auction-Style Listings
(free/cost per extra listing)
Fixed-Price Listings
(free/cost per extra listing)
Starter
$7.95
$4.95
100/$0.30
 100/$0.30
Basic
$27.95
$21.95
250/$0.25
250/$0.25
Premium
$74.95
$59.95
500/$0.10
1,000/$0.05
Anchor
$349.95
$299.95
1,000/$0.05
10,000/$0.05
As you can see above, eBay gives you a discount if you commit to a yearlong subscription, but we generally don't recommend taking advantage of this deal (more on why below).
Starter is Stupid
In general, we don't recommend the Starter level subscription for anyone.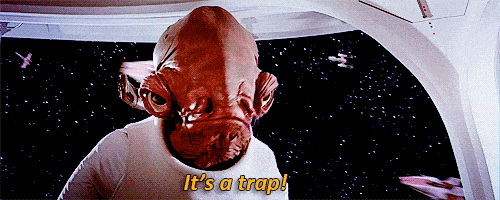 Here's why: eBay gives regular sellers 50 free zero insertion fee listings. Every additional listing after that costs $0.30.
If you're running 100 listings/month as a regular seller, you would spend $15 a month on listing fees (50 paid listings at $0.30 a pop). With an annual Starter subscription, you'd spend $4.95.
For most businesses, $10/month really isn't a big deal. Combine that with the fact that a Starter-level subscriptions doesn't give you access to discounts on final value fees and it really doesn't make sense to open a store until you reach at least 200 listings a month (or meet our other criteria).
Pick a Tier that Matches Your Listing Volume
Once you start running hundreds-to-thousands of listings a month, discounted listing and final value fees start to add up. At that point, which package makes the most sense for your business really becomes a question of volume.
The best way to make the most of your subscription fee is to pick a tier that is as close as possible to the average number of listings you place in a given month.
For example, if you typically place about 300 listings, it's cheaper to get the Basic package and then pay $12.50 for the extra 50 listings than it is to pay an extra $47 a month to make those 50 extra listings "free".
Since the only real difference between each of these tiers is the number of "free" listings you get, you just need to pick a tier that matches your current listing volume.
Listing volume can be fairly volatile for many eBay stores, so it usually works out best to stick with a monthly plan. That way, if your listing volume increases or decreases, you can simply adjust your plan.
Setting Up Your eBay Store
If you've met our recommended criteria for opening an eBay store, you should already have your own eBay business account.
Creating an eBay Business Account
On the off chance that you're just getting into selling on eBay and plan on selling a lot of electronics, you can set up a business account by clicking on "Register" in the upper left-hand corner of the eBay home page: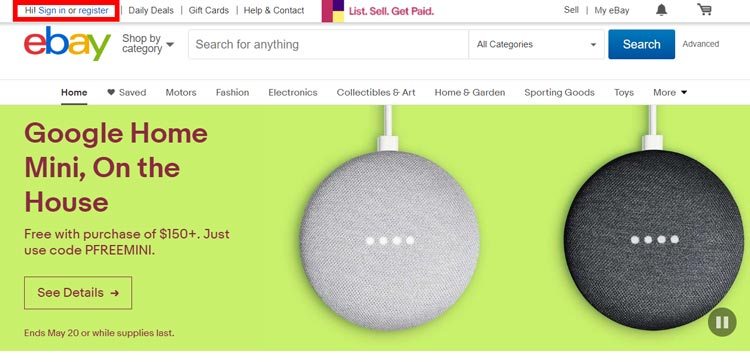 From there, you'll have the option to create a personal or business account. Since you'll be selling with the intent to make a profit, pick business: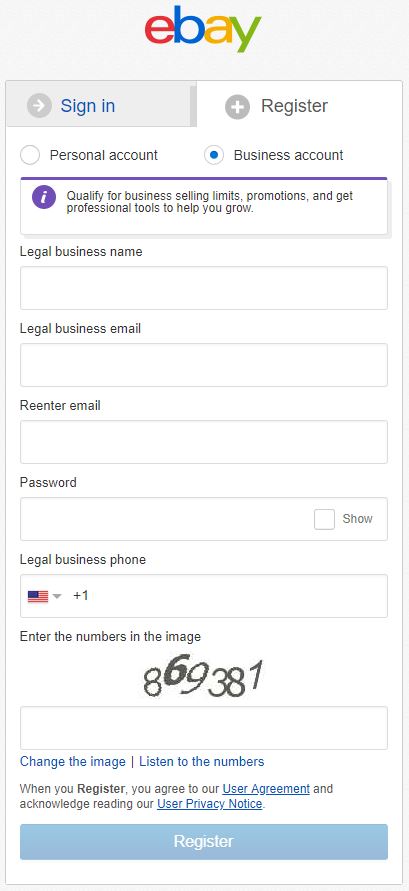 You'll need to fill out all of the relevant information (including your business name, address, ID numbers, etc), but the process is fairly straightforward and self-explanatory.
As a quick side note here, an eBay store really only makes sense if you're using eBay as a legitimate source of income.
While you can open an eBay store using a personal account, with the level of volume and revenue that you need to justify opening a store, it's really best just to register as a business with the government and open a business account.
If you do it right, this can protect from a lot of liability and allow you to write off many of your costs (including your monthly subscription) as business expenses.
Converting to an eBay Business Account
If you happen to have gotten started on eBay with a personal account and now need to convert to a business account (congratulations, by the way), you'll need to mouse over your name in the upper left-hand corner and click on Account Settings.
From there, click on "Personal Information" and then click "Edit" next to Account Type: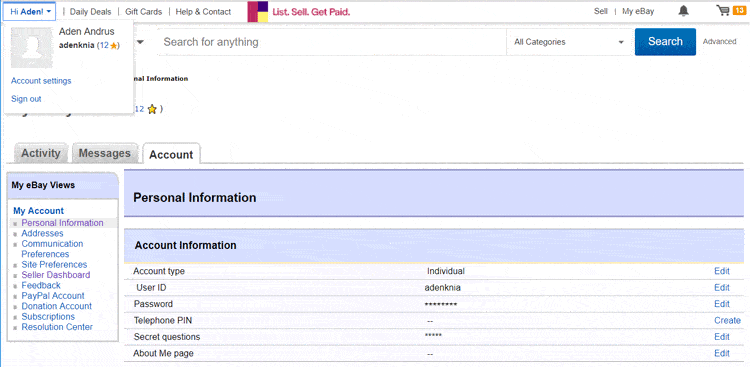 From there, all you have to do is type in your business name, create a business account and fill in all the relevant information. Easy enough, right?
Creating Your eBay Shop
To open an eBay shop, log into your business account, mouse over your name in the upper left-hand corner and click "Account settings":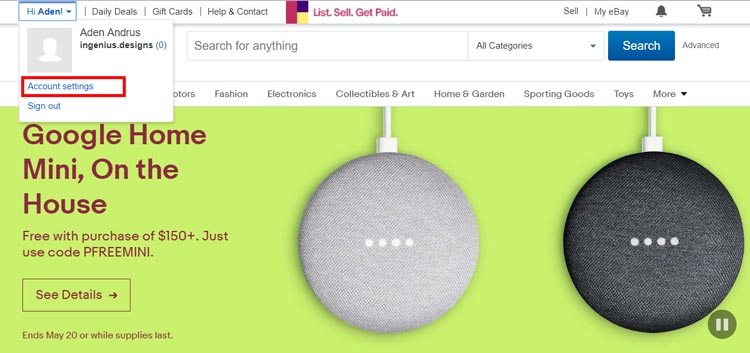 Next, click on "Subscriptions" in the left-hand sidebar: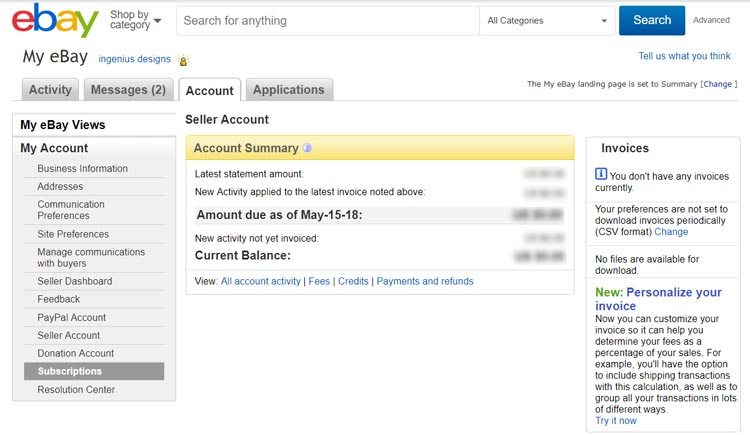 On the following page, eBay will list a bunch of "perks" of opening a store, but you already know what you want to do, so just click on the blue "Choose a Store" button.
At this point, eBay gives you 5 packages to choose from:

The rest of the page is a fairly involved series of comparison charts, but as we've already pointed out, the only meaningful difference between these tiers (ignoring "Starter") is the number of free listings you get.
So, pick the package that is right for your business and click "Select and review".
On the next page, you'll have the option to choose whether you want a monthly or yearly subscription package.
Our general recommendation is to stick with the monthly package until you have a really good feel for how many listings you are running each month. That way, if you can easily upgrade or downgrade if your listing volume changes.
Here, you'll also need to pick your store name. Your name will need to meet a few criteria, but other than that, it's up to you. eBay also recommends that you use a descriptive name like "Custom Swords and Armor Emporium" rather than a more creative name like "Ingenius Designs".
Personally, I think it's unlikely that the name of your eBay store will have a huge impact on its success or failure, but you're free to use whatever naming approach works best for you.
Designing Your eBay Store
At this point, it's time to build your store. There are four basic ways to do this:
1. Hire Someone
The easiest way to customize your eBay store is to hire someone else to do it for you. You can either hire a developer directly or pay a company like eFusion World or Power Seller Templates to create and implement a unique HTML-based design for your store.
You'll have to pay to have someone else do the work for you, but this option is usually the best way to create a truly custom eBay storefront.
2. Use an eBay Store Design App
eBay offers a variety of apps that you can add to your account. Two of these apps, Store Designer by 3D Sellers and Store Design Themes by PMIT, offer an interface you can use to customize the look and feel of your store: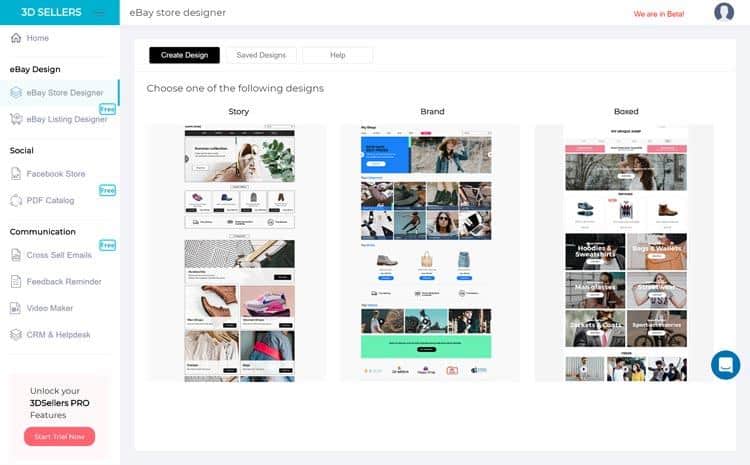 Of course, this app comes with a $7.99 monthly fee (Store Design Themes costs $3.95/mo), but if you also use some of the app's other services (like the listing designer), this can be a good way to easily create a beautiful, customized storefront.
3. Upload an eBay Store Template
Sites like Template Monster offer prebuilt store templates that you can use to design your store. These typically come with either monthly or one-time fees.
As you look into store templates, keep in mind that active content (typically Flash or Java-script based) was recently banned by eBay, so you will need an HTML-based template that is compliant with current eBay policy.
4. Do It Yourself
The cheapest way to design your eBay store is to simply do it yourself. In general, I recommend this option for most sellers. In my opinion, the average eBay seller simply doesn't get enough benefit out of their store page to justify paying for a custom storefront.
If you choose to customize your store design on your own, you'll want to start by visiting on My eBay > Manage My Store > Display settings. Next, click "Change to another theme" to start making changes to your store design.
Your eBay store has 10 basic elements that you can edit: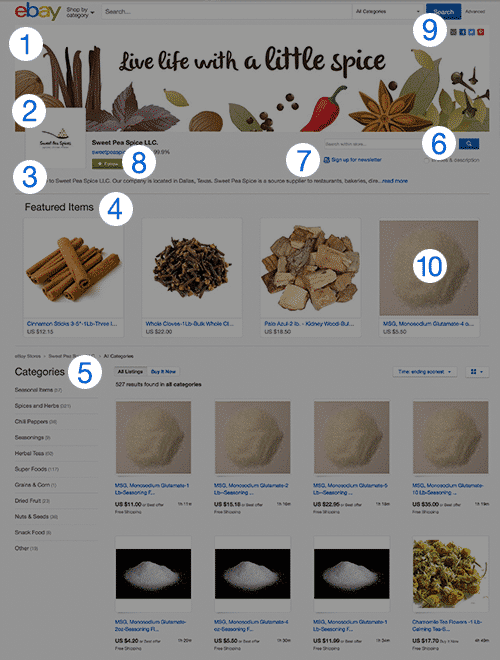 Let's take a look at each of these elements in more detail:
1. Billboard Image
Your billboard image (1200 x 270 px) is the first thing people will see when they visit your eBay store, so let's spend a little extra time discussing how to get this key part of your store right.

Here are a few things to keep in mind:
Relevance and context. It might seem obvious to choose a billboard image that is relevant to your brand and products, but relevance is a quality that is often overlooked on eBay store pages. People respond very strongly to visual cues, so take advantage of this and use a billboard image that is relevant to your brand.
Value. Your billboard image is

n't just there to make a landing page look pretty—u

se your hero shot to showcase the value of your product or service! 

For example, if you sell supplements that give you energy, use a hero shot of someone exercising or looking happy and energized.
Emotion. Pictures—especially the right pictures—create an emotional experience for your audience. The easiest way to create an experience for your visitors is by picking a hero shot that sparks an emotional reaction. Think about why people buy your products and choose an image that reinforces the emotion behind their purchasing decision.
The right billboard image can make people more likely to buy from you. The wrong billboard image can send them running for hills. So, it pays to take the time to really think through your billboard image and pick one that matches your business perfectly.
2. Store Logo
Your store logo (150 x 150 px) is like your social media profile picture—it should quickly and memorably encapsulate the essence of your business.
If you're not a Photoshop expert, you can easily build your own logo online for free here: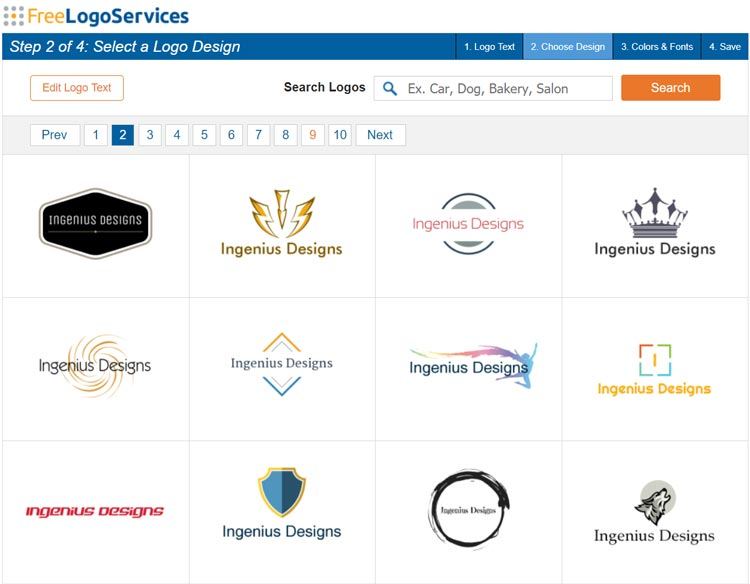 This builder will walk you through the whole process of creating a logo for your site and then provide you with hundreds of options to choose from. It's not quite as nice as having a designer create a truly custom logo for you, but for a free service, it's pretty good.
3. Store Description
Your store description needs to achieve two very different goals:
First, your description should tell your brand's story and help people connect with your business.
What is your store all about?
What sort of products do you sell?
What makes you and your store unique and memorable?
Why should people buy from you?
Covering these sorts of topics in your description can help people feel more comfortable with you as a seller and make them more likely to buy.
Second, your store description is one of the ways people will find you and your products. With that in mind, you'll want to make sure that your description includes important keywords that are relevant to what you sell without losing that personal touch.
4. Featured Items
This is where you can feature products that you really want to sell. These could be popular products, particularly profitable items or merchandise you just want to get rid of.
5. Categories
For customers, one of the advantages of visiting a seller's store is the ability to search through categories of products.
So, if you sell TVs, cell phones and laptops, it is a good idea to create separate those items into different categories. That way, someone who wants to buy a laptop doesn't have to sort through all of your phone and TV listings to see if you have a computer they want to buy.
6. Store Search Box
If you meet our criteria for opening an eBay shop, you probably have hundreds of listings up at any given time. Like creating categories, the store search box helps potential customers sort through all of your listings and find what they're looking for.
When people use a store search box, their search results are limited to your listings. This is great, because there's no guarantee that they'd find your listings in a general eBay search—even if you have exactly what they're looking for!
7. Newsletter Sign-Up
If you sell particularly unique items or run great deals, people may want to get emails about what you're selling. The newsletter sign-ups feature allows you to get a list of emails from people who want to be kept in the loop.
As long as you actually run a regular newsletter, this is a great way to bring customers back for more.
To help you make the most of your newsletter subscribers (and anyone who clicks "Save this seller" on a listing of yours), eBay has several ready-made email templates you can use for free. To access these templates, open your account and click Marketing Tools > Email Marketing.
A good eBay newsletter typically includes some or all of the following:
Subject line. Your subject line should be catchy and to the point. For example, "Father's Day Sale! 30% Off All Swords" or "Just In! New Medieval Dresses",
Header. Your header is usually the first thing someone sees when they open your email. It should reinforce or repeat what was in your subject line and help build excitement about the content of your email.
Personal Message. When it comes to eBay seller, most people imagine a real person on the other end of the transaction, not just a disembodied spirit of all things business-like. Including a personal message in your emails reinforce this idea and helps people feel more connected to you and your business.
Featured Items. If your email is about specific items, it's a good idea to include pictures and/or descriptions of those items. If you use the eBay templates, these items will appear as large images at the top of your email.
Item List. eBay's templates also give you the ability to display up to 50 items in an email. So, if the sale you're emailing people about covers 12 different items, you can include those items in your email so that people can see what's for sale without actually having to leave their inbox.
Seller Feedback. If you have great ratings, you can include a link to those ratings in your emails. This can help wary customers feel more comfortable buying something from you.
To learn more about how to make the most of your email subscribers, check out this article.
8. Follow Button
This works just like "following" a business on Facebook. Once a potential customer follows your business, your items will show up in their feed and they'll be more likely to make a purchase.
9. Sharing Buttons
If people really love your store or your items, they can share them on social media. I have a hard time imagining how much use this gets in real life, but on the off chance that someone wants to share your store or items on social media, all it takes is a button click.
10. Larger Photos
Even if you don't feel a need to use "featured images", you may still want to include items here for your mobile shoppers. These images are bigger and show up on top of your store feed, so they can be a good way to grab the eye of shoppers.
Conclusion
And that's it! Once you've designed your eBay store and saved your changes, you should be up and running.
Of course, opening an eBay store is just the beginning. There are lots of changes and tweaks you can make to your marketing, store design, emails and listings to increase sales. But, there will be time for that in the future.
For now, enjoy your listings and final value discounts, let your store run for a little while and then check back in here in a few weeks for more ecommerce marketing tips!
How do you feel about eBay stores? Are they worth the money? Any tips for designing an eBay shop? Leave your thoughts in the comments.
Leave a comment