How To Open an eBay Storefront
by Aden Andrus • May 16, 2018
Ecommerce is one of the fastest-growing sectors of the economy, and experts predict that it will  keep expanding in the years to come. If you run an ecommerce business, you're probably looking for ways to make the most of this moment. If you already sell on eBay, you may be considering setting up an eBay store as a way to expand your existing business. 
Opening an eBay store can be great for some ecommerce businesses, but it may not be the right thing for everyone. eBay doesn't offer the same level of perks as services such as Amazon FBA do. In fact,  opening an eBay shop just gives you a small discount on your listings and your final value fees, along with the right to freeze your fixed-value items when you go on vacation.
Is opening an eBay store a good idea for your business or is it more trouble than it's worth? If you're not sure, don't worry. Go through this guide to figure out whether setting up an eBay store is right for you. And then, keep reading to find out everything you need to know to start an eBay store.
Should You Open an Ebay Store?
Depending on your circumstances, opening an eBay store may save you money in the long run. If you have a steady income stream coming in through eBay every month, then switching from a regular seller account to a subscription model probably makes sense for you.
How can you tell whether your income is steady enough? Check to see if one of the following criteria applies to you:
You earn a steady monthly income through eBay:

If you consistently create at least 200 profitable listings per month, then it's probably worth your while to create an eBay store. Likewise, if you've made at least $500 from those listings for at least two or three months, you might want to create a store.

 

You sell big-ticket items on eBay:

Even if you don't have a high volume of sales on eBay, opening a store might make sense if you're primarily selling big-ticket items. If you sell items worth at least $3,000 monthly, then opening a store will save you money on the fees eBay charges for big-ticket sales. Normally, eBay caps those fees at $750, but the site caps store fees at $250.

You sell electronics on eBay:

If you sell electronics, opening an eBay store could also save you on fees. Signing up for even a Basic plan will save you up to 6% on your final value fees, which means your subscription fee will pay for itself after just a few sales. 
If none of these apply to you, then it probably isn't worth your while to invest in opening an eBay storefront. Of course, you can still use eBay as a regular seller. Then, if your business scales, you can always upgrade to store status.
On the other hand, if you do fit these criteria, keep reading to learn how to set up your eBay store.
How Much Does an eBay Store Cost?
An eBay store will come with different costs, depending on the membership level that you decide on. Not sure which subscription tier is right for you? This section will help you decide what's right for your business. eBay offers the following membership levels:
eBay Store Monthly Fees and Free Listings
Store Type
Monthly Renewal
Yearly Renewal
Auction-Style Listings
(free/cost per extra listing)
Fixed-Price Listings
(free/cost per extra listing)
Starter
$7.95
$4.95
100/$0.30
 100/$0.30
Basic
$27.95
$21.95
250/$0.25
250/$0.25
Premium
$74.95
$59.95
500/$0.10
1,000/$0.05
Anchor
$349.95
$299.95
1,000/$0.05
10,000/$0.05
Look closely at each level and decide which is right for you.
Stay Away From the Starter Level
eBay's Starter level isn't a good idea for most ecommerce businesses. The differences between eBay's regular seller program and its Starter program aren't enough to be worth it.
Imagine that you're putting up about 100 listings per month as a regular seller. In that case, you'd spend an estimated $15 a month on listing fees, once you accounted for the freebies that eBay gives regular sellers. With an annual Starter subscription, you'd spend $4.95.
In other words, you'd save just ten dollars a month. We've determined that for most businesses, it doesn't make sense to open eBay stores until you are making at least 200 listings per month.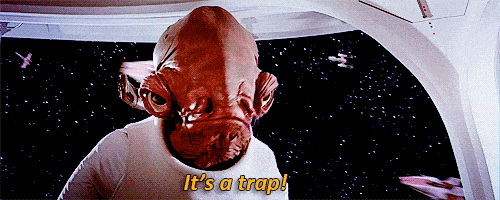 Select Your Membership Level by Volume
The more listings you run, the more you'll benefit from discounts on listing and final value fees. It's a good idea to pick your membership tier according to your listing volume. If you follow this practice, you can get the deepest possible discounts for the lowest rate. 
For example, if you typically place about 300 listings, it's cheaper to get the Basic package and then pay $12.50 for the extra 50 listings than it is to pay an extra $47 a month to make those 50 extra listings "free."
Remember that if your listing volume changes, you can always adjust your plan to meet your needs.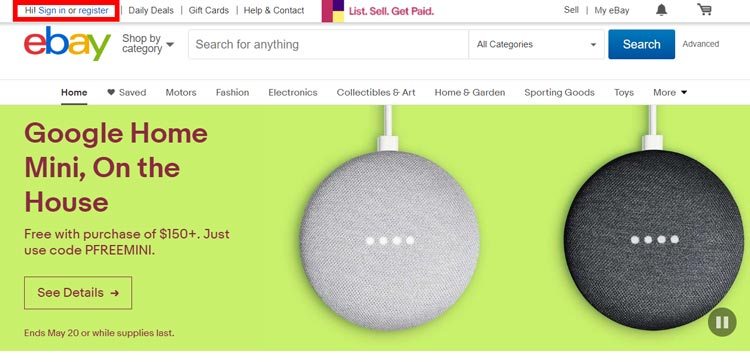 How To Open an eBay Storefront
Creating your eBay store is surprisingly easy. Here are the steps involved in setting up your storefront:
Log into your business account.

Mouse over your name in the upper left-hand corner, and click "account settings."

Navigate to the sidebar on the left.

Click "subscriptions." 

Click on the blue "choose a store" button.

At this point, eBay gives you five packages to choose from. We've already talked about choosing the tier that's right for you. Mouse over that level and click "select and review."

Choose whether you want a monthly or yearly subscription package.

The monthly package is affordable and makes sense, especially when you're just starting your store. Your earnings may fluctuate from month to month, which means you'll want to adjust your membership level to meet your changing needs. Over time, your income may stabilize enough for you to select a yearly subscription package.
Congratulations! Now it's time to pick your store name. eBay does ask you to  meet a few criteria, but your choice is largely up to you. It's a good idea to pick a name that makes it obvious what you sell, of course.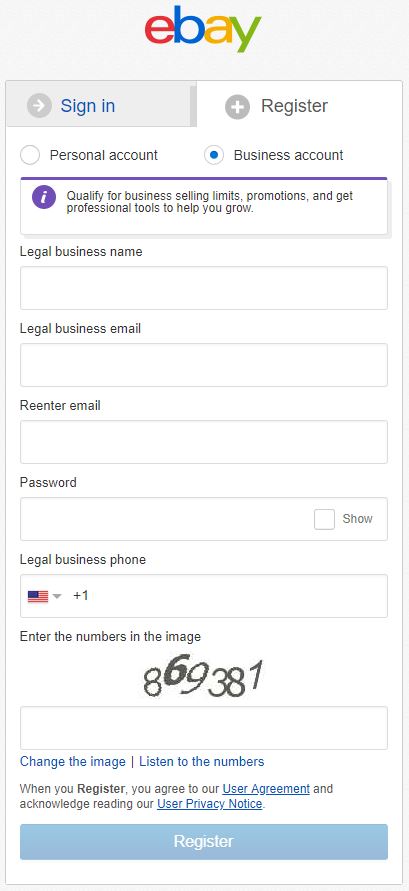 Designing Your eBay Store
Now we're getting to the fun, creative part of the process. After you open your eBay store, it's time to customize it. There are a few different ways to approach this. Pick the one that suits your schedule, skills, and budget.
Hire a Designer
The easiest way to customize your eBay store is to pay someone else to do it for you. There are companies out there, like eFusion World and  Power Seller Templates, that can take care of the whole process for you. You can also hire an individual designer. 
If you can afford it, hiring a designer is probably the easiest, lowest-stress way of creating a great storefront.
Use an eBay App
eBay sells apps that can help you customize your store. Both  Store Designer by 3D Sellers and  Store Design Themes by PMIT are easy to use and give you a lot of options. 
You'll pay a small monthly fee, but the apps come with plenty of other handy features that may make it worth your while.
Use an eBay Template
There are plenty of sites out there — like  Template Monster — offering ready-made templates so that you can design your store quickly and easily. Be aware that eBay recently  banned active content, so make sure you choose a template that complies with the site's rules.
Do It Yourself
Designing your store is the cheapest option, and it also allows you to decide on exactly what you want and to build in those special customer service touches that help you build up a community. It's a little more time-consuming than the other approaches, but you may end up enjoying yourself.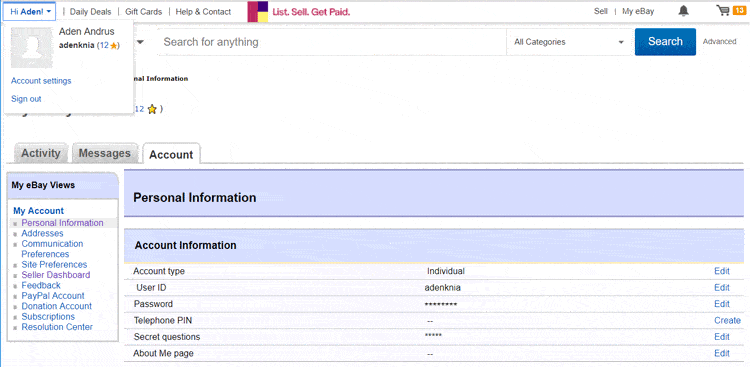 Components To Include in Your eBay Store
There are several components that you'll need to take care of, including:
Deciding on a billboard image:

Remember that people respond very strongly to

visual cues

, and your billboard is the first thing that visitors to your store will see. Pick an image that fits your brand and attracts the eye.

Choosing a logo:

Make sure it's memorable and simple enough to represent your store. You want your buyers to have positive associations with your store whenever they see your logo. Not sure how to create a logo? Try 

using this free tool

.

Creating a store description:

Let customers know what your store offers and what makes it unique. Ideally, your description should tell a story, appealing to your audience's emotions and helping them to remember your business. But you'll also need to use keywords so that your store comes up in a search.

Adding a featured items section:

This is where you group all of the products that you want to move quickly. That might mean your most popular products, or it might just mean products that you want to get rid of. A featured items section is like a virtual sales rack and should be designed to catch customers' eyes.

Setting product categories:

This helps your customers to easily search through your merchandise. Let's say you sell electronics like different phones, laptops, and TV sets. Make sure that you categorize each item so that a customer who's looking for a new laptop doesn't have to scroll through lots of random TV and phone listings before they get to the laptops. They should be able to just click on "laptops" and see everything you offer in that category.

Adding a search box:

How can customers search without a search box? Customers should be able to sort through your listings and find exactly what they're looking for. With a store search box, consumers won't be searching through the whole web, or even through all of eBay, but just through the items in your store.

Including a newsletter sign-up box:

If you do email marketing, put this on your storefront so that you can collect a list of emails from people who are interested in your products. This is a great way to build up a following, promote new products, and keep people informed about your newest offers.

Including social media follow and share buttons: W

hile you're working on your following, don't forget to include a follow button on your storefront. The button is just like the "follow" button you know from Facebook. As soon as someone clicks on it, they'll start seeing your listings in their feed, making it likelier that they'll choose to make an order from your store. You should also include at least one sharing button on your site. Most of us love to get advice from our friends, and we're usually likelier to make purchases from a shop that our friends recommend to us. By extension, if your customers fall in love with your store or your merchandise, they'll want to share their love with their friends. Make it easy for customers to spread the word about your eBay store with the click of a button.
It's also a good idea to decorate your store with plenty of featured images and large photos. Remember that people love visual cues and it's a good idea to make your site warm, colorful, and appealing. Photos are a great way to achieve this.
Final Thoughts
Congratulations! You've learned how to design your own eBay store and use it to build up your customer base. Once you've saved your changes, you should be up and ready to go. Of course, opening an eBay store is just the beginning. There are lots of changes and tweaks you can implement to drive more traffic to your store. For now, enjoy your listings and final value discounts. Let your store run for a little while and then check back here in a few weeks for more ecommerce marketing tips.