What a Waste! Are You Handicapping Your Ecommerce Campaigns?
by Aden Andrus • July 2, 2020
Here at Disruptive Advertising, one of the most common ecommerce marketing mistakes we see is companies wasting too much money on the wrong impressions, clicks or even products.
After auditing thousands of PPC accounts, we've found that the average business is wasting 76% of its ad spend on clicks with no real chance of converting. If we hadn't done the research ourselves, that number would seem almost unbelievably high, but it's true. The vast majority of ad spend is wasted.
In fact, if you think about it, this statistic helps to explain why so many businesses struggle with online advertising. When the majority of ad spend isn't producing anything of value, it's amazing that anyone is making money from online advertising!
Do You Have the Data You Need?
Of course, to track down wasted ad spend, you have to have effective web tracking in place. That's exactly the problem that one of our clients was struggling with when they first came to us.
Over the years, they had invested hundreds of thousands of dollars into PPC advertising. Despite that, their campaigns had never, ever been profitable.
It's amazing that they kept at it, to be honest.
After taking a look at their accounts, it quickly became obvious that before we could do any meaningful optimization, we first needed to set up accurate tracking. We got things set up to track every customer action from click to sale and then waited for the data to come in.
Once we could see what was going on with their campaigns, it became obvious that their cost per sale was much higher than their average order value. It also became obvious why: a significant amount of their budget was going towards clicks that weren't turning into sales.
With that information in hand, it was fairly easy to re-allocate their budget to their profitable campaigns. The results spoke for themselves.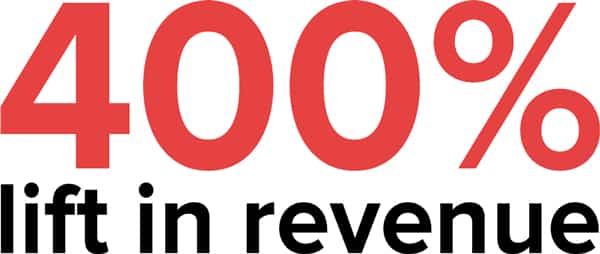 The cost per sale dropped from almost $90 to just over $25 and sales volume jumped up by 400%. All of a sudden, their PPC campaigns were profitable—for the first time ever.
Simply by eliminating wasted ad spend, we were able to improve things to the point where they had to expand their operations into a new building. All we had to do was point their budget in the right direction.
One of our favorite ways to eliminate wasted ad spend with Google Ads is to take a hard look at which keywords are converting and which ones aren't. This is really useful for paid search campaigns, but it can be handy for Google Shopping campaigns, too. After all, while you can't tell Google what keywords your product listing ads should rank for, you can tell them which keywords to avoid.
If you take a look at the last 6 months of data in your account, it's easy to get a feel for how different keywords and search terms are performing for your business. If you're spending a lot of money on keywords that don't lead to sales, you may want to consider removing them, unless they clearly add value as an upper-funnel keyword.
Waste Not, Want Not
Now, wasted ad spend isn't limited solely to unprofitable PPC accounts. Depending on your business, you may be running highly profitable campaigns…and still be wasting a ton of ad spend.
For example, another client came to us because he simply wanted to increase his profits. His campaigns were already running at a 9x return on ad spend, but given some of his other costs, he wasn't making the kind of money he wanted.
When we audited the account, it quickly became obvious his campaigns had a lot of untapped potential. So, we redirected the budget from underperforming campaign elements to more profitable ones and the results were dramatic.
Not only were we able to cut his monthly ad spend by $1,500 a month, but we also increased profits by tens of thousands of dollars a month. Return on ad spend increased from 9x to 15x.
Again, these massive gains weren't the result of major changes in strategy. Instead, we were able to generate these results by turning ineffective ad spend into highly-profitable ad spend.
Conclusion
We've seen stories like this play out too many times to count. Almost every account we've ever worked on has been stuck in an uphill battle against wasted ad spend. Once you redirect that spend to the right places, it's amazing how fast things can improve.
Most businesses are wasting the majority of their ad spend on impressions and clicks that don't turn into sales. It doesn't have to be that way. By thoughtfully looking at your campaign data, you can identify all kinds of opportunities to redirect wasted ad spend into more profitable campaigns.
Of course, this isn't the only way to improve your ecommerce campaigns. For eight other proven tactics we love to use with our clients, check out this eBook. Or, simply let us know you'd like some help here or in the comments and we'd be glad to show you all the hidden potential in your campaigns.