Get the Scoop: 40 Ecommerce Website Templates that You Need to See
Ecommerce
•
Graphic Design
•
Site Optimization
•
Cydney Hatch
June 9, 2018
Have you ever taken a little kid to an ice-cream shop? If you have, you have most likely experienced the painful waiting game of "CHOICE."
Between chocolate, strawberry, funfetti, chocolate chip and every other flavor choice in the place, the kid has to make a decision. They might waiver and take a ton of time because the vast array of flavors is just too much to take in…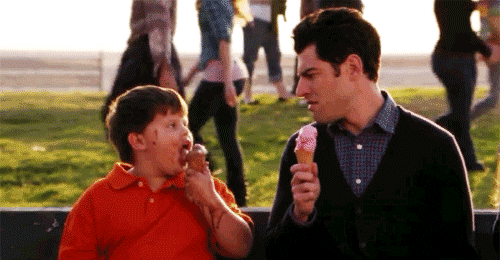 Like this kid, we all fear and agonize over the problem of "choice" as it's paralyzing! Even when we make a decision, we might even quickly regret our choice, thinking we missed out.
Like any first world problem, sometimes the more you have, the harder it is to make a definite choice! That being said, I have written many ecommerce website template articles featuring templates from Shopify, BigCommerce, Magento, Wix and beyond… I have seen the many ecommerce website template "flavors" and, like ice cream, I am overwhelmed but yet excited!
I just want to dig into all of the options! They are GREAT!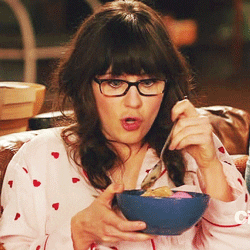 When it comes to creating a visually stunning and successful ecommerce website, you have a ton of choices!
Since I have seen many ecommerce website templates, I wanted to just share a mega-load list of some of the best I have seen. Don't stress and stew, this article is not to make you go crazy, it's to help you see that there are many ways to design and create a successful website.
Choosing a template or design is not something to regret! Chocolate is not any worse than sprinkled peach! Let's scope out and get the "scoop" on some amazing ecommerce website templates!
40 Ecommerce Website Templates That You Need To See
Again, as a refresher before we dive into the templates, here are the absolute basic features any ecommerce software should have:
Product Database
Shopping Cart
Check Out Page
Payment Processor
Order Database
To take a step further, you should also focus on these specifics:
High-Quality Visuals: Quality photography and video—particularly for products—is incredibly important to the success of your ecommerce website template. Your visuals help your customers decide if they want to purchase a product.
Mobile-Experience: People now use their mobile phones to shop more than they use desktop computers, so you need a template that is designed to provide a great mobile experience.
Intuitive Design: A good ecommerce website template should easily guide customers to the products they want and through the purchasing experience. Shopping is hard enough without having to fight your way through the store.
Easy Checkout and Functionality: The biggest thing that will hurt your sales is a terrible checkout experience. You could easily be losing more than half your customers if your checkout is poorly designed.
Now that is out of the way, let's take a look at some amazing ecommerce website templates!
Mono offers high performance, 32 outstanding home pages, one hundred elements and eleven-page preloaders! Talk about options! With its beautiful use of mod grid themes this ecommerce website design really stands out!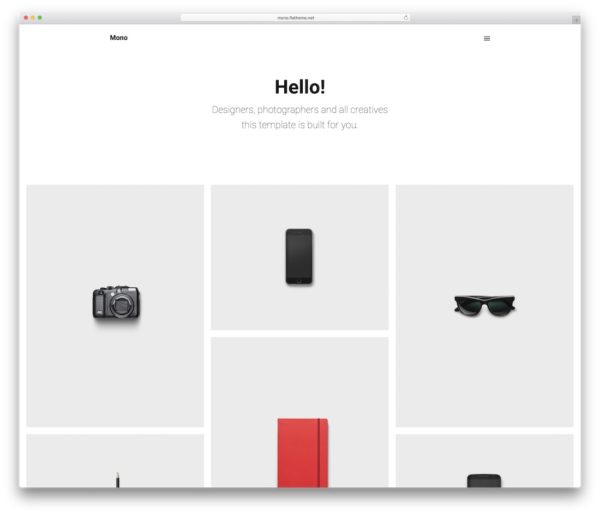 From portfolio layouts and eCommerce features to Owl carousel sliders and different navigation styles, you can turn your web vision into a reality with ease!
Designed for any e-commerce site, Ap Alaska has a beautiful combination of color, slider, banners and layout to give the whole theme a boost of attention.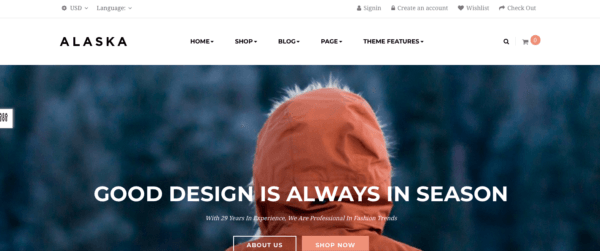 Ap Alaska has a full width slider and a widen banner to show current promotions to your new arrivals. This is a great choice for any ecommerce website design!
Soho is a minimalist boho deam!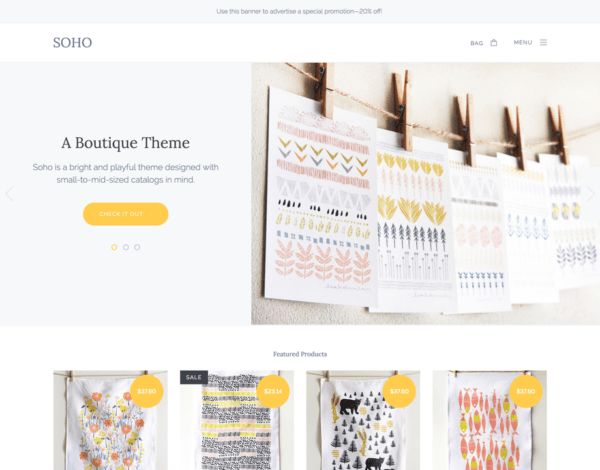 This is a bright and playful theme designed with small business in mind. The beautiful balance of white space and sleek font shows off your products in style! The awesome pops of color in the button also invite customers to engage with your brand and get to the checkout—fast.
Maple's ecommerce website design is a bold, beautiful, and modern ideal for a business who wants to focus on products and blogging.

Maple offers an engaging way to share your stories with its beautiful black and white grid system on the main page. The theme is totally responsive, so it adapts to your style as well as the device it's viewed on.
Holy pop of color! I love it!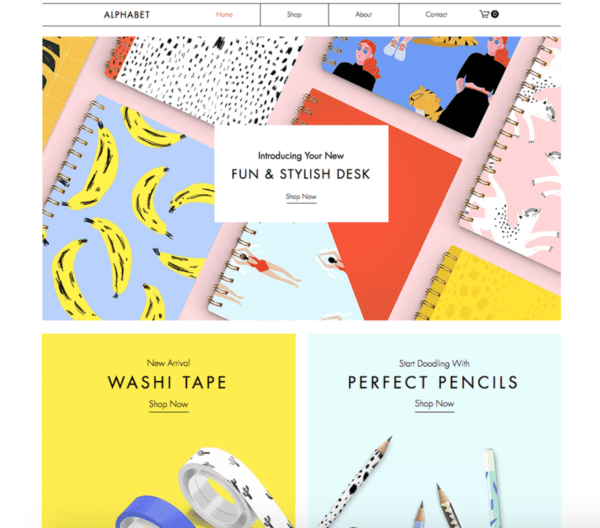 Stationary Online's ecommerce website design is welcoming right at the "front door" and is sure to engage and invite your customers to explore more! Its use of vivid product images and GIFS will help take your online store to the next level (you can even show off the depth of your products by uploading a GIF as your product image).
The beautiful use of white and bright colors really makes this template stand out!
Pofo is a modern, interactive, easily customizable, fast and fully responsive HTML5 multi-purpose template for any ecommerce website design.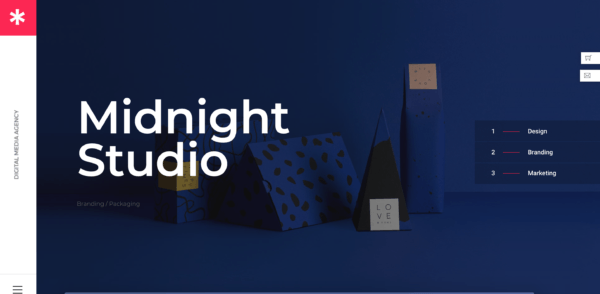 If you love creative designs and would like to build a very unique and professional website quickly, your search should end at Pofo.
Flaunt is simple and fully responsive but don't let that fool you. This ecommerce website design template comes with a lot of fun hover animations that make your business site fun!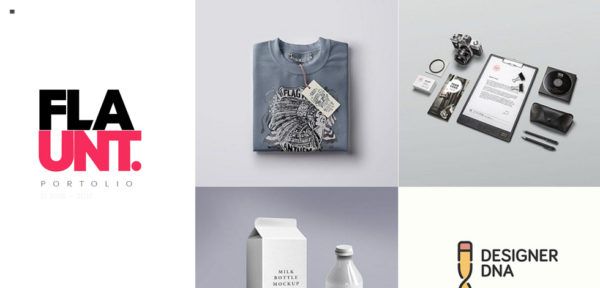 With over 50 slick hover effects for both images and text to choose from, you'll be able to create stand-out Muse sites without difficulty and—at just $16—Flaunt is a bargain buy, too.
I think this is as simple as an ecommerce website design can be! But that is not a bad thing! Most ecommerce websites do better with simple designs!
Preferred by businesses and bloggers, Native is a versatile and modern template. The Native blog layout adapts to its content, so your blog can really promote your content!
Fleur de lis's ecommerce website design is trendy, minimal and clean.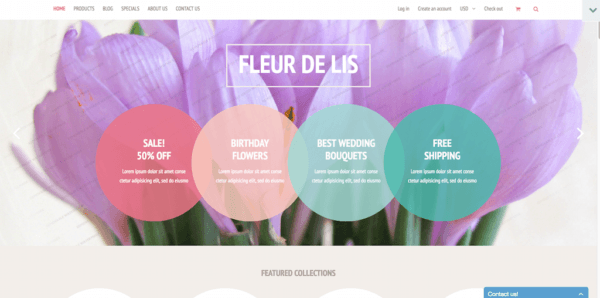 With this ecommerce website template, your chosen banner photography will really WOW customers with a pleasant visual experience, and the second offers you fast and easy navigiation!
Birdseye is beautifully monochromatic and really promotes the power of minimalistic ecommerce website design.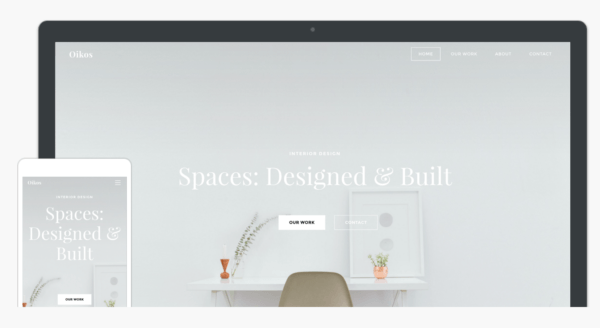 Birdseye gives your website an editorial, photo-first sense of style. With beautiful headline fade effects and navigation elements that transition as you scroll, Birdseye ensures that your content always looks stunning.
In addition, Birdseye's simple color palette allows your photos and content to do the talking. I mean, the customers are there for your products first and foremost, so this site will really let them shine!
I love this site: The layout, fresh organic color palette as well as the functionality!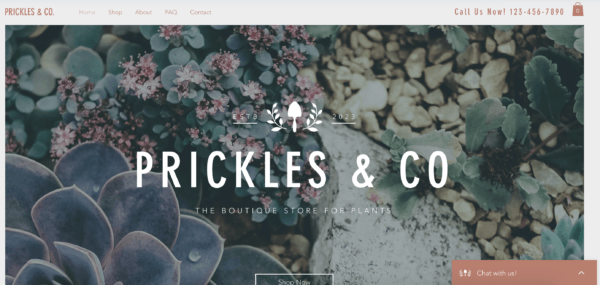 Wix makes beautiful sites that will help your sales blossom! The feature that promotes the phone number first and foremost in the right-hand corner is an important marketing piece to small businesses (surprisingly, phone numbers are often the hardest things to find on sites).
Talk about the powerful use of product photography!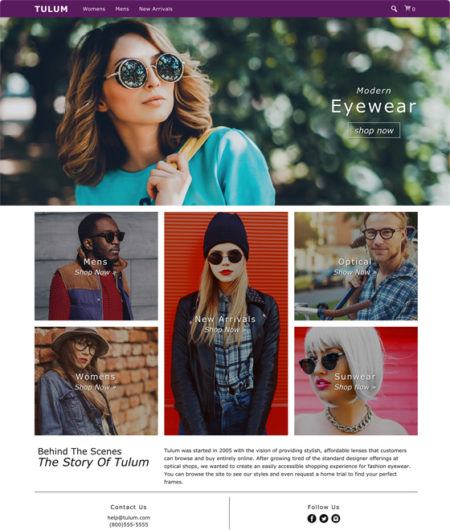 From the get-go, you are easily drawn to the images and want to click and see more of the photos, especially if they are well done! Tulum's ecommerce website design really helps you tap into your creative side with its custom color switcher, photography grids and use of modern typography—you can truly make this look your own!
Flamingo design is an attractive and modern ecommerce website design that will put your products in the spotlight!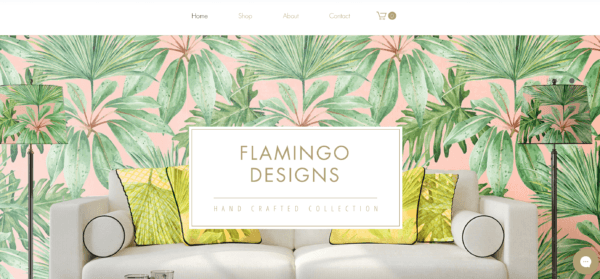 You can control the tone of this template by simply changing the images to reflect the style and feel of your store.
A bright, trendy and unusual layout like Glasstonic's is something a potential customer will remember.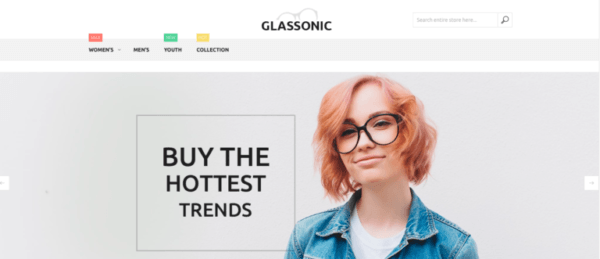 The way products are presented is also engaging and works well with bold photography! There are also small animation effects that make your storefront pop like hover effect buttons!
Ideal for a wide range of businesses and brands, Cornerstone Light is fully responsive, simple, and ready for you to add your branding, logo, and products.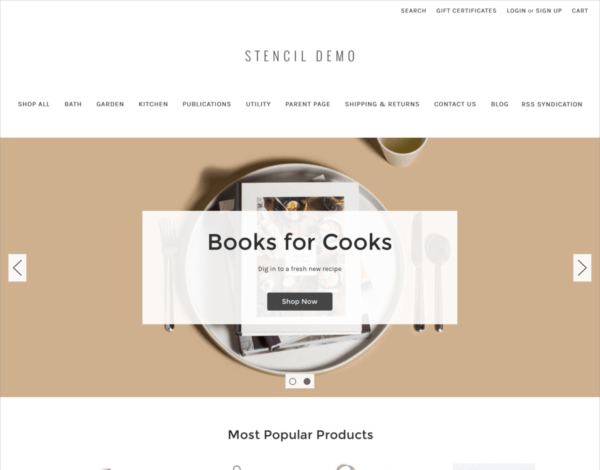 It comes ready to build a clean looking and beautiful store with features such as homepage carousel, social media icons, featured and top selling products, and faceted search (which is available on select BigCommerce plans).
No code neccesary, yay!
Showcase is perfect for boutiques, artisans, and visually focused ecommerce businesses. It showcases your products in a full image screen storefront.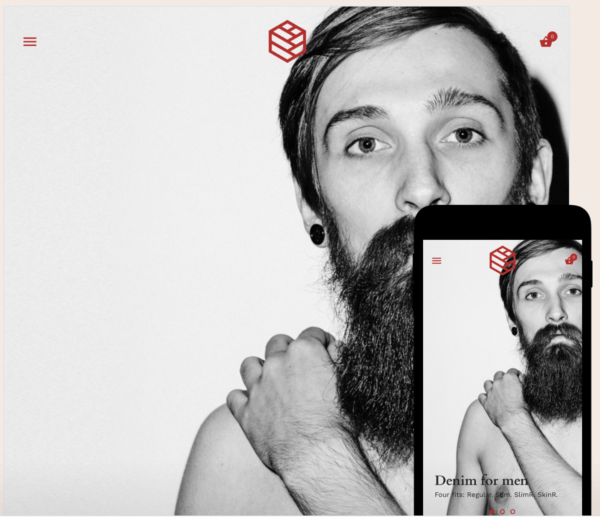 Featuring overlayed multi-level menus, full-screen product galleries, retina display graphics and versatile options for customizing your store, Showcase is fantastic for showing off your products in a unique way. Showcase is cutting edge and visually interesting which can be a positive or negative depending on the business.
No, this ecommerce website design was not named after me…ha!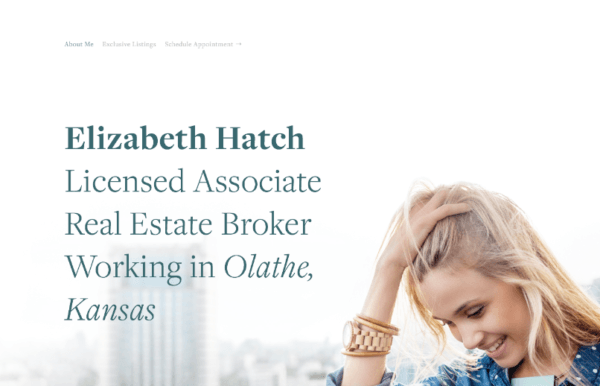 Hatch is a simply sophisticated template for any ecommerce business. It has amazing 3D scrolling effects, elegant typography and a dynamic gallery grid that will really WOW your customers. Highlight your work with introduction banners and multiple project pages.
Stash is an unbelievable multiuse WordPress theme that has a great selection of additional plugins and customizations.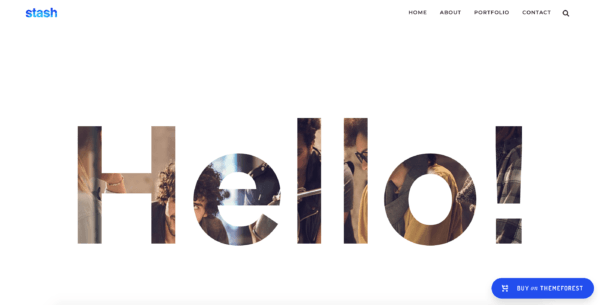 Stash comes integrated with Font Awesome icon pack. You will have lots of pre-design minimalistic icons ready to use. It has a clean, professional and elegant layout with a flat colors scheme.
Let's rally around this stellar ecommerce website design! 😉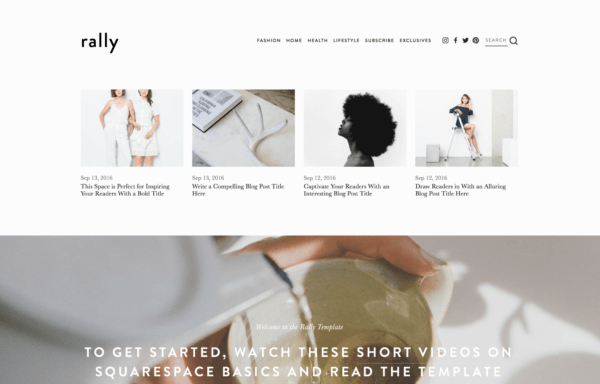 Rally empowers your content, streamlining a lot of imagery and text in an alluring way. Its long, scrolling homepage engages visitors by letting you weave various blog post collections with full image banner images.
Drip is a fresh ecommerce website design theme that provides a clean palette for your creative product display.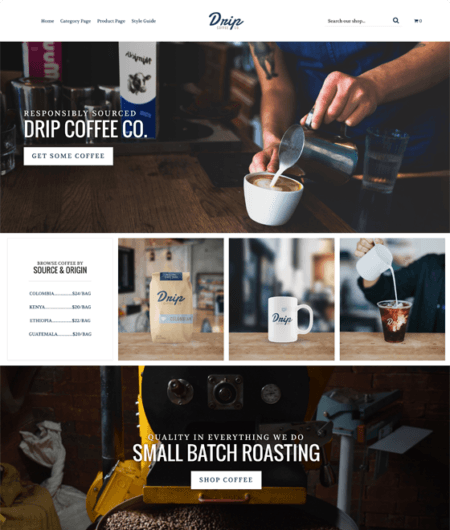 Powerful full-sized images give users a dynamic viewing experience and the organized, stacked layout allows your brand to shine. Drip is perfect for businesses with high-quality imagery and branding, allowing your brand to pull the attention of your customer on their own.
What rocks about Urban Photography's ecommerce website design is that is has such a brilliant layout!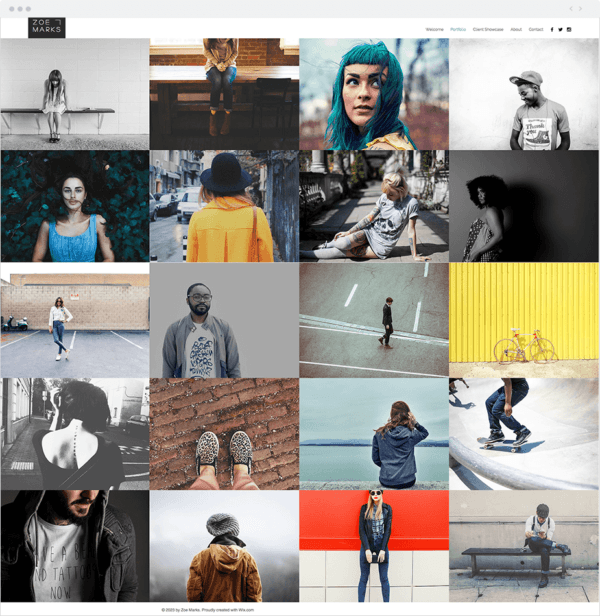 I love the photo grid system that is minimal, chic and modern but it will also function to make an eye-catching front page! This would be a great option for fashion, accessory or health/lifestyle ecommerce businesses that tend to be a bit more visually focused.
Warehouse is a beautiful ecommerce website design with its scrolling website banners, interactive video grid implementation that will easy keep your customers searching for more.


Warehouse does an amazing job at product storytelling with its heavy use of GIFs and introductory video.
Beautifully bright, simple and clean, this polished business website template is easy to set up and easier to customize.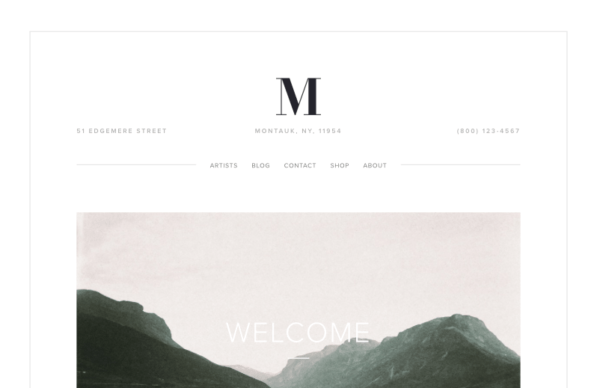 Montauk is valued by independent businesses for its flexibility, clean layouts, and professional style.
Runway is loads of fun with its gallery theme and simple style!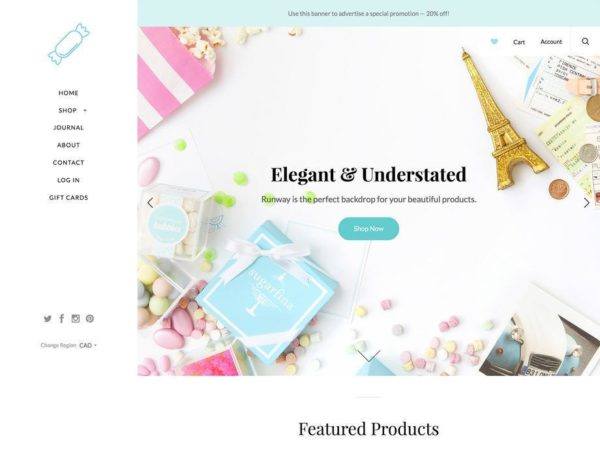 This ecommerce website design is full of stunning full-width photography options that are easily complimented by the tidy sidebar navigation and social buttons. Easy to use, Runway is easy to understand and is the perfect backdrop for your high-end products.
HandArt is a responsive, retina display-ready, beautifully styled storefront that helps you add a feeling of intimacy and comfort to your site.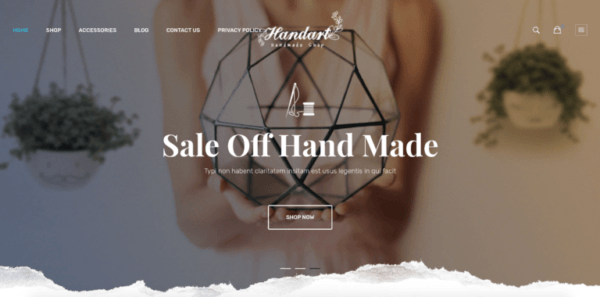 With 4+ layout designs, you can easily find a great way to feature the products you make at home!
I don't know what it is about this ecommerce website design but it just makes you want to give a sigh of a relief.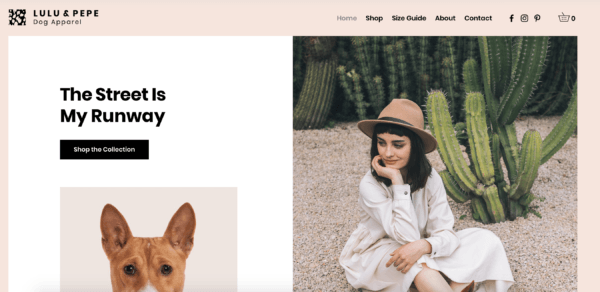 With its unique personality style, this website template has everything you need to connect with and sell to customers. Showcase your latest collection and new designs, connect your Instagram account to a beautiful gallery, and easily manage your inventory with this easy to navigate site!
Jaunt has bold use of product photography while balancing it with white space that will put the emphasis on your products.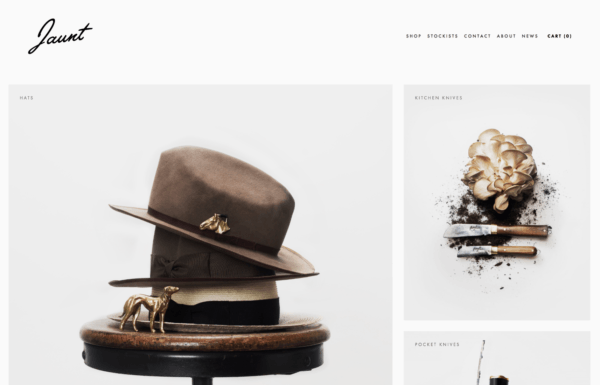 Jaunt's magazine-style landing page and eye-catching product layouts make it a great choice for fashion designers, artisans, and makers of extraordinary goods.
First off, I love the title of this ecommerce website design template. Second, this is a great option for ecommerce businesses with lots of inventory options as it beautifully showcases products in a modern geometric grid system.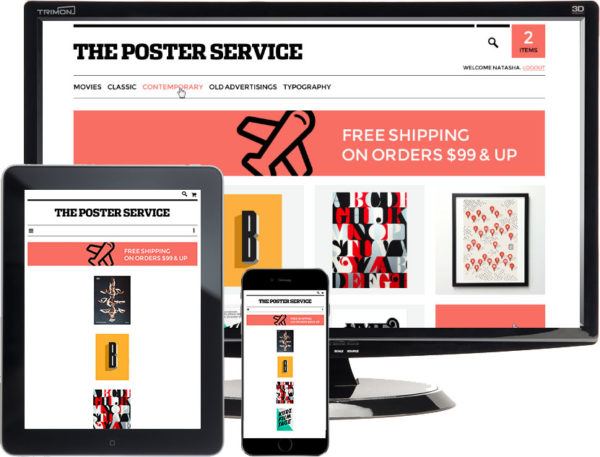 With pops of color and your unique business branding, this site can really take you places!
Ness is a modern minimalist personal photo magazine theme for WordPress that can easily be used by any ecommerce business that also wants to heavily use blogging.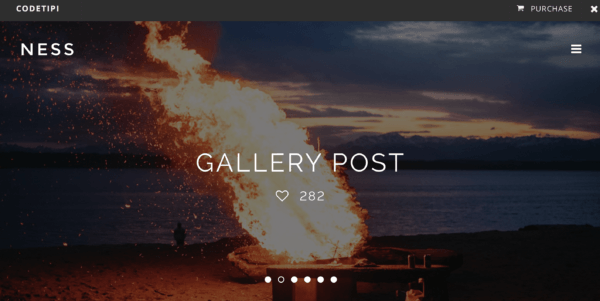 Full-screen image embeds with no shortcodes, parallax featured images, beautiful full-screen gallery post type that is touch-friendly (and portrait-image friendly too), which all leads to a wonderful user experience on all devices and screen sizes!
Massive is truly massive with all of the short code, design and storefront templates it offers! There are so many ways you can configure this website to your needs!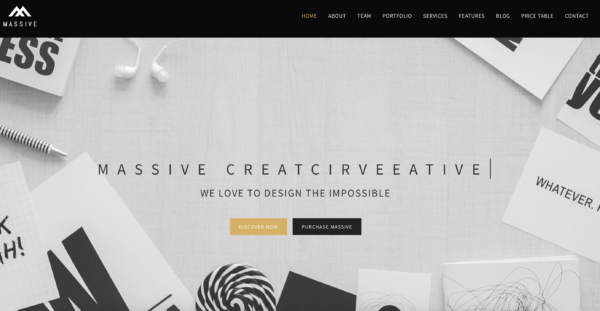 Massive packs 85 different Portfolio templates, dozens of Blog templates, Gallery templates and much more, so you can put together the website of your dreams with a streamlined workflow that makes this a modern, quick and dynamic ecommerce website design option!
Capacity sets a high standard for ecommerce navigation and search functionality.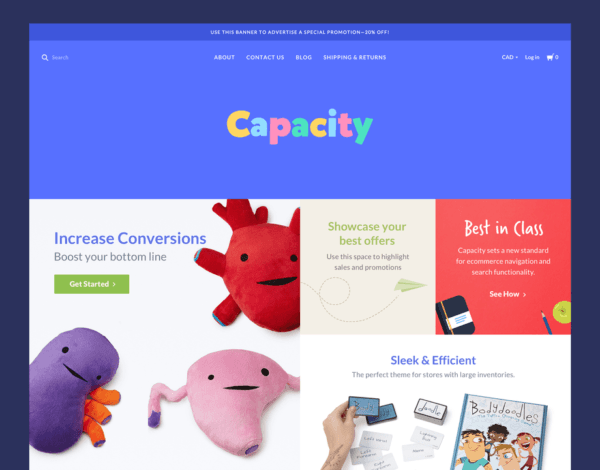 With its customizable mega-navigation, robust product filtering, and unique modular slideshow area, Capacity is powerful enough to handle the largest inventories—and look good doing it.
I commend North Pole for going against the grain and focusing on black and grey tones in a world that prefers websites that are bright and white!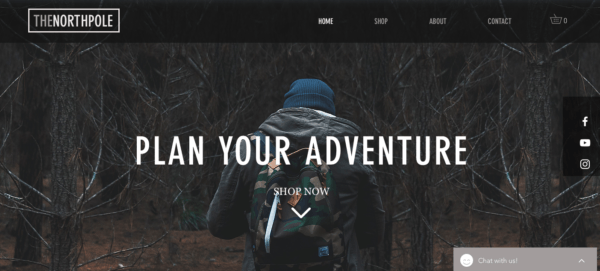 Rugged and sleek with a bold layout, this ecommerce template is tailor-made for stores selling more than just products: they sell a lifestyle. And with Wix Stores, managing your inventory is easy!
Cento is a minimalist theme that puts your content front and center. With a classic Serif and Sans Serif typography pairing and a modern color palette, Cento lets you and your content determine the tone of your site.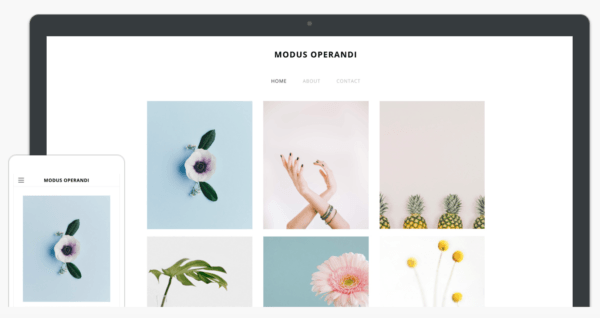 Blogs feature a unique centered format, so try turning your blog sidebar off to get the most out of this layout and really make your posts stand out.
Women's Fashion is exactly what it sounds like, it is the typical fashion ecommerce website design we constantly see on the internet.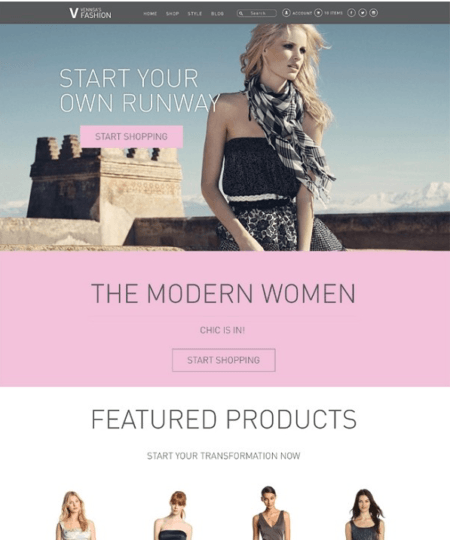 With its beautiful use of product photography, block banner type and image banner ads you can easily promote your products in a high-fashion, modern and bold way!
Negan has all the elements I love to see in ecommerce website design: minimalism, pops of color and bold photography.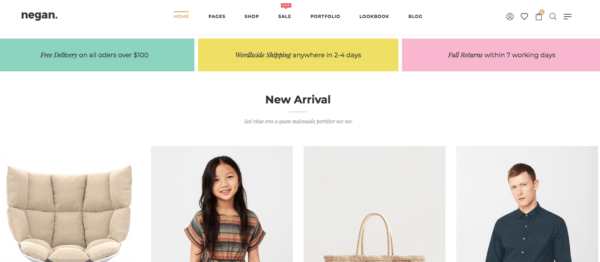 Negan is a clean and minimal, fresh air and tech-savvy, modern and creative WooCommerce WordPress Theme that was developed especially for business and ecommerce.

This theme comes with 15+ pre-defined unqiue homepage demos, one click demo installation, optimized page load speed, 360° product images, RTL, WPML and WooCommerce ready, boxed and wide layout, Instagram app and many many more!
Right out the gate, this ecommerce website design template draws you in with an amazing video banner. But what will keep those customers hooked is the perfect use of the latest trends and other categories below your video introduction.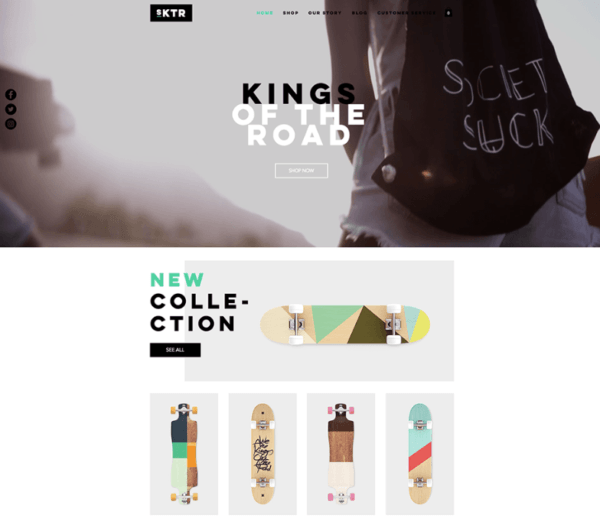 This template has just the right amount of fun with the pop of color that accents the menu and breaks the rules with flashy typography. I love how rebel it truly is!

This ecommerce website design is ideal for stores looking to really keep things simple but yet impactful as it focused on what matters most: what you are selling!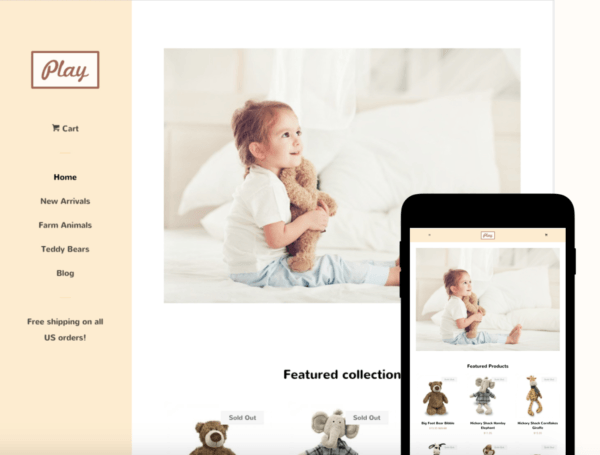 Pop is ideal for stores with small-to-medium-sized inventories, Pop is designed around a large sidebar navigation that keeps your content readily accessible.
Seeking templates to showcase your products? Lifestyle is a great option!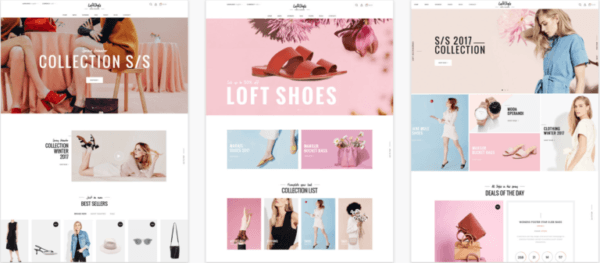 Loftstyle's incredible style helps you to draw customer's attention at the first sight. I love the boxed categories and color palettes this storefront design uses. Created with amazing user-friendliness on top of eye-catching style, Loftstyle brings your customers awesome shopping experience each time they visit your site.
Beautiful use of geometric shapes and negative space! This is a visually stunning ecommerce website design.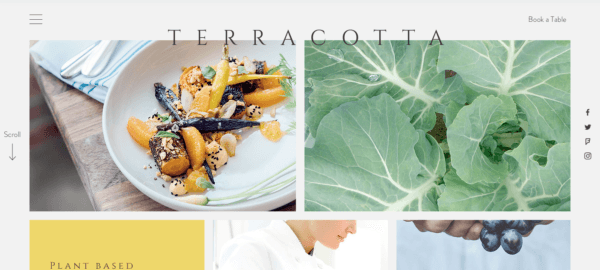 You deserve a website that's just as fresh, bold and high-quality as your products and with this stunning and easy-to-edit template, you'll be well on your way.
40 Scoops of Ecommerce Website Design
So many choices, so little time, but like any of these ecommerce website designs, you too can be happy with your choice. No need to regret your template choices!
Most design templates are a great start to any thriving ecommerce website! It is all the personalized elements that make your site your own that truly make it amazing!
Yes, there are tons of choices for you to have a visually stunning, successful and engaging ecommerce website but if you follow the rules and at times break them, you can succeed and make beautiful sites just like these examples!
If you want additional direction, help or opinions on your ecommerce website design, reach me here! I would love to help you build out a strong ecommerce website, so know I am here to dish out some success!
What elements of design do you find are the most impactful when it comes to ecommerce? Comment below!
Leave a comment