4 Simple Google Shopping Tweaks That Boost ROAS by 105%
Ecommerce
•
Google Ads
•
Aden Andrus
May 12, 2020
If you're looking to drive more sales online, there's no better place to start than Google Shopping. After working with countless ecommerce clients, we've found that with just a few Google Shopping tweaks, most businesses can see substantial increases in both sales and ROAS.
Why? Well, while Google Shopping is an incredible way to get in front of people who are actively looking to buy what you're selling, all of that potential has also made it an incredibly competitive place to advertise.
In this highly competitive environment, a few simple mistakes can cost you a lot of money.
For example, most businesses just use basic names and terms for their products—the same names and terms they use on their website. That might not seem like a big deal, but simply by improving the relevance of product titles, we've helped clients increase ROAS by 105%.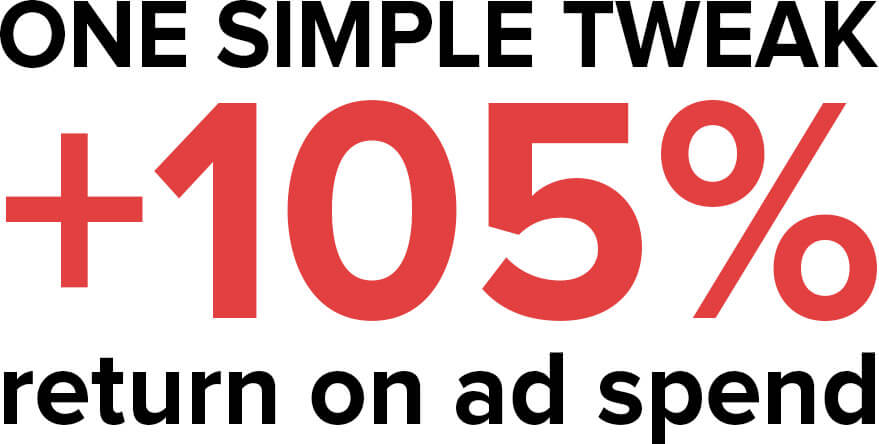 We'll get into that (and other examples) more later on, but this is just one example of how a few simple Google Shopping tweaks can have a profound impact on campaign performance. Your customers are out there, waiting to buy, but if you don't set up your ads the right way, you'll lose those sales to the competition.
To make sure that doesn't happen to you, let's take a look at 45 of the most common mistakes ecommerce businesses make on Google Shopping. We've managed hundreds of millions of dollars in ecommerce spend and we've seen these problems countless times.
The good news is, most of these mistakes can be fixed or avoided by making a few easy Google Shopping tweaks. So, you ready to increase ROAS and drive more sales? Let's dive in.
1. Make Sure Your Images are Clear and Compelling
One common problem we often see with Google Shopping is image selection. Not necessarily image quality, but image selection.
For example, take a look at these product listing ads. Which one(s) catch your eye?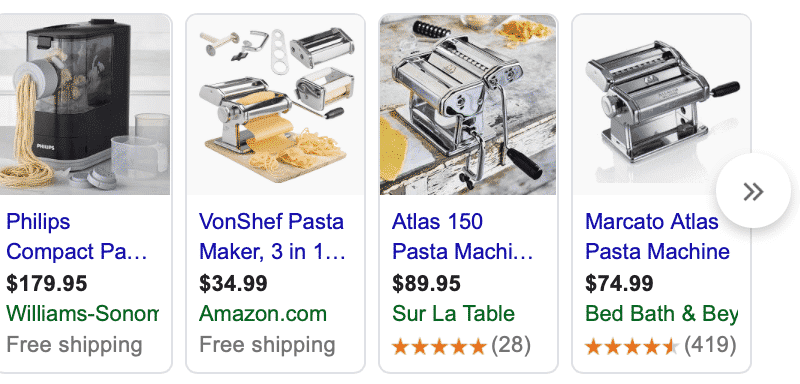 In terms of image quality, all of these ads are just fine. They're all professional and showcase the product beautifully.
But, still, odds are that pasta makers #2 and #4 caught your eye. Why? Because the whole image is designed to draw attention to the product—and only the product.
This is why we almost always recommend making your Google Shopping featured image a standalone shot of your product against a solid-color background. Save the lifestyle shots for your product page.
2. Don't Be Afraid to Mix in Some Paid Search Ads
As great as Google Shopping is, it isn't the only way to get in front of potential customers who are searching for your products. In many cases, a few smart paid search ads can make a big difference.
This is especially true when a lot of your search traffic comes from desktop computers. For example, here's what the search results for "cheap pant suits" looks like on mobile: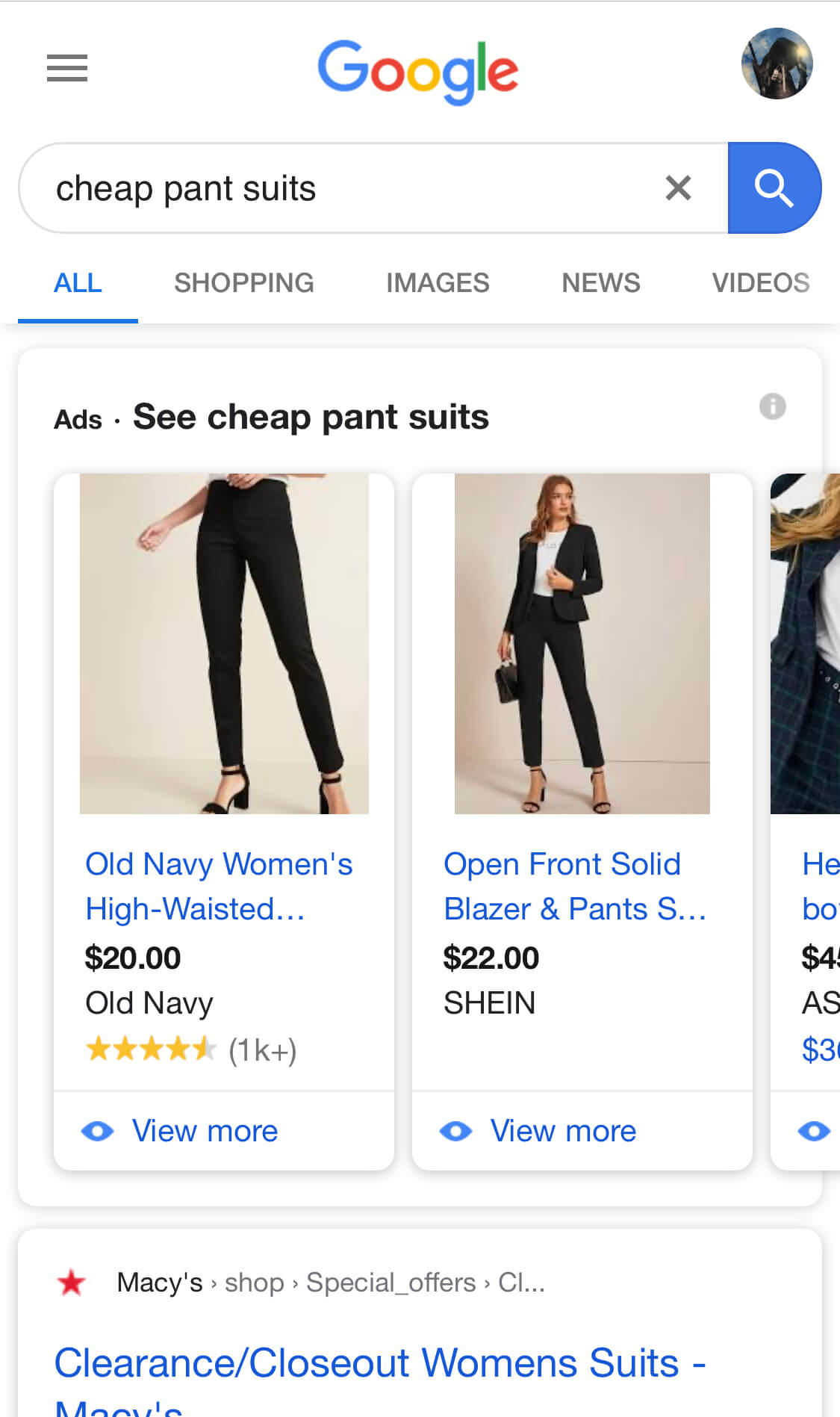 In contrast, here's what the same search looks like on desktop: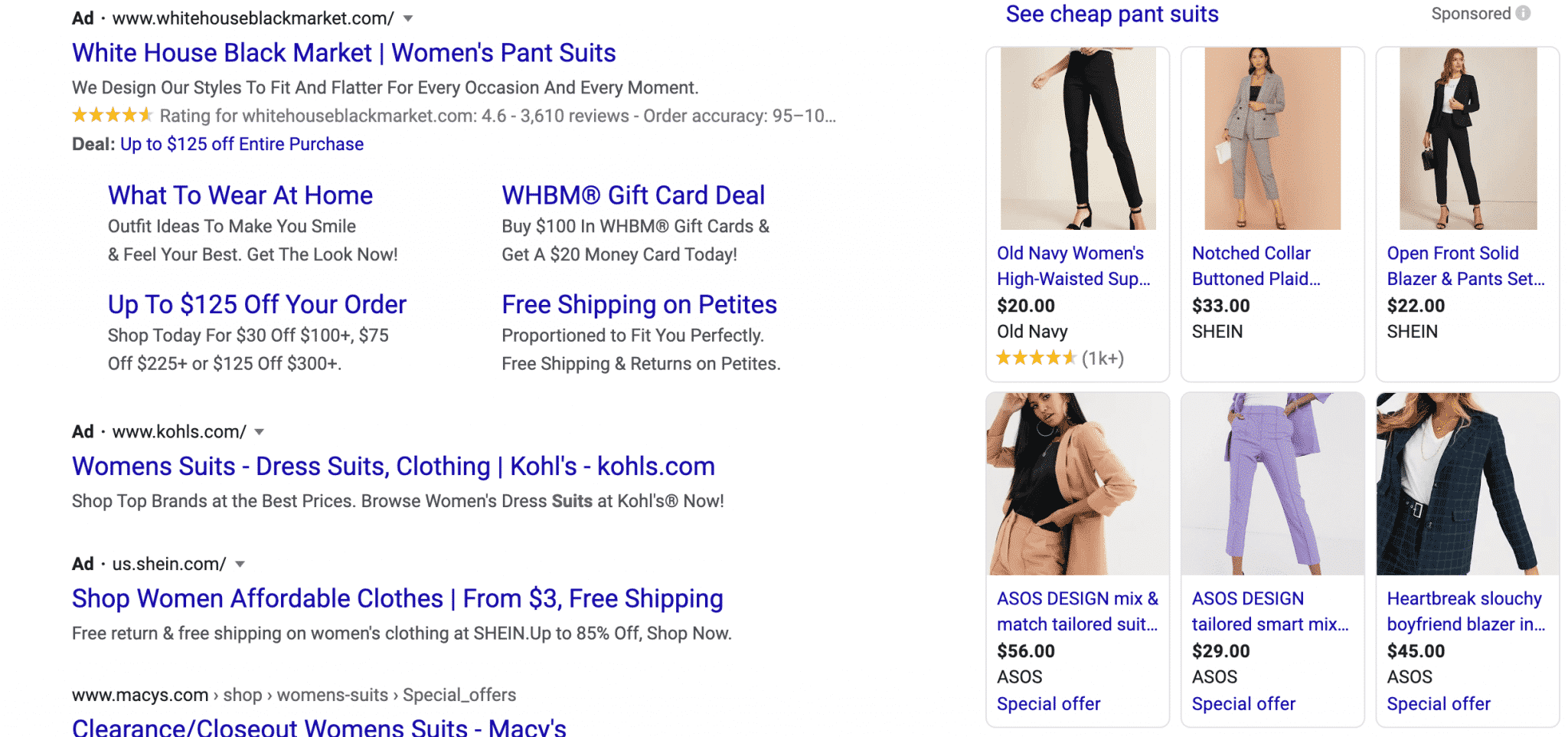 If you notice, the text ads don't even show up on mobile, but they're in position #1 on desktop. This varies from keyword-to-keyword, but for certain terms, paid search ads can be a great move.
For businesses with a physical storefront, paid search ads can also be a good way to build awareness, drive foot traffic and/or get people to download coupons for use in-store. This is particularly helpful if your store offers some sort of in-person service that you want to promote online.
For example, one of our clients is a one-stop-shop for bikes, bike parts, and maintenance. In addition to helping them build out Google Shopping campaigns for the ecommerce side of their business, we also set up paid search campaigns focused on getting people to download in-store coupons.
The results were fantastic. By combining both approaches, we were able to cut their cost-per-click by 44% and get a 16% coupon download rate. Best of all, those coupons had a 24% redemption rate!

While Google Shopping campaigns are great on their own, they often work even better in combination with paid search ads. It's a great way to drive foot traffic and ensure that you're getting in front of the right people at the right time (and in the right way).
3. Price Competitively
Google Shopping is a comparison shopper's paradise. At a glance, they can see products from dozens or even hundreds of sellers and find exactly what they're looking for at the best possible price.
While that's great for your customers, it puts advertisers in a bit of a tricky position.
Unlike a physical store, where customers literally have to leave the store to check out the competition, on Google, your competition is right there with you. If your products aren't competitively priced, it's going to be hard to win clicks and sales.
Take these sunglasses, for example: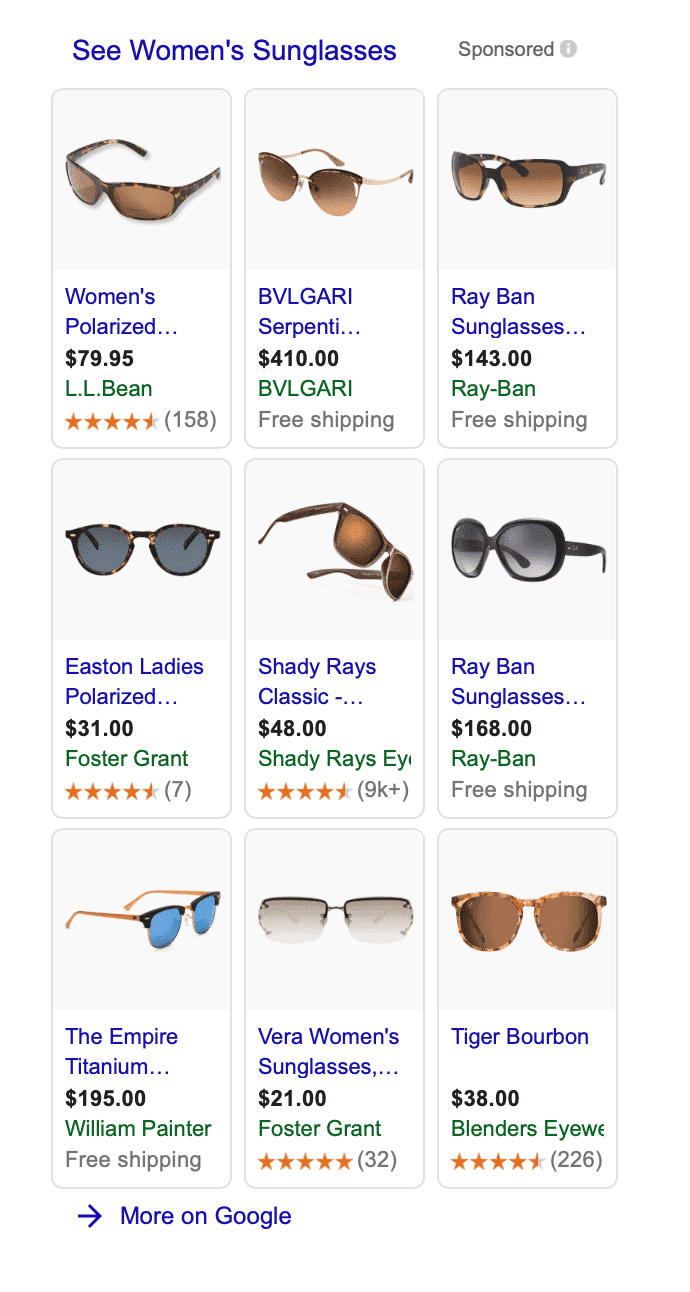 At a glance, all you can see is what the sunglasses look like, the brand name, reviews and the price.
With only that to go off of, the price difference between L.L. Bean's $79.95 shades and BVLGARI's $410 glasses is enough to give anyone sticker shock—especially if you're not familiar with BVLGARI's brand.
If, like BVLGARI, your products fall way outside of the general price range for a given search term, you either need to change your pricing or refine your product category. After all, most people who are looking for $410 sunglasses probably aren't using the search terms "women's sunglasses".
The trick here is to find a balance between perceived value and price expectations. As long as your product fall into the same general ballpark as the competition, you should be just fine.
In addition, you'll want to make sure to include any sales information in your product data. That way, if someone is searching for "cheap running shoes" or "affordable leather purses", your ad will have a much better chance of showing up. It's fairly easy to set expiration dates for sales, so you can easily adjust and change this product data as things change over time.
The important thing to remember is that your products aren't being displayed in isolation. Your potential customers see what you're selling right along with what your competitors are selling, so if your pricing doesn't match up, they probably won't click.
4. Get Your Product Data Right
Unlike standard paid search campaigns, you don't get to pick keywords for your Google Shopping campaigns. Instead, you have to rely on product categories and your product data.
While it's important to get your product groups right, that's fairly straightforward. Overly broad categories lead to irrelevant impressions and clicks, so make sure your product categories are focused and relevant.
Where businesses tend to run into problems is with their product data. Many aspects of your product data are kind of subjective.
The problem is, that product data is often how Google identifies which searches your product shows up for. For example, here's what shows up if you search for "orange nike" on Google Shopping:

If you're looking for orange Nikes, what are the odds that you're going to click on the pink and white shoes?
In essence, you need to approach your product data like the "keywords" of your ads. The qualifiers you use (especially in your title and description) can have a huge impact on how relevant your ads are to the searches they show up for.
This was exactly the problem the client we mentioned in the intro was having. They had been running Google Shopping ads for a while, and while they were getting plenty of traffic, that traffic wasn't very high quality.
Low-quality traffic doesn't convert well, so even when they were getting sales from their campaigns, they didn't have a very good ROAS.
To fix this problem, we worked with the client to update their title meta tags. We made them more descriptive of the products, and then added rules to the feed to include their brand name and color/size of the product.
Almost overnight, the campaigns started to improve. Clicks increased 36%, conversions increased by 27%, revenue increased 121% and—as mentioned earlier—ROAS improved by a whopping 105%.

While it might seem like a fairly minor Google Shopping tweak, the quality of your product data can have a huge impact on the performance of your campaigns.
Conclusion
These Google Shopping tweaks are simple, straightforward and fairly easy to implement, but they can be the difference between barely breaking even…and making a ton of money.
The key is to understand the relationship between the data you're giving Google and the customer experience you're creating. You've got a lot of competition, so even simple mistakes can have expensive consequences.
We've seen the problems we just discussed in countless campaigns and we've seen how solving those problems can redefine success for our clients. It takes extra time and effort to make these Google Shopping tweaks, but the results are worth it.
By the way, if you'd like some help implementing these and other Google Shopping tweaks in your own campaigns, let us know here or in the comments! We'd love to help.
What are some of your favorite Google Shopping tweaks? What results have you seen from your own optimization efforts? Leave your thoughts in the comments below.
Leave a comment