Be in the Know: 2018 Holiday Marketing Statistics You Should Know
by Cydney Hatch • October 10, 2018
Are you ready for the holiday season? Yes, I know fall has barely just begun, but it's never too early for retailers and e-tailers to start thinking about holiday marketing and sales. It's a good time to be in retail, especially with shopping extravaganzas like Black Friday and Cyber Monday just around the corner.
At the moment, it is projected that U.S. shoppers will spend $119.99 billion with online retailers during the upcoming holiday shopping season of Nov. 1-Dec. 31. That's a 15.5% increase compared with the estimated $103.88 billion spent online during the same period in 2017.
However, to really capitalize on the potential of the upcoming holiday season, retailers must know how mobile will dominate the shopper experience, the importance of social media brand awareness and how artificial intelligence-powered, personalized product recommendations will factor into holiday purchasing in order to successfully reach their full potential during the 2018 holiday shopping season.
To help you make the most of this holiday season, let's take a look at a compiled list of some of the most important holiday marketing statistics you need to know in 2018 so you can plan accordingly. With this information, you can take a look into 2o18 holiday marketing trends and use them to shape up your holiday marketing for a jolly good time!
2018: Holiday Marketing Statistics to Consider
*Helpful numbers to put these statistics in perspective: The world population is 7.7 billion and the internet has 4.1 billion users.
General Holiday Shopping Statistics
Holiday shopping starts as early as September and October.
Consumer confidence in the US is at its highest level since 2000, according to some measures. With low unemployment and rising wages, the immediate outlook for consumer spending remains solid.
The US Department of Commerce found sales of building materials and garden equipment surged by 8.1% during the holiday season, while furniture and home furnishing sales increased by 7.5% and sales in electronics and appliance stores grew 6.7%.
Despite the merry holiday season for retailers, foot traffic continues to slump. One study found foot traffic in US retail stores fell 7.5% in November and December 2017, continuing the longer-term trend toward ecommerce and away from traditional retail.
NRF expects holiday retail sales in November and December—excluding automobiles, gasoline and restaurants—will increase between 4.3% and 4.8%  over 2017 for a total of $717.45 billion to $720.89 billion. The forecast compares with an average annual increase of 3.9% over the past five years.
For the second consecutive year, Black Friday was the biggest digital shopping day of the season, with revenue growing 32%  year-over-year, more than doubling Cyber Monday's 15% increase.
Cyber Week II is the best-hidden opportunity. Gift cards in hand, customers are ready to treat themselves in the run-up to New Year's Day.
Last year, Shopper Story 2017 found that, in most countries, shoppers value both online and retail experiences. In fact, 62% of shoppers said that they use their phones while they're in-store.
According to an Adobe Digital Insights report, Black Friday represents 4.6% of total U.S. retail revenue for the holiday season.
Cyber Monday represented 6.1 % of total holiday retail sales.
It is predicted that more than half of holiday orders will include free shipping.
Black Friday peaks at 8:00 PM.
The average shopper will purchase 14 gifts during the 2016 holiday season.
One-third of shoppers report holiday weekend purchases were driven by promotions.
Last minute shoppers make up nearly 30% of online holiday sales!
USPS expected to deliver more than 15 billion pieces of mail including 850 million packages.
UPS planned to deliver more than 750 million packages globally.
Mobile and Online Holiday Shopping Statistics
Ecommerce Holiday Shopping Statistics
Now You Know!
Holiday statistics offer important insights you can use to guide your holiday marketing plans. We have the numbers to track everything we wish to manipulate and highlight in our marketing actions.
Use them and you can improve any business plan! As a marketer, you can't help but be excited for holiday palooza 2018. Clearly, there are many opportunities for rapid growth!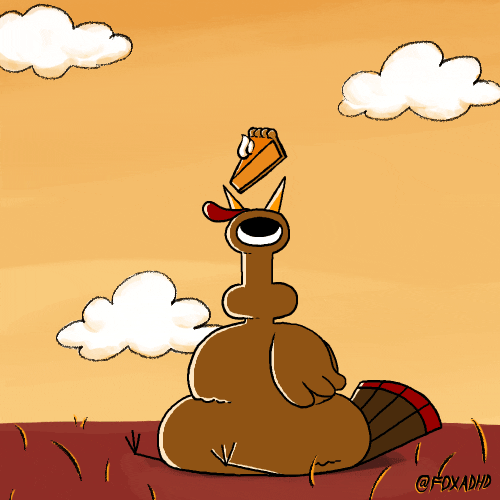 But, as Stanley Marcus once said, "consumers are statistics, customers are people." That is how you should use these numbers: to better serve and help your potential customers.
As an additional resource, I wanted to share Louise Lyer's holiday calendar infographic to give you additional insights into holiday marketing you can take advantage of.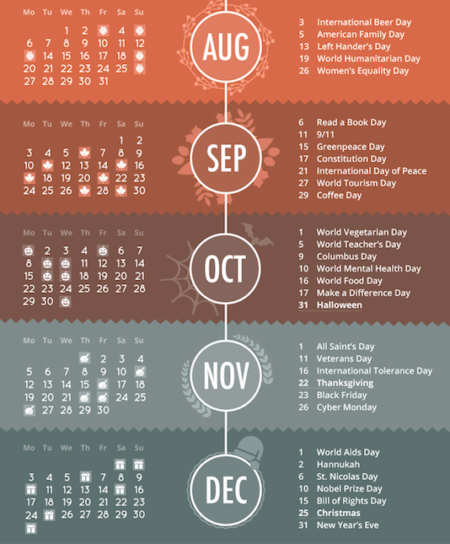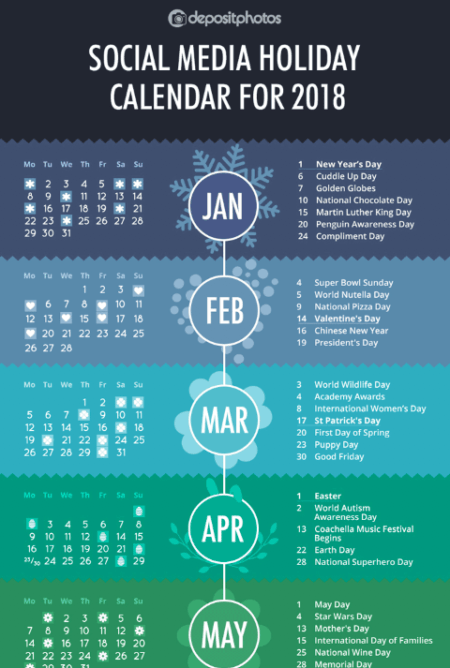 If you want help in creating strategies around some of these statistics, we can definitely help you make a plan! Contact me here!
What holiday statistics stood out to you? How do these holiday statistics change your marketing plans? Share your thoughts with me below!