How Machine Learning Will Shape the Ecommerce Industry
by Radu Vrabie • May 10, 2019
With machine learning becoming ever more integrated into our daily lives, it's natural to wonder, "How will machine learning affect ecommerce?"
It's a great question.
A lot has changed in ecommerce over the last few decades and machine learning promises to change things even more. Let's take a look at where ecommerce is at and how machine learning will affect ecommerce in the not-so-distant future.
What's Changing in Ecommerce
You might be tempted to think that ecommerce has only recently emerged and completely revolutionized the way we shop—largely due to our technological advancements.
But that's not quite so.
Although technology plays an important role in how we interact with retailers today, ecommerce has actually been around for almost 40 years.
According to Statista, 2017 retail ecommerce sales worldwide reached $2.29 trillion and are expected to grow up to $2.774 trillion by the end of 2018. That means that ecommerce will continue to grow by 20% every year.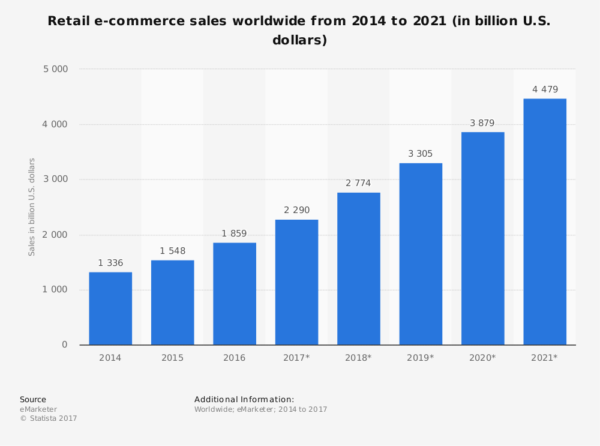 Some of the trends that have enabled this astonishing growth include:
Mobile
Mobile ecommerce is growing much faster than e-commerce in general and by the end of 2018 mobile will be responsible for around 70% of the total ecommerce traffic.
"What some call 'mobile first' is in truth already 'mobile majority'…being mobile-friendly, having content that is quick, usable, graceful and compelling on smartphones is not optional."
Artificial Intelligence
Up til now, artificial intelligence and machine learning have been used exclusively by global companies due to their not so accessible price. However, Gartner predicts that by 2020 over 80% of all customer interactions will be handled by AI.
Augmented and Virtual Reality (AR/VR)
AR/VR technologies are expected to increase conversion rates and eliminate online shopping returns. We are already seeing those technologies being used by cosmetics, fashion and furniture companies and by the end of 2020 Augmented Reality will be generating $120 billion in revenue.
Machine Learning: The Future of Ecommerce
Before we dig any deeper, it's important to make a distinction between artificial intelligence and machine learning.
Artificial Intelligenace: Machines that are able to complete certain tasks by mimicking human cognition
Machine Learning: A branch of artificial intelligence, a method used to improve performance through experience over a period of time
Okay, now we can begin.
Machine Learning and the Customer Experience
Machine learning allows ecommerce businesses to create a more personalized customer experience. Today, customers not only prefer to communicate with their favorite brands in a personal way, but they have come to expect personalization.
In fact, a study by Janrain revealed that 73% of customers are fed up with being presented with irrelevant content.
Artificial intelligence and machine learning offer retailers the ability to personalize each interaction with their customers, thus providing them with a better experience.
Through machine learning, retailers can reduce customer service issues before they even occur. As a result, cart abandonment rates should be lower and sales should be higher. And unlike humans, customer service bots are able to provide unbiased solutions around the clock.
Machine Learning and Search Results
Improving search results offers huge payoffs for retailers. Machine learning can improve ecommerce search results every time a customer shops on the website, taking into account personal preferences and purchase history.
Instead of using traditional search methods like keyword matching, machine learning can generate a search ranking based on relevance for that particular user.
This is especially important for giants such as eBay. With over 800 million items listed, the retailer is taking full advantage of artificial intelligence and data to predict and display the most relevant search results.
Artificial Intelligence and Retargeting
Omnichannel is the new normal for retail, so you can expect artificial intelligence to use not only customers' digital data, but also analyze their in-store behavior.
Once upon a time, security cameras were only supposed to keep shoplifters away, but soon, with the help of face recognition algorithms, you may start seeing ads online for that new fridge you checked out in store.
Visual Discovery Will Replace Keyword Search
Pinterest Lens is a service that works like a Shazam for real world objects: you just point your camera at the desired item and the algorithm will find it online. This idea is based on the fact that we don't always know what we are searching for or how to describe it.
Adobe, together with UC Berkeley researchers, has even developed an image-editing tool that can turn sketches into realistic images that you can then use for visual search.
Artificial Intelligence and Product Recommendations
Machine learning can be used to recommend ecommerce products according to various patterns in shopping behavior, which will help you increase your conversion rates. By analyzing customer data from different channels, the algorithm can identify behavior and purchasing patterns which can be used to predict what your customers actually want.
Personal shoppers have always been associated with high-end consumers, but thanks to artificial intelligence, everyone can take advantage of virtual ones.
Outdoor product company The North Face has built its own virtual personal shopper using the IBM Watson platform. The service uses customers' vocal queries, shopping needs and travel plans as input and recommends items that not only meet customers' criteria, but are also suitable for the location the customer plans to use them—even taking into account the weather forecast.
Artificial Neural Networks Will Guide Marketing
Neural networks can learn from experience, recognize patterns and predict trends, so they can be used to find out what people respond to, what should be changed and what should be eliminated from a marketing campaign.
Microsoft was able to increase direct mailing open rate from 4.9% to 8.2% by using BrainMaker, a neural network software to maximize returns on a marketing campaign.
Machine Learning Can Eliminate Fraud
The more data you have, the easier it is to spot anomalies. Therefore, you can use machine learning to identify patterns in data, learn what is 'normal' and what is not and get notified when something is wrong.
The most common application for this would be fraud detection. Retailers are often faced with customers who buy large amounts using stolen cards or retract their payments after the items have already been delivered.
Machine Learning and Ecommerce Targeting
Unlike in a brick-and-mortar store where you can talk to your customers to find out what they want or need, online shops are hit with huge amounts of customer data.
As a result, customer segmentation becomes extremely important for e-commerce, as it allows companies to adapt their communication strategies for every customer. Machine learning can be used to understand your customer's needs and create a personalized shopping experience.
Machine Learning and Price Optimization
Machine learning algorithms can help you not only collect information regarding pricing trends, your competitors' prices and demand for various items, but it can combine this information with customer behavior to determine the best price for each of your products.
Optimizing your prices will help you satisfy your clients as well as increase your ROAS.
Conclusion
As you can see, there are a lot of exciting opportunities for machine learning in ecommerce. Many of these are either already in use or will be soon, so you can expect machine learning to become an increasingly important part of effective online retail.
How have you seen machine learning used in ecommerce? Are there any exciting new opportunities I didn't include here? How do you plan to make use of machine learning in the coming years?