30 Magical Magento Themes: Picking the Right Template
Ecommerce
•
Site Optimization
•
Cydney Hatch
June 4, 2018
Ever wish there was some magical way to make your ecommerce business just look and perform fantastically?
Well, good news, there is a magical trick! In 2018, magic can happen for your business with the use of effective visuals—particularly the visuals and themes you use in your online storefront.
How?
To put it simply, the magic of visuals helps you perform well digitally as a business. Brick and mortar storefronts have a leg up on ecommerce businesses because customers have the opportunity to physically view products in person, touch them and observe the quality. It's hard to compete with that in a digital store. As the owner of an online business, this is the challenge that you face: recreating the "magic" of your products and store experience in a digital way.
But, if you are struggling to create a strong visual experience for your customers, don't sweat it! Magical magento themes are here to save the day!
With the right Magento themes, you can feature your products in a way that lets you compete with and even beat the brick-and-mortar experience. In this article, I am going to review what makes a great Magento template work well and take an in-depth look at several Magento templates you can use to give customers the greatest customer experience they can have from the comfort of their smartphones.
What to Look for in a Magento Template
The look and experience of your online storefront matters just as much as its functionality, particularly nowadays when 38% of people will leave a website if they find the layout unattractive or difficult to navigate!
So in this case, looks are everything…
Before we get into the details of how to pick Magento themes, here are basic necessities your ecommerce storefront should have:
High-Quality Visuals: Quality photography and video—particularly for products—is incredibly important to the success of your Magento template. Your visuals help your customers decide if they want to purchase a product.
Mobile-Experience: People now use their mobile phones to shop more than they use desktop computers, so you need a Magento theme that is designed to provide a great mobile experience.
Intuitive Design: A good Magento theme should easily guide customers to the products they want and through the purchasing experience. Shopping is hard enough without having to fight your way through the store.
Easy Checkout and Functionality: The biggest thing that will hurt your sales is a terrible checkout experience. You could easily be losing more than half your customers if your checkout is poorly designed.
30 "Magical" Magento Themes to Consider
So, now that we've covered what to look for in a good Magento template, let's take an in-depth look at 30 Magento themes that meet these criteria.
Now, every business is different, so you may not find your ideal template on this list. However, my goal is to help you find a Magento theme that will help you get the results you're looking for, so I'm going to do a quick run-through of 30 themes.
This should give you a great feel for what you should be thinking about as you evaluate different Magento templates (if you need help applying these templates see this great tutorial here!).
Let's get the magic started and take a look at 30 magical magento themes you should consider:
1. Vini – $179
Clothes Vini theme is an incredible solution for fashion stores (see demo here). It has a minimalist design with ghost buttons, thin fonts and brief texts. Big banners make the navigation more intuitive and visually interesting.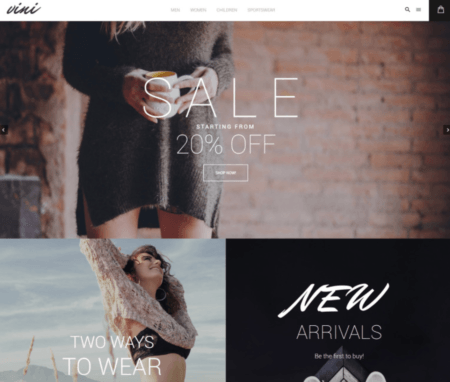 Product search and presentation are really user-friendly. The buyer can sort out the products with the help of multiple filters (Ajax options). Photos are large and the template uses photo display extremely well. In addition, products are can feature stickers, star ratings, prices, color palettes and call-to-action buttons.
2. Milano – $94
Milano is as high fashion as it sounds! So Posh! (see demo here).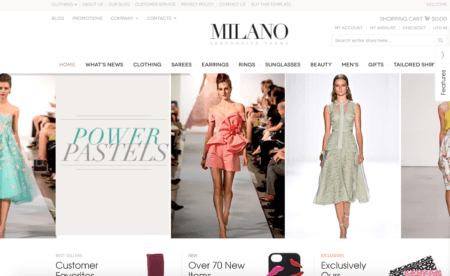 This Magento theme is ideal for fashion and clothing stores. It includes a countdown timer, a Pinterest-style blog and great scrolling functionality. This Magento theme is more than just a "pretty face" as it's fully SEO-optimized and includes meta information which will help searches and fast website caching.
Another amazing feature is their "size chart popup" which helps bring an added customer experience to online shoppers trying to understand product sizing. Having features like this on your fashion product ecommerce storefronts will really set you apart from the rest of boutiques and other online clothing providers.
3. Fona – $99
Fona is a highly customizable Magento template that has multiple pre-made demos that are perfect for stylizing your ecommerce storefront as you wish! (see demo here). This theme beautifully balances negative space, text and high-quality images in a blocked and modern format that will be visually appealing and helpful to navigating your site.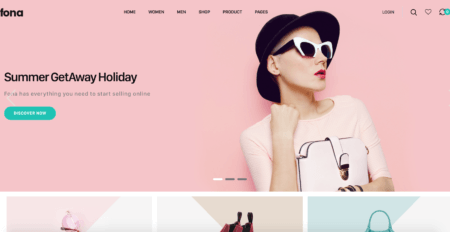 Conversion rate for your website will depend on product page view. Fona has 9 amazing and tested product layouts that will display your products and their details beautifully.
This feature also has product variation swatches where customers can easily try out varying product color and pattern swatches. Another great feature is the dynamic checkout buttons which allow customers an easier shopping cart experience between buy now or buy now with other added on features like PayPal.
4. Garden Furniture – $179
Garden furniture is what you expect it to be: charming, clean and stylish! (Just like a manicured backyard garden). See demo here.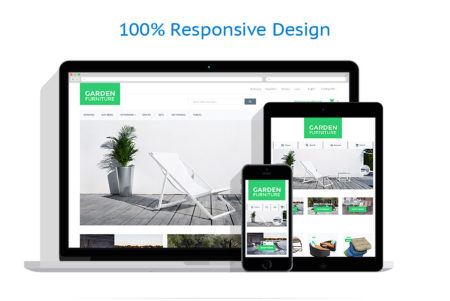 Your customers will enjoy a pleasant visual experience while browsing your site easily on this Magento theme! Easy shopping is offered through product grid, product categories, site wide search and fast navigation. Large header image and retina-display photos add a vibe to the overall look of the layout and work as strong visual triggers that drive people to buy.
Garden Furniture is an easily customizable template that can work for any ecommerce business.
5. Kernippi – $179
Kernippi is a beautiful Magento theme that allows you to showcase some of your best product styled photography. The homepage is full of retina display banners that can draw your customers in for promotional pages and specific product categories (see demo here).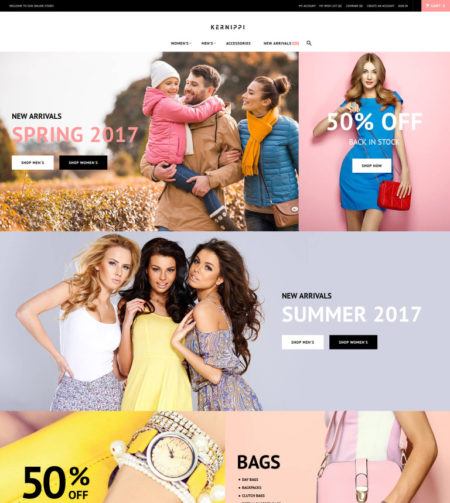 This theme is great for fashion, jewelry and accessory businesses because it gives you numerous ways to showcase your inventory in a high fashion, optimized and high quality way.
In addition, this Magento template offers great ways to show hot deals, new products on website slider and on the main page. It also gives you an option to provide customer with up-to-date news, enhancing customer satisfaction and increasing sales. If you are targeting the younger generation, this website storefront will make a killing as many are drawn to visuals over text.
6. ExtremeZ – $197
ExtremeZ is as a bold as its title with its beautiful use of image sliding features and bold design! This theme is great for any ecommerce business that wants to grab attention with modern, minimalistic and interactive design (see demo here).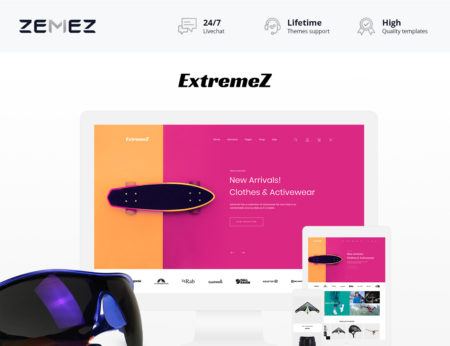 One of the best features of this Magento theme is its use of "Mega-Menu" where you can categorize all of your inventory in a convenient drop down menu! With minor tuning required, tons of options to choose from and the ability to show categories and subcategories, Mega-menu is an amazing feature that can easily boost your SEO and user engagement!
ExtremeZ does an amazing job at organizing and displaying your inventory in a straightforward and helpful way.
7. EVA- $89
EVA is a perfect choice for fashion ecommerce businesses. Thanks to its incredible design you will definitely make your store recognizable on the internet. The theme is extremely flexible, as well, it's design diversity ensures endless variants of elements arrangement (see demo here).
EVA's featured products sections are a great promotional tool to increase your sales. To improve your site rankings and make your store informative, you can feature a blog that will also help your rankings online. Eva beautifully uses attention-grabbing badges, buttons and banners that can help customers easily see promotions, catalogs and other categories you specifically want to focus on.
Use the fear of "FOMO" and encourage your store visitors to purchase you can set a price timer on selected products with a special price. Moreover, the theme is AMP-ready and mobile-optimized, which means your store will be wicked fast on mobile.
8. Marine Store – $179
Everyone loves the high seas and the beach, right? Create an aesthetic beautifully reflecting that "happy place" with this Magento template! (see demo here).
This blue tone storefront design will submerge you into the world of adventures and tranquility. The nice italic fonts of this maritime Magento theme draw visitor's attention to website's content. Marine Store's slider with transparent text block and playful banners can help add attention and direction to your visiting customers.
Featured products are arranged easily for easy navigation and the movement of the site is fluid. Product stickers like SALE and NEW as well as detailed descriptions, prices, star ratings and icons are beautiful functional buttons that can help customers make informed buying decisions.
Additional navigation links, newsletter subscription form and contact info are in the footer.
9. Fruit Shop – $83
Drop your customers into a playful fruit cabana with this Magento template (see demo here).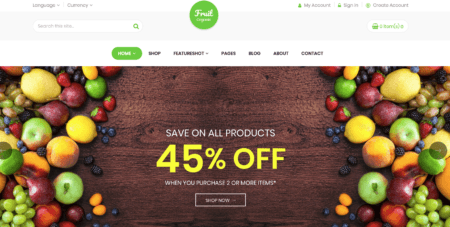 Fruit Shop offers a wide variety of easy to use customization options and features. It is perfect to sell all sorts of product with the amazing categories organization. Suitable for every type of store, Fruit Shop is supported by SEO standard and is compatible with all mobile devices.
Everything is customized easily. 10+ main designs will give you more choice for your store!
10. Fashion Slash – $179
Fashion Slash really does slash the struggle out of your ecommerce shopping experience. This Magento theme has all the elements you need for running an engaging and user-friendly ecommerce storefront! Fashion Slash features newsletter popups, price countdowns, film sliders and amazing catalog grids which makes your site visually appealing and informative (see demo here).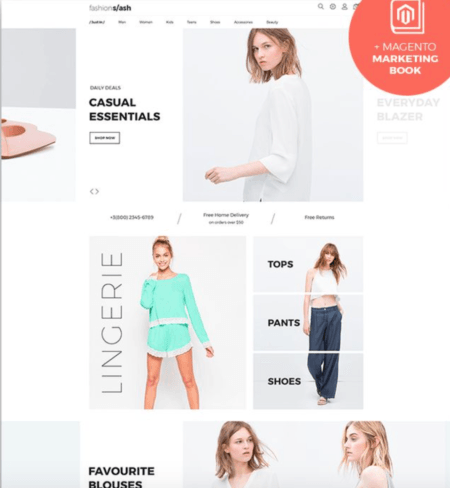 On top of being informative, the sorting options for products are stellar! The features for organization provide online shoppers with multiple product display options with the ability of not having to reload the page! Features are just switched over quickly and you can zoom through products and their multiple variations quickly!
Another amazing feature is the accelerated mobile pages which aims to make your mobile experience effortless. Google values quick design and running pages so this will definitely be an improvement for your business. The extension has a unique UI and UX design that will help generate your store pages!
11. YPath – AMP Yoga – $179
This Magento theme is a keeper! Can I get an "Ohm"? (see demo here).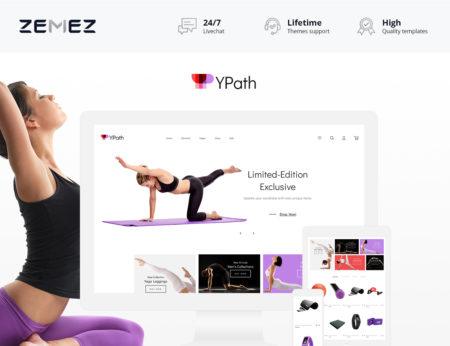 This site flows just the way a successful yoga session should!
Ypath has a minimal and clean design that works best for yoga, sport clothing or athletic ecommerce businesses. This Magento template is also totally responsive which means it can be displayed nicely in all devices, so that your customers can browse anytime, anywhere. An extensive collection of useful modules and widgets will help you manage and customize the website.
The full-screen slider will be a great tool to highlight your best products photography and inform site visitors about your store deals and new arrivals. The theme is equipped with impressive AMP technology which makes your store mobile pages to load quickly. Make the shopping experience enjoyable like a good yoga session would be: clean, user-friendly and
12. Outline – $59
Outline is an elegant & responsive furniture Magento theme that is heavily customizable for your ecommerce business (see demo here).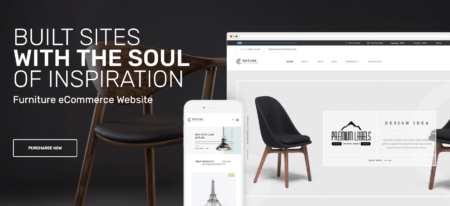 Font styles are clean and elegant which gives the theme a high-class look. Product names and titles of modules are bold and black, highlight on white background which is great design for readability and user friendliness. The header is small and includes options for setting, search, topcart and Megamenu.
Expand your business easily with an interactive blog, testimonials, stores and more. Blog & Testimonials helps create a relation between you – shop owners and customers and keep them interested through content strong posts, testimonials, feedback.
Layered Navigation helps customers faster to find their favorites and new promotion of your store. Also via Product Quickview, customers can view and purchase quickly.
13. Infant Clothes – $179
I mean, this site is as cute as its clothes! I love the stylization and brand strength that comes from the main page of this storefront (see demo here).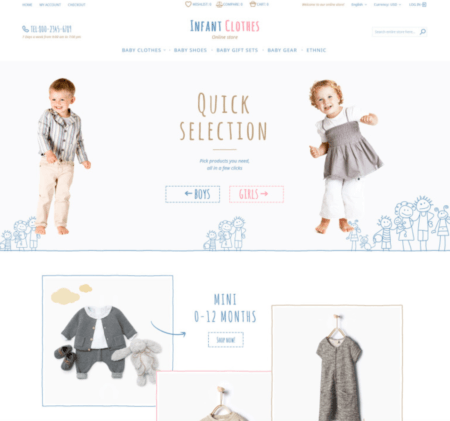 This Magento theme stands out with its hand-drawn design elements—borders, product labels, buttons, and fonts, which add a feel of comfort and informality. This is great in comparison to a lot sleek, modern and geometrically driven designs. At the same time, its design is very clean, tailored with care for each pixel. Everything is high quality and yet simple!
Since this theme is designed for Magento, it provides unlimited possibilities for scaling and expanding of your online store. You will appreciate its integration with social networks, responsiveness and support of multiple currencies and languages.
Not only does this theme look good, it helps you navigate quickly through clear and simple categories and buttons. Even the simple BOYS AND GIRLS category buttons make your shopping experience easy but sorting through inventory that quickly!
This one of the top rated templates in 2016, so it has to be pretty good!
14. Reflego – $179
Reflego is the sexy, modern minimalist "fifty shades" ecommerce design we all love (see demo here). With its beautiful use of sticky headers and simple use of black, white and a pop of color, you can easily direct online shoppers to the places you want.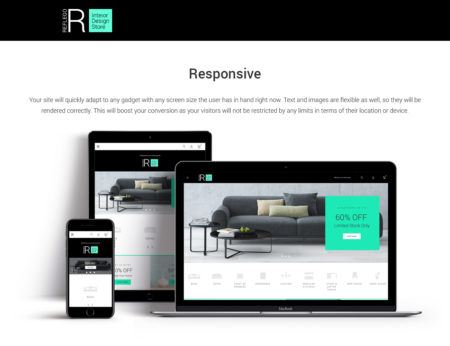 The theme is fully responsive and ensures that your website will look and perform great on all devices and browsers. Moreover, it comes with a bunch of features that will make your website unique. The homepage features a full-width slider which allows you quickly get users engaged. Your best and premium products can be easily showcased with the help of eye-catchy banners.
In addition, you can get people to follow you on social media with the strong built-in social media integration. Hook up your interactive blog to your social media pages as well as your main page in a company blog roll. This will not only keep your potential customers engaged but will also provide higher SEO rankings!
15. AllyBike – $179
AllyBike is as a responsive and high energy like you would be up on a bike! (see demo here).

This Magento template has a trendy clean design, so your potential customers focused on your products. AllyBike's refreshing side banner ads a spirit of excitement throughout your shopping experience and product browsing as well!
This theme also provides you with a captivating product presentation thanks to versatile product badges, star ratings and an elegant product carousel. A must-have Wishlist & Compare plugin will help your clients to lay aside favorable items and to compare them the way they like.
Meanwhile, a wide range of social options will help you to promote your bike store all over the web! This bike shop Magento 2 theme is your perfect solution for launching a powerful online store!
16. Kiddos – $179
Need a great option for clothing storefronts? Meet this amazing Magento template Kiddos! (see demo here).

Kiddos is a well-documented kids' clothes theme that has a fully responsive design. Its use of stylized product and catalog images helps you promote items beautifully! All images are high-quality and product pages are dynamic and versatile.
Jam-packed with multiple modules included in the template price, Kiddos was created to make the browsing experience easy and draw the attention to your most popular and trendy items.
A neat newsletter popup allows your clients to stay informed of all new offers and promotions. Moreover, your clients can spread a word about your store on social media thanks to a wide range of social options.
17. Glam – $89
Glam is a great title for this absolutely stunning Magento theme! (see demo here). This template will give your site the makeover it needs to really succeed—the storefront homepage just "WOWS!"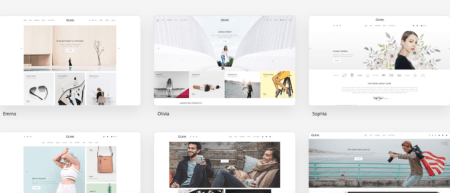 Glam's "lookbook" category is a wonderful way to categorize your products and the overall experience is just beautiful.This template offers twenty ready-to-use color schemes that you can customize perfectly for your needs. These color schemes are created via admin panel so say goodbye to coding and say hello to building ease!
Glam has several built-in features, quality design, and business navigation flow that just makes this a template "must have."
18. Magetique – $179
Do you love IKEA? If so, this is the storefront template for you! (see demo here).

Similar to IKEA with its minimalist, modern, Scandinavian style, Magetique beautifully shares content in a simple but impactful way!
This Magento theme is fully responsive and can be accessed on all devices with ease. Showcase your products with beautiful, eye-candy product banners and sliders, which captivate user's attention and inform your visitors about your latest deals and discounts.
The theme supports a blog module that can be used to publish articles about your business and increase search engine visibility. Thanks to a large number of pre-built website components and page layouts you can create a beautiful and modern store that fits your needs.
19. Flinto – $84
Suitable for every type of ecommerce business, Flinto is an interactive Magento template that is a great starting point for any business storefront (see demo here). As a responsive multistore template, Flinto offers many helpful extensions and functions to make your navigation, customer experience and product pages a wonderful experience.
Take a stylish approach to marketing your products by having a stunner homepage that can quickly show bestsellers, new, featured, random, latest and special products, customizable multi tabs, multi rows, grid and/or slider with easy configuration in admin panel.
20. Babytera – $179
What a creative and calming storefront to look at, right? This site has beautiful retina-display imagery that lets customers enjoy products in high def so they have comfort in buying something as precious as their baby (see demo here).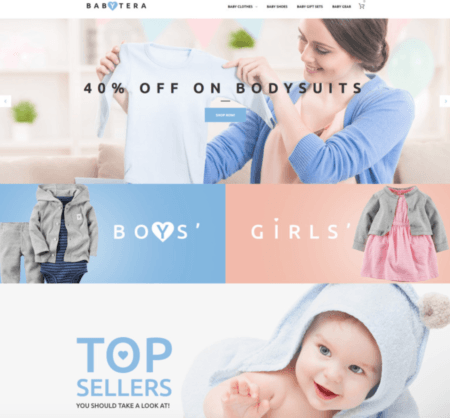 With the sticky MegaMenu, drop down cart and back to the top button, you can easily navigate through this storefront. These options also keep the most important aspects of the storefront close: buying and search.
Let your customers get the new offers and sale notifications with the newsletter pop-up, they will appreciate your care. Allow your audience to leave a feedback about your products with a commenting system.
21. Travelli – $179
Travelli's  minimalist design and clean item presentation will provide a neat look and fluent content perception for your potential customers (see demo here). MegaMenu offers a categories accordion that is organized in a user-friendly way, making it easy to reach desired pages. Users can find needed items instantly with the advanced search, compare them and add to wishlist.

Product carousel is a handy tool to display new arrivals, hot sales, and discounted products. Attract attention to your special offers by showcasing them with the animated website slider, this feature can be used as a visual trigger to boost impulse purchases. Other amazing features include cloud zoom, dropdown cart, video integration and social options to improve your site's traffic and engagement!
22. LoftStyle – $84
Seeking templates to showcase your products? Lifestyle is a great option! (see demo here).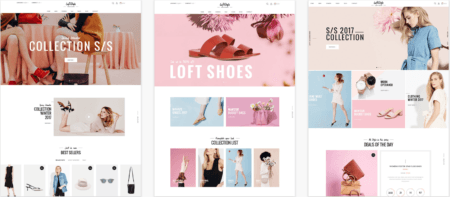 Loftstyle's incredible style helps you to draw customer's attention at the first sight. I love the boxed categories and color palettes this storefront design uses. Created with amazing user-friendliness on top of eye-catching style, Loftstyle brings your customers awesome shopping experience each time they visit your site.
The page builder makes it super easy to create anything without coding. It comes with modern design and different layouts, offering unlimited possibilities to create your own beautiful website. It also uses optimized codebase for better performance, SEO for better ranking, multilingual support and RTL for expansion.
23. HandArt – $59
HandArt is a great storefront for those earthy, homemade ecommerce businesses (see demo here).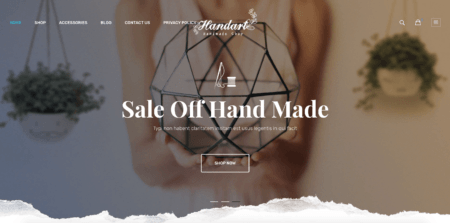 HandArt is a responsive, retina display-ready, beautifully styled storefront that helps you add a feeling of intimacy and comfort to your site. With 4+ layout designs, you can adapt all ecommerce businesses to the products you make at home!
Beautiful customized banners come along with the theme, making it much easier to visualize your content and even insert ads on your page. If you plan on having a large collection of crafty products in your online store, MegaMenu helps organize them.
The Custom Slider homepage combines wonderfully with the other extensions and the full-screen photo homepage is a highlight of the theme. You can also show nice thumbnail image for each category with Tabs Category Slider.
HandArt also has amazing actions and animations like uploading images when hover on a product and customers can see Add To Cart, Add To Compare, Add To Wishlist buttons.
24. Ves Unicraft – $84
Ves Unicraft is designed especially for handmade online shop or handmade goods marketplace (see demo here).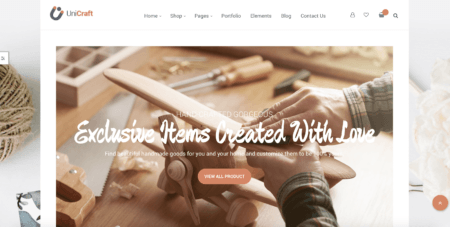 It is fully responsive with all devices and web browsers and an excellent choice with 3 different homepage layouts. This site has everything you need to get a successful site up and running, including a wide variety of extensions and customized designs!
Also, you can make your website on the TOP of search engines with SEO friendly features. Help customer easily finds you and increase more traffic.
25. TechOne – $84
Ves Techone is a great template for all things digital and cutting edge! (see demo here).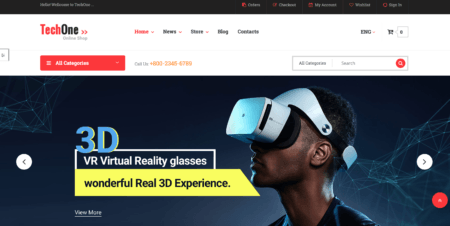 TechOne comes with 5 modern, geometric homepage layouts to help you display unlimited categories and products on the eye-catching website's background. Since its a storefront made specifically for technology products you know it looks amazing all on devices and works quickly!
Some of the great features this template has include a dynamic page builder, MegaMenu, image slider, blog, product list and auto search, which will empower you to take full control over website's productivity!
This Magento template is also optimized for SEO and high conversion rate which will help you rank well on any search engine and attract more potential customers to your site. Also, the theme supports multiple languages and RTL.
26. Kavir – $59
Smoke the competition with this dynamically dark, moody and beautiful theme! (see demo here).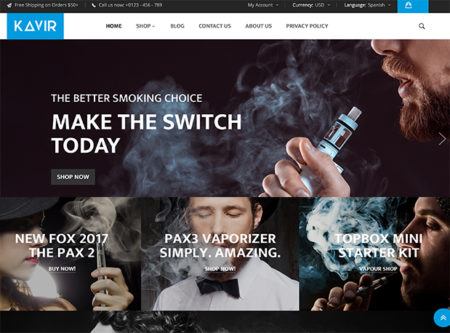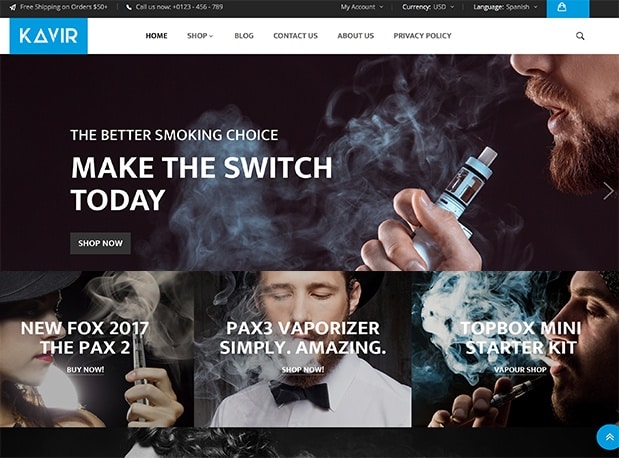 Kavir Magento theme was created for anyone who wants to sell high-end products like furniture, fashion, cosmetics or even electronic cigarettes. The layout is simple but dramatic.
I mean, just look at the stunning images against the black! Talk about eye catching!
Kavir theme has many extensions: MegaMenu with product categories, links, static block on the right of the popup which help customers can go anywhere in your store. The big slideshow is beautiful with big images, meaningful text and smooth transition. A category tabs slider module shows products of each category with slider in each tab, while product tabs slider module shows type of products such as new, featured and discount with slider in each tab.
The blog and testimonial options give you potential access to feedback, comments, reviews, testimonials about your product quality, customer service quality quickly. Kavir also has a handy popup page, a countdown timer as well as SEO content pieces that will help your storefront ranking.
27. Presiden – $59
I love this sassy storefront that works perfectly for basically any ecommerce business (see demo here). This template has 10 homepage layout options which are all beautiful and feature banner photos and snappy tagline text options.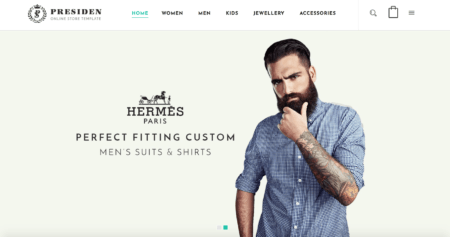 The layout is simple but elegant with art font, white background, black text, smooth slideshow transitions, neat headers and nice-looking footers.
To me, the highlight of this theme is the tabs category slider. Products slider modules bring new, bestseller, most viewed, featured products in horizontal and vertical direction. Advertise your brands, favorite brands or related brands with logo in brand logo slider.
Blog, testimonials and Instagram gallery options showcase your products, promotions and latest products via posts, nice pictures. This allows you to interact with your customers to give feedback and comments. Google Rich Snippets is integrated in details page which helps support your SEO efforts.
28. Eren – $83
As a "Top Rate Popular Template" in 2017, this Magento template is a great choice based off of customer reviews and downloads alone.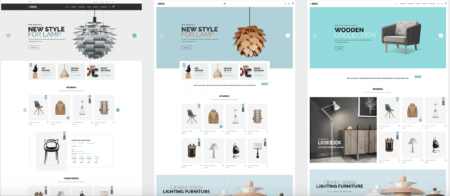 Eren takes your products to a beautifully stylized storefront that almost makes you walk into a 1950's designer's planner and produces effective product presentation. This is an extremely responsive, customizable and SEO-supported template that looks beautiful across all devices.
With its smart design you can easily hop in, drag products and other content in for an easy setup and site launch!
29. iOne – $99
Yeah…all these great looking layouts and more are included in this single theme! Lucky you! (see demo here).

Through their new Theme Options, you can enjoy the unlimited possibilities that you'll always desired!  You're free to express your own creativity as there are dozens of elements, textures, and fonts you can choose from.
iOne is the perfect minimalist storefront that is fully responsive Magento theme and works perfectly on all screen sizes and mobile devices.
30.Glasstonic – $179
A bright, trendy and unusual layout like Glasstonic's is something a potential customer will remember (see demo here). The way products are presented it also engaging and fun with bold photography! There are also small animation effects that make your storefront pop like hover effect buttons!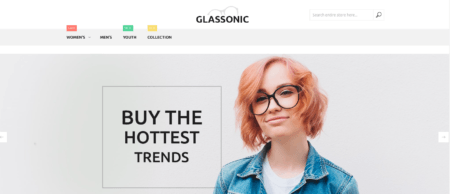 Don't forget about the rating option which lets the customers express their opinion and choose the items based on the ratings of those who have already purchased it. Apart from that, the badges like "Sale" or "New" will attract more attention to specific products.
Conclusion
Between all of these Magento themes, you can develop a beautiful and functional storefront for your ecommerce company. As your business grows, you can re-invest money in new templates and other storefront features.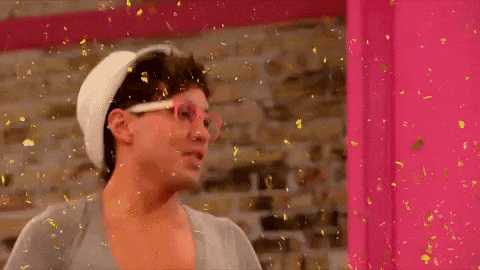 Once you know what to look for, Magento templates offer every bit of "magic" you need to get started with your digital storefront. With the above tips and information, you can create an amazing customer experience that make them feel amazing buying from your store!
If you feel we have forgotten about an amazing Magento theme, feel free to share your favorites in the comment below and why you love them!
Leave a comment