5 Ways Messaging is Transforming Customer Service for Online Retailers
As more consumers shift their spending to the web, it has been all hands on deck for online retailers. Online retailers have to keep a lot of gears moving: inventory management, website updates and outbound emails to name a few. Many retailers have turned to technology to handle the onslaught of traffic and transactions.
Customer service is just one of the areas that has undergone a transformation through the use of technology. It might be easy to let customer service fall by the wayside, however, shrewd site owners know that customer service is a differentiator that keeps customers coming back.
How Online Retailers are Using Messaging
Whether it's due to the closing of physical stores or an increase of variety and selection of products found online, customers have turned to online shopping for convenience. Things that were once viewed as extraordinary customer experiences are now viewed as status quo. Consumers have come to expect fast, free shipping, the ease of shopping anytime, anywher, and proprietary algorithms that can recommend what to buy next.
Consumers expect to be in control and mobile devices are always close by to help them discover, browse, compare and purchase on their time. Since the majority of purchases begin and end online, messaging is part of a natural evolution of online shopping.
Research conducted by Market Strategies International clearly shows the the rise of consumer-to-business (C2B) messaging is the preferred way for consumers to connect with the brands in their lives. Research also showed that the ability to message a company makes a measurable difference in the consumers positive perception of the company.
Messaging enables online retailers to provide asynchronous communication, meaning, the customer can engage with a retailer at their exact moment of need—while shopping on their site or reading a Tweet about a new product release, not when they have some time to interrupt their day to make a phone call.
With asynchronous communication, the customer has more freedom and flexibility to engage with the retailer through messaging. Asynchronous communication can be offered to online shoppers in a number of forms:
Online retailers use messaging for customer service to differentiate themselves from competitors, provide a frictionless customer experience, drive waste out of the consumers path-to-purchase, and meet their customers where they already are. Which is pretty much anywhere there is a WiFi signal or cell tower.
How Messaging is Transforming Customer Service
There are a variety of ways that messaging is changing the face of customer service for online retailers. Here are a few important ones to be aware of:
1. Eliminates Wasted Time
Most of the costs for customer support can be attributed to the agent's time. With messaging, agents are able to handle multiple conversations simultaneously and reduce the cost per contact.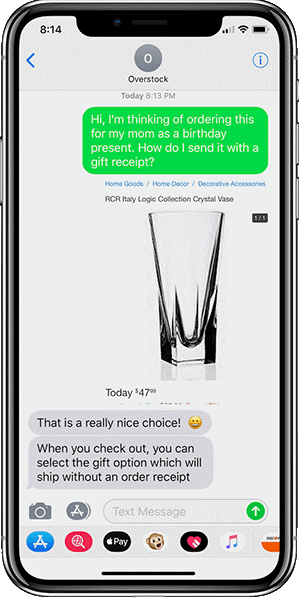 This helps the retailer increase agent efficiency and reduce customer service costs, while eliminating "hold times" for customers who need assistance, especially for simple questions.
2. Provides More Visual Context
Consumers are already familiar with using their mobile devices to take pictures and attach them to messages. Retailers that have implemented messaging discover that consumers can easily share photos or videos. Sharing photos and videos drastically reduces the amount of time it takes to understand what the customer is dealing with and how to help.
3. Makes Seasonal Spikes More Manageable
The majority of customer service agents already use messaging in their personal life, so it doesn't take much training to get an agent up to speed on using messaging as a customer service tool. Agents are able to handle multiple simultaneous conversations and there is minimal training involved in using messaging as a customer service channel. Seasonal spikes can be more easily managed on the messaging channel versus email or phone.
4. Reduces Channel Switching
As a consumer, these scenarios may sound familiar: calling a customer service number, while waiting for your turn in the live chat queue, or hanging up from a call to send an email to customer support. Messaging helps customers avoid the need to switch channels.
A conversation can be initiated via text or social and continued as the customer has time to respond. The customer can send supporting documents like PDFs, forms or photos all within their native messaging app.
5. Creates More Efficient Conversations
Rich messaging such as those provided by Apple Business Chat or Google Rich Business Messaging can extend the capabilities of conversations further, allowing customers to schedule appointments, add items to a cart and complete transactions within a messaging conversation.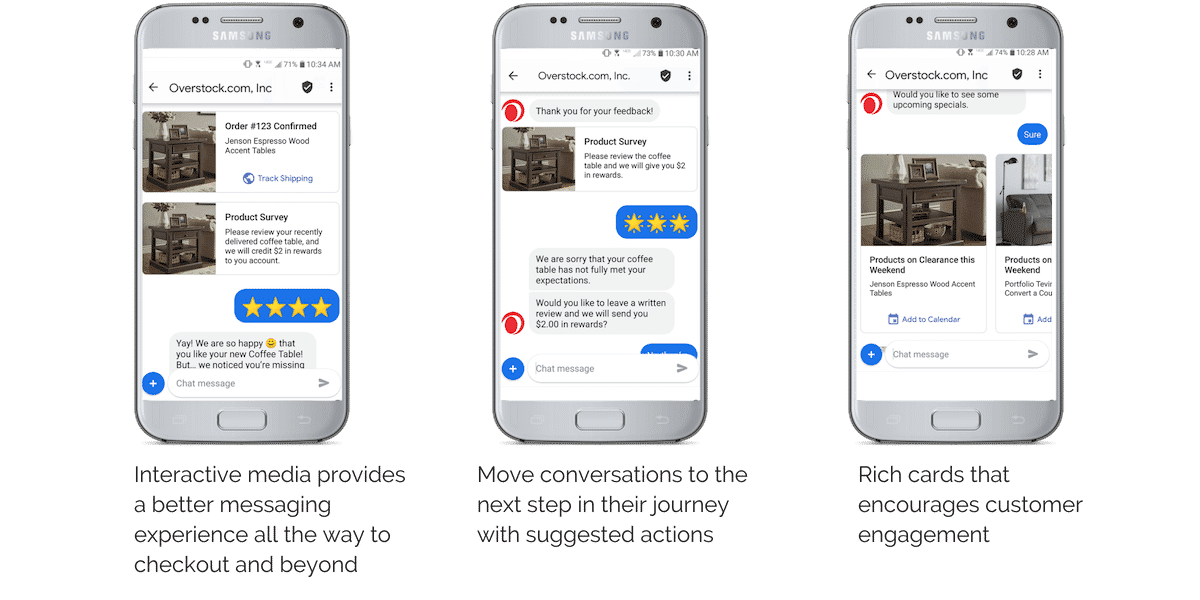 With rich messaging, more transactions can take place within a conversation. Agents can take advantage of the engaged conversation to share surveys or promotions.
Why Messaging Has Such a High Adoption Rate
Retail is undergoing a vast transformation. Brick and mortar, as well as online retailers, will increasingly have sales powered by digitally supported customer experiences, like messaging. Research performed by Customer Contact Week Digital (CCW Digital) shows that customers are looking for an "on demand" experience.
"If they're looking for a quick, simple answer to a transactional question, they expect the business to comply. If they're looking for a deeply personal, anecdote-rich consultation about an upcoming vacation, they expect an agent who can meaningfully engage. If they're struggling to resolve a unique, challenging product issue, they expect an expert to provide an intuitive solution."
– Special report on Messaging, CCW Digital
Messaging provides the flexibility for retailers to provide the experience that customers are looking for on the channel they prefer, while keeping customer service costs at bay. In fact, a majority of clients who have implemented messaging have done so to deflect expensive calls to a more cost effective channel.
Conclusion
Reduced costs, seamless customer experiences, and more productive customer support is spurring the rapid adoption of messaging for customer service. As more online shoppers—especially smartphone wielding millennials—take the convenience of online shopping for granted, more retailers will need to consider a move to the messaging channel.
Have you tried messaging for your online retail store? How have you used it? Do you have any tips to share? Leave your thoughts in the comments.
Leave a comment