Oh Snap! The Ultimate Product Photography Guide
Business
•
Ecommerce
•
Marketing
•
Site Optimization
•
Social Media
•
Cydney Hatch
June 22, 2018
Business

•

Ecommerce

•

Marketing

•

Site Optimization

•

Social Media

•
Cydney Hatch• June 22, 2018
Did you know that people remember 80% of what they see, and just 20% of what they read? The power of an image is hard to ignore, and if you're not including great images of your products on your ecommerce website, you could be missing out on some serious sales.
The truth is, the better your stuff looks, the more you will sell. So why aren't you taking photography more seriously?
The problem is, creating quality content, particularly product photography, for your ecommerce business is not exactly a walk in the park. Putting together great photography and visual branding is hard for many businesses who have great products and ideas but don't know how to style and present them.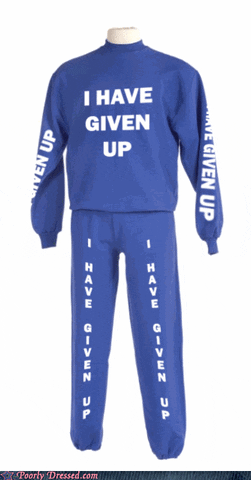 If you're looking for help, I'm here to give you some amazing visual branding and product photography advice from my ten years of photography and design experience! If your product photography is not coming out the way you wanted, this guide will help you learn everything you need to know about how to take photos that get shoppers to click and buy, including tips on lighting, shooting, editing, and more.
You can learn the skills you need to promote your business well—whether you're snapping shots with a smartphone in your kitchen or managing a photo shoot with all the fancy stuff! In this article, you'll learn everything you need to create quality product photography and before you know it…OH SNAP! You will be a pro! Let's take a look!
Why Product Photography Is Important
The perceived value of your products and the trustworthiness of your brand is often judged on the quality of your visual content. That means having high-quality, beautiful product photography can go a long way towards driving sales for your business.
Think about the last time you were shopping online and came across a bad product photo.
Maybe the image was dark or out of focus. Maybe you couldn't figure out how large the product actually was or you weren't sure what color it would actually be. Maybe there was so much going on the photo that you didn't know what item was actually for sale.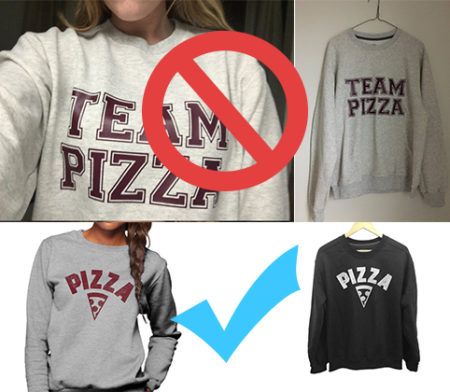 Odds are, you didn't buy that item.
Unlike shopping in a boutique or a department store, when you browse online, you can't pick up the product. You can't touch it, hold it in your hands or feel the texture with your fingers. All you have is the photographs to base your buying decisions on.
As a shopper this can be scary, so it's your job to put them at ease with great photos and descriptions.
However, not everyone can afford a professional photography studio, models and equipment—especially when they're just starting out. DIY product photography provides a great alternative and—as long as you know the proper tools and techniques—taking compelling product photos is well within your grasp.
Types of Product Photos
Before we talk about specific kinds of product photos, let's talk about the basic functions of product photography.
As stated above, in order to make a purchase, customers want to be confident in what they are buying. Product photography that illustrates all facets of your product helps shoppers make confident, well-informed purchases. Here are a few of the things a great product photo can accomplish:
It is eye catching and makes them want to buy or click on your product
It is clear and communicates important information about the product
It has purpose, emotional connection and stylization that represents your brand
It helps them visualize what it would be like to own and/or use the product in their personal lives.
Different photo styles can convey a variety of different information about your product. By mixing and matching from the below photo types in your ecommerce storefronts, you'll give shoppers a well-rounded understanding of your product…which means more sales!
1. Studio
Studio shots are the "meat" of your ecommerce product photography. These are shots of your product on a plain background with plenty of light to highlight and give your customers an easy  glimpse of your product.

Studio shots are a bright, clean and simple way to show potential customers what you're selling. The clearness, lighting and simplicity are really what will draw in your customers, especially when they're looking at thumbnails.
White or solid backgrounds help bring out textures, depth and details of products. However, your background does not always have to be grey and white, the key is simplicity. Anthropologie consistently dabbles with color and simple backgrounds to showcase their clothing and products.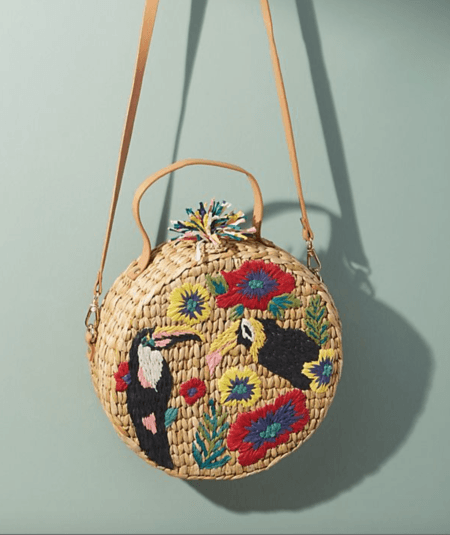 Compare the photo above (taken with studio lighting) to the photos below. In the images below, the idea is nice, but the products get lost against the background. The green earrings are hard to see against the green leaves and the bright background pulls your eyes away from product.
Similarly, the cupcake shirt gets lost in the texture of the hay, grass and the pumpkin. On top of that, the way the shirt is folded, it's hard to tell what the product is. Is it a towel? A washcloth? A shirt?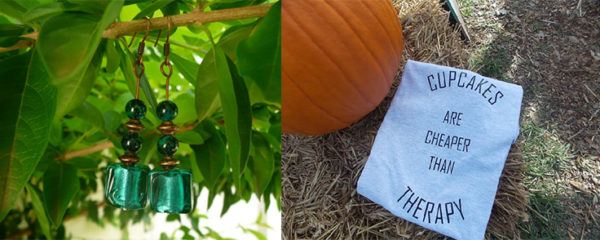 Like these bad examples, it's usually good to have a few simple studio photos that show your product beautifully by itself so customers can "see" it. Clear photos help set a realistic expectation of what a customer will be receiving in the mail. Photos like this will greatly reduce your returns and exchanges as you were clear upfront with your customers.
Next, if you want to dabble with fun backgrounds and styling, let's learn about Lifestyle photos.
2. Lifestyle
Lifestyle shots are the photos that help inspire your customers to purchase and make them feel like they "need" to have the product in their own personal lives. I call these the "Steve Irwin" of product photography because you are showcasing your products in their natural habitat—the way they are intended to be used/look.
This inspiration style of photo is why social platforms like Pinterest do so well. You are setting up products in a visually appealing way to help sway shoppers to make a purchase from your store. With Lifestyle photos, it is important to be thoughtful with your styling—which we will talk about in a later section.
Below are some examples of strong Lifestyle photos businesses could pair with the other product photography images.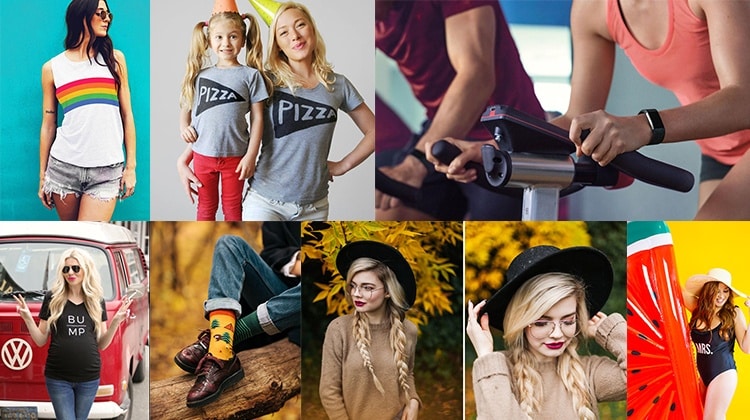 So as we look at these examples, it's easy to imagine what it would be like to wear the apparel, fitness watches or accessories on a future vacation, during the upcoming season or to a specific date.
The matching pizza shirts could inspire a mother to get a shirt for her and her daughter to wear to an upcoming party. An expecting mother would have little trouble imagining herself in this baby bump shirt. It's easy for any future bride to picture herself wearing this "Mrs." swimsuit on her sunkissed honeymoon!
If styling is tough for you, you can always take a more simple approach to Lifestyle product photography. The simple definition can be that you have a product worn or used by a model. This at least helps customers see how the products are worn, how they fit, how they scale to a human body, etc. Depending on what you're selling, simple can actually be better!
Lifestyle photos help potential customers visualize the product in their own life. Once they picture themselves wearing or using your product, it gets a lot harder to say "no" to buying it.
If you want to go the extra mile in selling your products with lifestyle photos, try pairing items to encourage additional purchases.
Here's a quick example: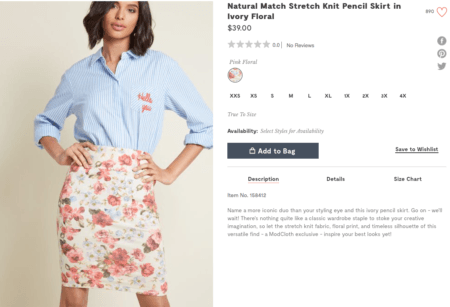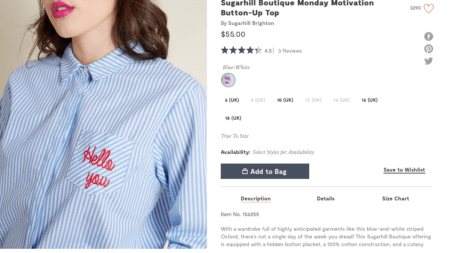 This approach helps someone who isn't the best at putting outfits together to see how your dress, bag, and earrings go together beautifully. That way, instead of buying the products separately, they might buy all the products in your image so that they can get the same"look" seen in your photo.
Unfortunately, Modcloth above does not have their items featured together on the same page for easy group purchasing, but you can design your ecommerce website to have a feature showcasing also worn items in your lifestyle product photography!
3. Scale & Details
This will be one of the more helpful product photography types you will include on your ecommerce site. A scale photo of your product is one that visually communicates the size of your products.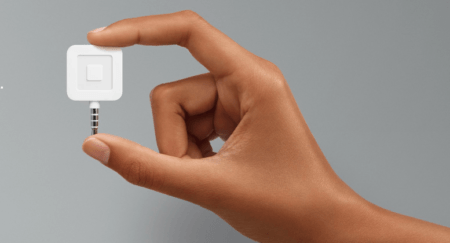 Since customers cannot pick up and physically see your items like they would in a brick and mortar shop, photos like this reassure your shoppers that the product will be what they expected. This again helps with returns and exchanges, which can help save you money!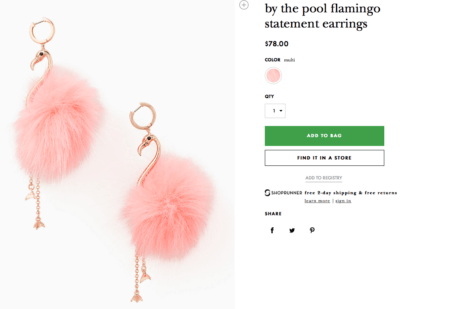 For example, above, Kate Spade has these quirky flamingo earrings. Looking at the studio photo they are puffy pink balls of fluff that could potentially take over your face. Looking at a studio photo alone will not help a customer visualize the size and "wear" of the product, Kate shares a scale photo to give potential customers a sense for what these earrings actually look like on a person.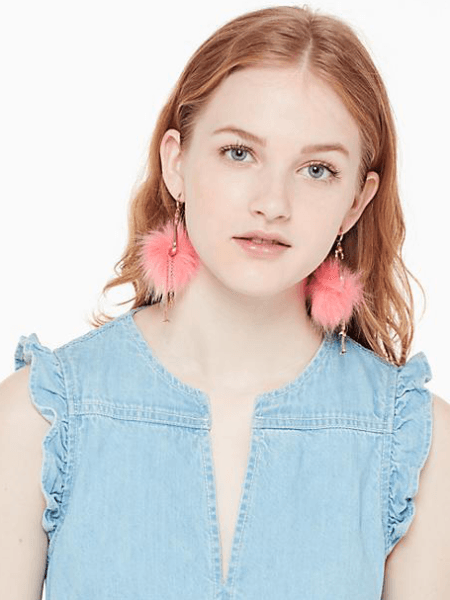 Showing scale in your product photography helps put your customers at ease. Does the vase hold one flower or a whole bouquet? Does that gemstone set in that ring totally overpower the hand? If a customer has to question the sizing, shape or wear of a product, they're a lot less likely to buy.
Now, not every product needs a photo showing every aspect and dimension. A detail shot is a close-up photo that highlights your product's features.
So for example, this EtnoDesign ottoman pouf shows great lifestyle product photography, scale and detailing.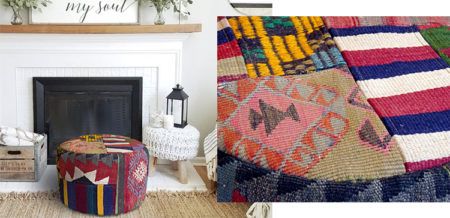 This company placed the pouf in a home setting that simultaneously provides viewers with a Lifestyle feel and shows meaningful scale by setting the pouf near a fireplace, small chairs and a couch.
EtnoDesign further assures the shopper of quality by showing an up close product photo of the fabric. In this photo, a customer can quickly tell the pouf is covered by a woven, high quality knit—not just pattern printed. This can help them rationalize and understand the listing price because it is a higher quality product. This is why sharing details and scale is so important!
4. Group
Group shots are pretty straight forward. All you have to do is group a few products together.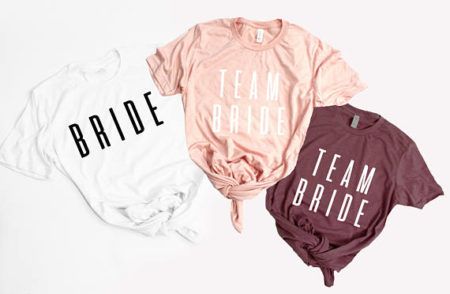 Group shots are especially good for documenting products sold in multiples, such as sets of custom shirts, cookware, sets of bowls or silverware, etc. You can also use group product photography to show the variation of different colors, finishes or materials you offer for purchase.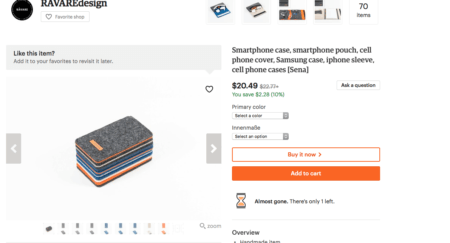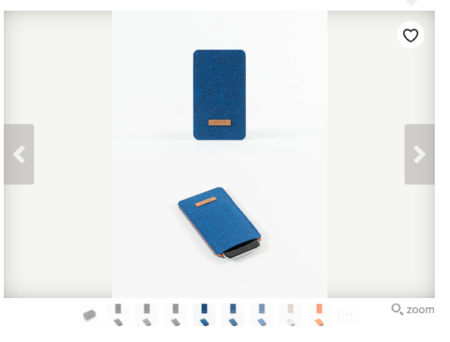 In the photo above, RAVAREdesign shows all of their iPhone cases stacked and then has individual studio photos of each color variation in different angles. Like this, you too can create grouping photos that share a lot of information in just one photo!
BONUS: Authenticity & Quality Assurance
People crave "behind the scenes" and "process" product photography and content. We live in a world where people question a lot, so creating a sense of authenticity through your product photography is always a good idea.
An authenticity shot can really emphasize the level of workmanship that went into a particular item and share the quality the company takes in creating items. These types of shots are also handy for promoting your business on social media.
An example of this is Jesiii who paints handmade home decor.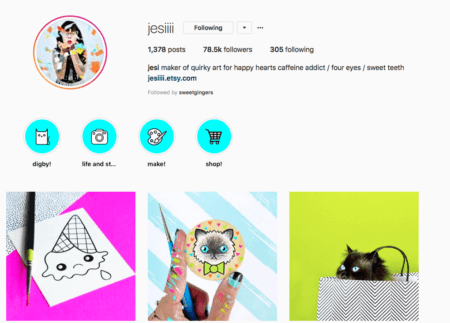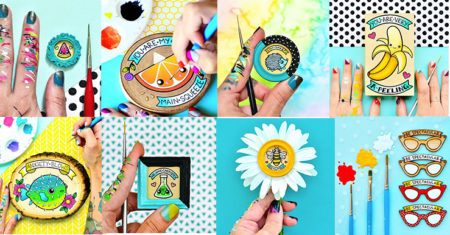 She does a great job on her site and social media pages of sharing quality, stylized and unique product photography that really reach out to her audience. All of her photos give you a sense for her "handmade" quality using paintbrushes, her paint ridden hands and her attention to detail.
If I was a customer looking for adorable, handpainted wall art, I would definitely trust her expertise as her photos put me at ease!
A different example of using product photography to generate a sense of "authenticity" is Project Made With Love's bracelet photos. Project Made With Love shares emotionally authentic photos of their products in addition to their scale and studio pictures.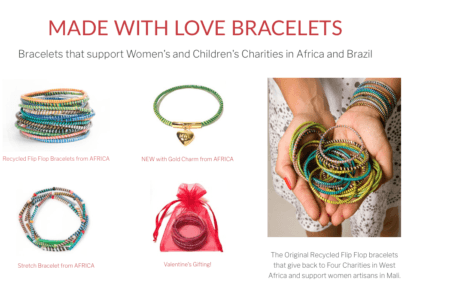 Sharing the communities involved with these bracelets helps inspire customers to want to buy and support those people. By seeing where the products are coming from, customers might have a stronger desire to purchase from you rather than getting a cheap bangle from China…people want to know where their products are coming from!
You too can create a sense of authenticity with your customers by sharing process shots, behind-the-scenes images and supplementing these photos with other content pieces on your site.
Overall, combining several photo types is one of the best ways to use product photography to win over potential customers. Quality product photography drives sales, so you need to make sure you take advantage of as many opportunities as you have to show your products off!
Choosing Your Camera and Equipment
Now that you understand product photography types, let's talk about how to take' em and dig into camera details and tips!
Not sure what equipment to use to get the best shot? That is okay! In this section, we will go through all the basic things you should know about cameras as well as other accessories that can help elevate your product photos.
Even if you can't afford a high-end camera, you can still create beautiful, high quality and consistent product photography that will significantly add to your ecommerce business. Let's take a look at the types of cameras you will see and the many cool thing-a-ma-bobs you can add to your camera gear!
Digital Cameras
There are a few options you will see at a tech store: Compact, Mirrorless, and DSLR. All of them have their pros and cons but ultimately I have come to find it all comes down to user preference, usability, quality control, creativity and price point.
Compact
Compact cameras or better known "point and shoot" cameras come in a lot of different options ranging from fully automatic to limited manual.

Compact cameras are more afforable than higher-end cameras like DSLRs and mirrorless cameras so these are a great option for ecommerce business owners who have a tighter budget.
Portable and simple to use, compact cameras have more automatic modes and built-in settings (called "presets") than smartphone cameras. There will be minor learning curves because many presets take the camera calculations out of your hands, but compact cameras are a good way for beginners to get comfortable with a camera and practice before investing in a more expensive camera.
A compact camera with at least 10 megapixels and a macro setting is a great way to capture quality, detailed images with basic depth. These photos can then be downloaded into basic photo editors or the camera bridge program that comes with the camera.
The only downfall to a compact camera is that you are seriously limitation in your manual settings and photo manipulation options. Even though camera abilities are limited by your aperture (blurry background photo manipulation we will talk about later in this article), you can still do some decent product photography with a compact camera.
The flash on compact cameras is honestly the only true AWFUL feature of compacts because they are so close to the lens. This can severely affect your image quality. When the flash is right by the lens, it shoots light forward parallel to the lens, which makes white light wash out appear in your photos.
Fortunately, as seen in this photo by Big Street Guns, diffusing the flash light source can really soften the flash light appearing on your products.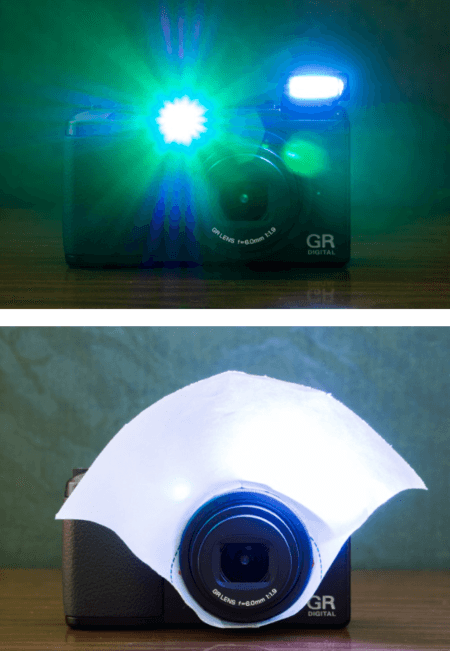 Diffusing your flash cuts down on harsh light and product photography wash out. There are many ways you can soften your compact camera flash as seen in these photos and this video tutorial below:
Remember, it's easier to fix under exposure in a photo editing application than it is to fix over exposure—you can rarely fix over exposure—so err on the side of under exposing things. Trust me!
Compact Cameras I Suggest:
Panasonic TZ100 / SZ100
Canon PowerShot G7 X Mark II
Fujifilm X100F
Panasonic LX100
Sony RX10 III
Leica Q
Although compact cameras have a lot of presets, automatic actions and come at a great price point, they do have a lot of limitations that really limit your product photography capabilities, so let's take a look at the next step up: mirrorless cameras.
Mirrorless
Like compact cameras, mirrorless cameras do not use mirrors to capture an image and actually allow light to travel and directly hit the image sensor. The image then appears on to a rear screen or electronic viewfinder (EVF).


Since these cameras do not have not require a prism or mirror to function, this camera is compact and light to hold! The reason why this camera is the step up from compact cameras is they have more manual capabilities than a compact camera with lens options (similar to a DSLR).
For a beginner, these cameras are slightly less complex to navigate than a DSLR, so if you are looking for the good "in between option", mirrorless cameras might be for you!
Mirrorless Cameras I Suggest:
Fujifilm X-A5
Panasonic Lumix DMC-GX85
Sony – Alpha a5100
Canon – EOS M100
Fuji-X-M1
Olympus E-PL7
Panasonic GF7
Samsung NX3000
Now, let's move on to the best option which is the king of photography, DSLRs.
DSLR
Digital single lens reflex (DSLR) cameras have interchangeable lenses and max manual setting capabilities. I mean, some of the film winners of the Sundance film festival were shot with these cameras! It is quite impressive!

To take a photo with a DSLR camera, light passes through the lens to a mirror that reflects the image into the viewfinder so you can preview the shot. When you press the button to take a photo, the mirror flips up, the shutter opens, and light hits the sensor, capturing the image.
Cool, huh?
DSLRs come with a significant learning curve, especially if you change your settings from automatic to manual. You will need to take time to learn the science and mathematics of photography.
The manual controls and options for camera lenses and accessories are huge, making it easy to use these cameras in many different situations, including in low light. With larger image sensors that take in more light and allow for higher pixel densities, these cameras generally produce sharper, higher-quality images than compact or mirrorless cameras.
You buy a DSLR body and then you add the different lenses which will also bring new capabilities to your camera body. Lenses are the true investment.
The downside to DSLR is just that, lenses and building your camera "family" is expensive. DSLRs can get pretty pricey and you will need to commit to a DSLR maker as its truly an investment and the accessories are not interchangeable from one to the other. The two main DSLR makers I suggest looking into are Canon and Nikon as they are the dynamic duo"kings" of the DSLR camera world.
Now comes the BIG and GREATEST debate of DSLR camera: Which one do I choose?
Many people ask me which DSLR model they should invest in and honestly, my first piece of advice is to focus on your personal preferences! Go to the store and pick up both models, Canon and Nikon, and see which one feels better and is more user-friendly.
Both are a fantastic option, but one of the biggest determining factors is what you feel comfortable with. Don't look at specs to begin with, just pick up a few cameras. Each brand has its strengths and weaknesses, but they are both fantastic options. Just know that once you pick one or the other it's an investment moving forward.
Also, keep in mind if you're buying your first DSLR, it may make sense to buy it as a kit, which generally includes the camera body along with an 18-55mm lens. Often referred to as a 'kit' lens, this covers a pretty broad zoom range, perfect for almost every photo setting you will find yourself in!
From there, you can build your lens "family" to get the effects and capabilities that you want.
Canon
Canon EOS Rebel T7i / Canon EOS 800D
Canon EOS Rebel T6i / Canon EOS 750D
Canon EOS Rebel SL2 / Canon EOS 200D
Canon EOS Rebel T5i / Canon EOS 700D
Canon EOS 5D Mark IV
Canon EOS 6D Mark II
Canon EOS 80D
Nikon
Nikon D3300
Nikon D5600
Nikon D3400
Nikon D500
Nikon D7500
Nikon D850
Nikon D5
If you want something a bit different, look at Sony cameras or Olympus, particularly the Olympus OM-D E-M10 Mark III.
Can You Shoot with an iPhone?
People ask my opinion on iPhone photography and all I can say is, it has come a long way! iPhones have a lot of quality photography components that can make your product photography pretty dang amazing.
I mean look at this photo comparison of a Nikon & IPhone shooting this dress shoe:

If the two photos weren't labeled, you probably would have thought they came from the same place, eh? So, if you are on a tight budget, on the go or wondering if iPhone product photography is here to stay, let's take a look at some of these points and tips for successful iPhone photography.
To start, Holly Castro created an awesome tutorial on some of the things I will discuss below:
As seen in her video, a lot of the same principles of studio photography you use with real cameras will apply. Make sure you are focusing on proper lighting, backgrounds and a lot of the same principles and your iphone camera will do the rest.
Some of the features you will want to dabble with include:
iPhone 8 and iPhone 8 Plus Camera Specs
The iPhone 8 has a single 12-megapixel camera with an f/1.8 aperture.
The iPhone 8 Plus has dual 12-megapixel cameras. The wide angle will have an aperture of f/1.8, while the telephoto will have f/2.8.
The iPhone 8 and iPhone 8 Plus both have optical image stabilization, or OIS, which helps reduce motion blur due to camera shake.
The iPhone 8 Plus has a feature called "Portrait Lighting," which is designed to digitally simulate various lighting conditions for portraiture work. It also allows for strong aperture to be used in portrait mode which will give depth to your photos.
The iPhone 8 and iPhone 8 Plus can both shoot 4K video at up to 60 FPS, and slow-motion video at up to 1080p and 240 FPS.
iPhone X Camera Specs
The iPhone X has nearly the same camera specs as the iPhone 8 Plus, with a dual 12-megapixel setup, f/1.8 and f/2.4 apertures. Note the iPhone X's telephoto lens opens a bit wider than that of the iPhone 8 Plus.
The iPhone X has dual optical image stabilization, resulting in even less motion blur.
The iPhone X enables Portrait Mode with selfies, allowing for a blur effect that improves self-portraits.
The iPhone X's 5.8-inch "Super Retina" OLED display should serve as a bigger and more vibrant viewfinder and frame for your photos and videos.
Your iPhone camera modes will typically be:
Grid: This allows the rule of thirds to come to life as a grid system appears on your iphone camera live screen to help you position items creatively.
Live Exposure: This allows you to read your camera's auto exposure settings as the camera adjusts it. It is good to take note of your exposure settings just in case you need to change them later.
HDR Quality: It is very important that you set your image quality to High so that your smartphone can help you create the best images possible.
Lighting: If you have a newer iPhone, there are tons of lighting options to choose from in portrait mode including: natural light, studio light, contour light, stage and stage light mono.
How to Creatively Use Your iPhone
If you still arent sold on using your iPhone for your product photography there are fun stories like Street artist and photographer Philippe Echaroux  who used his Iphone, a flashlight, plastic straw and a Big Mac Box to create luxury lighting for his photo project.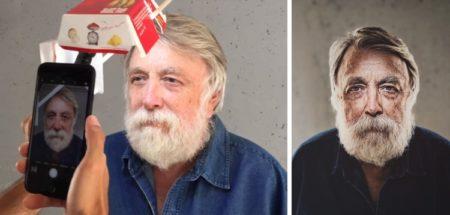 The results were incredible. So, since this kickstarts the discussion, here are a few ways you can hack at making quality product photography using your Iphone.
Use Panoramic Creatively
A lot of the time people only use panoramic from side to side but you can also use it going vertically. Start with the arrow pointing downward and snap a shot vertically with all the elements you want not getting cut off!
Use Burst
If you want to take a series of photos in quick succession, just hold down on the shutter and it