Why Aren't You Paying Attention to Your Post-Click Experience?
by Aden Andrus • August 22, 2019
When it comes to pay-per-click advertising, it's easy to get focused on targeting and ad copy…and forget all about your post-click experience.
After all, it's only natural to spend your time trying to improve your traffic. In fact, PPC platforms like Google and Facebook make it so easy to test new bidding strategies and compare ads that it isn't hard to get stuck endlessly tweaking things.
All of that is well and good, but it doesn't really answer the question, "What happens after someone clicks on your ad?"
The fact of the matter is, no matter how good your ads and targeting strategy are, if your website and landing pages don't convince people to convert—they won't convert. Your post-click experience is just as important as your pre-click experience…or perhaps even more important.
However, despite that fact, most businesses have a hard time investing in their post-click experience. There are lots of reasons for this, but they all basically boil down to the following 3 reasons:
"It's too expensive"
"We don't have the time"
"Our site experience is already working well enough"
In this article, we're going to take a look at each of these arguments against doing site testing and see if and/or when they really make sense. Let's dive in.
1. "It's Too Expensive"
Now, I won't argue that conversion rate optimization (CRO) is cheap. Depending on your site and needs, it can definitely feel like a big investment—especially when your budget is limited.
But does this argument hold up?
At first blush, it's easy to see why people have a hard time investing in their post-click experience. No site experience will work for everyone, so isn't PPC advertising something of a numbers game? Isn't it better to invest your money into driving more traffic to your site?
Perhaps, but only up to a point. See, the thing is, PPC advertising can only get you so far. At a certain point, you're reaching the majority of your audience and you have to look for other ways to get more bang for your buck.
The easiest place to do that is your post-click experience. Conversion rate optimization is a great way to get more out of your PPC campaigns. After all, if you can get twice as many sales from the same investment, that's a huge win!
A Quick Example
To show you how this works, one of our clients runs a large commerce website where they sell 371 products that fit into about 12 different categories.
Shortly before we started working with the client, they had redesigned their home page. Putting their heads together, the marketing team had come up with a collection of products that with high margins and/or high sales volume and decided that would be a good lineup to place on the home page.
Since the page was new and unproven, we theorized that many of the products on the page were not the perfect fit for a consumer, and the overload of possibilities decreased the likelihood of purchase.
So, we decided to test removing different elements from the page to see how that would affect the performance of their home page.

To the client's astonishment, this test revealed six winners and increased their revenue by thousands of dollars in just 2 weeks. And that was just a small test!
So, if you think that you don't have enough money to invest in CRO, I would argue that you can't afford not to invest in your post-click experience.
Are You Solving the Wrong Problem?
As a general rule, most businesses use PPC advertising like a fire hose. To save their business from burning down, they turn up their budget and hope that more water—er, traffic—will solve the problem.
However, if the water can't get to the fire, pumping more water on the blaze won't actually make a difference.
In the same way, if your site or landing pages aren't converting well, pushing more traffic at them just means more wasted money. In this situation, choosing to push more budget into PPC doesn't really help your business. However, putting that money into CRO could help you get a lot more conversions out of your existing budget…and your future budget, if you choose to increase it in the future.
When Budget is a Factor
The only time that budget should really influence your decision on whether or not to optimize your post-click experience is when your budget is so small that you aren't driving much traffic to your website.
To get meaningful results from your CRO, you have to have at least a few thousand visitors a month. Otherwise, it will take so long to get useful data that it simply won't be worth the effort.
If you're in this situation, CRO probably isn't right for you…yet. Unless your website is truly, obviously horrible, work on getting your traffic, revenue and marketing budget up to the point where it makes sense to start optimizing your post-click experience.
But, if you have a decent amount of site traffic—either organically or via PPC—budget really shouldn't be a reason not to do CRO. Optimizing your website almost always makes every aspect of your marketing work better, which just means more money in your pocket, not less.
2. "We don't have the time"
When most people think about optimizing their site or landing pages, they immediately assume that it will take time—a lot of time.
After all, if you've ever put a website together, you probably still have PTSD from the process. Creating a website takes a ton of time and effort. It's not a task for the faint of heart.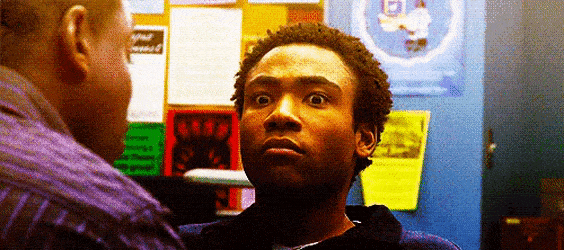 So, it's natural to assume that redesigning your website will take a ton of time and effort. However, this couldn't be further from the truth.
While it can take time to get results—depending on how much traffic you're getting—actually putting together your tests is surprisingly quick and easy.
A Quick Example
One company that we work with gets millions of dollars a month in online revenue. But, they knew their website needed work, so they came to us for help.
So, for our first round of tests, we decided to try something we call existence tests. Like the test discussed above, with an existence test, you don't actually create anything new. You simply remove various elements of the page to see how that content was influencing your conversion rates.
If the content was helping people convert, the conversion rate will go down when you remove the element. If the content was hindering them from converting, the conversion rate will go up when you remove the element.
For this particular client, we ran 5 variations, each one with a different element removed. How long did it take us to set up this test? About 5 minutes.
Then, we hit the go button, and waited. Over the course of 6 days, the winning variation increased sales by 14% from the control, increasing the sales by $70,000 per week!
When Time is a Factor
Generally speaking, time concerns shouldn't prevent you from optimizing your post-click experience. With software services like Optimizely, VWO or Convertize, you can get a variety of tests off of the ground in a matter of hours.
However, if you're running a small business that you're trying to get off the ground, even that kind of time investment can be more than you can afford.
In addition, learning new software takes time, effort and know-how. So, trying to wrap your head around CRO on your own can take quite a bit of time in and of itself—even if setting up the actual test itself is fairly quick.
In this situation, it's often easier and quicker to simply hire someone to help you out. Here at Disruptive, our clients barely have to invest any time into their post-click experience. We take care of all the legwork for them, so all they have to do is sit back and enjoy the results.
3."Our site experience is already working well enough"
For many businesses, it's easy to assume that their website is already well-designed. They're getting a decent number of conversions from their site and their PPC campaigns are profitable. What more could you ask for?
If anything, though, these companies could benefit more from ongoing CRO than almost anyone else.
After all, if your marketing and website are already working, optimizing your post-click experience can take your campaigns from good-to-great. You just need some fresh ideas and new concepts to get you going in the right direction.
A Quick Example
One of our clients is a college that was looking to increase their prospective student base. As a college, they were fairly well-established and had a polished website.
Or, at least, they thought they did.
To help them get even more out of their website, they asked us to run a few tests on their site. Here's one of the key pages that we worked on:
The page certainly isn't bad, but "Get Started on the Right Path: Prepare yourself for a better future by earning your degree from Pioneer Pacific College" isn't the most compelling value proposition. It sounds very academic, but it's not the sort of content that gets someone excited to apply.
To explain Pioneer Pacific's value proposition in a more compelling way, we decided to focus their copy on the benefits of earning a degree (more money) and minimize the perceived costs by pointing out that college tuition is an investment: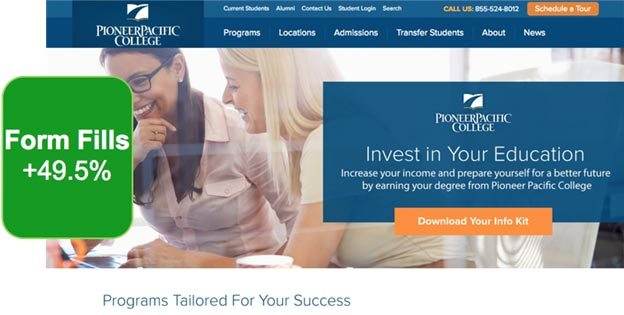 This simple change increased form completions by 49.5%. The forms themselves weren't any easier to fill out—50% more site visitors were motivated enough to complete them.
Now, Pioneer Pacific had spent countless hours working on their website and marketing themselves, so why hadn't they figured this out before?
The simple answer is, they hadn't tested this aspect of their post-click experience. Sure, their site was good enough, but it wasn't nearly as good as it could be with a little testing.
When Good Enough is Good Enough
All that being said, sometimes there are times when testing your site or landing pages isn't the right decision. If you're in the middle of some other massive marketing optimization push, throwing CRO into the mix can cause more problems than it solves.
For site testing to work well, your marketing needs to be fairly stable. So, if you're revamping your PPC campaigns, building out a new marketing automation strategy or overhauling your site content, it's probably best to wait on CRO.
However, if your marketing is generally stable at the moment, testing your site can be one of the best ways to improve your results. It doesn't matter if your marketing team has been working on your site for years, a little CRO can give you a ton of insight into your audience. You may even discover things that improve your marketing campaigns themselves!
Conclusion
To be honest, if you're going to put time, money and effort into your pre-click experience, you should be investing in your post-click experience, too. While there are times and situations where CRO isn't the right choice, most of the time, optimizing your site is one of the best things you can do for your business.
Oh, and by the way, if you love the idea of CRO but don't want to do it yourself, let us know here or in the comments. We'd love to help!
Do you think your post-click experience is important? Is it worth investing in? Any arguments for (or against) CRO that you'd like to add? Leave your thoughts in the comments below.