Yes to the Ware – 3 Ways to Improve Efficiency
We all waste time during the work day, some of that is by human nature and other times by deficiency in processes. At Disruptive Advertising we are always looking for ways to improve on both fronts.
This is where YesWare comes into play, if you don't know now ya know! We are happy to be the group making the introduction, and since you are loyal Disruptive supporters, we negotiated a free 3-month trial!
This will give you the same opportunity we've had to utilize this awesome tool! You'll be surprised by how much time you'll be able to save without actually going back in time. Here are 3 ways we've improved our efficiency by using Yesware.
[image_with_animation animation="Grow In" image_url="https://wp.disruptiveadvertising.com/wp-content/uploads/2014/07/back-to-the-future.gif" delay=""] [/image_with_animation]
1) Rapid Targeted Prospecting – One of the greatest features is the ability to create and save sales templates. This comes in handy when targeting new prospects. Populate your Gmail with the right template message, then take a quick minute to make it custom and fire away! You'll be sending a minimum of double the emails, daily!
2) Better Sales Follow-up – Ever wonder if that perfect prospective client every opened your email? Yesware will alert you in real time when someone is reading your email. It will even show you the device, time, and keep record of how many times they've viewed it. You can slip in the perfect message when they are engaged in reading your email. Yesware allows you to create unlimited templates throughout the entire sales process. Taking each customer from start to close.
3) Time Saving on Reporting – This isn't just a sales tool! Our account managers use Yesware in their client reporting. Since we report to all of our clients on a weekly basis this is helping save copious amounts of time. Each report has the same structure although the details change on a weekly basis. Who wants to spend time building reports when we could be A/B testing!
You're welcome! Good luck with your free trial, let us know how it goes. Stay tuned for other amazing offers from our stellar group of partners.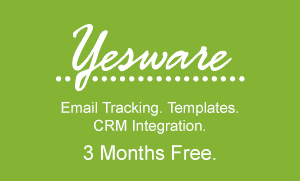 Leave a comment