6 Crucial Mistakes You're Making with Facebook Custom Audiences
PPC
•
Social Media
•
Ana Gotter
February 27, 2019
Retargeting should be a priority for marketers on all PPC platforms, including Facebook Ads. One study found that retargeting can increase ad response by up to 400%. Another found that typical ad campaigns had a click-through rate of .07%, but campaigns with retargeting had a .7% CTR, yielding 10x more results.
When it comes to retargeting, Facebook Ads might just hold the crown for most potential thanks to their custom audiences. They have an enormous number of options available for advertisers to choose from, allowing you to target users on a set list or those who have viewed a specific site, watched your on-platform video, or even liked a certain post within a set time frame.
Like all other PPC platforms, these custom audiences are a potential goldmine for advertisers who know how to use them.
But what if they're not? It's not uncommon for brands and advertisers to run a few retargeting campaigns for the first time only to find that they've hit a wall. They aren't getting those conversions they were promised, and certainly now at the lowered CPC they were told to expect.
If your retargeting campaigns aren't performing how you want them to, there's a good chance that you're making one of six common mistakes with Facebook custom audiences. We'll go over each misstep and how to fix it, giving you all the information you need to get your campaigns back on track.
1. Your Recency Window is Too Short
When you're choosing to retarget based on actions users have taken, like when they visited a certain site, some advertisers have recency windows that are just too short. Some people may take longer to convert, and by not extending that window, you're accidentally alienating a big percentage of your audience.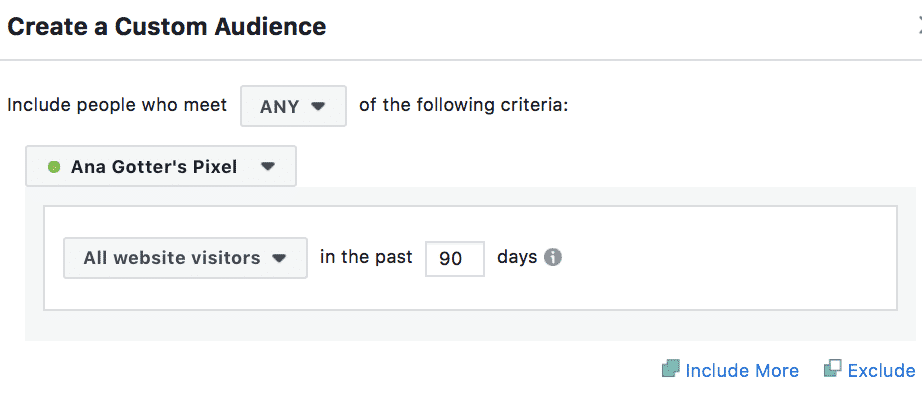 A number of brands will only be targeting users who have seen their ad in the last week. While the maximum window can vary from business to business and the assumed intent of the pages your audience was looking at, it's safe to say you can go a lot longer than one week. You've even got longer than one month, and for many businesses, the sweet spot will be somewhere between 60-90 days. Test out these time frames and see what works best for you.
2. You're Not Getting Niche Enough
In some cases, retargeting off of behaviors will be enough. In others, it just won't cut it.
Let's look at an example, and say that you sell a home security system with professional monitoring, and you're retargeting users who have visited your price page. You know that everyone wants to be safe, which is an obvious pain point, but what they're protecting could vary from person to person. Using interest targeting to segment your audience will allow you to create specific messaging that will resonate most with them.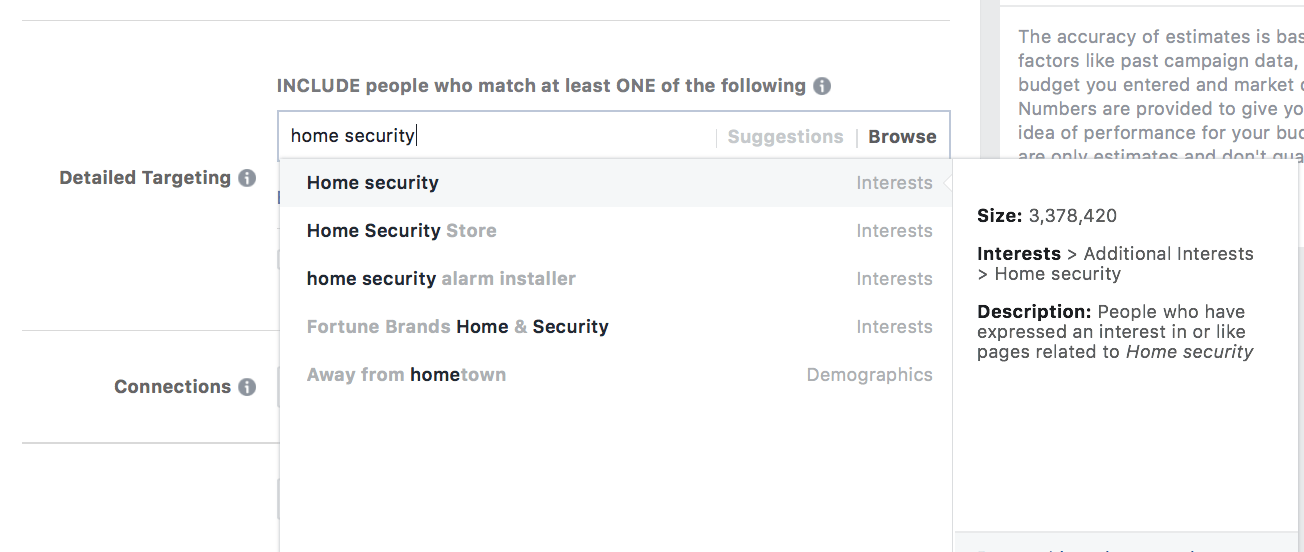 Instead of running one single campaign, maybe you break it down into two, using interest targeting to target 1) parents and 2) pet owners. I love my friends' kids, after all, but don't have any of my own, so I don't have to worry about home security for little ones. If I saw an ad telling me to "protect who you love most" with a vulnerable puppy sleeping in front of a window with a menacing silhouette, though, that would hit my pain points pretty hard, and I'd be more likely to convert.
For larger companies with big custom audiences, consider if you're niching down enough. If not, use interest, behavior, and demographic targeting to get a little more relevant.
3. You Aren't Considering the Stage of the Digital Sales Funnel
I will never stop saying it. You always need to be thinking about what stage of the digital sales funnel you want to target for every ad campaign you run. Are you targeting a lukewarm audience who could use another branding video to see why they should purchase with you or a hot one who just needs the right discount offer to convert?
Matching users' stage in the sales funnel with the right campaigns is an essential and necessary skill in PPC advertising, and Facebook is no exception. Whether you're retargeting based on a video view or an action taken in your mobile app, consider what those actions mean and what the audience's current relationship with you is likely to be. This will give you valuable information to create relevant ad campaigns that nurture them further through the funnel towards conversion.
4. You Aren't Retargeting on Specific Pages
This is simple in principle. Some advertisers are retargeting all site visitors when instead they'd benefit from creating retargeting campaigns focusing exclusively on visitors of exclusive web pages.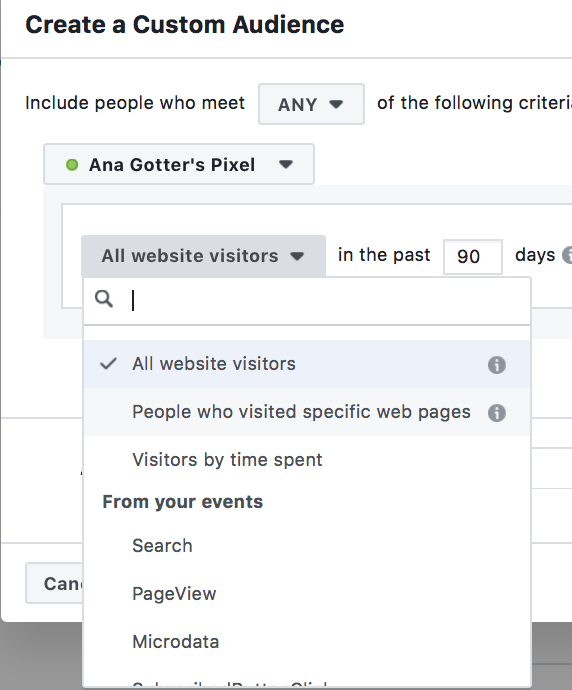 If you run a campaign tempting someone to purchase with a "Get 20% off your first purchase!" offer but forget to exclude users who saw the order confirmation page, not only will you not get results, you also may have annoyed customers wanting refunds. And if you have multiple services, you'll be better off creating ads focusing on specific services to show to the audiences interested in them exclusively.
This follows the lines of "get specific to get the conversion." That's the beauty of Facebook's custom audiences: they give you this opportunity. It's up to you to take it.
5. Your Lookalike Audience is Too Big
A lookalike audience allows you to target users who are similar to those who belong to a current custom audience you've already created. This feature is best used when you're creating lookalike audiences off of high-value, highly-segmented custom audiences that have converted well on your campaigns in the past. You know what worked for them, and now you'll use similar strategies that have been altered for a cold audience.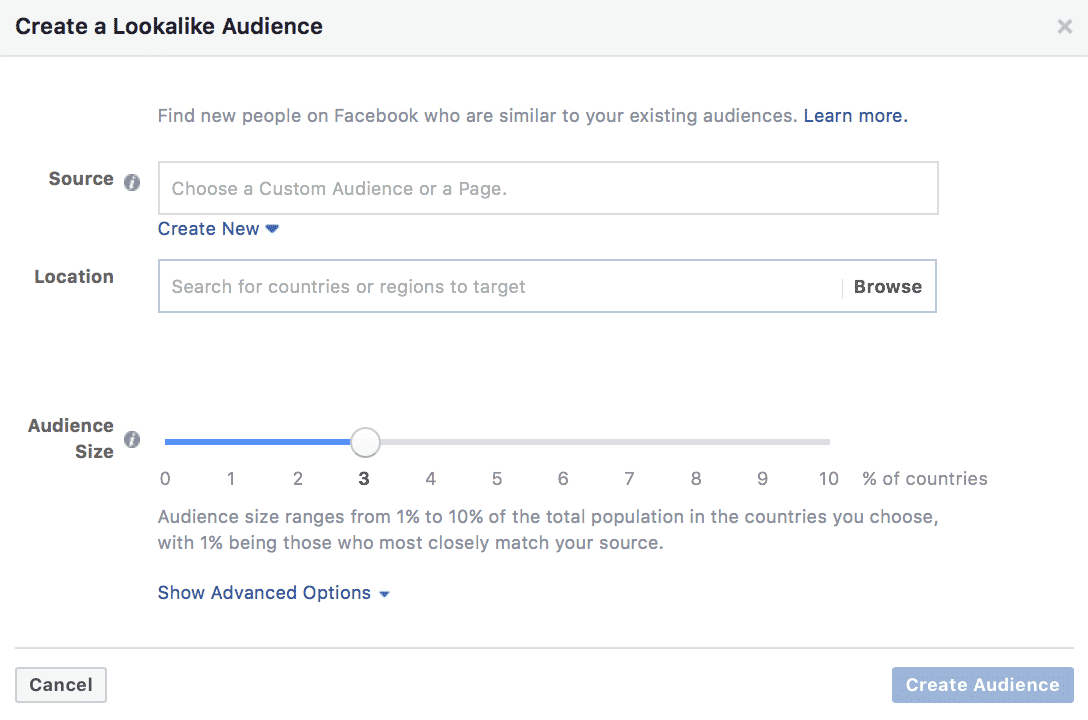 Sometimes, though, those lookalike audiences get too big. Facebook gives you the option of whether or not you'd have a lookalike that most closely matches your custom audience, or one that maybe has some disconnect but many, many more members. For these campaigns to be effective, you should keep them as similar to your custom audience as possible; never go above a 3 for these types of targeted campaigns, and don't be afraid to keep it at 1.
6. You're Using Custom Audiences with the Boost Button
Until recently, this wasn't even an option, and that Boost button had you relying on Page relationships or basic demographic targeting. Even though the Boost button has been expanded, however, doesn't mean that you should be using it.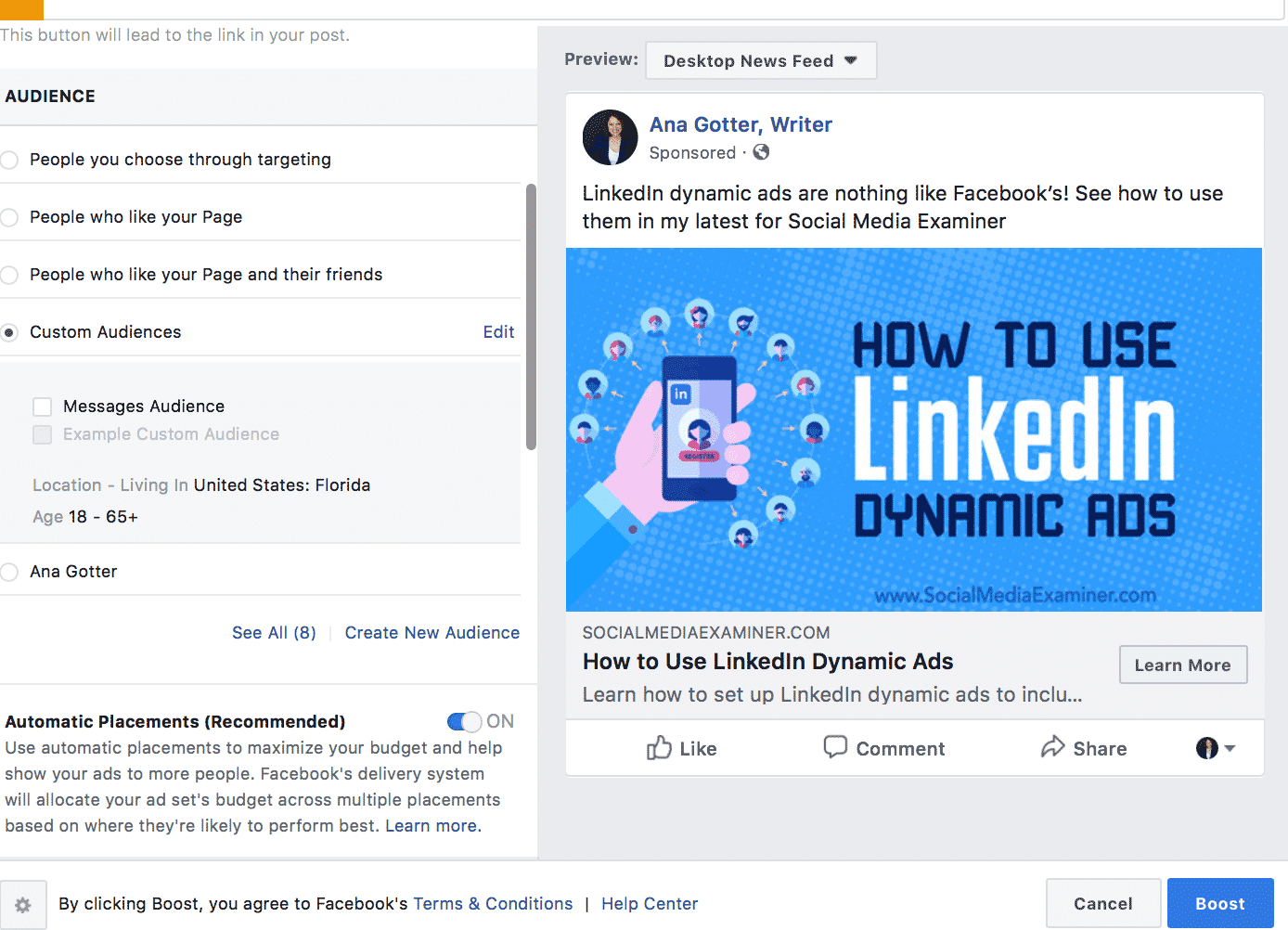 Boosting posts, for those who are unfamiliar, is an option available to users by clicking on the "Boost" CTA underneath your organic posts on your Page. It essentially allows advertisers to create engagement-oriented ad campaigns without going through the ad system.
While it's convenient, it does come at a cost. You lose the majority of your ad objectives, you can't split test efficiently, and you have no control over placement options. You also lose advanced features like what actions you want to optimize for, and whether or not you want to use dayparting to your advantage.
Trust us when we say that a few minutes saved isn't worth it when it comes to your Facebook Ads if it comes with a loss of control. Skip the boost button, and your campaigns will almost certainly see more success.
Conclusion
There are so many options to choose from when you're creating your custom audiences that it's not overly shocking that some brand struggle to decide what's right for them, and then you've got Facebook stepping in with suggestions for things like shorter-than-necessary attribution windows or boost button shortcuts that typically just won't work in your favor.
The power of custom audiences, however, is exceptional, so don't let a few disappointing campaigns keep you from all of that potential. Keep an eye out for these common mistakes and focus on creating relevant messages for segmented audiences. Those are the two biggest secrets of custom audiences, and now that you're in the know, we can't wait to see what you can do with them.
What do you think? How do you use Facebook custom audiences? Have you ever learned one of these mistakes the hard way? What strategies have helped you get those conversions? Share your thoughts and questions in the comments section below! 
Leave a comment