You'll Never Believe What Facebook Changed in Your News Feed…I Fell Out of MY CHAIR! [IRONY]
Social Media
•
Saunder Schroeder
August 8, 2016
If you're a Facebook spammer, I've got bad news for you…Facebook just updated their News Feed algorithm to reduce the amount of "clickbait" its users see.
That means clickbait titles (like the one on this post) and content will show up a lot less in your News Feed.
According to Facebook:
"People have told us they like seeing authentic stories the most. That's why we work hard to understand what type of stories and posts people consider genuine, so we can show more of them in News Feed. We also work to understand what kinds of stories people find misleading and spammy to help make sure people see those less.

"We've heard from people that they specifically want to see fewer stories with clickbait headlines or link titles."
Wait, what? People want genuine content, not clickbait?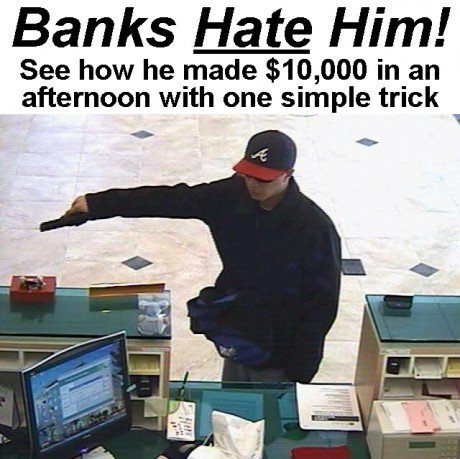 It's a shocker, I know.
To be honest, this update is hardly a surprise. Facebook does a great job at continually updating its algorithm to align with its News Feed Values.
Obviously, this update is in the best interest of users, but since clickbait is a cheap, twisted form of online marketing, how will this affect advertisers?
To answer that, let's first take a look at Facebook's definition of clickbait:
"Headlines that intentionally leave out crucial information, or mislead people, forcing people to click to find out the answer.
"For example: 'When She Looked Under Her Couch Cushions And Saw THIS… I Was SHOCKED!'; 'He Put Garlic In His Shoes Before Going To Bed And What Happens Next Is Hard To Believe'; or 'The Dog Barked At The Deliveryman And His Reaction Was Priceless.' "
Now, Facebook can't manually check every headline, but the social media giant has manually assigned a clickbait score to thousands of headlines to create an algorithm that can identify key clickbait phrases or words.
This definition isn't just limited to headlines, either.
Facebook's algorithm looks at both Facebook Page content and website content, so spammers won't be able to create a Facebook Page and launch new websites with different URLs to escape punishment.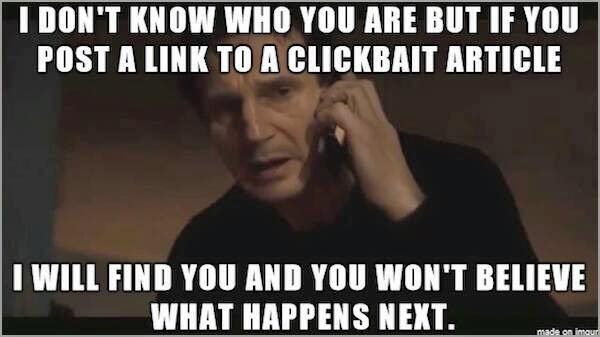 When it comes to digital content, Facebook's algorithm is one of the better machine learning algorithms out there, so I expect this new filter to do an excellent job of filtering clickbait.
Will This Affect You?
Again, this is great for users, but is it bad news for advertisers?
When you get right down to it, clickbait is simply a particularly rabid form of digital marketing. The goal of clickbait is to get people to click through to your website…which is a key goal for most online advertisers.
So, if Facebook nixes clickbait and online marketing is a tame form of clickbait, does that mean that your business's Facebook posts won't show up in your fans' News Feed?
Here's how Facebook's VP of Product Management, Adam Mosseri, addressed this potential concern:
"If you post 50 times a day and post one piece of clickbait, this shouldn't affect you. If you're a spammer and post clickbait all day, this should affect you a lot."
That seems reasonable. 
If you post clickbait, you'll be penalized. If you don't, you won't.
And, even if your posting habits put you on Facebook's clickbait blacklist, all you have to do is stop posting clickbait and you can win your way back into Facebook's good graces.
According to Mosseri, Facebook is also pull an Elon Musk and share its clickbait algorithm with other social media networks and tech products:
"I have no problem walking any company through what we did and how we did it so they can borrow it."
That being said, Facebook does not have any plans to share their algorithm factors publicly.
After all, a lot of clickbait is spam and spammers are always looking for loopholes. If Facebook publishes their algorithm, the loopholes will be obvious and spammers will just find a way around the filter.
With that in mind, Facebook's new algorithm update will probably end up benefiting marketers.
Legitimate online advertisers create legitimate, meaningful content. However, that real content has to compete with clickbait content for clicks.
By filtering out clickbait content, Facebook's new algorithm frees those clicks up for online advertiser's useful content. That means more clicks for your posts and more traffic to your site.
So, if you're creating and posting real content, this Newsfeed Update is actually a win for your business!
Conclusion
Although this new update may force you to rethink some of your headlines, most users and advertisers should actually benefit from this update.
More importantly, this should lead to a much better internet, which is something I can definitely get on board with.
By the way, if you're wondering if your headlines will make the cut, let me know here or in the comments. I'd be happy to take a look at your current posting strategy and help you optimize your content for Facebook's new algorithm.
How do you think this update will affect advertisers? Do you have a favorite clickbait example?
Leave a comment