Instagram Nametags: What Are They and Why Do I Care?
Social Media
•
Cydney Hatch
October 23, 2018
Over at Instagram, they have been a hive of busy tech bees creating new Instagram features to launch the social platform into the modern world and trends.
From IGTV, new video and photo modes/filters to even new content algorithms they are on FIRE! The newest addition many of you might have stumbled upon is called Instagram nametags that was released this October.
A lot like Snapchat's codes, Instagram nametags is a feature that helps Instagram profiles sharability and helps people connect on the platform. So, before we get ahead of ourselves and if you are completely overwhelmed, again, with another new feature—we got you covered!
In this article, we will talk about Instagram nametags, what they are, why they matter and how you can use them to up your Instagram game!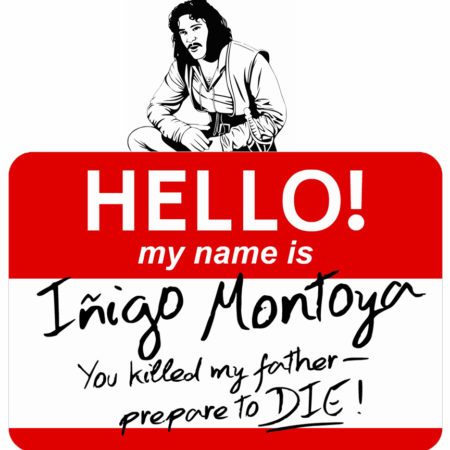 Now take a sharpie and write your name, because we are gonna get going on making some nametags!
What are Instagram Nametags?
Nametags are scannable images that allow people to quickly follow you (because typing a username in search is so last year). The new nametag feature allows you to create a special image allowing people to follow you by using their Instagram stories camera to scan it.
If that doesn't make sense than just know that Instagram nametags are basically the same thing as Snapcodes or a fancy QR code.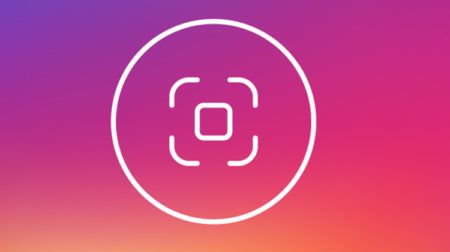 Nametags and Snapcodes assign a unique code to each user that other users can scan directly in the app they are using, to quickly add the user as a friend.
However, Instagram's takes it a step further allowing users to truly customize their codes rather than generic QR code-looking square with black and white marbling.
Why Do Instagram Nametags Matter?
Simply put, Instagram nametags could make it easier for brands/businesses to visually promote their Instagram account and have people connect with their Instagram profile.
This means being able to share it in your LinkedIn profile, social media handles, print it on posters or simply share it on business cards for people to scan and connect! People who are then interested in finding more about you, your event or your business can then scan your nametag using their Instagram app to view your account.
Talk about instant connection! Freaky fast, huh?
What more could a business want?! Later in this article, we will go more in depth as to how you can use this feature for your business or brand.
Where are My Instagram Nametags?
Alright, if you are interested in trying this new Instagram feature, let's first know where to find it!
Now, before you freak out thinking you can't find it…don't worry, it is gradually being rolled out to accounts. When you are updated with the feature, you will be able to easily find it.  To find it on your profile first go to your business or brand profile page and click the three bar icon on the top right corner.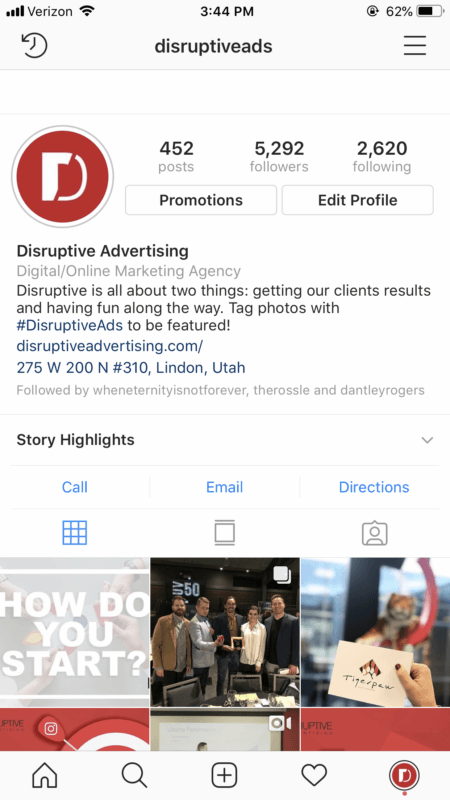 From there you will get a side menu bar that will slide your profile page to the left. In the second arrow shown below, you will see the nametag icon and name. From there it will open your ability to create an Instagram nametag.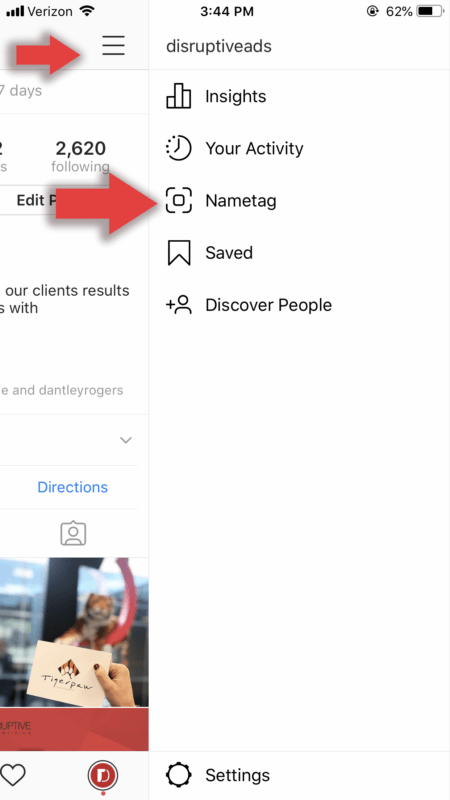 So now that you understand what Instagram nametags are and how to find yours, it's time to have a bit of fun and customize your nametag in all sorts of fun ways. There are three different theme customizations you can make for an Instagram nametag: color, emoji and selfie (which is the face of whomever you choose to selfie—in this case, it's me) To change the theme click through the top centered oval button that features the three theme names.
"Color" lets you choose from one of five color themes for the background of your nametag by tapping on any free space on the screen.
"Emoji" lets you can tap on the display to open an emoji menu and choose any emoji to be placed on your background.
Lastly, "Selfie" lets you quickly take a selfie, which replaces the emojis in your nametag. Tap the display to choose from one of five themes.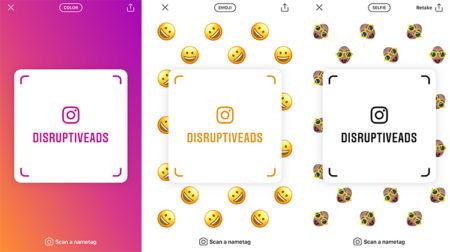 You can have a lot of fun with these customizations featuring your well-known CEO's face, your business's favorite emoji or a color scheme that favors your business branding palette.
How Can I Use My Instagram Nametags?
Instagram Stories has 400 million daily active users, so adding another useful feature to Instagram stories is probably a great way to succeed and expand. your brand awareness.
Nametags will be a great way to visually promote your personal or business Instagram account. You can post it on other social media accounts, add it to business cards, posters, banners…the list goes on. I can already imagine influencers creating new lines "Scan and connect" and rocking these images all over their channels, promoting accounts! Ha!
The sky is the limit to where and when you can share a nametag! For example, you could share it on:
Your Business Blog: When Snapcodes became a big thing, people started replacing their sidebar "headshots" with their snap codes, so that new readers had an easy way to add them on Snapchat. This can also be the same use for Instagram nametags.
Networking Events: Because typing a username into the search bar is so "last year", connect with a potential brand, client or partner quickly be scanning each other's nametags!  Who needs to blurt out their handles anymore? Not you!
Social Media Pages: Similar to how people changed their "about me" pics to Snapcodes, people also started changing their social media profile photos to their Snapcodes too. This could be a potential way to convert your followers on your other social profiles to be Instagram engagers and followers!
Physical collateral: T-shirts, leaflets, business cards or swag you can slap on an Instagram nametag on any physical object your heart desires! If you can slap on an image, you can utilize Instagram nametags!
Email Signatures: Easily include this in your email signatures that go out to the many people you keep in contact with and reach out to!
Guerilla Tactics (Not Recommended): I mean, why not go extreme and tattoo it on your body if you are a personal brand? Easily share your story with anyone you meet and always have your nametag with you—it's on your body and travels with ya! 😉
How Do I Connect With Nametags?
The easiest way to share your Nametag is to screengrab it and post it to your feed or a story with #nametag. So, to visually explain, our Disruptive advertising nametag looks like this: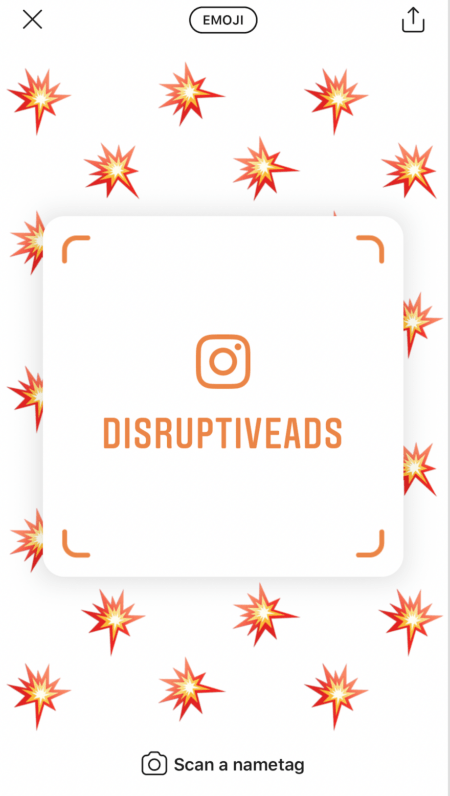 So, if we wanted to share out our nametag on digital and physical items all we would need to share is the image of our little code box: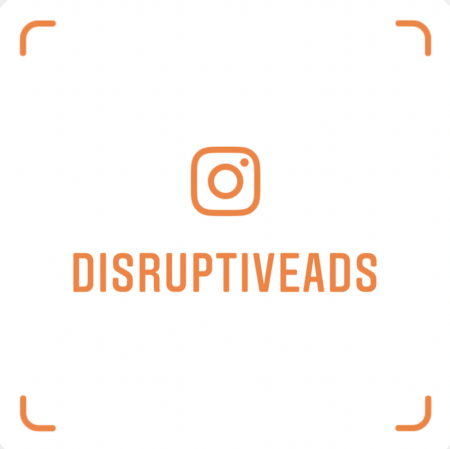 From there anyone with access to a cell phone with Instagram stories can easily scan this image and pull up a pop up box asking to see our profile or can quickly follow it!
Easy peasy, right?!
An awesome and simple video tutorial on this is from HowFinity below:
It's easy to see how this connection power can translate into so much more!
Instagram Nametags: Now You Know
Now that we have gone through the basics you need to know, how easy it is to create and implement and how it can easily connect your potential customers and people you meet to your profile, it's clear that Instagram nametags are a no-brainer!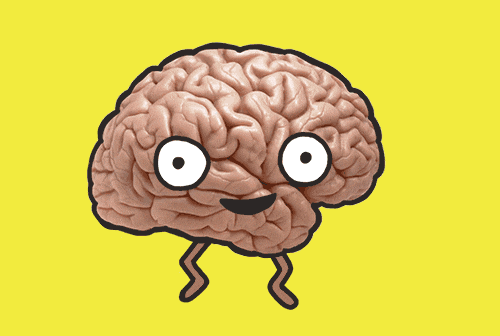 In a world that is so fast-paced and where people are limited in time, this can be an easy way to quickly exchange information, for potential customers to find you and to ultimately promote your businesses to the masses!
If you still need some help in setting this feature up, or you want help with other Instagram strategies, contact me here!
What do you think? Do you think this will be widely adopted and will be a commonplace feature like it was on Snapchat? Comment below!
Leave a comment