Why Lawyers Should Use Social Media
by Cydney Hatch • March 5, 2018
When it comes to digital advertising, many law firms overlook the importance of social media. It makes sense, lawyers are supposed to be the consummate professionals, not cat-video posting socialites.
But, in today's social media-fixated world, law firms can't afford to lose their "appeal" in this critical marketing space.

Get it? A peel? Appeal?
Okay, in all seriousness, social media is not just a place to show off your thought leadership in the legal world. It can also be a crucial place to engage with your potential clients. As law firms directly communicate with the communities they serve, social media becomes a natural way to reach people in need and acquire new clients.
There are many benefits to using social media for your law firm. Below are examples of how social media platforms can be used to produce online marketing success!
Twitter
The first benefit to using social media is the way that social media makes lawyers more approachable. In a field where communication is key, it is crucial to connect with potential clients.
Clients need to open up and trust you with their financial, emotional and personal struggles which are all sensitive topics! Setting yourself up as an approachable, caring lawyer can take you from 1 to 10 quickly!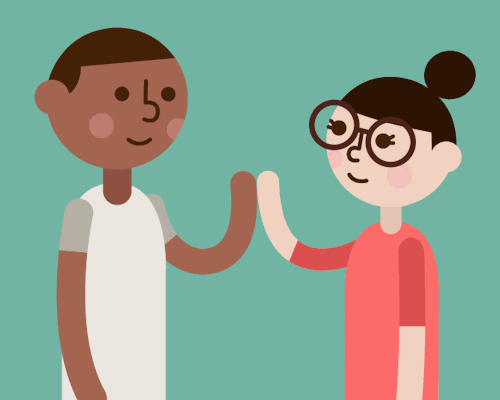 If you're sick of all the jokes about lawyers being "cold, unapproachable and dry", social media is the place to change all that!
Twitter has become a growing platform for law firms across the country. For example, Law360 keeps a list of 20 Attorneys Killing It On Twitter. These attorneys are brilliant at using Twitter to connect with their target audience. As a result, many are seeing exponential growth in their daily business and inquiries.
In Law 360's list, you can find a lot of inspiration for how to approach your own Twitter account. Case in point, on the top of the list is Jay Bilas who is an analyst for ESPN with over a million followers. He frequently posts about sports and law while spitting some sweet rap beats which makes him fun and culturally relevant. This approach allows him to connect with readers from all ages.
Jay Bilas's account is a perfect example of how your work as a lawyer can be made engaging, fun and relevant in the social space. By doing this, you can earn new types of clients and gain a wider audience exposure!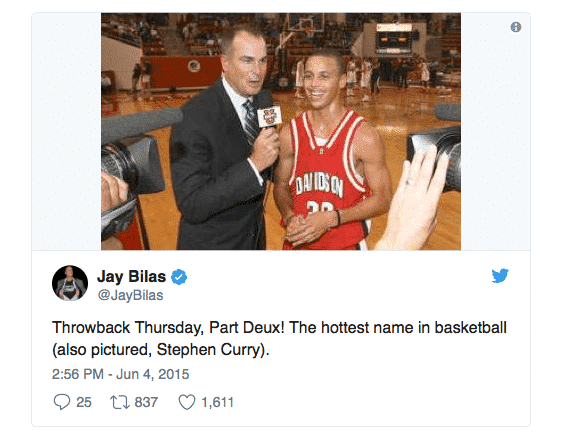 Evan Brown's Twitter feed is full of pro tips, quotes and articles with a personal touch where he shares personal photos of Chicago. This is a perfect example of how you can share your expertise, opinions, and personal interests, making you approachable and relatable to your readers and therefore, potential clients.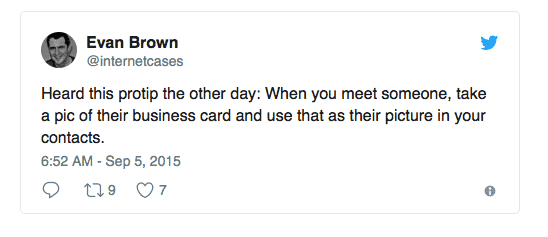 Justice Willett of Texas' highest court not only tweets about work with iStock photos but has a kick-ass personalized profile picture that is witty and relevant to the platform. 
More often than not he combines engaging visuals with much needed lawyer humor when things get a little too serious.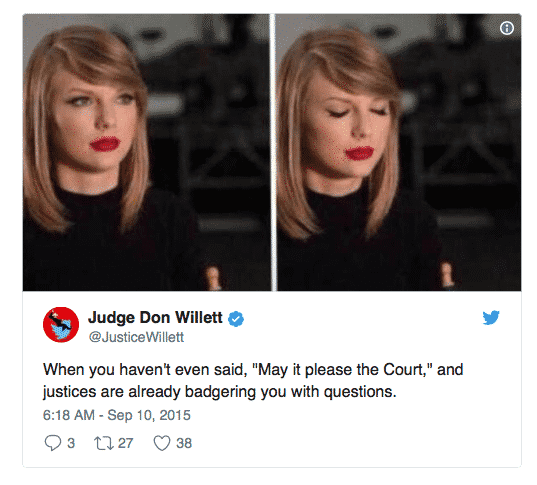 Why Twitter?
Establish thought leadership in your industry.

Gain new clients by being approachable and engaged.

Read current news to keep you up to date on industry developments and trends.

Network to increase exposure and obtain new clients.

Share information quickly so your customers can learn more about your services.
Facebook
Facebook is a great tool for gaining new clients through social engagement and advertisement. In his post "How Social Media Can Help Lawyers Win New Clients," Matthew Hickey says "Social media makes it easy to develop the types of relationships that can lead to clients for your practice."
Starting Facebook groups, engaging in direct messaging, creating video content and Facebook Advertising can significantly increase your online traffic resulting in new leads.
For example, San Diego Immigration Lawyer, Jacob J. Sapochnick shows consistency, engagement and high success with his shared content resulting in 138,029 likes and thousands of engagement actions.

Not only does his page have the firm's contact information, response time and website but he shares content that helps clients become familiar with the issues he is passionate about. Through Jacob's videos, Instagram posts, article sharing and group engagement he is creating a social community leaving his potential clients informed, involved and inspired.

Why Facebook?
Direct engagement with potential clients which can create business inquiries.

Social environment that informs potential clients.

Easy to share business information that creates a trust through response time, reviews and visuals that will drive clients contacting you for your services.

Videos have a high conversion rate for new clients and website clicks.
LinkedIn
Many lawyers network on LinkedIn through groups. The Personal Injury Attorney Network is one example. The group has over 16,000 members and hosts discussions on latest trends that engage experts in the field.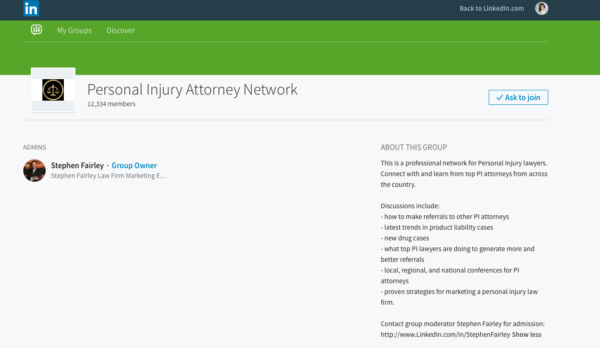 Why LinkedIn?
Get advice on topics that impact the success of your firm, like marketing.

Network with others in a field of expertise.

Gain insights on trends in the industry which will make you "In- The-Know" of the industry.
GOOGLE+
Google+ is also a popular option in the legal world for creating a social profile that drives traffic, posting meaningful content and engaging in helpful discussions with your peers.
One meaningful way to use Google+ is to set up a personal profile and join communities. The Lawyers on G+ community is comprised of over 19,000 members who post relevant news in many different legal areas. Finding these topics can easily create useable content for you to share on your other platforms.

Why Google+
Grow your Google organic search results by creating a profile with an owned and operated Google application.

Share relevant and current news quickly to peers and potential clients.

Increase your off-site SEO, which results in more traffic to your website.
Conclusion
Now that you have seen the many ways your firm can use social media to connect with new clients and build bridges to the communities you support, you are now hereby summoned to give social media a try!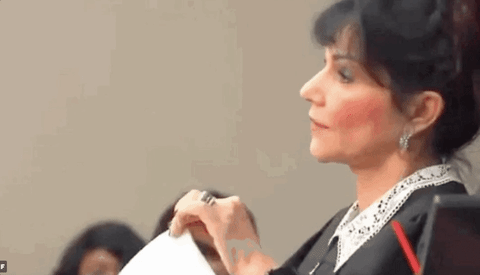 If you'd like Disruptive Advertising to take a look at your law firm's social media campaigns and give you feedback, let me know here or in the comments.
If you're a lawyer who is already a pro-social media engager, what social media platform do you use and why?