How to Use Organic Social Media to Improve Paid Ad Performance
Social Media
•
Rachel Ricks
April 3, 2018
Worldwide, there are over 2.07 billion active monthly users on Facebook, with 1.37 billion daily users. Instagram isn't far behind with over 800 million active monthly users and 500 million daily active users.
In other words, if you are a business and you're not advertising on these platforms, you're missing out.
However, it isn't enough just to run paid social media ads. Advertisements that you run on Facebook and Instagram are posted and run under your business page, making it critical to have an organic page strategy in place to insure that your paid efforts reap the greatest rewards.
While clicking on the actual ad will lead to your website, app, or other URL destination (unless you're leading it to your page), each ad also has links for people to go to your page or profile by clicking on your business name or profile picture.
Making the Most of Organic Social Media
To really get the most out of your paid social advertising, you need to take full advantage of your organic social media presence. Here are 4 common problems with easy fixes you can implement to help your paid efforts today.
1. Be Professional
When setting up your business pages, it's important to remember that this page is going to represent your business. Take the time to edit your content, fill out all the contact information, check for spelling and grammar errors, and make sure that each description fits your brand and your business.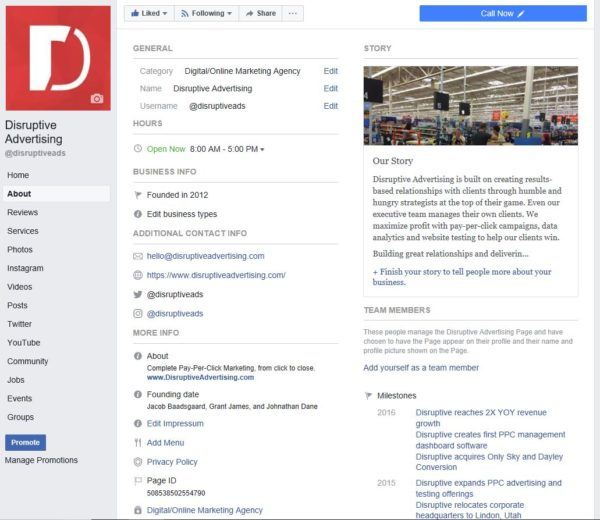 It's amazing how many businesses you can find with About Sections that stop mid sentence, contain spelling errors, or are only half way filled out. While it may take a few more minutes to make sure that everything is done right and edited, it is important.
2. Post Frequently and Respond to Messages (Look Alive!)
If someone lands on your business page and the last post they see was last year or even 6 months ago, the first red flag about your business will go up in their mind.
Is this a legitimate business? Why I did I see a post from them when there's nothing here?
The appearance of sponsored posts is very similar to organic posts and it's easy to assume that the ad they clicked on was a mistake if your profile or page looks barren and outdated.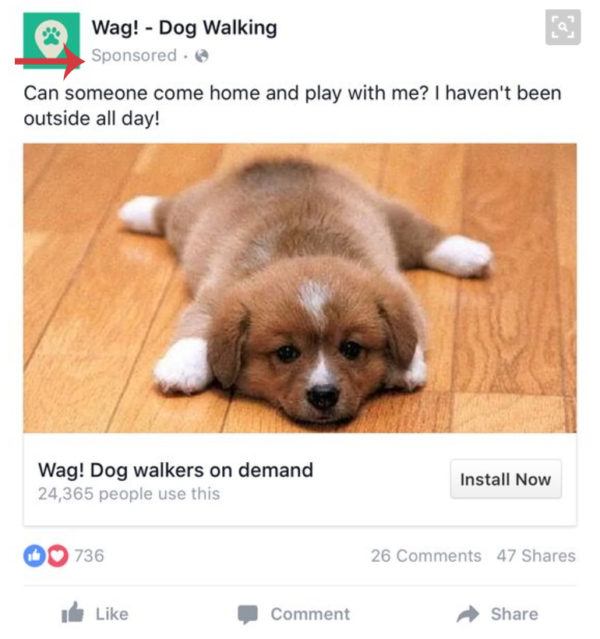 It is also important that your content is relevant. You want potential customers to be able to connect your posts to what they were seeing in the ad the clicked on.
A great way to do this is to pin a video or picture that you may be running as an ad that explains your company to the top of your Facebook page.
Just like great content really helps, bad content can really hurt. Make sure you don't post anything that looks spammy!
In fact, Facebook recently announced that they are going to be docking businesses organic posts that look spammy, or are "engagement-baiting" so there is yet another reason to post professional, relevant content.
Also, please respond to your messages! You don't want to miss out on a potential lead or a new customer because a message goes unanswered.
Too many messages in Facebook start with a question, then lead to "is anyone going to respond?" and finish with "are you still in business?" There's no point in running ads if your customers don't trust the legitimacy of your business.
3. Put Yourself in Your Customer's Shoes
One of the easiest ways to catch mistakes is to take an outsider's perspective when viewing your page or better yet, get someone else to look through it for you. When you take this perspective you will catch what you might not have otherwise.
For example, while you may know that the link shortener (bit.ly, goo.gl, etc) in your Instagram bio takes you to your website, no one else will and, in fact, they are much less likely to click on it for fear of spam.
You want to take every opportunity to get someone to convert to your website and to know your brand and a link shorteners takes away from both of these opportunities.
On that same note, make sure that your website link is in your Instagram bio and that you've enabled the "Shop Now" or other similar button to show up at the top of your Facebook page.
4. Be Consistent!
Facebook's ads manager is incredible and it can follow users through devices and platforms. Your profile picture and name will show up on every ad you run but if they click on your name, the ad will take them to your profile based on the platform it is running on.
You often only get a few scrolling seconds to create interest in your product, so being consistent in your profile picture and name matters.
You want someone who clicked on an ad on Facebook to realize that the retargeting ad they are seeing on Instagram is the same business with the great products that they are interested in and there are far too many name and picture mismatches between platforms.
Conclusion
Marketing on Facebook and Instagram is extremely important. Each day you don't have ads running on these platforms is potential profits lost because with a combined total of 137,500,000 DAILY active users, your target audience is definitely there.
Just like these ads are important, the pages connected to them are as well. Frequently audit your profiles and pages and ask yourself if it's helping or hurting convert the traffic that may arrive there. Your business deserves all that social media can give you!
If you need help with Facebook advertising, I would love to look at your current ad strategy and offer suggestions to help you grow your business as well as show you the tweaks you can make to make sure you are getting the most out of your paid strategy.
Let me know here or in the comments. I'd love to help!
How do you use organic social media to improve your marketing results—paid or otherwise? Leave your thoughts in the comments.
Leave a comment