How to Reach Local Customers with Instagram Ads
by Jacob Baadsgaard • May 23, 2017
Ever wonder, Is there a way to use Instagram ads to bring in local customers to my brick-and-mortar location?
More and more, people are shopping online. Big businesses like Amazon and Walmart have made it incredibly easy to shop online and offer delivery times that can make it hard to compete as a brick-and-mortar business.
However, as I'm going to show you in this article, you can compete with these big businesses. All you have to do is learn how to use Instagram ads effectively.
Why Instagram Ads?
There are several reasons why Instagram Ads is an ideal platform for reaching local audiences.
First off, Instagram's business profile format is an incredibly good fit for brick-and-mortar businesses. Your contact information is easily present, including your phone number and email address, which makes it easy for users contact you with just a few clicks. This business profile will even show users where you are on a map and can give them directions for how to find you.
Instagram's simple business profile is better at driving contact and traffic from users than Facebook's Pages—on both mobile or desktop. The information is more easily accessible, and the simplicity can help draw users' attention to your contact information.
Second, Instagram Ads are mobile-only (though you can run mobile-only Facebook Ads). This is a huge advantage, because people are much more likely to visit a brick-and-mortar location when they're on their phones than when they're on their desktop computer. This means that you can capture users while they're out and about or traveling in your area.
For example, imagine that you run a local restaurant and you run locally-targeted ad campaigns. You can show up on users' feeds while they're out and about. They're hungry, they're nearby and they see an ad with a picture of your mouth-watering fish tacos on them. When they realize you're nearby, there's a decent chance they'll stop by.
See how easy that is? Thanks to the simplicity of Instagram's business profiles and their mobile-exclusive ads, Instagram is a great way to get in front of local customers and drive people to your door.
Getting the Most Out of Instagram Ads
There are four steps you must take when trying to reach local audiences with Instagram Ads. Unsurprisingly, the first step is to optimize your Instagram business profile.
1. Optimize Your Instagram Profile
If you want to move from simply to connecting with local customers to actually engaging with them on Instagram, you have to optimize your Instagram profile. You'd be surprised how many businesses aren't taking advantage of  their Instagram business profiles to increase direct messages and store visits.
To do this, you'll need to make your Instagram account to a business profile (if you haven't already). You can find the option to do this under your profile's settings, where you can make your profile public or private.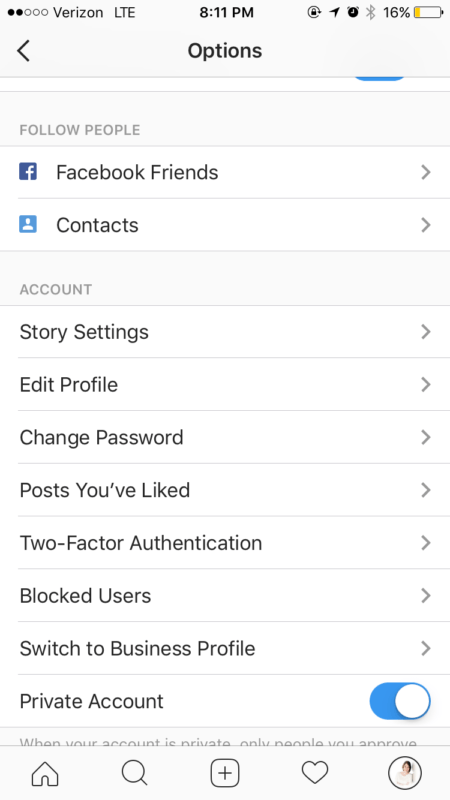 Make sure that all your information is filled out as thoroughly as possible.
Giving customers multiple options to contact you is best. That way, they can choose the option that's easiest for them. That being said, be realistic. If you know that you only check the business's email once a week, don't place it on your Instagram profile (users can still contact you through your site if it's important enough).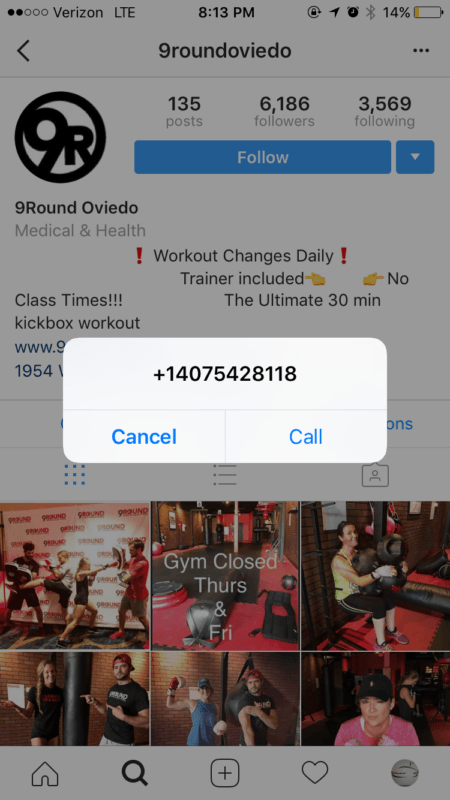 Fortunately, you only have to take this first step once. After that, you can skip it and just focus on the next 3 steps.
2. Focus on Location Targeting
When it comes to targeting, location targeting should be your top priority (for obvious reasons). While targeting very by location can be more expensive, the results are worth it for local businesses.
There are several location targeting options to choose from. These include:
Anyone in a particular location
People who live in a certain location
Those who have recently been near a certain location
People traveling in a certain location
When you create a new ad campaign, you'll have the ability to target people by any of these criteria: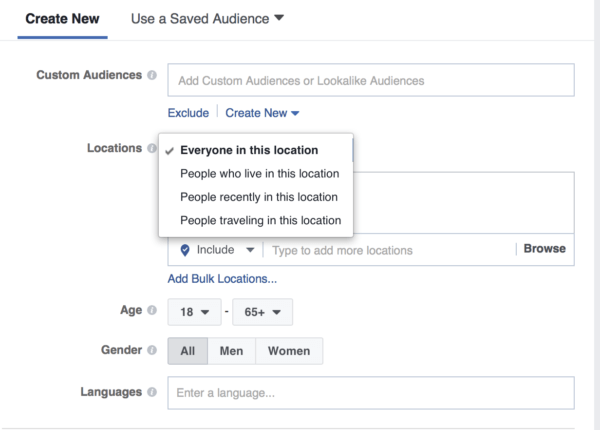 You can also get really specific with the types of locations you target. Locations you can choose include:
Countries
States/regions
Cities
Postal codes
Addresses
Once you type in the address, you can drag and drop the "pin" that makes up the center of the locations you'll target. You can also exclude certain locations from being targeted and adjust the radius of the zone being targeted.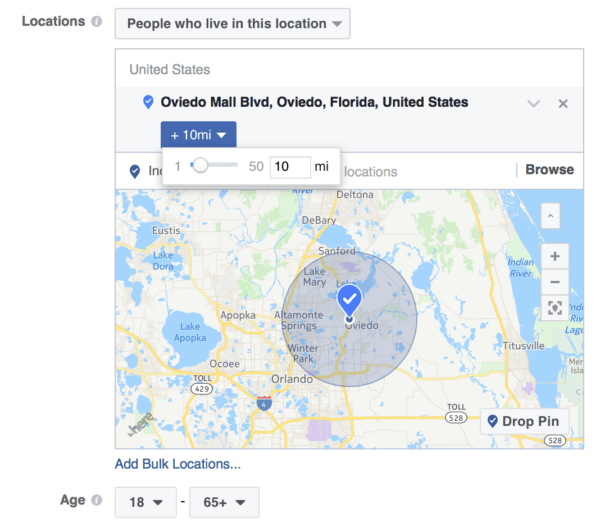 Easy enough, right? You can use this feature to ensure that your ads are only targeting people who are potential customers. In general, I recommend keeping this targeting radius to within 10 miles of your physical location.
3. Add Relevant, Detailed Targeting
Once you've got your location targeting nailed down, you can use Instagram's other targeting categories to increase the likelihood that your ads will be shown to the right audience. Better targeting means your ads will be more relevant, which will increase your clickthrough rate (CTR) and help keep your costs down.
A vegan restaurant, for example, could target people who have expressed an interest in a vegan diet. A restaurant, on the other hand, who serves "fast service" casual food could target users who have liked Panera or Panda Express.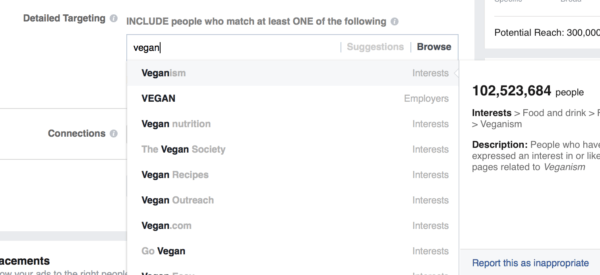 Other examples include:
Wedding boutiques would likely only target women
B2B businesses could still benefit to target by job industry or title
Realtors may target homeowners who are "likely to move" and "buying a house"
All you have to do is click on "Detailed Targeting" and find the relevant groups you want to target: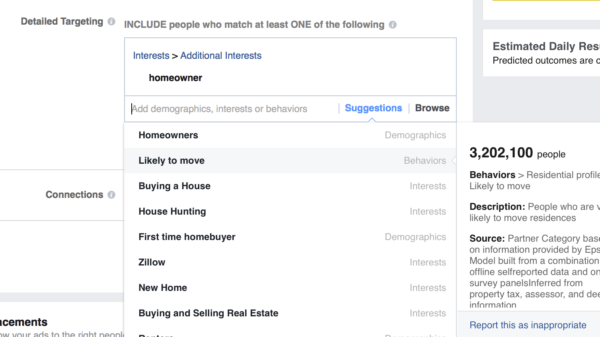 Again, easy and effective. Do you see why I love Instagram Ads?
4. Mention the Location In Text
Remember, you're trying to draw in local traffic, so you should always mention the location within the ad's text. Saying "learn to code" doesn't make people excited that they can learn to code locally. On the other hand, saying "learn to code in Tampa Bay" will be a lot more compelling for people in that city: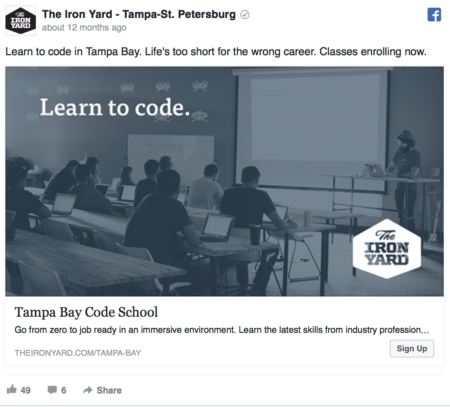 This one tiny tweak in ad copy is shockingly effective. It dramatically increases the number of users who click to your profile to learn more, especially with the right call to action. In our split tests of local Instagram Ad campaigns, adding the location (whether that's a city or a neighborhood) to the copy increased the CTR by about 15%.
What About the Store Visit Objective?
Facebook's & Instagram's "Store Visit" objective is relatively new, and allows businesses to optimize for in-store visits and sales with their Facebook Ads.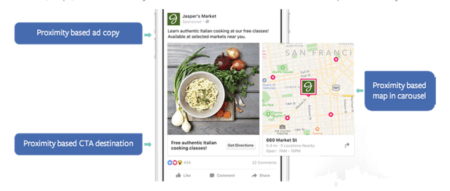 The ads themselves have some great features, including:
A store locator map that can be placed in a carousel ad
Copy and CTAs that may change based on the proximity of the store
Being powered by a single creative template, which makes it easier for marketers to use
There is a downside to the Store Visits objective, however: it can only be used if your business has multiple locations. This automatically eliminates many small and medium businesses that only have one location.
That being said, if you're a business that does have multiple locations, Store Visits could be great for you! You can learn more about them here.
Final Thoughts
If you want to drive more local traffic, Instagram Ads is a great way to do it. The platform's targeting options gives you everything you need to reach your specific audience. And, Instagram's simple but direct layout is automatically optimized to encourage users to contact or visit you more than any other mobile social media site. The two combined pack a powerful advertising hit.
If you're looking for help running local ad campaigns, you can let us know here or in the comments below! Trust me—it'll be worth it.
What do you think? Which ad platform do you use to reach a local audience? How do you optimize your Instagram Ads? Let us know in the comments below!