The Complete Guide to Selling on Instagram
by Ana Gotter • January 10, 2019
For the first few years after Instagram was created, the platform was best suited for brand awareness and relationship-building campaigns, at least from marketers' perspective. The inability to add links to individual posts or to use paid solutions to increase your reach quashed any major selling efforts, even while engagement rates were higher than other platforms and users were happily following their favorite brands.
That's no longer the case.
We've seen huge developments on Instagram in the last two years that increase advertising and selling potential significantly. Instagram is now one of the best social media sites out there in terms of actually attracting customers and pushing them through the sales funnel to convert, and in this post we're going to teach you everything that you need to know about selling on Instagram so you can do it yourself.
Why Instagram?
Since Instagram doesn't (yet) have the option for links to be shared in your individual posts, some brands overlook it outside of a brand recognition tool. This is a huge oversight, however, because Instagram now has multiple powerful selling options that are being frequently used by happy customers.
In addition to ad campaigns and Shoppable posts that allow you to tag products in posts and take users straight from your picture to your site to purchase, Instagram is now putting a bigger focus onto shopping-on-platform.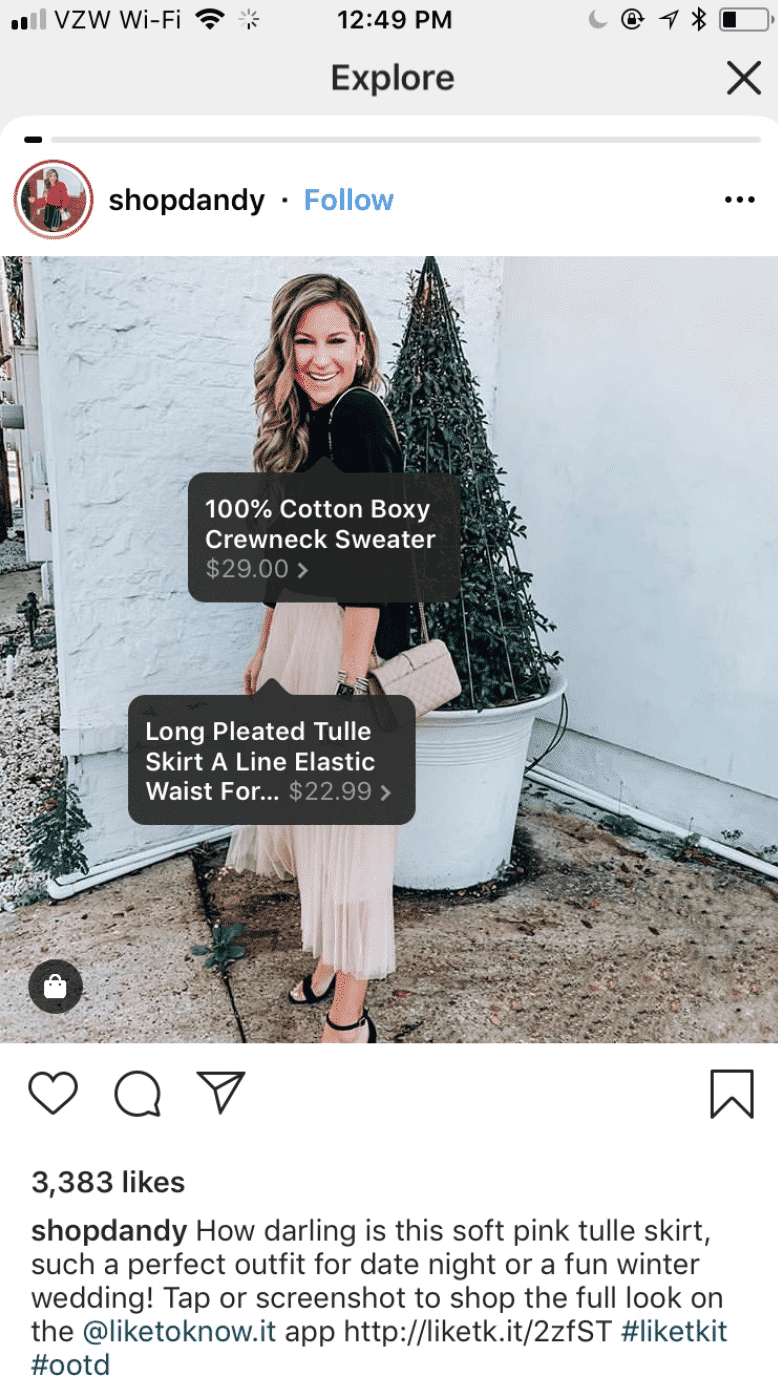 They've created a "Shopping" tab in the explore section, which allows users to browse a feed of entirely Shoppable posts that have been tailor-picked by Instagram's algorithms to be appealing to them.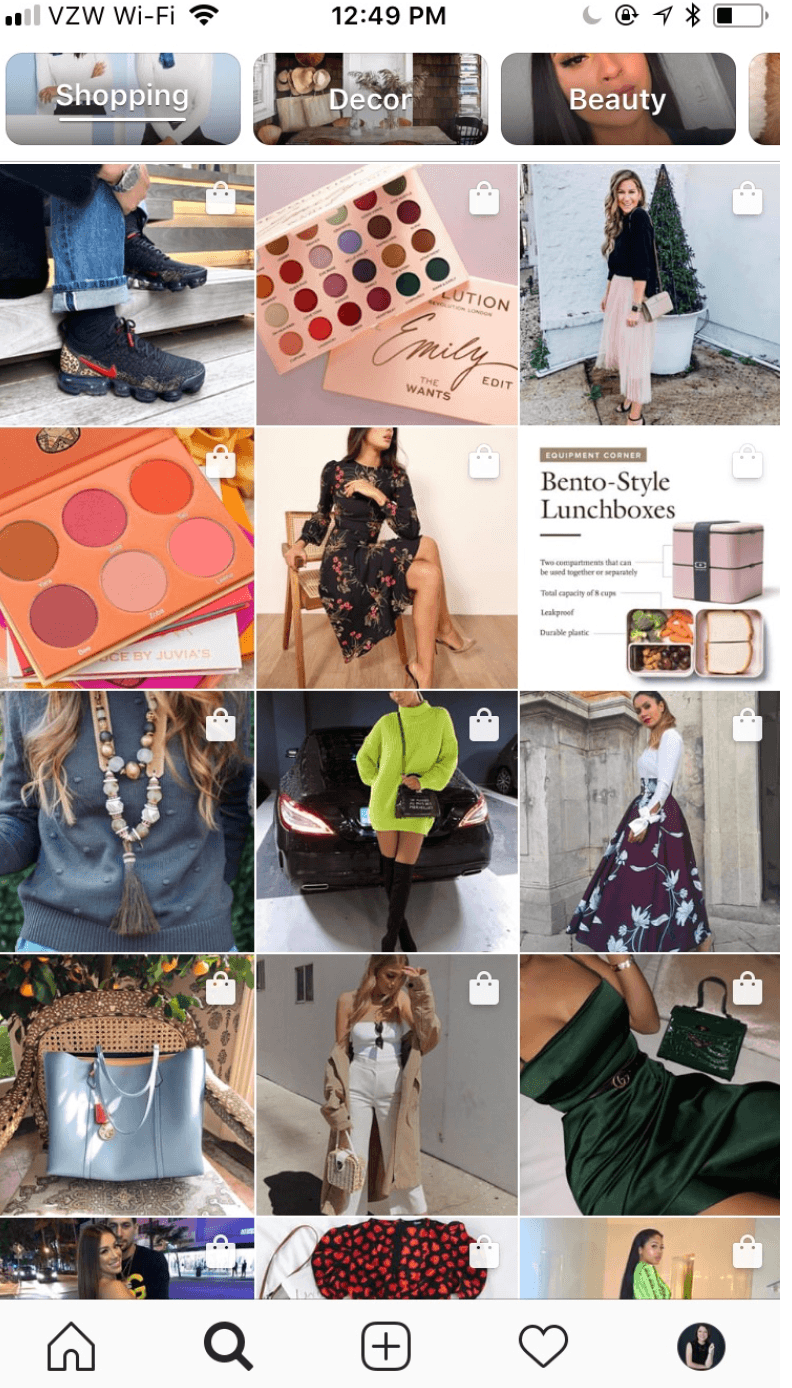 In addition to shopping and browsing, users can now also save products that they're interested in, not just posts. Saved products will be archived where they can be accessed on a user's profile at any point so they can consider the item and come to purchase later.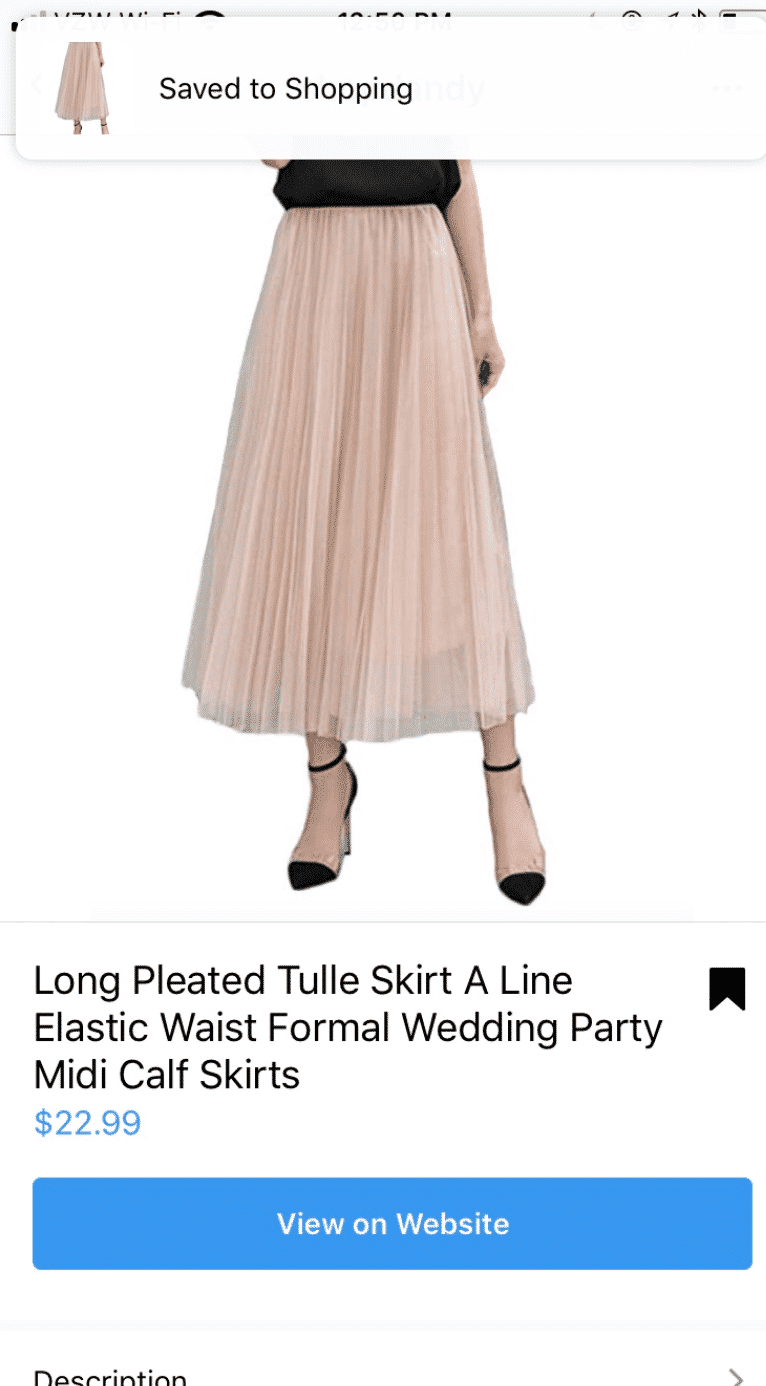 It's a little like the selling potential of Pinterest has officially arrived at and merged with Instagram, which has always been a high-engaging platform where customers are happy to interact with and discover brands they love.
If you're wondering how well these shopping features can work for you, there's a ton of evidence that they can work incredibly well. Here are a few case studies that show what's possible:
What Kind of Businesses Does Instagram Selling Work For?
All businesses can benefit from marketing and brand building on Instagram, including service-based businesses and B2B businesses. That being said, those with visual, physical products are likely to see more results when it comes to actually using selling features on the platform. They're easier to represent in a clear image, and with Instagram being a highly visual platform, this matters.
Remember, though, that service-based businesses can still use some of the tactics we're going to discuss in this blog post that don't revolve around the strictly Shoppable features to drive traffic to their sites, increase leads, and result in sales, so don't count yourself out yet if you aren't selling physical goods—we've got strategies for you, too.
How to Sell on Instagram
There are several methods you can use to drive sales through your Instagram marketing. Some of them include the Shoppable features, but there are a few other options too that can work even for businesses who aren't selling physical goods. Let's take a look at each.
1. Create Shoppable Instagram Posts
Shoppable posts have taken center stage in this blog post so far, and it's because they're easily one of the most effective (and cost-effective!) ways to sell through the platform. It doesn't cost anything to use them, it just takes a bit of time to set them up.
Here's how they work: Users will see a prompt to tap the image if they're interested. When they do, they'll see a product tag.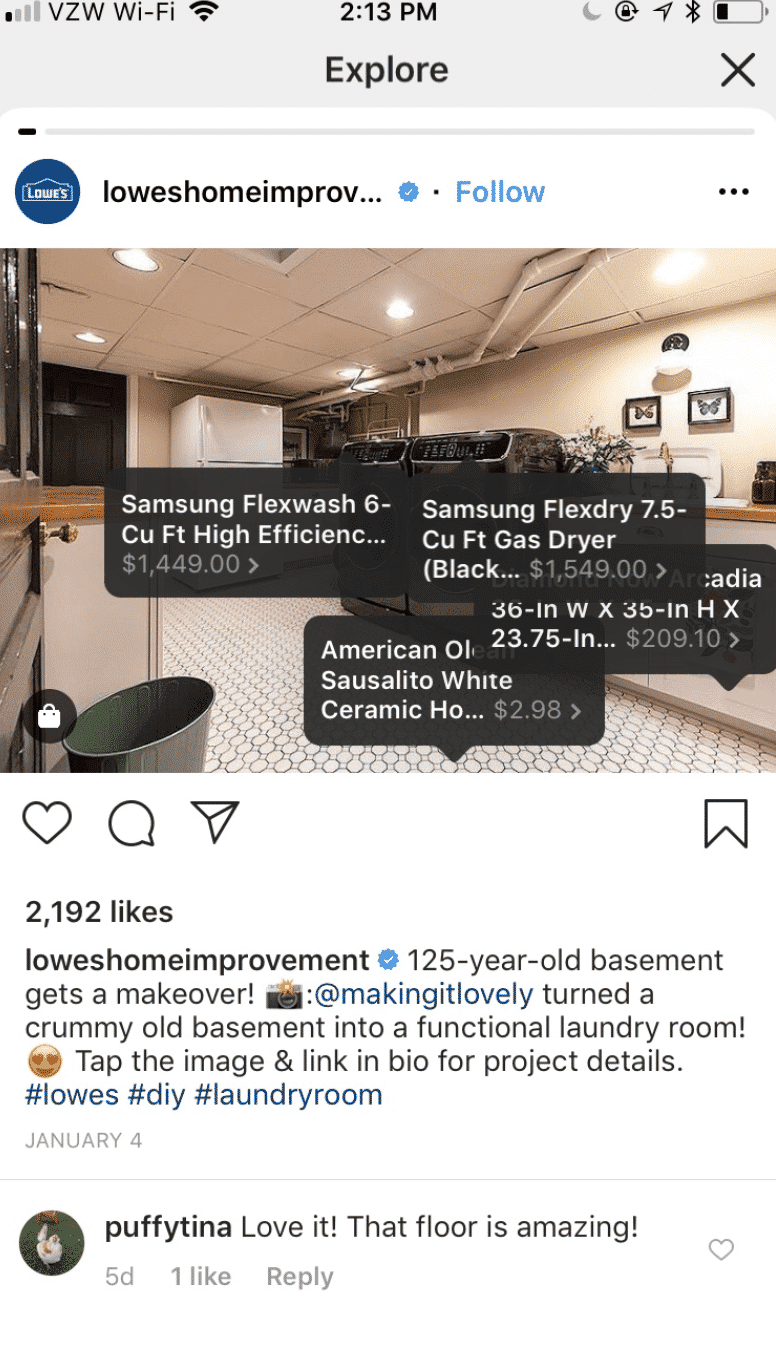 They click on the tag, which may contain the product's name and information like price, and then they're taken to an in-app product page. This is where customers can save the product or continue on to the website to review it there or purchase.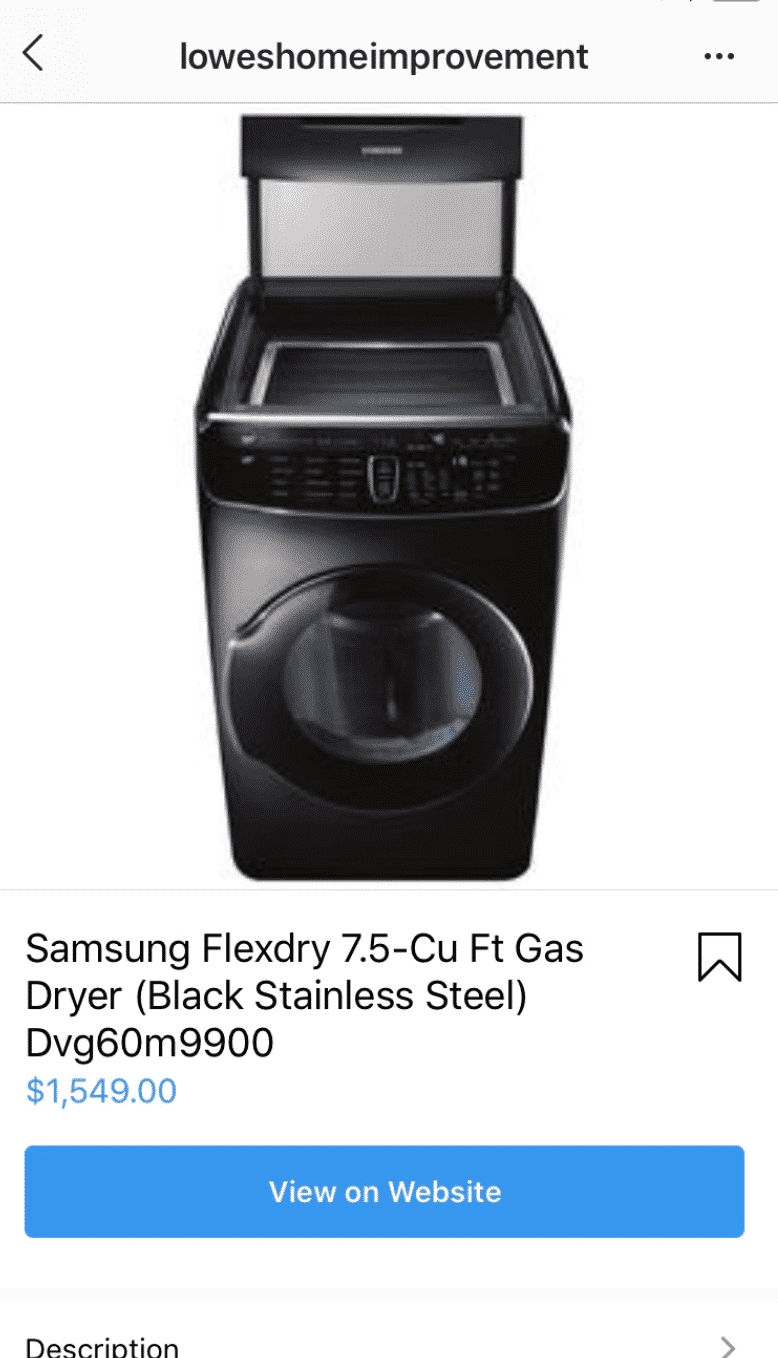 Instagram has a few big requirements if you want to create Shoppable posts:
Setting up a Facebook catalog just involves creating a .CSV file that lists each individual product's name, price, information like its specific URL and uploading it to Facebook's business manager. After you link a catalog to your Instagram account, it will reviewed for a few days, and then you can start selling.
Other CMS systems, including Shopify's, offer additional ways to create Shoppable posts natively. You can read about this here.
2. Create Stories with Shopping Stickers
Shopping Stickers are an extension of the product tagging options, and it allows you to turn Stories into Shoppable Stories. Again, you need to have product tagging set up after connecting your Instagram account to your catalog, but once you do this, it's worth it.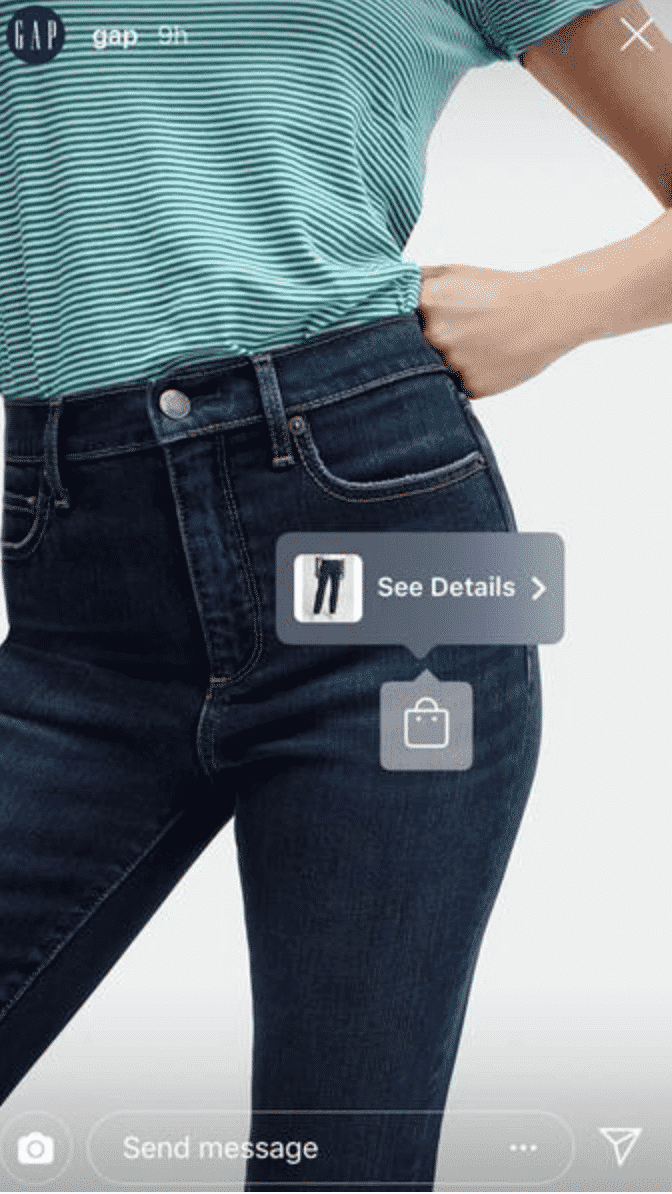 Stories are frequently used on platform, and users are happily watching and engaging with these full-screen images and videos. Since Stories can show up in the Explore section just like posts, and they'll keep playing one after another until the user decides to click away. Using these shopping stickers is a huge advantage for this reason and can do wonders for the potential visibility of your campaigns.
3. Run Instagram Ads
Instagram Ads were the first big selling option on the platform and they're still a strong option. You run ads through Facebook's ads manager, can take advantage of their incredible targeting system and multiple ad formats.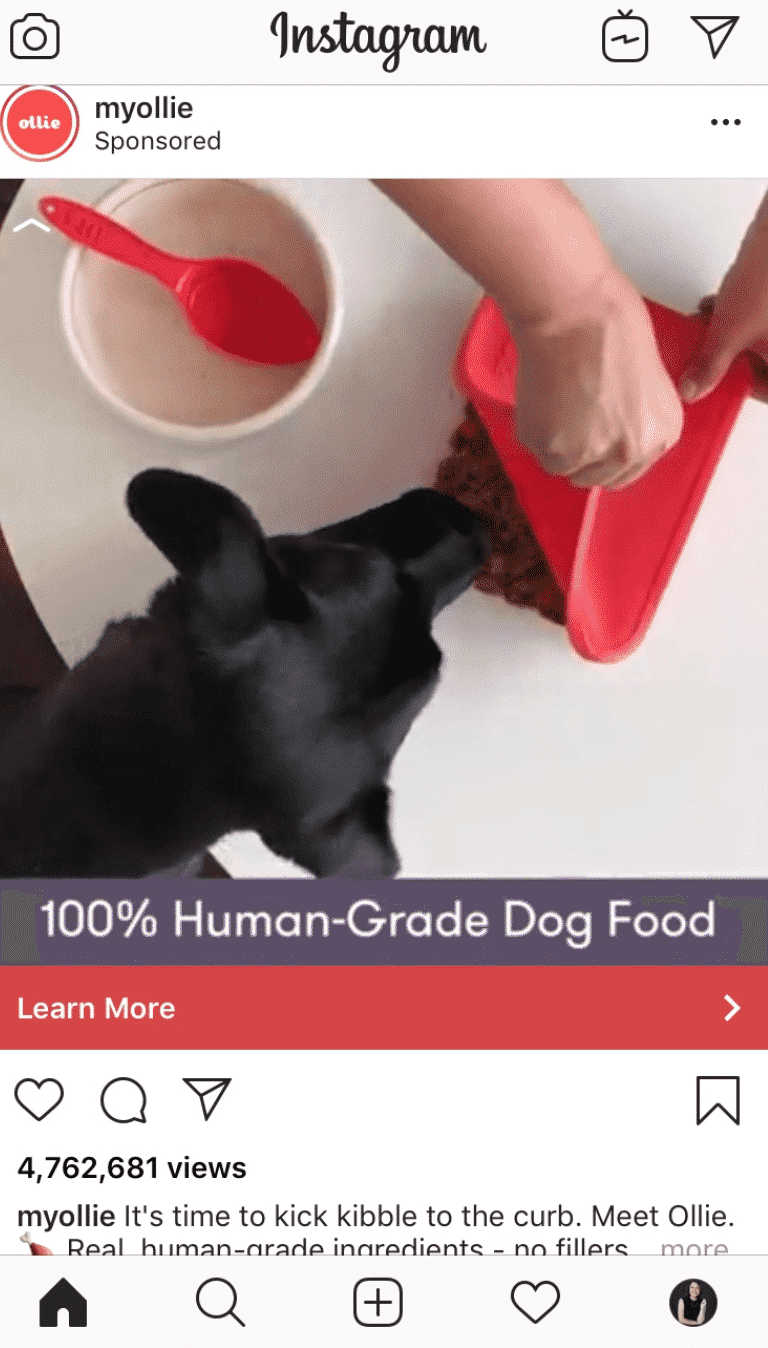 Instagram Ads can appear in users' feeds or in their Stories, and they allow you to attach the link of your choice to the campaign so users  can be sent to a designated place. This could be a lead generation form, a product page, or a longer sales video.
4. Add "Swipe Up" CTAs to Your Stories
If you have 10,000 followers or more, you can add "See More" CTAs to your Stories, which make it easy to send users to whatever site page you'd like. These are definitely more advantageous than the average profile bio link because you can customize it for each individual Story and use GIFs, visual cues and the CTA itself to help drive action.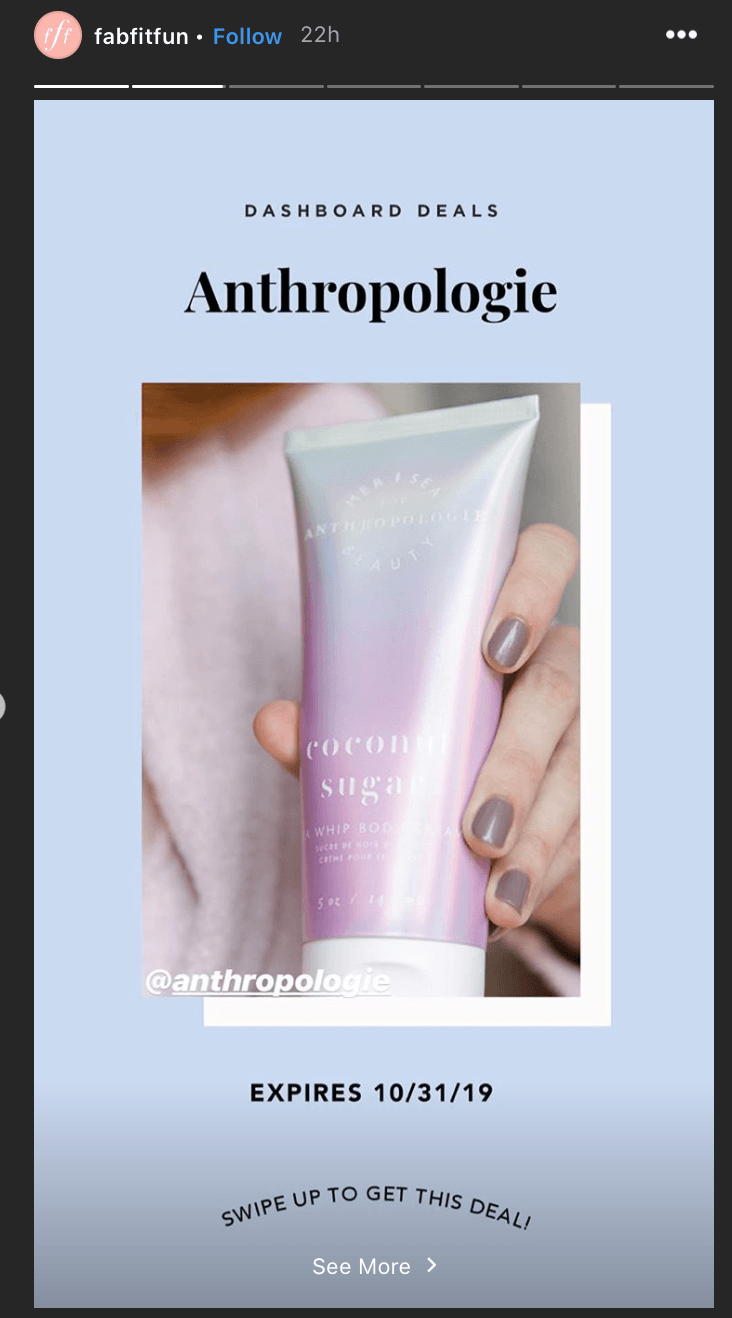 If you don't have 10,000 followers yet, don't sweat it—you can add links when you create paid Story Ads, which have fully rolled out and are created through the Facebook Ads Manager.
5. Use Your Bio Link to Full Potential
Back in the good ole days (and even now, if you aren't counting Shoppable posts and Stories), you only got one link on your Instagram profile, and that was in your profile's bio. We still have that single link now, which can be used to direct traffic to any site your choosing.
It's typically a safe bet to choose an "evergreen" page as the link's destination, like your home page or a lead generation page. If you're promoting a big sale or an event, you can temporarily change the link accordingly and then share posts that include CTAs like "Don't forget to register through the link in our bio!" Direct users to this link and tell them what action to take ("Shop our sale" is also a good choice) and you can increase site traffic and sales.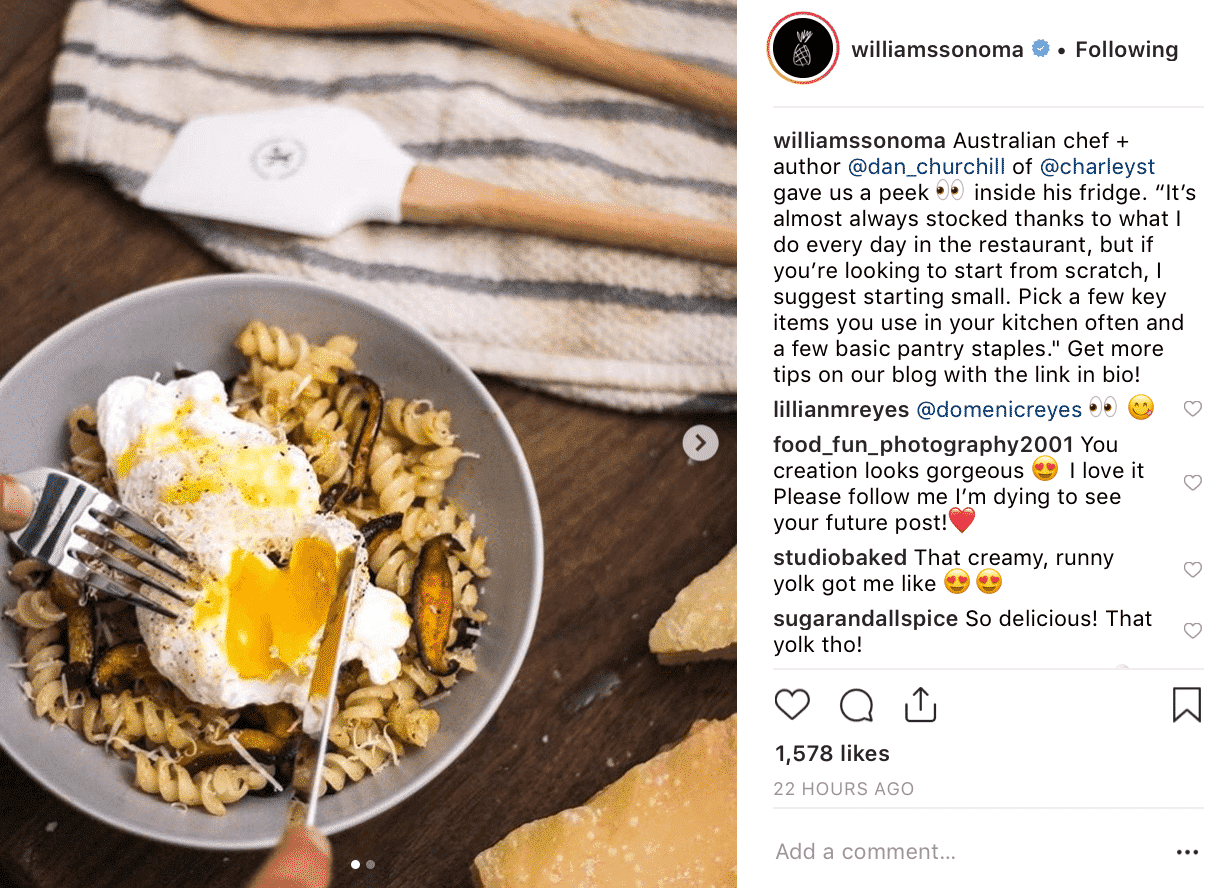 Another option is to use Instagram selling software, which some brands prefer to Shoppable posts. This works by using third party software like Like2Buy to set up a "shoppable gallery," where you can offer product information and links to where they can purchase. Some brands prefer this because they think it's easier to manage than updating a Facebook catalog,.
Tips to Increase Your Selling Power on Instagram
Having the right strategies in place and using the right tools on platform are crucial to actually driving sales instead of just engagement on platform. If you really want your campaigns to be a home run, you also need to make sure that you're using certain tactics to increase the visibility and effectiveness of your posts.
Here are some things you can do to make sure that you're maximizing the potential of your campaigns:
Use Hashtags
Hashtags are the lifeblood of getting your posts seen on Instagram. You want to use relevant hashtags that can help you connect with your target audience so they can discover your brand, see what they're offering, and hopefully purchase. Someone searching for #plussizedfashion is often likely to purchase from someone who can offer them something great, for example.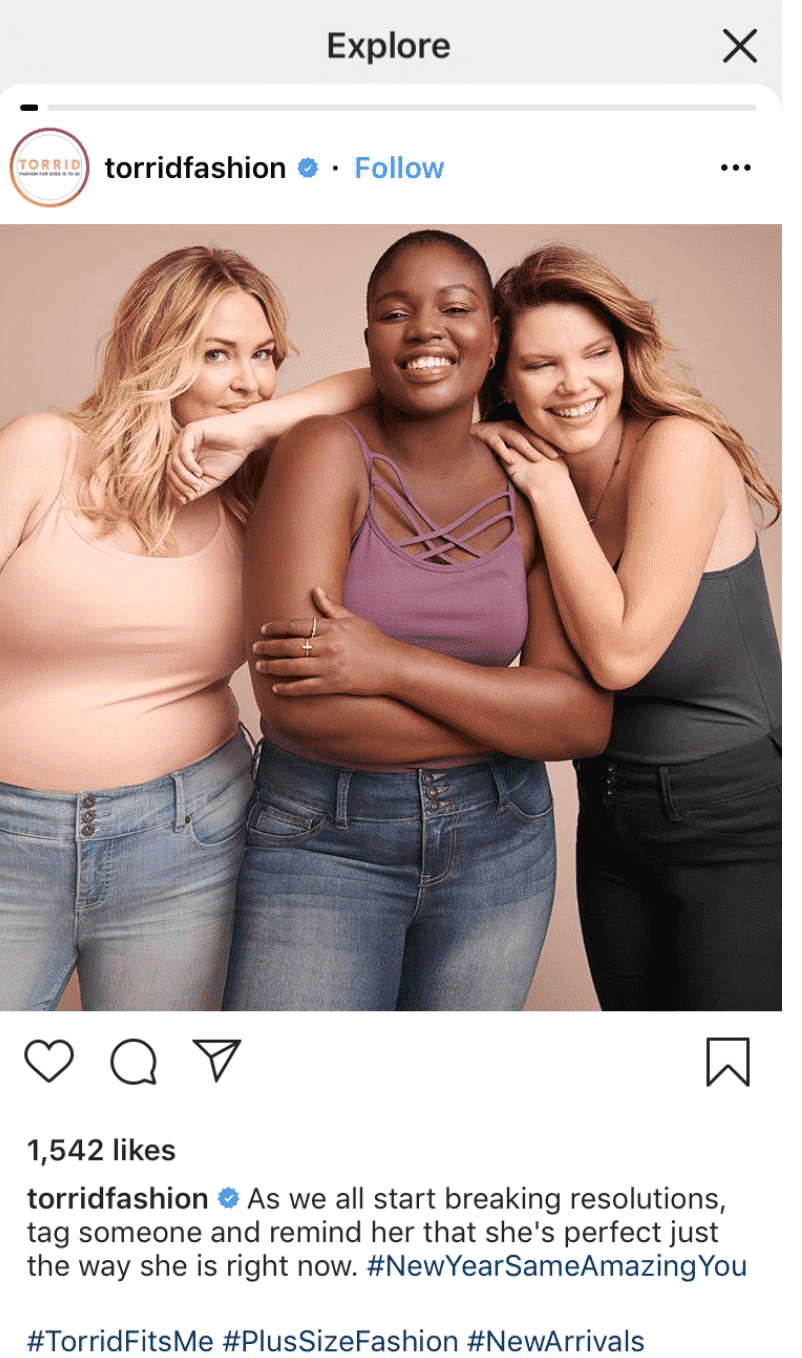 You can't sell to them if they never find you, after all, so don't rely on the discover section or shopping tabs to do the work for you. If you aren't sure where to get started, you can learn more about hashtag research and strategies here.
Don't Neglect Community Building
You want sales. That's awesome, and Instagram users will happily shop on platform and purchase from you. That doesn't mean that you should forget the point of social media: the social part. People don't want to see only sales-heavy posts, so make sure you're throwing in content that focuses on showing behind the scenes content or you engaging with the community.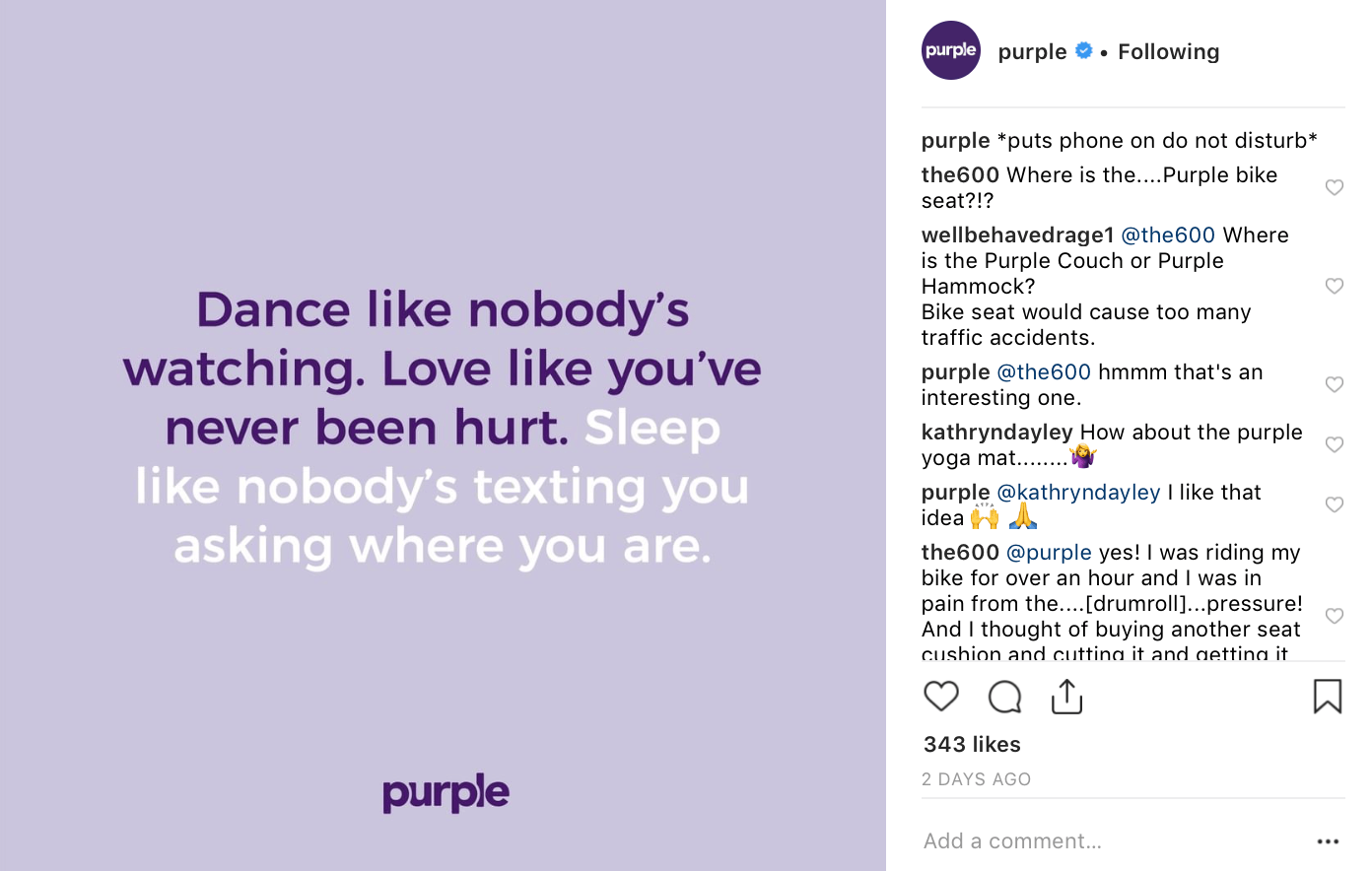 Throw in Some UGC
User-generated content will be helpful for community building, but it also can be used (with the customer's permission) in content that promotes what you've got. Include their reviews or pictures they use to showcase events, sales, or great products.
Advertise Products as a Set
Sometimes this is one of the best things you can do. Tag multiple products in a single image and present them as a "perfect pair" to offer more value to the post and increase the likelihood of purchase add-ons. If you see a washer, you don't always want to go hunting through the site and hope you've actually found the matching one, for example, and showing customers a perfectly matching outfit can drive sales significantly.
Conclusion
Instagram is a hot spot right now for driving sales on social media, in addition to building brand awareness and establishing online communities. Their impressive (and wide!) rollout to multiple selling features was impressive on its own, and became even more valuable once Instagram rolled out the new features designed to make shopping on Instagram even more appealing and easier for customers. Interested customers can save products they're considering, or discover new products all together when they're in the mood to browse, and all you have to do is make sure that your posts are optimized to participate.
Are you looking for some assistance with Instagram Ads or other PPC campaigns? We can help! See what we can do for you here.
What do you think? Have you used Instagram to drive sales? If so, which strategies worked best for you? Share your thoughts and questions in the comments section below!