The ABCs of Social Media Marketing
by Jenny Hatch • April 25, 2017
The ABCs are some of the first things we learn in life. As we grow, we learn more complicated concepts, like social media marketing.
In this article, we're going to blend the two and look at 26 keys to social media marketing success: the ABCs of social media marketing:
A) Advertisement
Social media advertisements help expand your reach on social media and target your ideal customers—both the ones who already know you exist and the ones who don't.
Each social media platform has their own advertising options—from display ads to text ads. If you're interested in trying paid social advertising, let me know here or in the comments and I'll give you some recommendations!
B) Blog Content
A blog is a resource to provide quality, relevant information to your audience. When it comes to social media, this is important because your blog gives you something to post about and talk about on social media (along with creating thought leadership around your brand).
C) Call To Action
Having the right call to action is just as important in social media as it is in any other online marketing channel. If you want them to call you, fill out your form, sign up for your newsletter, or buy something, you have to tell them.
Its just like communication in any relationship—no one can guess what you're thinking, what you want, etc…unless you actually tell them.
D) Data analytics
If you don't look at your data, you don't know what's working with your social media marketing and what isn't. From data you can learn where your traffic is coming from, where they're going, what they're interested in, what path they take to conversion, etc. But, with the right data, you can learn almost everything you want to know.
For more information on how to use data analytics to improve your social media marketing, check out this article.
E) Engagement
Engagement is crucial to social media marketing. After all, it's social media marketing, so if people aren't interacting, you're not doing your job.
In addition, social media algorithms prioritize high engagement posts, which means that the more engagement your posts get, the sooner and more your posts will show up. A call to action boosts engagement, as does posting content your audience is interested in at a time when they are online.
F) Funnel
While creating a social media strategy, it is helpful to create a social media funnel. The top of the marketing funnel is typically awareness and it works its way down to a sale.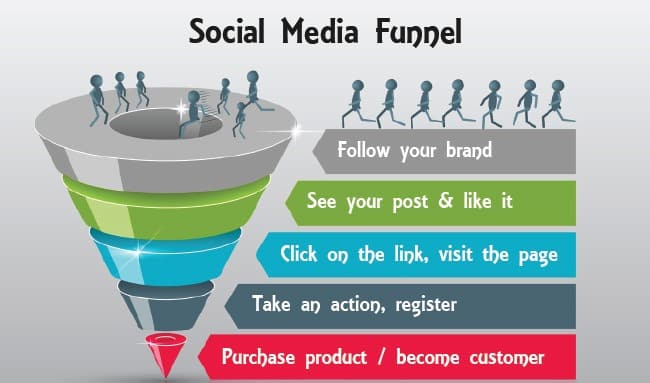 You can use a funnel like this to help you decide what calls to action to use, what types of posts to share, who to target, etc. at each level or stage of your funnel.
G) Geotargeting
Social media marketing works best when you geotarget. You know your businesses limits (language barrier, a physical geographic radius around your location, or even an income level that invites or excludes certain demographics from participating) and by using geotargets, you can better target your customer and exclude those who you can't help.
H) Hashtags
Hashtags help your customers and target audience find you. On Twitter and Instagram, people regularly search hashtags to find content related to what they are interested in. Use commonly used and short hashtags to increase your reach. Hashtags are also used on Twitter for twitter chats—a live chat focused on a general topic.
I) Influencer
To become a social media influencer, you have to be active, relevant, and engaging. To become an influencer, make sure you follow relevant people, actively post relevant content, and engage your following. This will build trust in your brand and product.
J) Jargon
I'm sure we've all read a company's website, got to the bottom of it and still had no idea what the company was. While using buzzwords and phrases can show that you're relevant, throwing too many at your customers is a turn off because they feel like they're being sold.
Also, using jargon and words that your audience understands is crucial. For example, I have to be careful using acronyms like CPA (cost per acquisition) around my accountant friends—they think I'm talking about a Certified Public Accountant.
K) Kudos
Unfortunately, I'm not talking about the granola bar, but instead about interacting and engaging with people.
If someone posted something on social media you liked, share it and let them know by tagging them in it. If someone accomplished something cool, let them know you care by posting about it. Social media marketing is often a "you-praise-me, then I'll-praise-you" world, so start giving kudos!
L) Landing Page
A landing page is a web page designed with a single marketing purpose in mind: to get people to convert. Directing people to specific landing pages rather than the home page of your site is a great way to keep their attention and ensure the maximum number of people convert.
M) Mobile
Let's be honest, most people use social media on their mobile phones. It's what we do when we're waiting for appointments, have a couple minutes to spare, or are waiting for our Starbucks Unicorn Frapacino in the morning.
As a result, if the content you're posting isn't optimized for mobile, all that hard work you're putting in won't get you very far.
N) Niche
To succeed at social media marketing, you have to find your niche. Not everyone will be interested in your product or service, so it's not worth your while to try and appeal to everyone on social media. But, if you can find your niche, you can consistently get and stay in front of the audience you really care about.
Once you've identified your niche, it's a good idea to stick to the 80/20 rule. By posting 80% of your posts in your niche and 20% in other areas you show that you are well-rounded while still being a specialist in your field.
O) Objective
If you don't have a goal for your social media efforts, you are doing social media marketing for the sake of doing social media marketing. With an objective, you know why you are posting each post, what you hope it will do, how it will engage or benefit your audience, who you are targeting, and when to reach your audience.
P) Pictures
A picture is worth a thousand words. And when you only have 140 characters, that picture will do a lot more than those 140 characters ever will. Posting images, infographics, gifs, videos, etc that will make your audience want to engage is critical to social media marketing success.
Q) Quality
Most social media content isn't very interesting. Boring articles, dull pictures, evergreen clickbait, we've all seen it and we all scroll right past it in search of something more engaging. To prevent this, only post things you're actually interested in, find relevant, etc. And, make sure to tell your audience how you found the content of your post helpful or relevant. It'll boost your engagement.
R) Reach
I've touched on reach many times without ever saying it. But here it gets its own letter.
Reach is the number of people who see your social media posts. As you might imagine, your reach increases when you're posting the right content, at the right time, to the right people.
To increase your reach, make sure you are using hashtags to increase the visibility of your posts, create content your existing fans will want to share and keep growing your fan base!
S) Schedule
A social media schedule can make it a lot easier to know when to post what. I create a social media schedule two weeks at a time. It includes blog posts to share, questions to ask, events that I want to highlight/participate in, news I want to repost, pictures to post, etc. It makes the day-to-day easier because I can plan ahead, get collateral together, and come up with a proactive rather than a reactive strategy.
T) Top of Mind
In many ways, social media is all about generating and maintaining awareness. To do that, you need to stay active on social media and even consider retargeting your audience on social media. Both help you stay in front of your audience so that when the timing is right, they reach out to you.
U) URL
This point ties back to your data analytics. The more UTM parameters you can add to your URL, the better your tracking will be. For a lot of social media marketers, getting nitty gritty on your posts may not feel very natural, but trust me, the more you track, the better you'll be at your job.
V) Value
The idea here is fairly simple: people follow social media accounts that provide them with value. If your followers don't find value in what you offer, they'll go elsewhere.
W) Who Is Your Audience?
I realize that this is a stretch on the letter W, but you had to know that it was coming here at the end of the alphabet.
I've already mentioned the word audience at least 17 times up to this point in the article, but I'm going to mention it again here. Audience is everything in social media. If you don't know who you're targeting, why you're targeting them or how you're targeting them, your social media efforts aren't likely to generate much value for your business.
Remember, your social media marketing isn't centered around you, its centered around your audience.
X) eXamples
Examples in the form of case studies, testimonials, how to's, etc are necessary to show your audience that you know what you're talking about and that there are people who can vouge for you. Our most popular blog posts and website pages all give examples of businesses we've helped, strategies we've used, or stats we can support.
Y) Yesterday
Another stretch, I know. But, there are a lot of reasons why yesterday is an important part of social media marketing.
For example, learning from the past is an important part of improving today's social media efforts…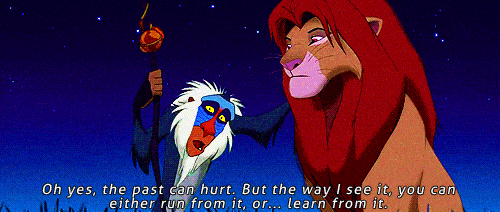 In addition, if you missed something newsworthy yesterday, don't be afraid to post about it today (better late than never after all).
Last of all, consider the saying "yesterday you said today". Any day is a great day to get started on social media. You won't be a viral thought leader all at once, but you will overtime gain that audience and engagement that we've talked about in this article.
Z) Zest
A little spice can do wonders for a meal. Similarly, adding a zest of personality to your social media account will make it come alive and be more believable. Our top reaching and top engaging posts are ones about what's going on at our office, what we've been up to, random gifs, etc.
Sprinkle your personality and your unique brand into your social media account so it stands apart from every other social media account out there.
Conclusion
Now you know your ABCs…won't you come and practice social media with me?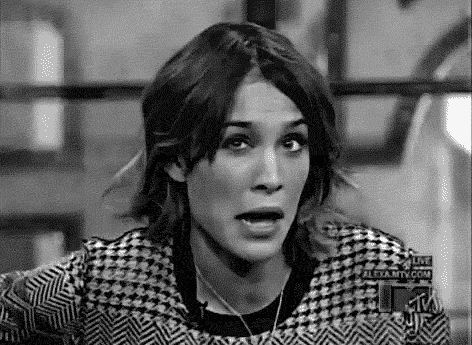 But seriously, social media can be as big or as little as you want it to be. It can take all your time or just a few minutes a week.
Regardless of how much time you plan on spending on social media marketing, the 26 points in this article will do wonders for your social media efforts. Let me know how it goes!
What do you think of this list? Are there any other "letters" you'd add? What are some of your favorite social media marketing tips?