3 'Hole'y Reasons You Should Be Using An Ad Preview Tool
by John Thuet • February 11, 2014
Your PPC Life is about to get a 'hole' lot easier. (image source)
Okay, that's enough with the golf puns; I'll get to the real reason we are here—to make your PPC life as easy as having a giant pin at the end of a tough par 5.
Ad Preview Tools are one of those things that I think many PPC marketers might take for granted. If you need convincing, here are 3 reasons why you should be using the tool.
1) View Ads Without Racking Up Impressions
You've just finished building out your ads in your PPC campaign. If you're like me, you're going to want to check out how your ads look to your customers on various search engines. DON'T DO THIS! Searching for your own ads on a search engine without the intent of clicking on your ad will only increase your ad impressions and lower your CTR (click-through-rate).
Why is this bad? The lower the CTR, the lower your Quality Score and ad rank. Simply put, this makes your ad show less often, at lower positions, and cost more per click. With the Ad Preview Tool, you can review your ads without any negative side effects.
2) Unbiased Search Results
Search engines are getting pretty smart. They take into effect not only geo targeting, but previous search queries, social circles, etc. to bring you the most relevant search results possible. If you are searching Google, for example, for your own ad, it can be difficult to review how your ad actually shows up for customers searching your keyword for the first time.
The AdWords Preview Tool let's you select the location, language, device, and domain that your want to review your ads from. This is extremely useful to make sure your location targeting and other settings are working properly for your ads and keywords.
3) Testing, Testing, Testing
For all my faithful blog followers out there, you know what I'm about to discuss. Test your ads! Not only is it a good idea to split test 2 different ads to see which one performs better, but it is also good to review how your ads appear outside of your AdWords or Bing Ads account. How do they look next to all your competitors? Do your ads stand out?
The Adwords Preview Tool gives you the chance to check out how your ad looks snuggled up against your competitors, without any negative consequences. If your ad is in the top 3 results, it may also show you how your ad looks with the Description Line 1 brought up alongside the bolded headline. This can be a major determining factor in how you write your ads—when you get to see them how the rest of the world does.
Here is an example of Google's Ad Preview Tool and how your ad could potentially show up: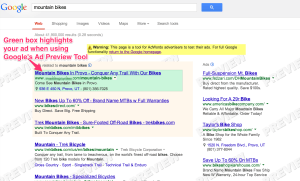 So there ya go. Now you can check out your ads without hurting yourself in the process. You know I just made your life that much easier…you and your wallet can thank me later.
Note: If you're super new to PPC marketing and you've never used an Ad Preview Tool before, here are links to both Google and Bing's support docs to help you out.