What is CTR? What You Need to Know About Click-Through Rate
by Jacob Baadsgaard • December 19, 2017
Online marketers love their acronyms: ROAS…MRR…PPC…CPC…CPA…CTA…and, of course, we have CTR.
CTR, or click-through rate, is an essential metric in pay-per-click (PPC) ads that can help you gauge the results you're getting and how effective your campaigns are.
In this post, we're going to go over everything that you need to know about click-through rate, including why it matters, how to optimize for it, and why it's not always important for this number to be on the high side.
What is Click-Through Rate?
Essentially, your click-through rate tells you the percentage of people who click on your ad after seeing it. It's calculated by dividing the number of people who click after seeing your ad by the total number of impressions your ad received.
For example, if you'd like to estimate your CTR, you can use the following calculator:
As you can probably imagine, click-through rate is a crucial ad metric that you want to watch closely, especially if you are running paid search ads.
What Can CTR Tell Me About My Campaigns?
You CTR tells you a lot about your PPC campaigns. For example, a high click-through rate is a good indication that your ad copy and/or imagery is resonating with your target audience.
In other words, a high CTR means that you've targeted the right people, you had interesting copy and you had an offer that was appealing enough that a large percentage of ad viewers are clicking. This is an excellent sign.

For many campaigns, a high CTR is a great indication that you're getting closer to your goals of more leads and more sales. The more people that click, after all, the more who have an increased chance of purchasing.
Conversely, a low CTR often means that your ads are not a good match for your target audience. So, if you're testing a new ad and your click-through rate goes down, your new ad copy or imagery probably isn't working the way you'd hoped.
Click-Through Rate and Quality Score
Unfortunately, a low click-through rate has broader implications than how many potential customers will visit your site. Because CTR is a good indicator of how relevant your ads are to your target audience, pay-per-click platforms like AdWords and Facebook use click-through rate to determine the quality of your ads.
Obviously, Google and Facebook want the ads they display to be relevant to their users (otherwise, their user base will dry up), so they give each ad a quality score. This quality score is largely determined by ad engagement—or in other words, click-through rate.
Both Facebook Ads and Google AdWords use bidding systems that take quality score into account when determining which ads show up where. In essence, a high quality score bumps up your bid, which means that with a high enough quality score, you can actually outrank a competitor without outbidding them.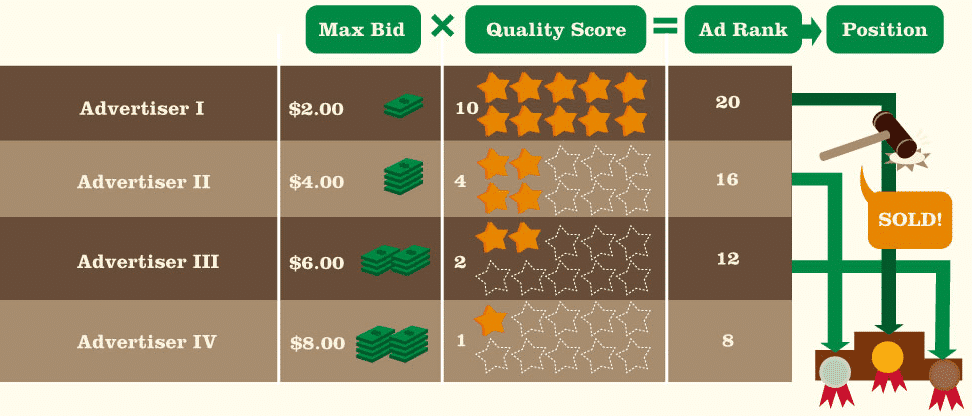 So, the higher your CTR, the higher your quality score and the higher your ad will show up on the results page or in a user's feed—and at a lower cost-per-click, too. It's all a bit arbitrary, but click-through rate has a big impact on your quality score and therefore your ad placements and cost-per-click.
How To Increase CTR on PPC Campaigns
Want to increase your CTR (and the resulting conversions) on your PPC campaigns? There are two basic keys to producing strong click-through rates: good targeting and good creative.
The first key is fairly straightforward. If your ads aren't being shown to the right people, you aren't going to be getting any clicks on the ads themselves. Sometimes this means your targeting is dead wrong and you're not choosing the right keywords or other targeting criteria. Other times, it means that you need to get more specific and utilize segmented marketing campaigns.
The other key to improving your CTR is good creative. You need a strong offer to get clicks and messaging that's tailored to your specific audience and the keywords they're searching for. On platforms that utilize images or videos, make sure your visual component is engaging and captivating.
Once you have this in place, you can start implement other strategies to increase CTR, including:
Use urgency in your copy, offering flash sales or limited-time-only discounts. If the sale is ending soon, make sure to mention exactly when.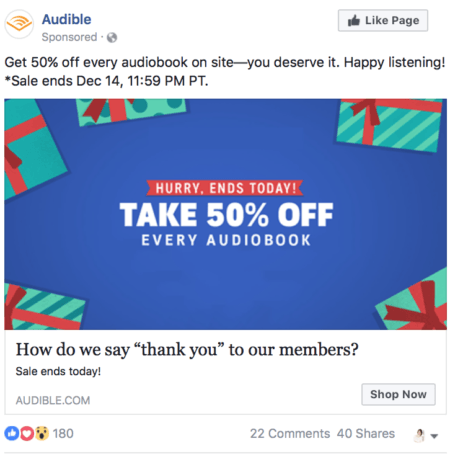 Take advantage of all the bells and whistles of the ad platform. For Facebook Ads, this may mean testing different CTA buttons and ad formats and for Google AdWords this would mean utilizing different

ad extensions

. AdWords ad extensions can give you an edge on competitors by letting you place your phone number, seller ratings, or a map of your location with your ad.

Create an irresistible offer. Offer something up for free, or on a great discount. Thanks to FOMO, people can't help but click and hopefully convert.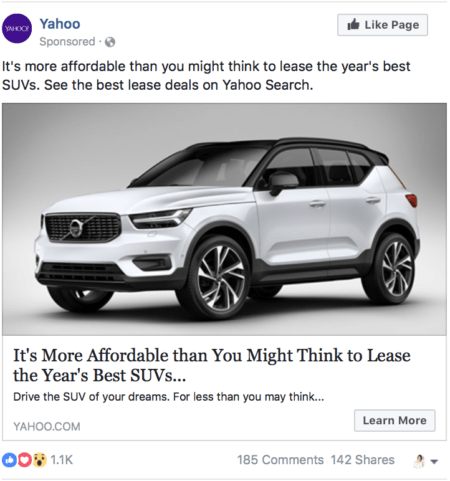 All of these strategies can help improve the effectiveness of your ads and—by extension—your click-through rate.
Is High CTR Ever Bad?
For many campaigns, a high click-through rate is a great sign. There are certain times, however, when a high CTR could be less than ideal.
For example, let's say you have an average CTR rate or even a high CTR rate, but an abysmal conversion rate. In this situation, there's probably a problem with your landing page or the offer details you have specified there—there's something wrong if you're getting a ton of clicks and no real results from them.
If this is the case, troubleshoot your ads with a combination of each platform's ads manager and Google Analytics. Look at on-site traffic patterns, bounce rates, and exist pages to assess where people are dropping off and why. Once you have this info, you can revamp whatever needs to be changed for your ads (and your ad spend) to become more effective.
Conclusion
Your click-through rate can tell you a great deal about the performance of your PPC campaigns. In addition to telling you what percentage of the users who see your ad are clicking, it can help you diagnose other potential problems with your campaigns that you may have struggled to identify without the CTR metric giving you insight.
Are you not hitting your click-through rate goals? Not sure what your CTR metrics mean for your campaigns? We can help you there. Drop us a note and see how we can help you run your PPC campaigns more effectively.
What do you think? How carefully do you monitor the CTR on your campaigns? Do you use your CTR score to gauge the health of both your campaigns and your funnel? Share your thought and knowledge in the comments below!