AdWords Video Extensions: Why They'll Rock Your World
Who says videos are only for YouTube? AdWords video extensions will rock your search ads (image source)
One of the more exciting and new AdWords improvements is coming our way and they're called AdWords video extensions.
AdWords video extensions will allow you to add a YouTube video to your search ads that appear on Google.com, giving the user the option of expanding your text ad to see your movie trailer, explainer video, or product infomercial.
Here's what the AdWords video extensions look like: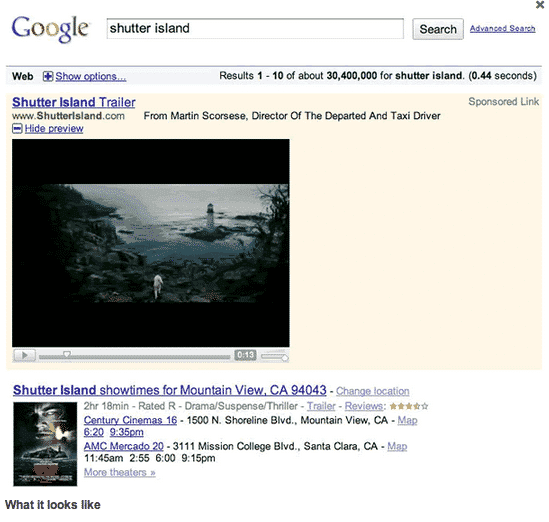 As you can see, this is a perfect fit for new movies coming out. But how many advertisers will use these extensions as movie trailers? Not that many.
Here's a breakdown of important points regarding the new AdWords video extensions:
Users will only see your video when they click on the "+" sign below your text ad.
You will only pay for a click once the video has passed the 10 second mark. Your max cost per click will be the one associated for the keyword that activated your ad to show.
You must have the video you want to show as an AdWords video extension uploaded to your YouTube account.
At this moment, there are many unanswered questions to the use of these extensions. My guess is that there will be some hefty restrictions, just like there were with the image ad extensions. Meaning that your AdWords video extensions will most likely only show when your ad appears for branded searches.
With the many ad extensions currently available, how do you choose which one works best for you and your business?
My best answer is to test them all out as each one have different benefits depending on the type of business you have. But be aware, as some of the extensions override each other, while others are allowed to show together with your ad along with other extensions.
My guess is that AdWords video extensions will be allowed to show with sitelinks and that's it.
Leave a comment