The Ins N Outs of Google Ad Extensions
by Brittany Loong • April 27, 2015
What if I told you that you could get a juicy Double-Double cheeseburger from In-N-Out Burger for the same price as a single cheeseburger?
Sound like a good deal?
Of course it does! In fact, if this happened all my hopes and dreams would be coming true.
My motto at In-N-Out is you get a Double-Double, fries, and a Dr. Pepper or nothing at all.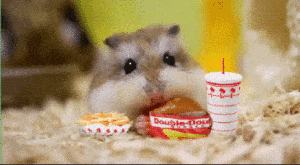 Okay, now what if I told you that you could increase your PPC search ad's size and visibility without increasing the cost per click? Would you take me up on that offer?
If you said yes, then I have some good news—you can with Google ad extensions! 
When you realize what ad extensions can do for your AdWords search campaigns, you'll find that adding them to your account is a no-brainer!
What are ad extensions?
Here is Google's definition:
"Ad extensions are a type of ad format that show extra information ("extending" from your text ads) about your business."
Your standard text ad allows for a 25 character headline, two 35 character descriptions lines, and your display URL. Ad extensions allow you to increase the size of your ad while also providing more content for the user.
Okay, cool. So what does that mean for you and your business? Let's take a look at what ad extensions can do!
Improved visibility: Every time a user does a search for keywords you are bidding on, there is an auction to determine where your ad will be placed in comparison to your competitors. This is determined by your Ad Rank.
Ads with the top positions appear above organic search results, while those with a lower ad rank appear on to the right.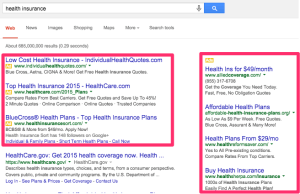 Ads that appear at the top of the page tend to get better click through rates. Ad extensions are a great way to boost your ad rank without increasing your CPC and appear above your competitors.
Better return on investment: Ad extensions help increase your click through rates. In fact, ad extensions help increase CTR by an average of 30% (source).
How do ad extensions work?
Google will display your ad extensions when it determines that the extension will improve the ad's performance. Your ad rank also has to be high enough for the extensions to appear. You can ensure this by keeping your bids high enough to stay in the top 2-3 spots and your landing pages and ads relevant.
Although your extensions will not show for every search that triggers your ads, it is a best practice to have all possible extensions for all ads in your account.
Adding extensions is easy! Find the Ad Extensions tab, select which type of ad extension you want to create, and click the +EXTENSION button. Note that you can create extensions at the campaign OR ad  group level, if you want extensions that are more specific.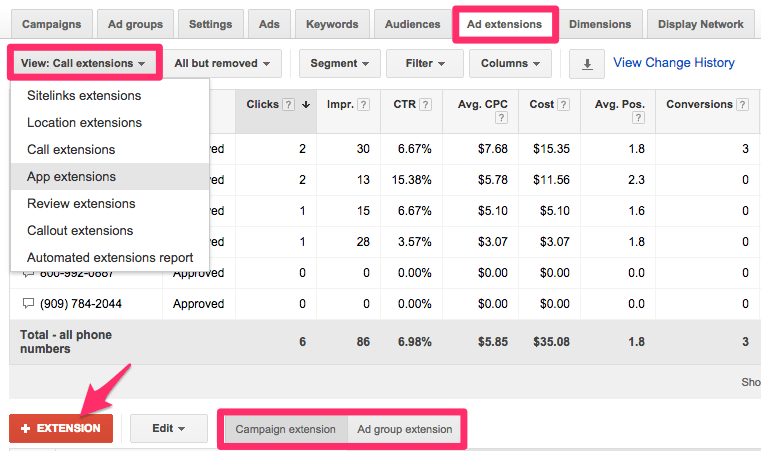 You can also control the scheduling of your extensions. This can be helpful if you have sales or promotions that run for a limited time. You can customize your ad extension schedule with specific dates, days of the week, and times of the day. No need to scramble to turn off your extensions when your sale ends, simply schedule it in advance and your extensions will stop showing at the appropriate time.
What are the types of ad extensions? 
Not all ad extensions make sense for every ad. For example, you wouldn't want to add a call extension to an ad if your business doesn't benefit from phone calls.  Keep your goals in mind, and only use the extensions that are going to best help your business 🙂 
Let's take a look at the different options when it comes to ad extensions:
1. Sitelinks – a sitelink is a link that shows below your ad. These links direct to specific pages on your website. Note that each sitelink must link to a unique destination URL. Here's what they look like: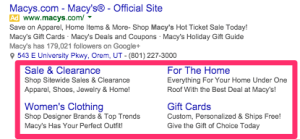 Google allows for two description lines under each sitelink, which you are not required, but allow for more detail to be given. Best practice – use all the space you can!
2. Location extensions  – location extensions help users find your location nearest to them. It will show your address and allow users to click for a map pin. It also provides your phone number for users to call.
3. Call extensions – call extensions provide your phone number with a click to call option for mobile users. You can set up Google forwarding numbers with your call extensions to track calls as conversions and receive call details.
4. Callout extensions – callout extensions are similar to sitelinks, but separate destination URLs are NOT required. These can be used to promote benefits like free shipping or promotions you may be running. Note that callout extensions can be set at the account level.
5. App extensions – this one is pretty straightforward. An app extension shows a link to   either the app store, where the user can download your app, or simply begins downloading your app after the click.
6. Review extensions – review extensions allow you to show positive feedback from your customers right on the ad. This ads credibility to your ads and business and only shows reviews from reputable sources.
7. Social extensions – do you have a following on Google+? You can show how many followers you have with the social extension.
8. Seller ratings – this extension shows your online business rating. It enables you to show what your business is rated out of 5 stars.
Some extensions are more effective on different devices. Here is a quick reference for which might make the most sense for mobile vs. desktop: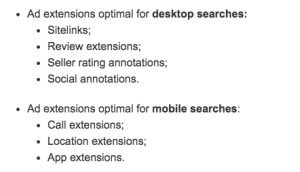 (source)
Here at Disruptive, we set up all possible Google ad extensions for our clients before launching their campaigns. Now that you know what ad extensions are, how they can improve your ads, and the different options – go add them to your account and start improving your click through rates and ad performance!