Broad Match Keywords: Everything You Need to Know
by Jacob Baadsgaard • January 19, 2018
Paid search experts may disagree on the best strategies and exact techniques that they prefer to get the best results, but we all agree on one thing: choosing the right keywords is necessary if you want your campaigns to be successful.
But when you enter in keywords on Google AdWords or Bing, how many do you have to enter in? Do you have to add every single variation of a keyword that you can think of in order to have your ad shown in those searches? No, as it turns out. You don't.
With the broad match keyword match type, you can enter in the keywords you want to target and Google or Bing will fill in the blanks for you. In this post, you'll learn everything you need to know about broad match, including how to make sure that you're only targeting the people you want to see.
What are Broad Match Keywords?
Every paid search platform has different keyword match types, each of which will determine how that platform decides which ads will show for which searches.
Broad match is the default option for Bing and Google and it utilizes complex algorithms to read between the lines and show your ad to everyone that they seem relevant.
In the example below, I entered in the search term "organic blanket."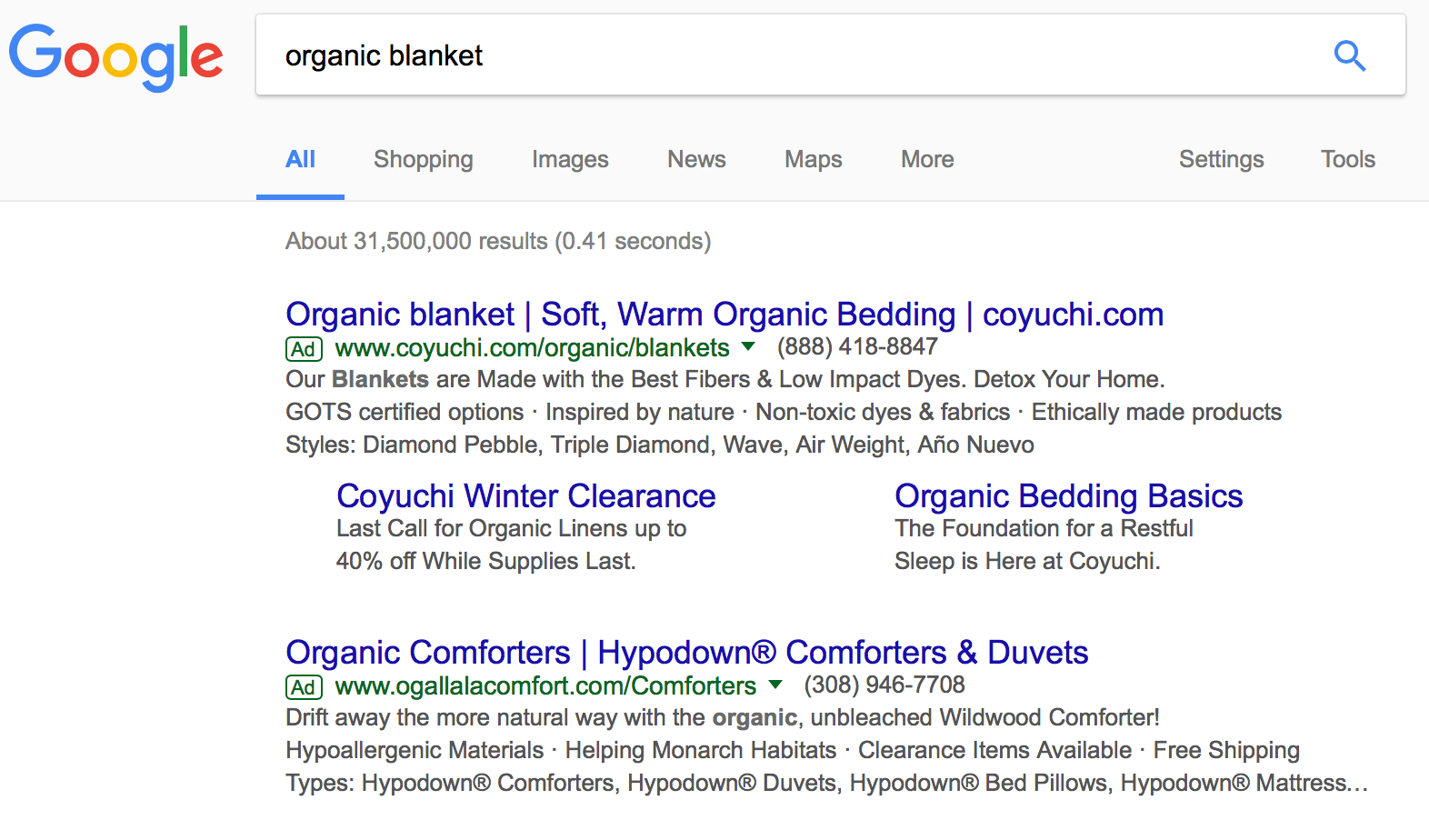 The first result is probably an exact match. "Organic blanket" shows up in the headline, which indicates that "organic blanket" was probably their target keyword. The match underneath, however, is more likely a broad match keyword. "Comforters" and "blankets," are similar, but not exactly synonymous, but Google interpreted the keyword to increase the likelihood that the ad would be shown to more of the target audience.
What are the Advantages and Disadvantages of Broad Match?
Broad match is the default, so many people use it on the majority of their campaigns. Now, there isn't anything intrinsically wrong with broad match. It can help you expand the reach of your campaigns, but you need to be mindful of the fact that sometimes Google's interpretations may end up showing your ad in searches that aren't all that relevant.
Sometimes, someone looking for an organic blanket would be happy to check out a full line of bedding. In other cases, if they're looking for something specific that you don't have, you've wasted ad spend on a useless click.
One or two irrelevant clicks aren't the end of the world, and sure, maybe these organic-bedding-lovers will be back later on to replace their duvet, but on a large scale irrelevant clicks could derail your campaign and your ad spend quickly. Google and Bing can get aggressive with trying to place your ads and this can end up hurting your campaigns instead of helping them.
When Should I Use Broad Match?
Broad match keywords can be ideal for people in large, slightly generalized industries. Think of showing someone an ad for a dishwasher if they search for "kitchen appliances" or for a local contractor if they're searching "kitchen remodel." These could both drive a lot of clicks from relevant traffic, even if it wasn't the direct keyword that the marketer had entered in.
In paid search advertising, quality is generally better than quantity, but that doesn't inherently mean that quantity is bad.
Sometimes, broad match can be an ideal choice when you're first starting your campaigns and want to see what's working for you. After your campaigns are over, you can take a look at which searches actually got you clicks and it may be different than what you'd expected. This may even reveal new keywords you hadn't even been targeting directly, but should target in the future. You can use that information to create new, targeted campaigns.
If, however, you're in a very niche industry or trying to run an exceptionally targeted campaign instead of a more general one, broad match keywords may not be your best friend. Using phrase match or exact match keywords may be a better option in this situation.
Can I Make Only Some of My Keywords Broad Match?
Yes. In fact, if you're going to use broad match keywords, I recommend that you be very choosy with which keywords you make broad match.
On one campaign that I've seen, for example, utilized a mix of broad-appeal keywords and more targeted, niche-specific keywords. The goal of the campaign was to get people to use the company's ghostwriting services, but people often don't know what to search for when looking for a ghostwriter.
"Content marketer" is a pretty big umbrella and can easily show up in searches for other types of marketers or for agencies. Ghostwriting doesn't fit either of those categories. Meanwhile, "business writer" and "business ghostwriting" are both much more specific.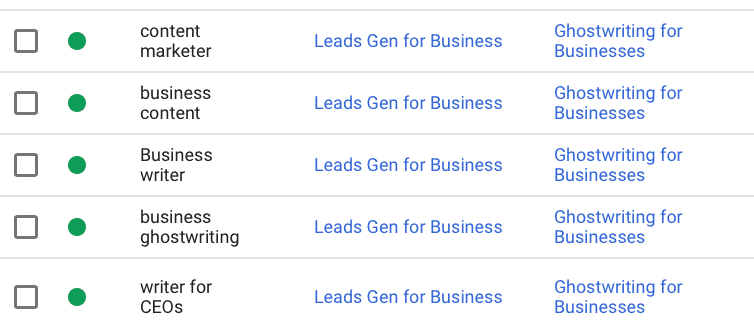 In a situation like this, to make just one keyword an exact match or phrase match instead of broad match, you can click on the small edit icon next to it when reviewing your keywords. You can then select whether you want your keyword to be broad match, exact match, or phrase match.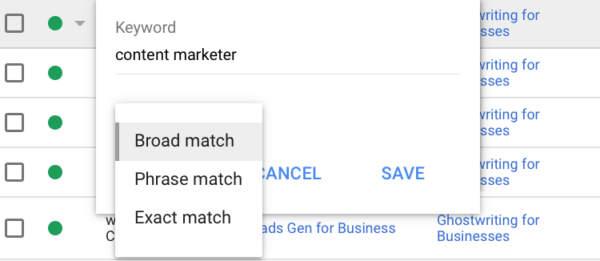 When reviewing your keywords (or entering them), you can easily see which keywords are what match type. Quotation marks indicate a phrase match, while brackets indicate exact match.

Negative Keywords: The Secret to Relevant Broad Match Campaigns
There are some great benefits to using broad match campaigns, but sometimes Google interprets your keywords about as accurately as Siri takes voice commands (not well). To avoid displaying your ad with the keyword "home remodeling" on "landscaping and land mowing services" searches, you can use negative keywords to decrease the number of irrelevant searches you appear in. This can save you a lot of ad spend.
Negative keywords are the keywords that you don't want your ad to appear in searches for, but that you think you might if you don't specify otherwise.
So, if I'm selling ballroom dance shoes and use the keyword "dance shoes," I can use the negative keywords "ballet slippers" and "ballet dance shoes" to avoid showing up in searches that aren't even close to what I sell. Or, if I was selling ballet dance slippers, I could use the negative keyword "ballet flats."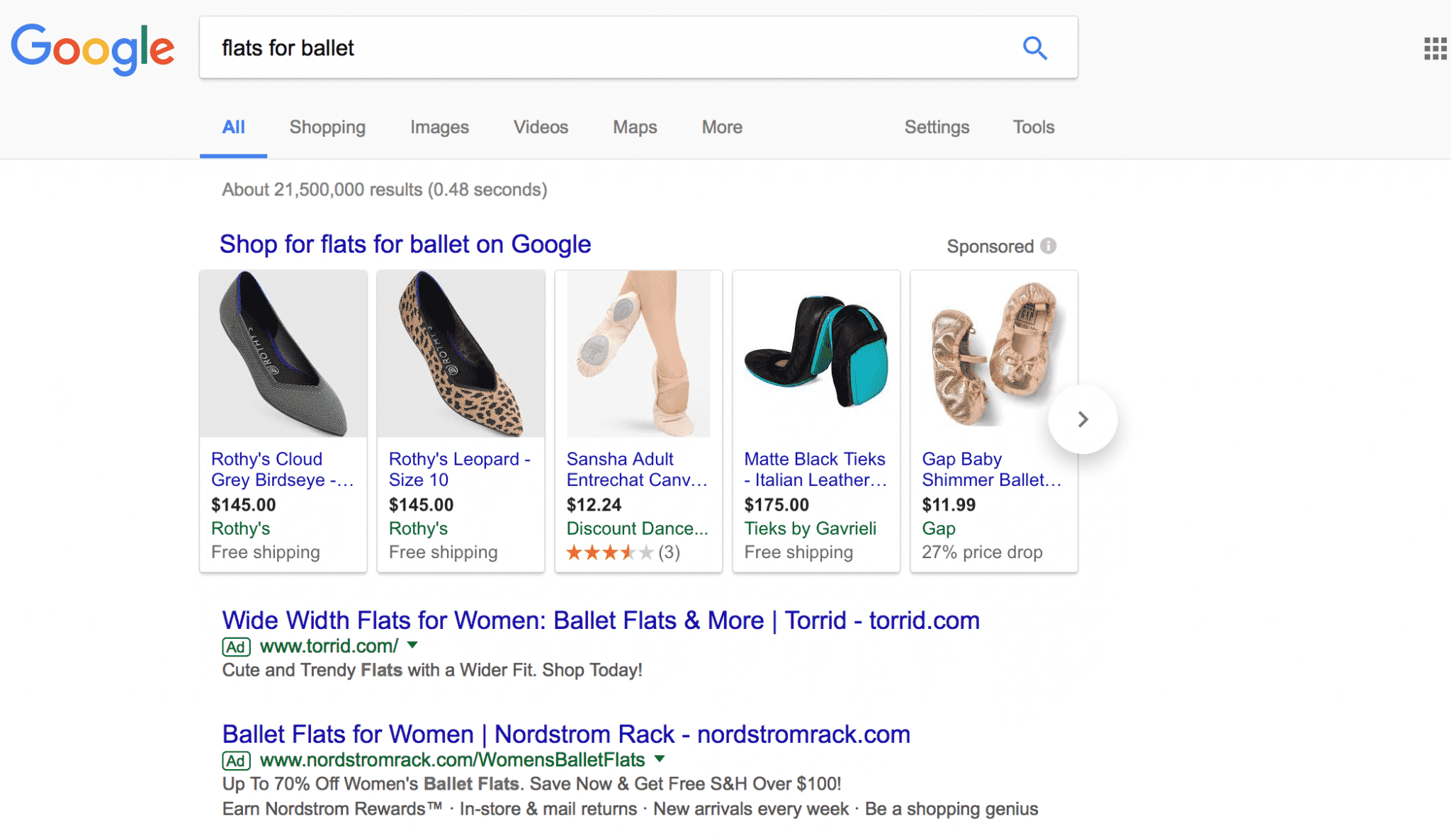 You can save lists of negative keywords in Google Adwords or Bing so that you can easily apply them to your campaigns without having to recreate them.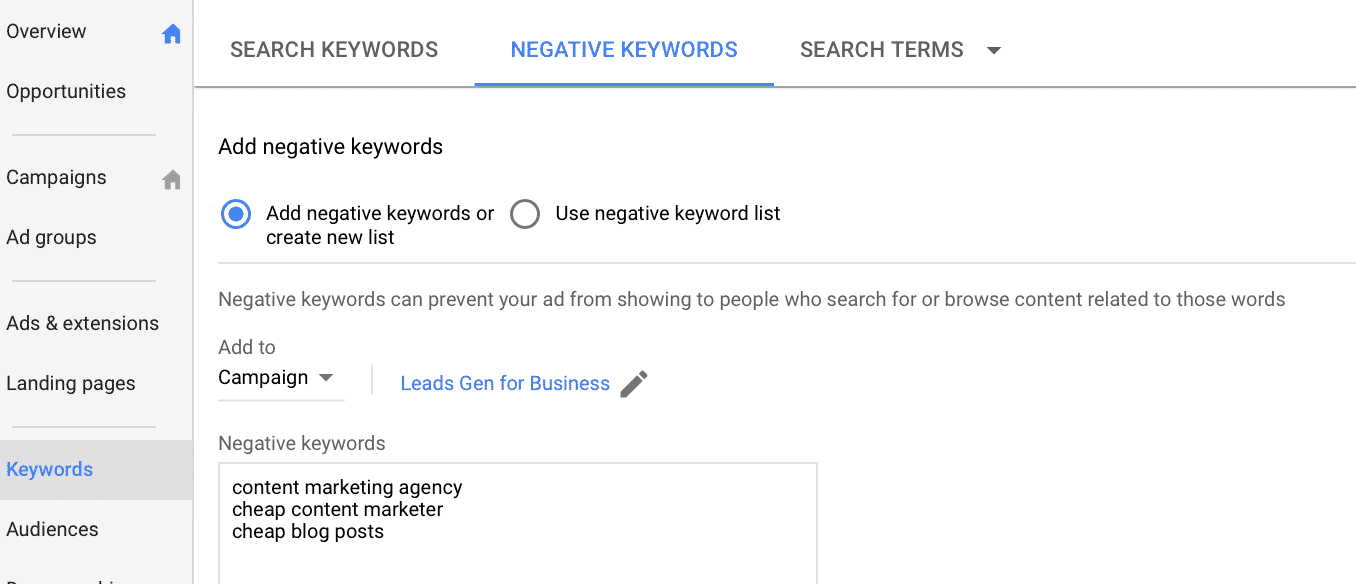 In the example above, the ghostwriting company could add negative keywords like "cheap blog posts" and "cheap content marketer," because those searches wouldn't bring them the leads they were looking for. To create lists of negative keywords, navigate to the Keywords section on Google Adwords dashboard, and then to the Negative Keywords tab. You can create a list of negative keywords that you don't want to appear in searches for and add them to specific campaigns.
Conclusion
While broad match is the default keyword match type on Google AdWords and Bing, that doesn't automatically make it the best for all campaigns. Watch these campaigns closely to make sure that you're getting the results that you expected.
If not (and even if you do), dive into the data to see what searches your ads are actually appearing in. You may find new high value keywords to target and you may also come up with a few new negative keywords. Since negative keywords are key to keeping your broad match campaigns showing up to the right users, this can be just as valuable, even if it's a slightly expensive experiment upfront.
Wondering which keywords to target and what type of keyword match type you want to choose for your campaigns? Let us know in the comments below, or shoot us a message here to see how we can help.
What do you think? Do you use broad match on your paid search campaigns,or do you utilize other keyword match types? Are negative keywords beneficial to you? Let us know in the comments below!