Custom Affinity Audiences: Looking Out for the Little Guy
by Nikki Muncey • December 12, 2017
If you're a smaller business trying to compete with the big dogs in your industry, advertising on AdWords can be a real challenge. The competition usually has more money, more experience and more insights into their target audience.
While taking on the competition might seem overwhelming, with Google's Custom Affinity Audiences, you can actually compete with these giants and win.
In this article, we'll take a look at why Custom Affinity Audiences work, how to set them up effectively and some of the results I've seen using these audiences for my own clients.
Custom Affinity Audiences
Let's face it, Google knows a lot about us. A full 67.5% of search queries happen on Google and Google keeps track of the searches you make, the sites you visit and even the actions you take on those sites.
Using this data, Google puts us into "buckets" based on what it thinks our interests are.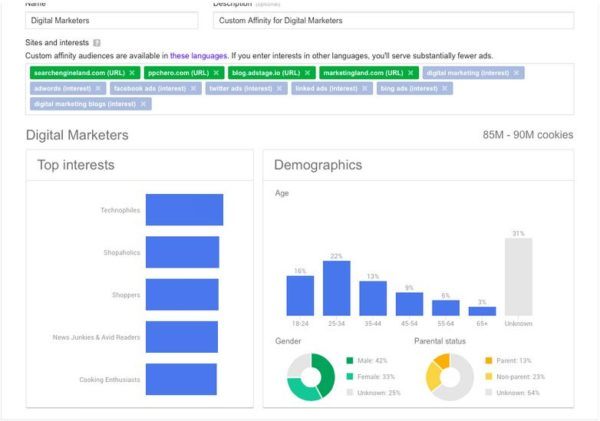 Say what you want about privacy, but for online advertisers, this sort of information can be incredibly handy. In the past, advertisers have been able to select from those "buckets"—Affinity Audiences—and reach people who were interested in their product category.
While these Affinity Audience can be very useful, these "buckets" aren't always as tightly focused as we might think. As a result, Affinity Audience targeting often meant you ended up targeting a broad spectrum of people who have relevant interests, but may or may not really be likely to become a customer.
Custom Affinity Audiences changed all that.
With Custom Affinity Audiences, you don't choose one of Google's predefined "buckets". Instead, you can choose exactly who you want to reach using interests and even URLs.
So, if you have a competitor that is the name in your industry, all you have to do is create a Custom Affinity Audience targeting people that visit that site and there's a very good chance that your display ads will be showing up in front of a relevant, ready-to-buy audience.
Creating a Custom Affinity Audience
Creating a custom affinity audience is so simple. Begin by creating a new Display campaign. Set up the campaign just as you would any other Display campaign, select "Affinity" as your targeting method and then select the blue "+ Custom Affinity Audience" button on the bottom of the page.
Name your audience, add a description if you'd like and then switch "Interest" to "URL" and add the websites you'd like to "target."
For more details on how to set up a Custom Affinity Audience, check out this video:
AdWords suggests you use at least five URL's in every custom affinity audience. Once you've added your desired URLs, check to make sure the "Top website topics" look right.
In my experience with Custom Affinity Audiences, if AdWords can't pull relevant website topics from your URLs, you won't have much success with an audience based on those URLs. Once you have a good list of URLs and/or topics, apply your audience to a Display Campaign and you're good to go!
Custom Affinity Audiences in Action
So, what sorts of results do Custom Affinity Audiences produce? Well, about six months ago, I started working on an AdWords account with a budget that I knew was super small compared to other companies in their industry.
From day one, I was concerned about how we were going to create success in the account and—at first—it was tough. We were struggling to compete in an industry with high CPCs and companies with much larger advertising budgets than we had.
We tried targeting lower-CPC keywords and—while we were getting lots of leads—they weren't qualified leads, which meant that they were a waste of money. When we moved to higher-intent, high-CPC keyword targeting, our budget just wasn't big enough to get us the number of leads we needed.
That is, until I tried Custom Affinity Audiences.
Because this is a B2B product with a long sales cycle and a high cost, we knew that potential customers shopped around before picking a company to purchase from.
I'd tested custom affinity audiences with several different companies in different industries and I've found the most success in companies with longer sales cycles and tight budgets, so I thought that this client would be a great fit for Custom Affinity Audiences.
So, I built a custom affinity audience based on six competitors' websites and essentially told Google, "look for people who are browsing on our competitor's websites and other similar websites and show them our ads."
The audience was an instant winner. The first month running the campaign, we were able to increase the number of leads by 50% and decrease the cost-per-qualified lead by 60%. Today, we've doubled their qualified leads and cut their cost-per-qualified lead by 70%!
Conclusion
Trying to compete on a small AdWords budget with bigger companies can be difficult. Fortunately, with Custom Affinity Audiences, you can get your ads in front of relevant potential customers without too much difficulty.
More focused audiences mean more conversions and more sales. This is especially true (and important) if you have a long sales cycle and you're selling an expensive product.
By the way, if you'd like me to take a look at your account and business and let you know if Custom Affinity Audiences would be a good fit, let me know here or in the comments! I'd love to help.
Have you tried custom affinity audiences before? What was your experience? Any favorite tricks you like to use with Custom Affinity Audiences? Let me know in the comments.