Google to Enforce Product GTINs in Google Shopping
by Stirling Ruuth • February 15, 2016
If you run an eCommerce business and are currently running on Google Shopping, you may have already received this email from Google: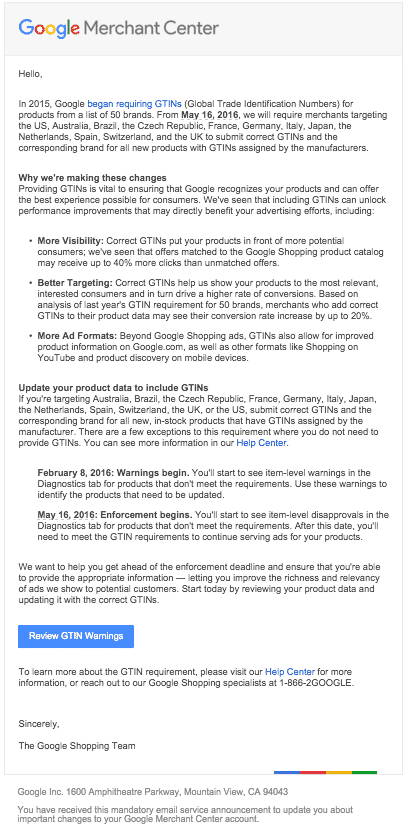 This email looks long and intimidating, but don't be scared, it's actually a good thing. Let me explain why.
Are You Using GTINs?
What's interesting about this email notification what it tells you about how Google chooses which products are displayed when someone types in a relevant search.
Global Trade Item Numbers (GTINs) are a key part of Google's algorithm. With this email, Google is highlighting the fact that products with a GTIN are preferred in Google's algorithm over products without GTINs.

In the US, we typically use GTIN-12—more commonly known as the Universal Product Code or UPC—to identify specific products.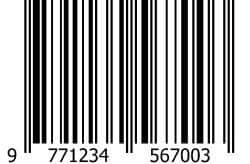 Using a GTIN/UPC to identify your product makes it easier for Google to connect a query to your product, which means your product is more likely to show up for relevant searches.
More searches = more impressions = more clicks, which is good news for your business.
GTIN/UPCs also increase your product reach on other channels than Google Shopping, including, but not limited to Amazon, Buy.com, Shopzilla.com, PriceGrabber.com, Bing Shopping, Sears Marketplace, Newegg.com and more.
Basically, if you're serious about selling products online, you should be organizing and categorizing your products by their GTIN.
So, if you aren't using GTINs yet, now is a good time to start!
Small Businesses and GTINs
As a side note, this update may have some negative effects for small businesses that make their own products. Purchasing UPC codes can be slightly difficult and there is a cost involved.
However, purchasing UPC codes and assigning them to your products makes you more legit in Google's eyes. Part of the reason for this update is to help support serious sellers, so if Google Shopping is an important part of your business, you may want to buy a UPC code for your products.
Stay On Google's Good Side
Google's already started aggressively moving forward on implementing this new policy. Warnings started on February 8th and on May 16th item level disapprovals will start showing up:

Since it's a little hard to sell products when they are disapproved, it's in your best interest to get GTINs in place for your products as soon as possible.
By the way, if you need help with your product feed and especially if you are not currently using GTIN/UPCs, let me know here or in the comments!
Seize the Day
Fortunately, taking the time to get your GTINs up and running properly should improve the performance of your account. At the moment, we are seeing some amazing results for our eCommerce clients, so eCommerce is a great market to be in right now.
By combining GTINs with a single product ad group (SPAG) strategy, you can drive awesome results for your eCommerce business (for more information on this technique, check out this article by one of our heads of eCommerce, Andrew Warren).
If you run an eCommerce business and are not currently running your products on Google Shopping, give us a call! We would love to help you increase your product reach and business revenue.
How will this update affect your campaigns? Do you think it will have a significant impact on Google Shopping?