Something Doesn't Add Up….Ineligible Clicks in AdWords
by Stephanie Christensen • August 6, 2014
Calculating important metrics might seem a little off, but don't panic. (image source)
How is it that simple math doesn't always work when calculating conversion rate or cost per conversions in AdWords?
In order to calculate the click conversion rate, you would divide the converted clicks column by the number of eligible clicks (which isn't a column that appears). Eligible clicks are those that are associated with the Google Conversion Tracking cookie.
Examples where clicks may not be eligible for reporting
– Clicks only become eligible when there's at least 1 active conversion action in the account.
– Many low end mobile devices don't accept cookies. Therefore the clicks and cost for clicks from these devices will not be included in the conversion rate and cost/conversions metrics.
Google filters out clicks from the referring source if it does not accept cookies allowing the Javascript tracking code to adhere when a user lands on the website or landing page.
Also, for example, when on the thank you page the publisher does not place the Javascript, the users device will not be cookie'd and therefore you now have a user with ineligible clicks.
Something also to consider is the Google partner sites. It is possible that clicks to certain Google partners sites may also be considered ineligible clicks if the site blocks cookies in much the same way as the older mobile devices.
Ineligible clicks could also be an issue when calculating the correct metrics on the Display Network as well. Some sites on the Display Network which do not support conversion tracking could be affecting obtaining an accurate CPL.
So, a publisher can determine if they want to use cookies on their site, which legitimately can be understood at times. Those of you that are account managers or just simply the average user working AdWords and Analytics, will now have a sliver of comfort in knowing you are not completely crazy when your simple math does not add up across several of Google's platforms.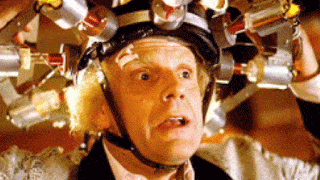 You can take off your Google conspiracy helmets… for now. (image source)
In essence a percentage of ineligible clicks are not accounted for when Google calculates the metrics such as 'Cost Per Conversion' and 'Conversion Rate' in the AdWords interface. The assumption has been that Google definitely rounds the metrics along with using their own "secret-sauce," which we have got to learn to accept and realize what is happening at the bottom line.
Before you make any drastic changes be sure to keep track of the current stats to know what works and what doesn't so you don't waste your time and can accurately measure your future success!