Audience Targeting in Paid Search Campaigns: What You Need to Know
For a long time, paid search advertising with Google Ads has centered almost exclusively on keywords. You created keyword lists, ads that matched the search intent of those keyword lists and then set up bids based on what clicks from people searching for those keywords were worth.
This approach is a decades-old, effective way to get in front of people who want to buy what you're selling.
However, it's not the only way to do paid search. Over the years, Google has steadily added additional features that allow you to adjust your paid search strategy using audience targeting. And, if you've tried to create a new Search campaign in Google Ads in the past few weeks, you've probably noticed that they've added even more ways to incorporate audience targeting into your paid search strategy.
With all of that in mind, let's talk about the differences between keyword targeting and audience targeting and how to use both of them in your paid search campaigns.
Keyword Targeting vs Audience Targeting
Keyword and audience targeting are two fundamentally different approaches to online advertising. Before we get into Google's new targeting options, let's take a moment to take a look at each of these approaches and their strengths and weaknesses.
Keyword Targeting
As mentioned earlier, keyword targeting has been the bread and butter of paid search since the beginning. The underlying concept behind keyword targeting is simple: if you can identify the keywords that people use when they are actively interested in buying your product or service, you can run ads to ensure that your business shows up on their radar.
To pick the right keywords, however, you have to understand your audience. After all, if you don't have a good feel for your audience, how can you predict what search terms they'll use when they're looking to buy what you're selling?
Hopefully, you know who you're trying to sell to, but who you sell to and who is looking for you online aren't always the same thing.
Case in point, if you run a business that provides city planning consulting services, you might be trying to sell to government officials. However, who is your target market? The councilman who signs the check? His personal assistant? The mayor? Depending on the answer to this question, the keywords you pick may vary considerably.
The Problem with Keyword Targeting
When you get right down to it, keyword targeting is great…provided that the keywords you choose actually match the search intent you're trying to target. The problem is, accurately gauging the intent behind a keyword is often difficult.
For example, if you're a dentist in Spanish Fork, UT, the keyword "dental practice" might seem like an ideal term to bid on. You'd think that anyone who searches for "dental practice" is searching for a new dentist to visit.
But check out the top organic search results for "dental practice" in Spanish Fork, UT:
Dental practice billing? Dental practice management audio program? Dental practice management software?
Clearly, Google believes that people who search for "dental practice" in Spanish Fork, UT are looking for information about dental practices—not for a dental practice.
That being said, I hid some ads on this page to make it easier to see Google's organic search results. Here's what the search results normally look like:
Do you see the problem here? People are searching for information about running a dental practice (possibly because they are dentists), but these dental practices are trying to attract new patients.
As a result, these ads are a mismatch for many-to-most of the searches that use this keyword. That means less clicks and even fewer leads and new patients.
And that's the problem with keyword targeting.
Paid search advertising is intent-based marketing. Instead of trying to ram your marketing message down the throat of someone who may or may not be looking to buy, you're targeting people who are actively looking for a solution to their problems. But, with keyword targeting, you're not actually targeting potential customers—you're targeting keywords. If those keywords don't reliably match the search intent you're trying to target, you end up wasting a lot of money on the wrong clicks.
Audience Targeting
In contrast to keyword targeting, audience targeting is all about targeting people. Audience targeting is the bread and butter of social media platforms like Facebook Ads.
With audience targeting, you aren't just targeting a bunch of keywords that may or may not come from your target audience. Instead, you're targeting people who actually match your customer base. You can create audiences based on age, interests, income, behaviors and a variety of other factors that match your buyer persona.
Unfortunately, while audience targeting is another great way to get your business in front of potential buyers, anyone who's ever run Facebook Ads can tell you that audience targeting isn't a magic bullet for online advertising, either.
The Problem with Audience Targeting
Unlike search ads (Google Ads, Bing Ads, etc.), audience targeting on platforms like Facebook or Instagram relies on demand creation. You don't have relevant audience members finding you on their own—it's your job to put your ad in front of them.
Unfortunately, just because someone has the age, interests, income and behaviors of your ideal customer, that doesn't mean they're actively looking to buy what you're selling. No matter how specific you get with your audience targeting, you can't ensure that everyone in your audience is in the market for what you're selling when they see your ad. As a result, you can end up with a lot of impressions and very few clicks…or worse, a lot of clicks and very few conversions.
And that's the problem with audience targeting.
In effect, audience targeting is a lot like running a hyper-targeted billboard campaign. Sure, you're getting in front of the right audience, but you're trying to generate buying intent instead of waiting for customers to discover that they need what you're selling on their own. That's an uphill battle for any business.
Splitting the Difference
Both keyword targeting and audience targeting have their strengths and weaknesses. Keyword targeting is great for getting in front of people who are actively looking to buy, but it doesn't give you a ton of control over the types of people that see your ads. Audience targeting, on the other hand, is great for ensuring that the right people are seeing your ads, but most of those people won't be looking to buy.
If only there was a way to do both…
Well, I've got good news for you. Google has added audiences as a targeting option for paid search campaigns. When setting up a new campaign, you can find the following options under "Targeting and audiences" (to add audiences to an existing campaign, click on the "Audiences" tab in the light gray left-hand sidebar of your Google Ads account):
As you can see above, Google's audience targeting options pale in comparison to a platform like Facebook's, but that's to be expected given how people interact with Google vs Facebook. However, even without Facebook's intimate knowledge of your audience's personal lives, these audience targeting options give you a lot of ways to improve the targeting of your paid search ads.
For example, Freshbooks offers a time tracker entrepreneurs can use to track how much time they spend on projects, etc. They market their time tracker as a lead magnet to get people to start using their software by targeting the keyword "time tracker" on Google: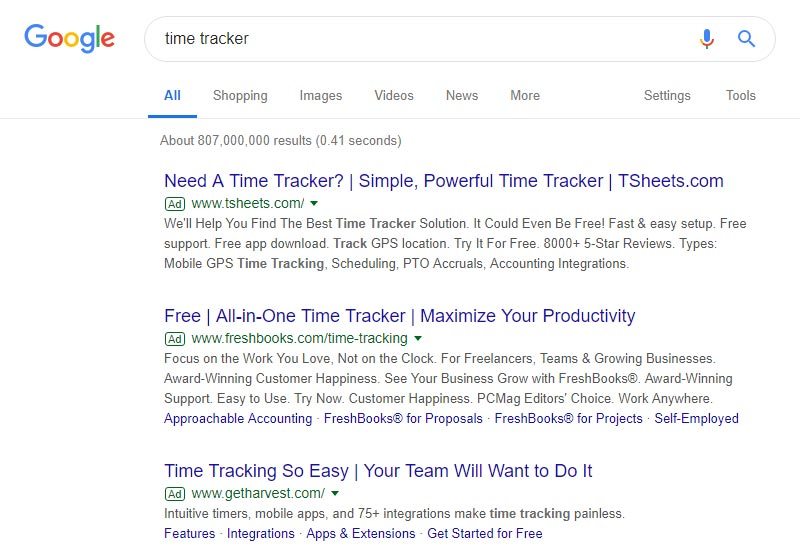 This seems like a good approach…until you start looking at the other ads. You've got time trackers for teams, time trackers for freelancers, GPS-based time tracking—these ads cover almost every type of time tracker you could possibly need.
Clearly, while "time tracker" is certainly a relevant, high-intent keyword, it's also a keyword that lots of people use for lots of different reasons. As a result, these businesses have to create ad copy that appeals to everyone—which ultimately means that their ads don't really appeal to anyone.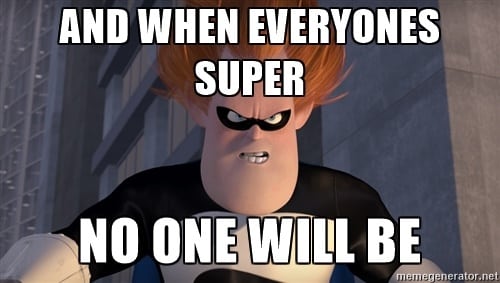 But let's say that one of Freshbooks's buyer personas is moms with a side business they pursue while the kids are at school. Juggling kids, housecleaning and a business is a lot of work, so those moms need to be efficient with their time, and Freshbooks's time tracker is a perfect fit for their needs. These moms search for "time tracker", get excited about Freshbooks's tracker, sign up and eventually end up paying for Freshbooks's full suite of software.
Unfortunately, if Freshbooks simply targets the keyword "time tracker", there's no guarantee that people who see their ad will be moms with a side business. They could also be CEOs, managers looking to track employee productivity, college students trying to be more efficient with their time…the list goes on.
But, by using the audience targeting options above, Freshbooks can build a campaign around married homeowners who work for a small business and are actively researching business and productivity software. Someone in this audience who searches for "time tracker" has specific and well-defined needs and goals that Freshbooks can directly address in their ad copy and landing page.
Because Freshbooks knows who is seeing their ad—not just what keyword triggered their ad—they can be way more specific with their marketing, which will mean a lot more clicks, conversions and sign-ups.
In effect, adding audience targeting to your paid search campaigns allows you to have your cake and eat it to. You can still target keywords with a high purchasing intent, but if you set things up right, you won't have to guess at who is seeing your ads. You can target based on your ideal customer profile or even layer in lookalike audiences built from lists of people who have actually visited your website or made a purchase to ensure that the right people are seeing your ads at the right time.
Conclusion
Obviously, Google's audience targeting approach isn't perfect. Your targeting options are still fairly limited, but if you use it right, it can help you address some of the biggest problems with paid search advertising. Give it a shot and let me know how things turn out!
By the way, if you'd like some help testing out audience targeting in your Google Ads campaigns, let me know here or in the comments. I'd love to help!
Have you tried adding audience targeting to your paid search campaigns? What results have you seen so far? Leave your thoughts in the comments.
Leave a comment