How PPC Advertising is Like Building a Car
by Stirling Ruuth • February 20, 2015
I am currently in the process of restoring a 1963 Volkswagen Beetle, so I thought it would be useful to compare building a car to building a great pay per click campaign.
When building a car, you start with raw elements and refine them into formed parts. Our office in Provo, Utah is not very far away from Kennecott Copper mine, which is the largest open pit copper mine in the world.
Go big or go home right?
At the Kennecott copper mine they mine copper ore, which is then smelted into copper metal, which is then formed into wiring for electronics, tubing for plumbing applications, and fancy jewelry for your beautiful self.
Just like mining raw minerals and forming them into various parts and functional applications, keywords and ads must be combined together into ad groups. Keywords are listed and built into Ad Groups and ads are written to answer the intent behind the keyword.
Building Your PPC Account Takes Planning
You write ads that clearly state who you are, what you do, and why you are good. These ads need to also include a call to action or what you want people to do when they come to your site. Just as metal and plastic is formed into different parts before assembly into larger sections of the car, ad groups are combined into campaigns
We take these various ad groups we have created and put them into campaigns based on their themes and how much budget we want to devote to testing those campaigns. The campaigns must also have the correct settings in to target the right customers, only show at profitable days and times, and to define anything else we want to test.
Just like when you install the engine into the car, you must start it and make sure the fuel is mixing correctly with the air and that combustion is happening on time. Since the engine is the lifeblood of the vehicle, it's important to get it installed right. With PPC advertising it's imperative that the settings in a campaign are set correctly to not blow through budget, show ads at incorrect times, or waste spend from other mistakes.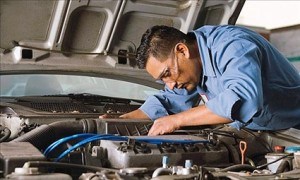 source
Effective campaigns are assembled carefully, much like the sections of the car are assembled, from the rolling chassis to the engine, body, and interior, and then finally paint the paint. The end product is a polished, amazing piece of machinery.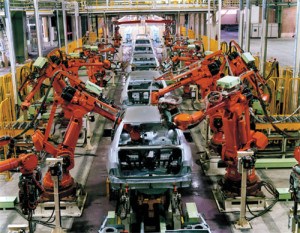 source
The production doesn't stop there: cars then get shipped to dealerships for consumers to buy. We buy cars for many different reasons, ranging from commuting to off-roading to hauling large amounts of…. hay. Just like cars, we use campaigns and PPC accounts for different reasons and to accomplish different purposes.
How is your PPC Account Built?
What kind of car are you building? Is it a Honda Civic, which just requires maintenance and will run steadily for a long time, but doesn't really focus on growth? Or is it a Ford Raptor, built for performance? It might require more maintenance, but it's built to dominate the competition and through improved performance.
I personally don't have anything against Honda: they're great vehicles and serve their purposes well (except for the Honda Ridgeline. I apologize but I am still trying to figure out what that actually is). For me I would rather push a Ford Raptor to the limits and enjoy the adventure along the way.
Fortunately for us, building a care from scratch is much harder than building a great Adwords or Bing account. Tell us what kind of account you have, a pony or a stallion and let us help you get the results you need to see from your PPC advertising.