How to Use Shared Campaign Budget in AdWords
AdWords
•
Stephanie Christensen
January 3, 2014
Shared campaign budget in AdWords is like a tasty carrot! (image source)
Why and How to use a "Shared Campaign" budget in AdWords
You have a budget and you want to spread your budget to the campaigns that will yield the best conversions and ROI, but you may not know which campaign will perform the best. Using shared campaign budget in AdWords is ideal if you don't have the time to constantly monitor and change your campaigns budgets daily.
However, you don't know what amount to allocate to which campaigns.
You can actually have a shared campaign budget in AdWords that will make this process incredibly easy for you. You may want to use shared campaign budget in AdWords if your campaigns performance is volatile and unpredictable.
The way shared campaign budget in AdWords works, is by splitting the daily maximum as needed across campaigns.  This is particularly helpful when using a shared campaign budget in AdWords across three different strategies such as
remarketing campaign
desktop campaign
mobile campaign
Caution 
Shared campaign budget in AdWords allows for flexibility when one campaign out performs another, providing funds to be allocated to your top performers.  Just be sure you verify all of your campaigns budgets combined  do not go over your daily spend budget.  Be aware that Google is more likely to have more weight behind your spend.
To set up Shared Budget:
Select the "Campaigns" tab.
Click the" Shared Library" link in the left navigation bar.
Beneath that link, click "Budgets."
Click "+New budget."
Give your shared budget a name, select the campaigns to apply it to, and set a budget amount.
Click "Save."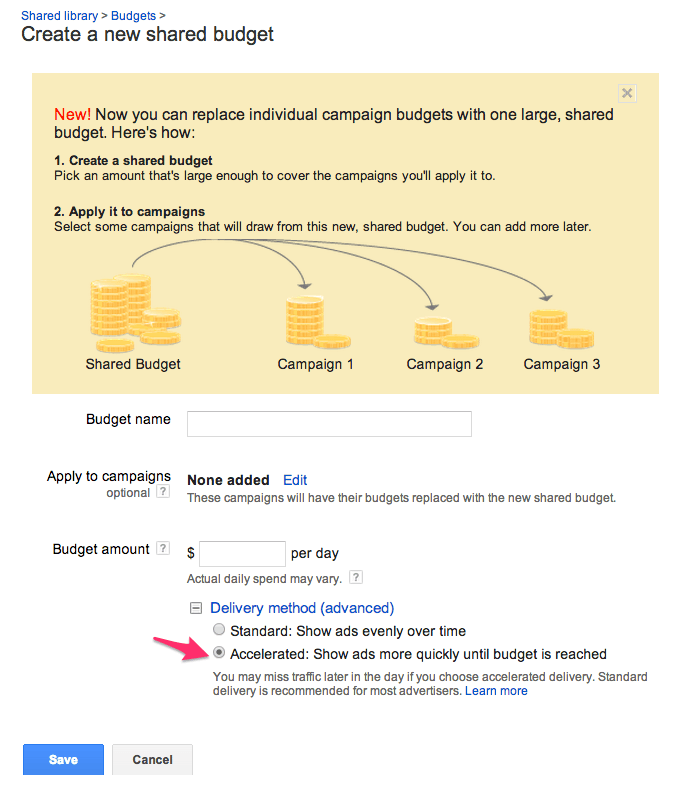 Performance
It is important to know how to monitor the performance of your shared campaign budget.  The "Shared library" is a good place to start, where you can review  performance metrics for multiple campaigns with a shared budget in AdWords.
Leave a comment