Disruptive Cares: Understanding Our Company Core Values
by Jacob Baadsgaard • June 10, 2019
Company values, mantras, missions and statements…
Every business tries to define them, but often a company's values—although well-intentioned—are nothing more than just vinyl words on a wall.
But while a company's values and culture often play second fiddle to making more money, company values are actually really important. Company values help ensure that your employees are working towards the same common goal and sharing a bigger purpose.
And purpose is critical for employee satisfaction.
In fact, an Imperative survey found 73% of purpose-oriented employees are satisfied in their jobs, compared to 64% who are not purpose-oriented. The same Imperative survey found 58% of companies with a clearly articulated and understood purpose experienced growth of +10%, compared to just 42% of companies that don't prioritize purpose!
With numbers like that, core values are critical if you want to create a long-lasting and meaningful workplace experience people thrive in.
Disruptive's Core Values
At Disruptive, those statistics are no surprise. For years, our values have been more than just a pretty office decoration. We need everyone to feel that we were committed to our values and to step further, see them in action.
We started looking for ways to get everyone at Disruptive to understand what living these values meant and what difference they made in our day-to-day actions. From sharing core value stories publically, giving people character bonuses to sharing them in our company monthly meetings, we have engrained who we are into the lives of our employees.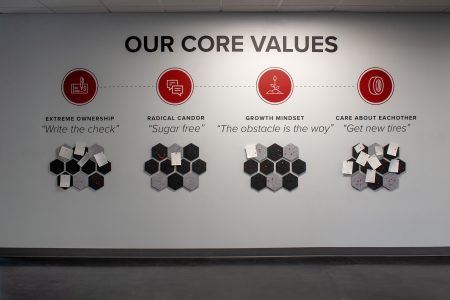 The core values we hold dear at Disruptive are :
Write the Check

(Extreme Ownership)

Sugar-Free

(Radical Candor)

I'm All In

(Growth Mindset)

Get New Tires

(Abundance Ethos)
Although we stumble sometimes in our pursuit of these core values, we all do our best to have a positive impact on our clients, the business and each other. In this article, we're going to take a look at what makes Disruptive…well, "disruptive" in terms of company culture and how we are making a difference in not only our bottom line but the lives of our employees.
What Our Core Values Mean to Us
Our core values give us a framework for leadership and daily decisions and help us enjoy our work environment. Although this sounds simple, too often companies get caught up in office politics, ivory tower mentalities and rising the ladder instead of focusing on the things that made them successful in the first place.
We are not those companies. We are not those people.
Below are the core values that drive every decision we make and define what's important to us at Disruptive, along with stories people have shared internally about others they have seen living those core values:

Write the Check (Extreme Ownership)
"We had a big ball drop on one of our enterprise accounts and Kevin—who literally had the smallest piece of accountability in this ball drop—genuinely looked at the situation and found how he had contributed to it.  He owned it, arguably when no one would have probably noticed if he didn't. It was awesome because he wasn't pretending to accept blame, he honestly truly thought about the situation critically and owned what was his to own. It inspired me to better my own piece and I appreciated his example very much…"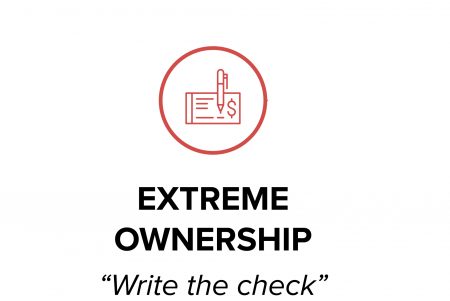 At Disruptive, we own our successes and failures. But more importantly, we focus on what we can change in those situations.
Often when problems arise, people are quick to point fingers and hope that other people change rather than looking at how they contributed to the problem. Disruptive "red" is not just a random brand color. At Disruptive, we want people to embrace the "red marks" that appear in their lives and own up to what is not working so we can embrace growth and learning opportunities.
In our company, we promote personal ownership of the things we do (or don't do) and motivate ourselves for self-improvement. We understand that mental freedom comes from controlling our own actions instead of wishing others would change.
In short, we believe there are three types of people: people who want things to happen, people who watch things happen and people who make things happen. What kind of person are you?
Sugar-Free (Radical Candor)
"In every team meeting, each of my team members openly discusses their strengths and weaknesses. We talk about where we have struggled and what we are working on to be better in both our personal and professional lives. This radical candor helps us be cohesive as a team and we know everyone has our back when we are struggling to grow."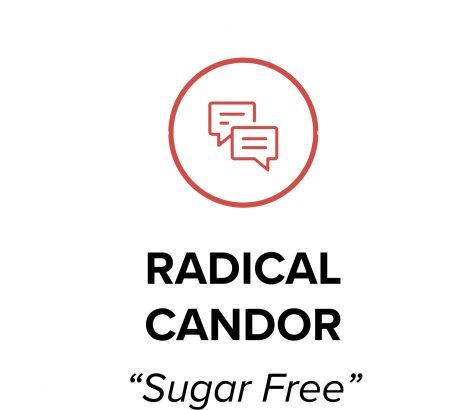 At Disruptive, we are not afraid to have the hard conversations—especially when those conversations will help us overcome problems and take our performance and relationships to the next level.
As a business, you cannot afford to be stuck in passive-aggressive and non-communicative behavior patterns. For a business to truly thrive, you need to promote work environments that relish mutual respect, trust and care so you can have honest conversations.
Not only do we promise mutual respect, transparency and direct feedback for employees, we also promote good communication between teams and individuals alike.
I'm All In (Growth Mindset)
"Chelsea is a new Team Lead but you wouldn't know it by her level of expertise, organization and natural leadership qualities. On my second day as a full-time employee here, she mapped out my next three months of work and how she was going to help me succeed. She saw that I wanted to grow and she has done everything to help make it happen. I am so unbelievably grateful to know her and to work under her leadership. She is a living embodiment of the growth mindset value because she knows as you help others grow first, you grow yourself."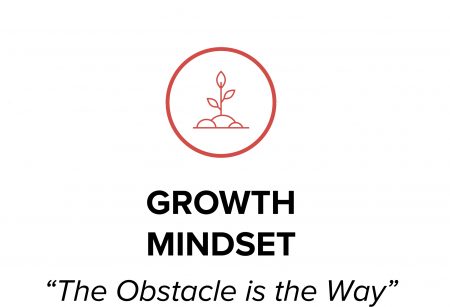 Creating a great company is all about solving problems and learning from them. If you surround yourself with people who are excited to jump through the hoops of life and problem solve, you will achieve greatness.
At Disruptive, we love and choose the challenges that come with growth.
Instead of telling ourselves "I'll be happy when…", we focus on enjoying every part of our growth journey. We truly believe that to improve, you have to change and to be perfect, you have to change often. How well we adapt to growth opportunities will determine how durable our success as a company will be for years to come.
We want our team at Disruptive to be full of people who are ready to roll with the punches, learn and to improve not only their work performance but their individual lives.
Get New Tires
(Care About Eachother)
"As a team leader, I offered to drive a team member to get their car fixed so they did not need to have their spouse come and get them. I understand that life is hard and to alleviate that stress of unexpected planning, juggling a small child, etc It felt really good…"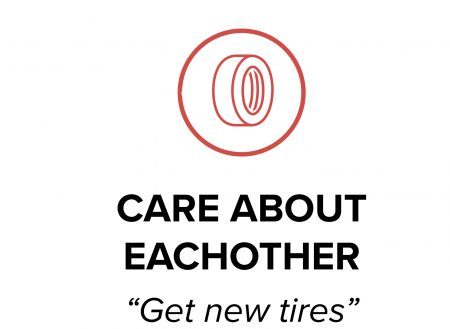 The ability to understand the challenges that others deal with, what they care about and how you can help them thrive is a character trait we greatly cherish at Disruptive.
There is plenty of "cake" for everyone and the more we help each other, the more opportunities we have to grow—personally, professionally and financially. Our goal is to invest in each individual and provide opportunities for transformative growth in every aspect of life. 
We are a family at Disruptive and we are there to cheer on, support and empower people in every step of their lives. We have each other's backs.
Disruptive Advertising: We Care
At Disruptive, our core company values are present in the actions, behaviors, and approaches of the employees we call family. From hiring practices, to how people work, to resolving differences of opinions to even navigating change, the culture defines the spirit we have created here at Disruptive.
There is a reason why many people use our internal hashtag #BestDamnJobIEverHad. It is not because this was the easiest job they had. It's because their job is fulfilling and helps them create a life that is not only happy, but has purpose.
If you are interested in working at Disruptive, please fill out this form here. We would love to have you a part of the incredible and rapidly evolving company that is centered on the people who make it successful in the first place.