6 Tasks All Business Websites Must Accomplish
by Ana Gotter • October 18, 2017
Putting your website together is a huge task! You have to focus on the design, the navigational flow, the copy, the stock photos, and so much more.
It's easy to get lost in all this—especially if multiple teams are involved in creating the site—and if you aren't careful, it can be easy to leave out several key elements that every website needs.
There are 6 essential tasks that every business website should accomplish when users land on the site. Each one is necessary in order to win over visitor interest, capture leads, and convert those leads into customers.
In this post, we're going to break down these 6 tasks and show you what you can do to accomplish them. After all, you only have a few hundred words and a few seconds to grab a visitor—you need to make them count.
1. Answers the Question, "Why Us"
The internet is a beautiful thing for consumers, giving them a seemingly endless number of choices for whatever they need, almost regardless of location and industry. However, while this is good for consumers, it can make things difficult for businesses, who now have more competition than ever before.
In order to stand out from that competition, your site needs to immediately answer the question "why us?" You want to let them know why they want to hire you or purchase from you immediately.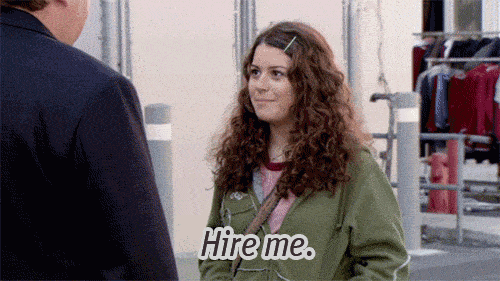 When customers click to your site, they want to be convinced immediately that you're the right person to solve their problem, whatever that problem may be. If your copy doesn't immediately say "Wait, here's why you need us!" they'll be gone as fast as they can click the back button.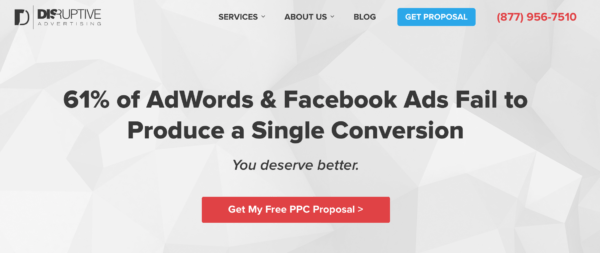 Our own site here at Disruptive Advertising answers that question immediately on the home page, giving a statistic about the percentage of ads that fail to convert and reminding users that they "deserve better." This immediately answers the "why us" question, implying that the incredible teams at Disruptive Advertising can significantly improve your conversion rates and ROI (and we can!). This one tiny snippet is enough to get users to click on the proposal CTA below.
2. Establishes Brand
The above task addresses the "why" and this section is where you start to focus on the "who" part of the equation. Establishing your brand is an essential part of building your business and standing out from your competition, so you want to make sure your website does it early and often.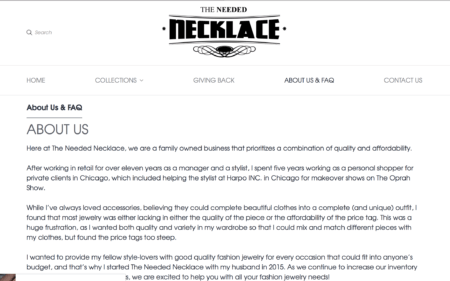 You establish your brand on your homepage by emphasizing certain features, or using certain words to describe your product. You can also use your About Us page to build rapport and tell people exactly what you want them to know about your business.
Whether you're a cutting-edge online marketer who develops the next trending strategy or a family-owned jewelry business, site visitors want to know. Provide them with this information and your site visitors will trust you and be more willing to do business with you.
3. Shares Social Links
This is a small task, but it's often overlooked. About 25% of clients who come to me don't have their social media links featured (or even listed) anywhere on their site. As a result, many of their site visitors don't think they have social profiles. This can cause them to trust you less, and it can cost you followers on the social platforms that gives you immediate, frequent access to members of your target audience.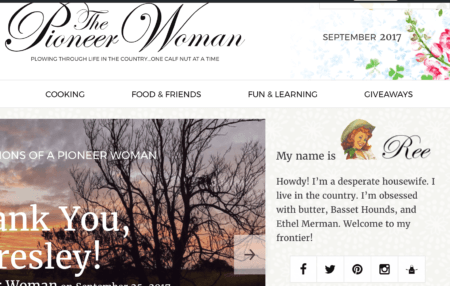 Sharing your social links doesn't have to be obtrusive. You can put the links in the footer of your site or a widget in the sidebars. There are plenty of great plugins that do this for you, like Social Profile Linking. Some businesses choose to have a designated social page, but this isn't necessary unless you're a big heavy hitter on social media or currently running a big campaign.
4. Features a Lead Gen Offer
You're most likely to grab lead information if you have an enticing lead generation offer. This should be featured prominently on your site, in a place where potential leads are most likely to see it. Always link to this offer in your blog posts, too, since this can help capture relevant audience members who found your content through Google.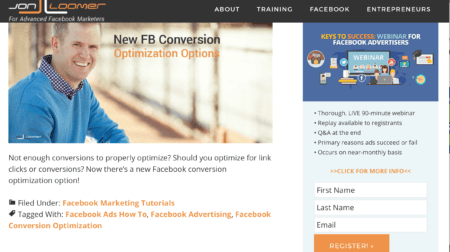 Different types of lead magnets that work well include:
A free proposal
Free fifteen minute consultation
Ebook
Whitepaper
Online courses
Webinars
Simply adding a lead gen offer or two to your site can help turn a lot of visitors into actual leads and ultimately, paying customers.
5. Increases Movement Through the Site
This is something that many sites ignore all together, thinking that if a customer is interested enough, they'll go digging. If this is your thought process, guess again—they won't. If people can't immediately find the information they're looking for, they almost most certainly won't want to waste any more time on your business.
Instead, focus on a site layout that increases movement through your site; it should make the flow from page to page seamless and navigation intuitive. This means you'll want to place the right CTAs on the end of every page, and organize your site in a way that makes sense.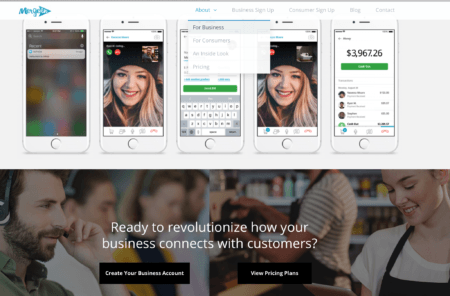 The screenshot from brand-new site MergeIn, pictured above, is an excellent example.
The tool has features that will be uniquely interesting to businesses or consumers and they've organized the site in a way that both categories can find what they're looking for quickly. Ultimately, all the pages users click on will send them to the sign-up page for either businesses or consumers, aggressively funneling users to where they want visitors to end up.
6. Uses Clickable CTAs to Drive Action
Please, please, please businesses: use clickable CTAs. Preferably, you should use be using actual CTA buttons. These can be logos that users click on or actual buttons that tell users what you want to do. Examples of both can be found on the screenshot below, taken from my own site.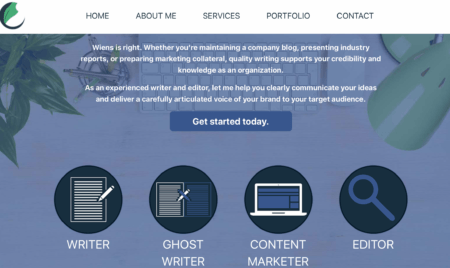 Clickable CTAs that are noticeable enough that users can't miss them work to your advantage. They also look more professional than text-linked CTAs, where you're only hyperlinking within the copy to send visitors where you want them. This helps increase movement through your site and greatly increases potential sales, too.
Conclusion
It's easy to forget just how many tasks your website is supposed to accomplish, many of which need to be readily apparent on your very first page.
When creating your business's website, make sure that the design elements, the copywriting, and the site's organization all work cohesively to accomplish the six tasks we've discussed in this post. Only with all six crossed off will you be able to optimize your site for improved lead generation and customer conversions.
What do you think? Does your business website effectively cross off everything on our list? Which tasks do you struggle most with? Leave us a comment and let us know!