Disruptive Advertising Named Top PPC Agency by UpCity, Clutch, TopSEOs and More!
by Jacob Baadsgaard • March 14, 2017
Let's be honest, it's easy to find a pay-per-click agency (there are thousands of them out there). Finding a top PPC agency—the kind of agency that will truly make a difference for your business—is a lot more difficult.
At Disruptive Advertising, we've always tried to be just that sort of agency. Over the years, we've worked hard to drive incredible results for our clients.
And, as Ram Kapoor puts it: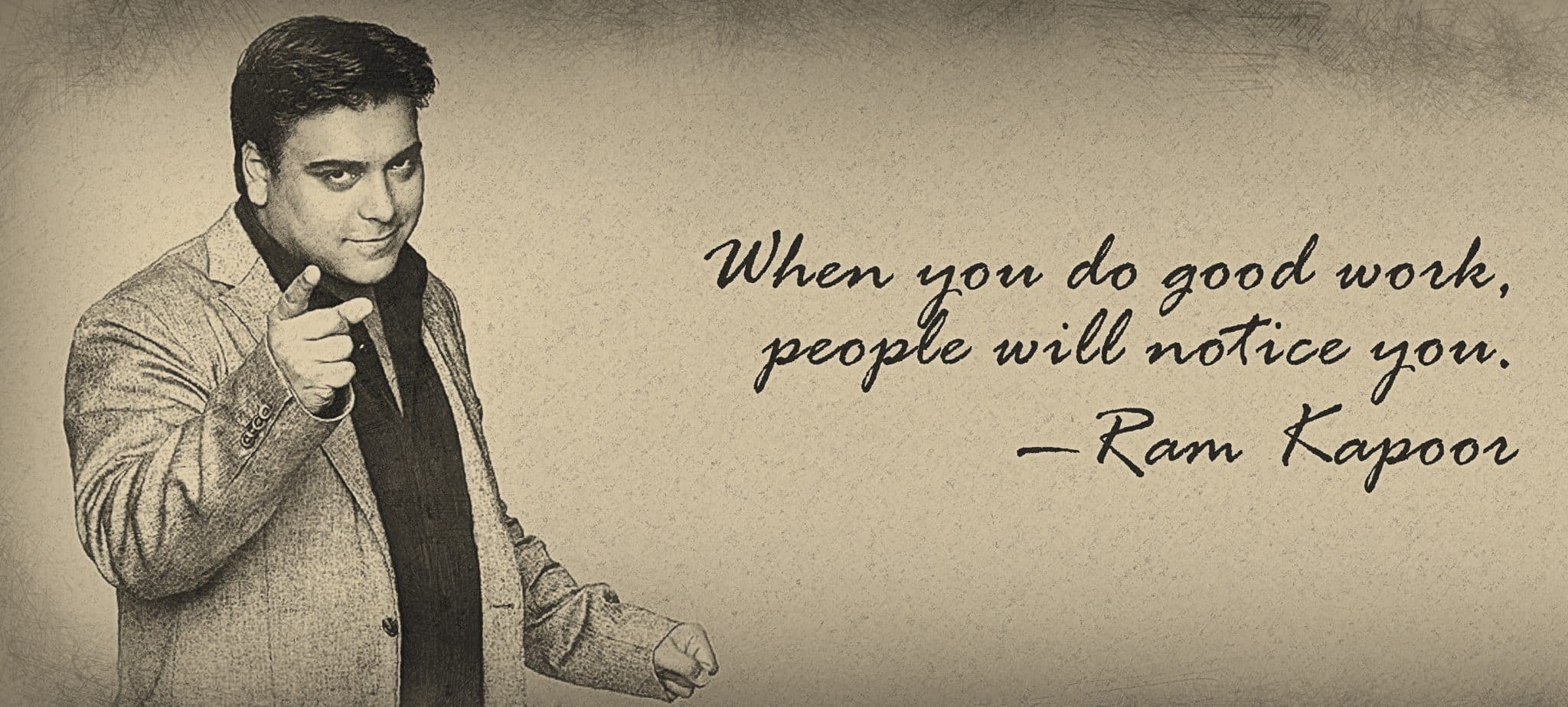 During the past year or so, Disruptive has been named a top PPC agency on a number of sites. We've been a preferred Google Partner for years, now, but being a top PPC company on these independent lists is an achievement we're very proud of.
So, if you're wondering, "Is Disruptive really that good?", here's a quick rundown of the lists where Disruptive Advertising has been ranked as a top PPC agency:
UpCity's Top PPC Agencies
UpCity's Top Agency marketplace is a resource designed to connect small and medium sized businesses with high-quality digital marketing service providers, allowing business owners to get the services they need quickly from a service provider they can trust. The UpCity team independently reviews agencies across North America to determine the best service providers in each local market.
UpCity's top agency list is fairly small and Disruptive is honored to be on their Top PPC Agencies in the United States list.
Clutch's Top Pay-Per-Click (PPC) Agencies
Clutch maintains fairly extensive lists of digital marketing agencies that it separates according to specialty. Disruptive beat out 284 other agencies and sits in the top spot on Clutch's Top Pay-Per-Click (PPC) Agencies list.
Disruptive also sits at the top of Clutch's Top Social Media Marketing Companies list, beating out 309 other agencies.
One of the best things about Clutch, however, is the fact that they allow clients to post reviews of their agencies. So far, all of our reviews have been overwhelmingly positive and its great to see how enthusiastic they are about Disruptive (excellent social proof, right?).
Here's a quick snapshot of one of the reviews: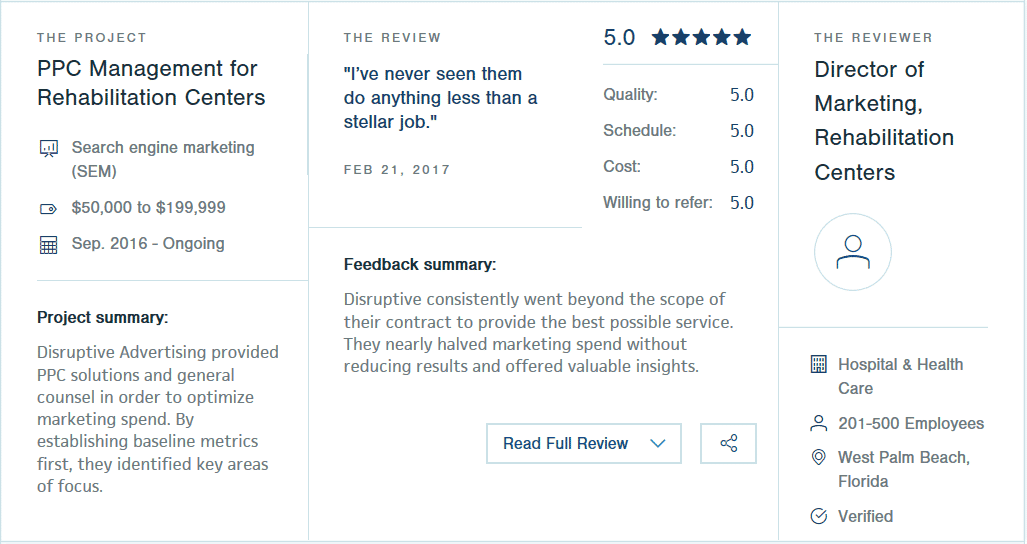 To read the rest of the reviews, click here. If you're considering working with Disruptive Advertising, this should give you a good feel for what you can expect.
TopSEOs Best PPC Companies
Similar to Clutch, TopSEOs tracks and rates online marketing agencies. They maintain a list of the Top 100 Pay Per Click Management Companies and Disruptive Advertising is currently ranked as their second best PPC management company (I know, I know, it bugs me too…but I'm sure we'll be number one soon):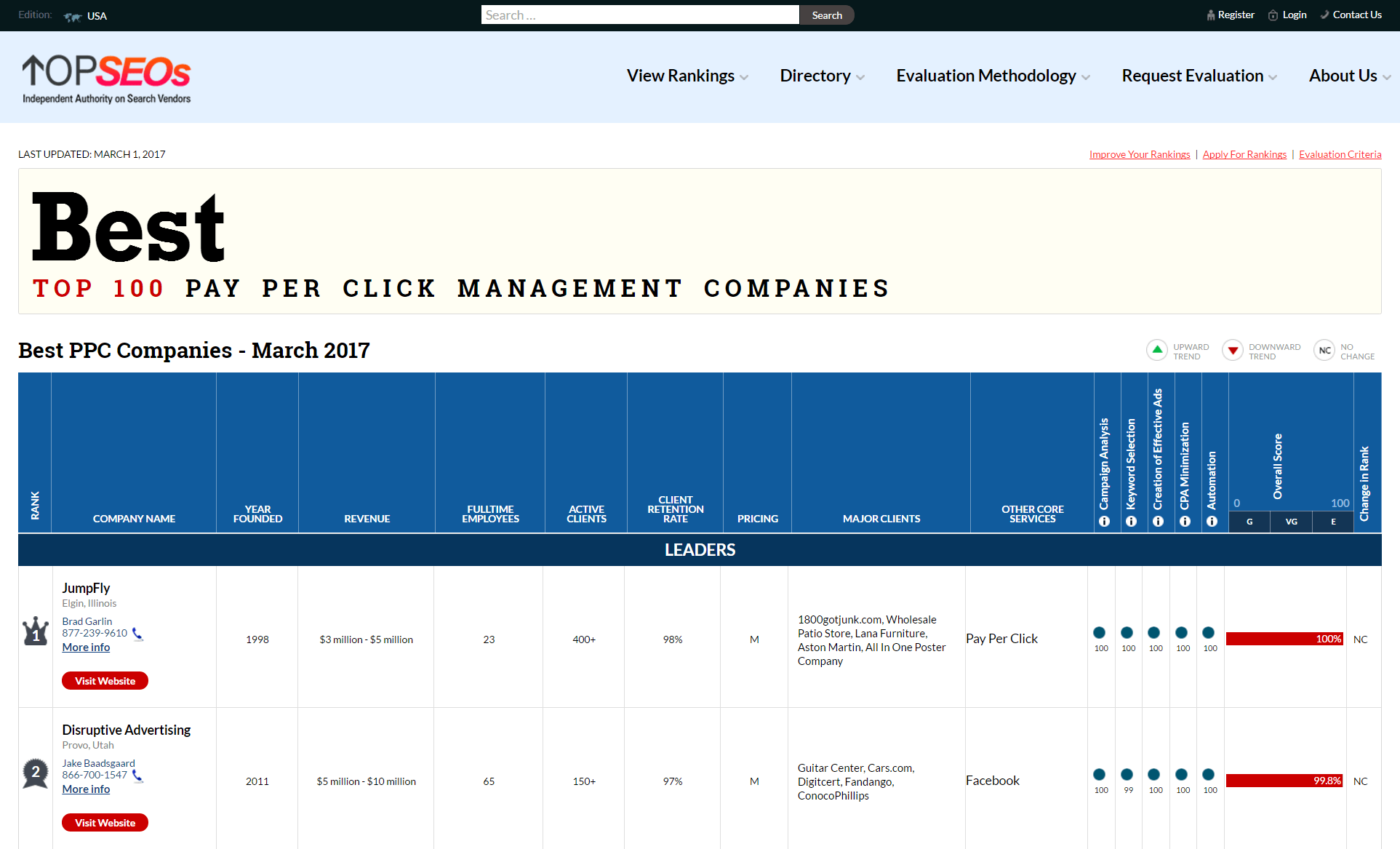 The good news is, TopSEOs actually ranks PPC agencies by industry as well and Disruptive Advertising does rank #1 for dozens of industries: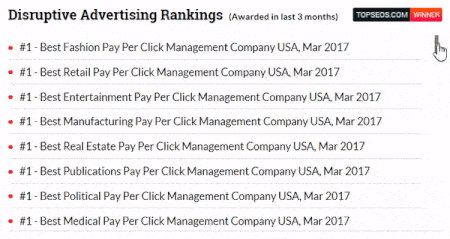 We're really honored to see how highly we've been ranked for so many industries. To see how Disruptive ranks for your specific industry, click here.
PromotionWorld Best PPC Management Company
Last but not least, PromotionWorld ranks PPC agencies once a year. The 10 best agencies are ranked on their site in PromotionWorld's Best PPC Management Company list.
In 2016, Disruptive Advertising ranked #3 on this list: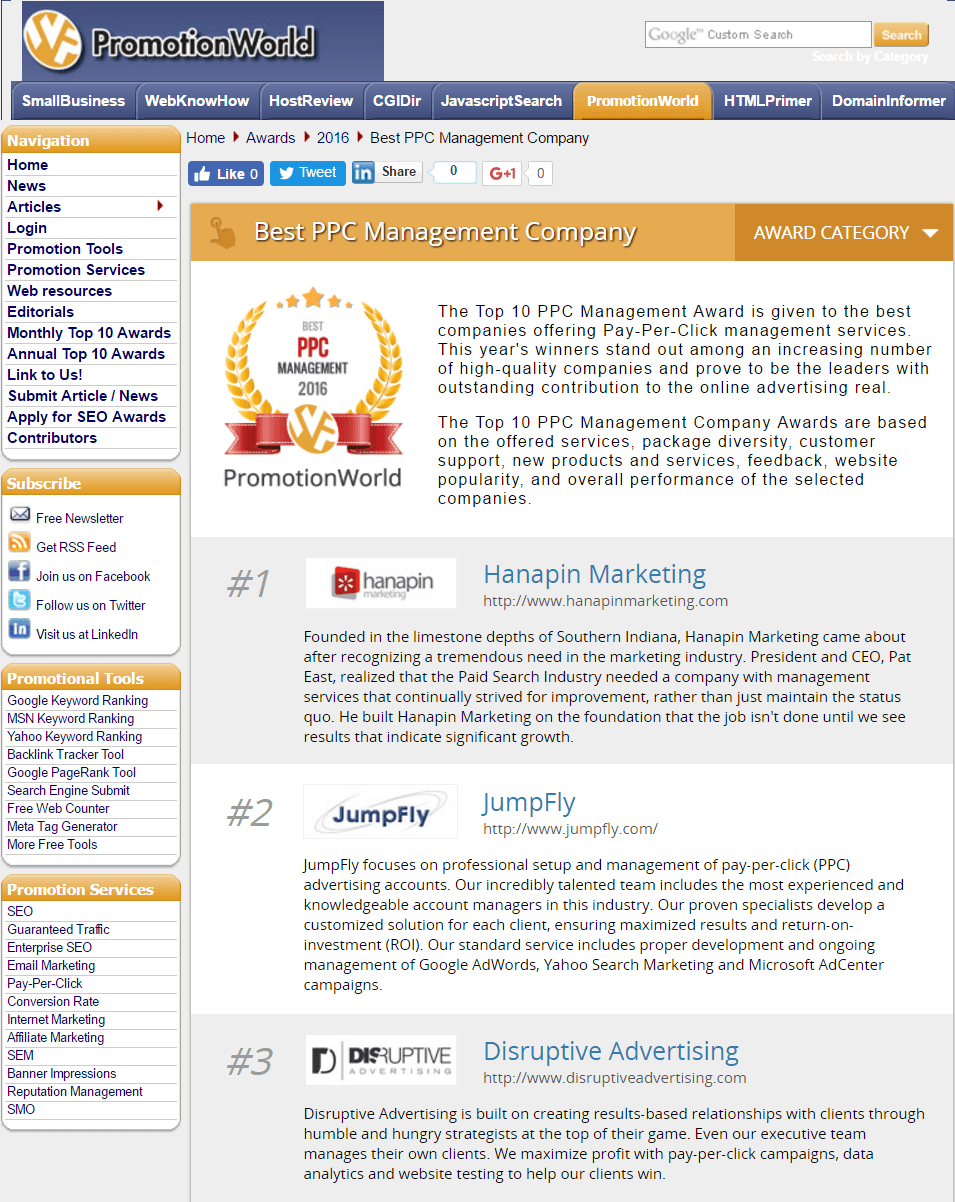 We're honored to be listed among the top 10 PPC agencies and hope to migrate further up this list with time. 😉
What Disruptive is Really About
While being recognized as a top PPC agency certainly feels good, our goal at Disruptive isn't to win awards. Our goal is to help our clients achieve phenomenal success with online marketing. It's nice to have our efforts noticed and recognized, but if we aren't delivering great results, those awards don't mean very much.
And, to us, that's what really makes us a top PPC agency.
By the way, if you'd like to see firsthand what makes Disruptive so special or find out what we can do for your business, let me know here or in the comments!