How to Create an Effective Conversion Path
Conversion Rate
•
Digital Marketing Metrics
•
Landing Pages
•
Jamison Peterson
February 15, 2022
By Jamison Peterson
What Is a Conversion Path?
The process through which various website visitors become leads is known as the conversion path. It involves a series of steps the user takes that facilitate the brand by increasing its sales.
In simple words, if we were to know what conversion path was taken by a visitor, we would retrace their steps all the way to the beginning.
To create an effective conversion path, you must know the consumer market's interests, demographics, and needs. It is important to note that not all brands or companies will have the same conversion path, or the same steps would not work for all.
However, there are a few similarities for all conversion paths, including:
Landing Page
Call-to-Action
Offer
Thank You page
Let's check out how each helps contribute to an effective conversion path.
Landing Page: The landing page collects your visitor's information. That can be the basic details, like their contact details, name or age, etc.
Call-to-Action: The CTA invites the visitors to action; it can be a part of the webpage or advert that persuades and helps the customer get in touch with the brand or buy the product.
Offer: The content offer is anything given to visitors when they give out their information. This can be as ebooks, guides, newsletters, or other products.
Thank You Page: A thank you page or note is a courteous page that thanks the visitors for their action, i.e., filling out the form.
So it all works together like this:
The customer visits a website and views the content offered.
They click on the CTA and are taken to the landing page.
They provide the basic information on a form to take advantage of the offer.
On submitting the form, they become your potential customer or lead.
Finally, they are taken to the thank you page.
What's the Purpose of Creating a Path to Conversion?
One of the major tasks for any marketer is to convert people into leads. That is more appropriate when we look at e-commerce, where the primary goal is to convert website visitors into leads and ultimately your actual customers.
To do that, you need something that'll excite customers. You need to follow the AIDA model here; your content needs to be attention-grabbing. Whatever you offer or whatever the customers view first has to be nothing less than remarkable for them to take action.
Apart from the excellent content, you also need to optimize this conversion path. Only then will it be more effective and generate leads.
The importance of a conversion path thus can be simplified as: these leads may become future customers and even advocates for your brand. Since we need customers to meet the bottom line, we need these leads.
Conversion paths are a great way to market your brand. When users have a good experience with your name, they are more likely to speak about it. Word of mouth spreads and can bring in new visitors, aka leads.
They also help you gauge your advertising and marketing efforts.
You can get a lot of customer and buyer behavior information from those forms.
How to Create a Detailed Conversion Path
The conversion path needs to be clear and detailed.
With the increasing competition, it's easy to leave most conversion paths. People spend seconds or even milliseconds on a page, so you need more effort for conversion path optimization today than ever before.
So what are the steps for creating a conversion path?
Let's take a look at the main attributes of an effective conversion path that is bound to give results, i.e., turn walk-ins – or visitors – to leads.
Include a High-Quality Content Offer
First and foremost comes the content, i.e., the advert or the face of your brand. Fortunately, you can, and you will find a lot of helpful content that can help you market your brand. The key, though, is to find good content and to use it right.
You need to optimize the content to make it more attention-grabbing for the customers. Content seems to be everywhere today: emails, pop-ups, ads, etc. You name it, and you'll find yourself – and hence customers – bombarded with it every second.
That's all the more reason to make your content even more appealing and specific to the customer personas. The more content they can relate to, the more chances of it striking the right nerve.
For instance, an unknowing visitor may enter your website when they see an opportunity that helps. They may not even know about your business or product but would just enter because the context of your offer fits their lifestyle or solves a problem for them.
Ensure your Landing Page is Relevant to Your Target Audience
The next step occurs when the visitor has read your offer and entered your domain; i.e., your landing page.
Now it's up to your landing page to leverage the step to conversion. So, what's a landing page?
A landing page is a web page designed to gather visitor information. That includes contact information, but it may not be limited to that.
But, of course, it has to offer something of value in return to your buyer. It too must be consumer-centric and drafted with buyer personas in mind.
This page has a form filled out by the visitors who wish to access the offer.
Require a Form in Exchange for the Offer
Will the visitor be more interested in getting a free guide in return for submitting the form? It may be hard to know what works best. So the best way is to put the offer to the test.
You can do some market research to learn what the general market practice is at the moment and draft a unique offer along those lines.
But the only way to know for sure is to do a multivariate test.
As for the form, you need to ensure:
It is easy to view
It has a call-to-action
Be Sure to Include Attention-Grabbing Calls to Action
Call-to-action is usually a button embedded in any place on your website to provide a point of connection for the customers. This leads to the landing page, which starts the whole conversion process.
For a CTA to be attention-grabbing, you must ensure it is placed right and goes with the brand message. The main purpose is to generate clicks and take the visitor to the next step, i.e., the landing page.
You can make these buttons more attractive or attention-grabbing by using different colors or words that prompt action. Just make sure it stands out; visitors don't take time switching to other pages, so if they don't see it instantly, they are likely to close the page and disrupt the conversion process.
What Should You Avoid in a Conversion Path?
While creating a conversion path may seem like a simple process, you need to work on many aspects to avoid stressing the visitor or scaring them away.
Here are some of the key elements to avoid in a conversion path:
Misleading/Clickbait Titles
Although we said the header or offer must be attention-grabbing, it simply cannot be clickbait or misleading.
Utterly shocking titles or heavy surprises will get attention, but won't do much for your product or brand. Remember, the purpose is to complete the conversion process.
The title has to be aligned with your brand persona. Usually, simplicity works best when you want your visitors to relate to the offering. So use simple language; even a little slang doesn't hurt as long as the public relates to it.
Make sure the content is non-erroneous and does not have grammatical errors or spelling mistakes; such things are huge turn-offs and drive away traffic.
Cluttered Landing Pages
First impressions matter a lot when it comes to aesthetics: too much information or clutter on the main page leaves a bad impression. One click and the visitor feels lost and wants to leave the page immediately.
It would already be too much for the customer to grasp; adding layers or overwhelming them would result in useless efforts and time.
Examples of Common Conversion Paths
Some visitors may enter via an advert; others may land in by clicking on an email or looking up the brand. You can find all the conversion paths different customers take via Google Analytics. However, amongst the most widely recognized paths are:
Emails
Referrals
Direct searches
Organic searches
Social networks
Paid searches
Here are a few examples of the common conversion paths:
Laurie Anne Art
Laurie Anne is an artist from Phoenix who offers courses that help artists make quality art prints from originals.
She adopted the video strategy. Videos are a more personalized way of connecting with the customers and giving a more direct message. Once the message hits the spot, visitors click on the call-to-action, which gets them to the landing page.
Videos are an important tool for conversion path optimization and an effective strategy to create conversion.
Vera Bradley
Another very successful story for effective conversion paths is the one followed by Vera Bradley. Since their customers often leave products in their cart because of the high prices, the company curated a clever tactic to help them.
Whenever articles were left in the users' cart, the brand sent out emails to those visitors. These weren't just conversion emails, but they came with a discount code gift. Also, whenever the prices dropped on these items, the brand notified the users to make the purchase, facilitating conversion.
Conversion Path Tracking in Google Analytics
Once you've set up the conversion path, the time comes to assess its effectiveness. You need to know if it worked and gave you leads or not. Else you'll need a different action plan.
Knowing what worked and where you lost visitors in the process is very important and can be found by behavioral analytics. It leads you through the entire journey of the visitor from the beginning so you can see whether they followed the path you laid out for them.
Google Analytics gives you a numerical assessment of your website's performance, complete with details on users' activities, traffic, and overall performance of your content. Some businesses even use it to gauge online sales of the company.
This helps you determine the total number of conversion days starting from the first interaction with the anonymous visitor.
Tracking can also help you keep in touch with leads until they become your customers.
Conversion Path Optimization Strategies
Once you understand conversion paths and choose one for your brand, you can optimize it. Here's how you do it:
Content: Your content should have context. It needs to be relevant, solid, and optimized.
Landing Page: The landing page should be tailored to fit the consumer mindset. Design matters, and so does optimization.
CTA: The call-to-action must be hard to miss! The CTA should also be in line with your brand message and the overall design of your landing page.
User Testing
The most important thing is to learn about the actions of your visitors. This way, you can optimize your strategies based on facts. Otherwise, it's just instinct and essential knowledge which may or may not work for your brand.
You can also look up digital marketing experts like Disruptive Advertising, who can help you connect with your visitors. Disruptive Advertising employs specific growth strategies to produce quantifiable results and make your conversion path a success.
Create Buyer Personas to Understand Your Audience
Once you have done the research, you can divide your visitors into groups. These groups are termed "buyer personas."
You can base these personas on the job titles, demographics, lifestyles, marital status, income, social status, goals, passions, etc., and give it the name of a natural person, like "Digital Marketing Director – Ashley." Check out a few examples here.
Offer Secondary Conversion Options
The secondary conversion offer can be made once the user is engaged with your brand. This offer depends on your product and what you wish to achieve at the end of the conversion path.
Common strategies include offering a post-event, a purchase, a registration form, or some other form of engagement.
It can also include promotions, more offers, or additional features along with the product.
How Understanding Conversion Path Steps Helps You
Conversion paths are critical to converting visitors into leads. However, it's not a secure way of getting customers; many often leave midway through the path.
To make conversion effective, marketers need to know the users and where they are on their buyer journey. This way, they can tailor the path according to the buyer's status.
Are you still looking for marketing experts to help? Check out Disruptive advertising services today!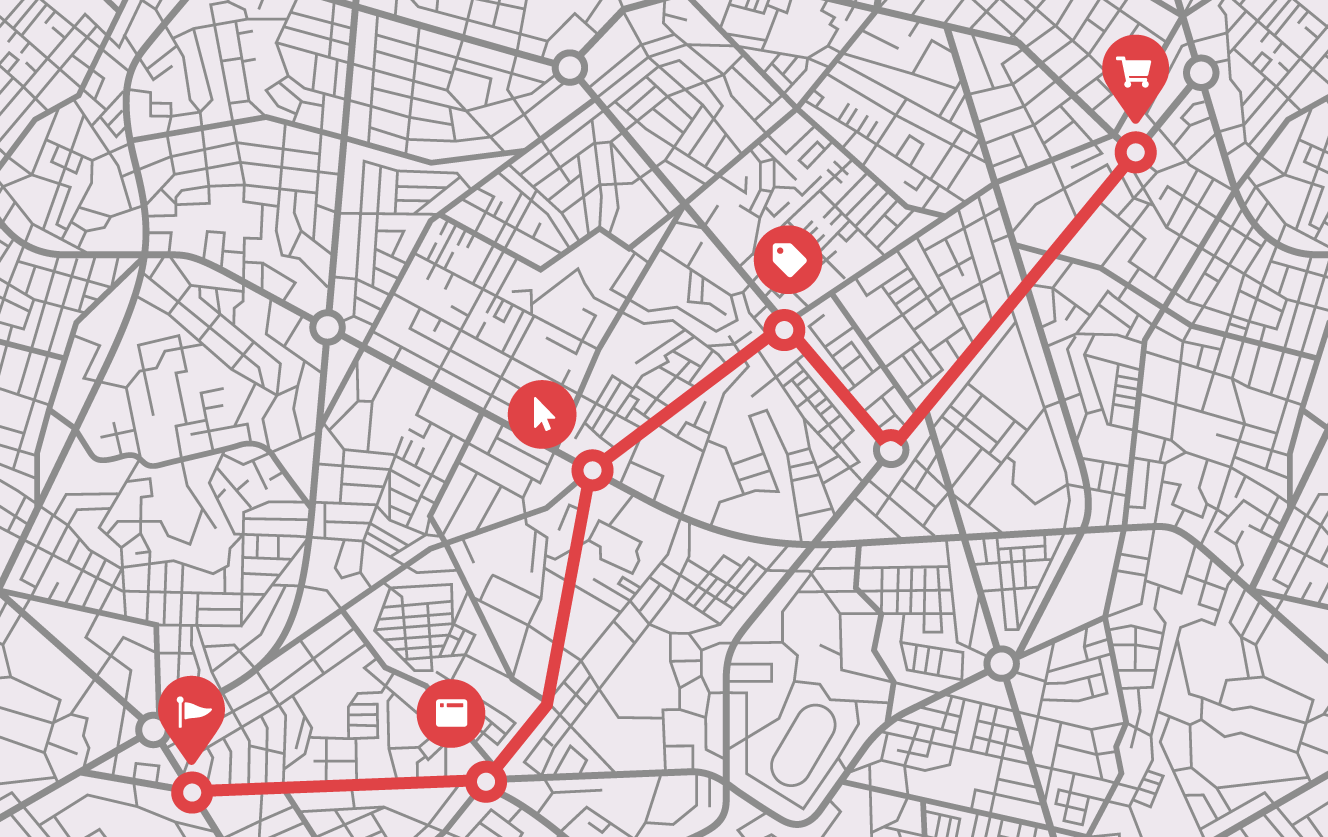 Leave a comment