5 Great Email Marketing Tools You Should Consider Using
Trying to figure out what email marketing tool you should use for your business? We get it. Email marketing is great, but email marketing without a good email marketing tool can be a real pain.
So, if email marketing is a priority for your business (and it should be), you've come to the right place.
In this article, we're going to give you the quick-and-dirty on 7 of the best email marketing tools out there. Sound like a plan? Let's get started!
Why You Need an Email Marketing Tool
Just in case you're still wondering whether or not you actually need an email marketing tool, let's address another question first: Do you really need email marketing?
Well, if you're content to leave money on the table, then no, you don't really need email marketing. And, if you don't need email marketing, then you don't need an email marketing tool.
But here's the thing: Despite being the oldest form of digital marketing, email is still one of the most profitable ways to promote your business. In fact, according to Litmus, the average business makes $38 for every dollar they spend on email marketing!
So, is email marketing dead? Not by a long shot!
With the right email marketing tool, email marketing is fairly easy to set up and run. More importantly, it gives you an unparalleled way to stay in contact with your subscribers and build a relationship of trust that will yield results for years.
However, with the wrong email marketing tool, email marketing can be more pain and aggravation than it's worth.
Your email marketing software is where your email marketing lives. Email marketing lists, email templates, automations, integrations, deliverability rates—they all depend on your email marketing tool, so it's critical to pick the right tool for your needs.
Picking the Right Email Marketing Tool
When it comes to picking an email marketing tool, there's a lot to keep in mind. You need a tool that will allow you to manage your contact, segment users into groups, track performance, create engaging content, keep your emails out of your subscribers' inboxes, etc.
But most importantly, your email marketing tool needs to make your life easy.
Are there ways to do email marketing without an email marketing tool? Sure, but they are a pain to create and implement. With all of the tools out there, it simply doesn't make sense to do it on your own—especially if your business doesn't have a ton of resources.
However, since the point of email marketing tool is to eliminate the headache of running and tracking your email marketing campaigns, it's important to find a tool that helps you do everything you need to do—quickly, easily and affordably.
To help you find the right tool for the job, we've put together a list of 5 great email marketing tools. Almost any business can do well with one of these tools, so read through the list and see if you can find one that fits your needs.
1. Mailchimp
It's impossible to talk about email marketing tools without mentioning Mailchimp, so let's start with this classic option.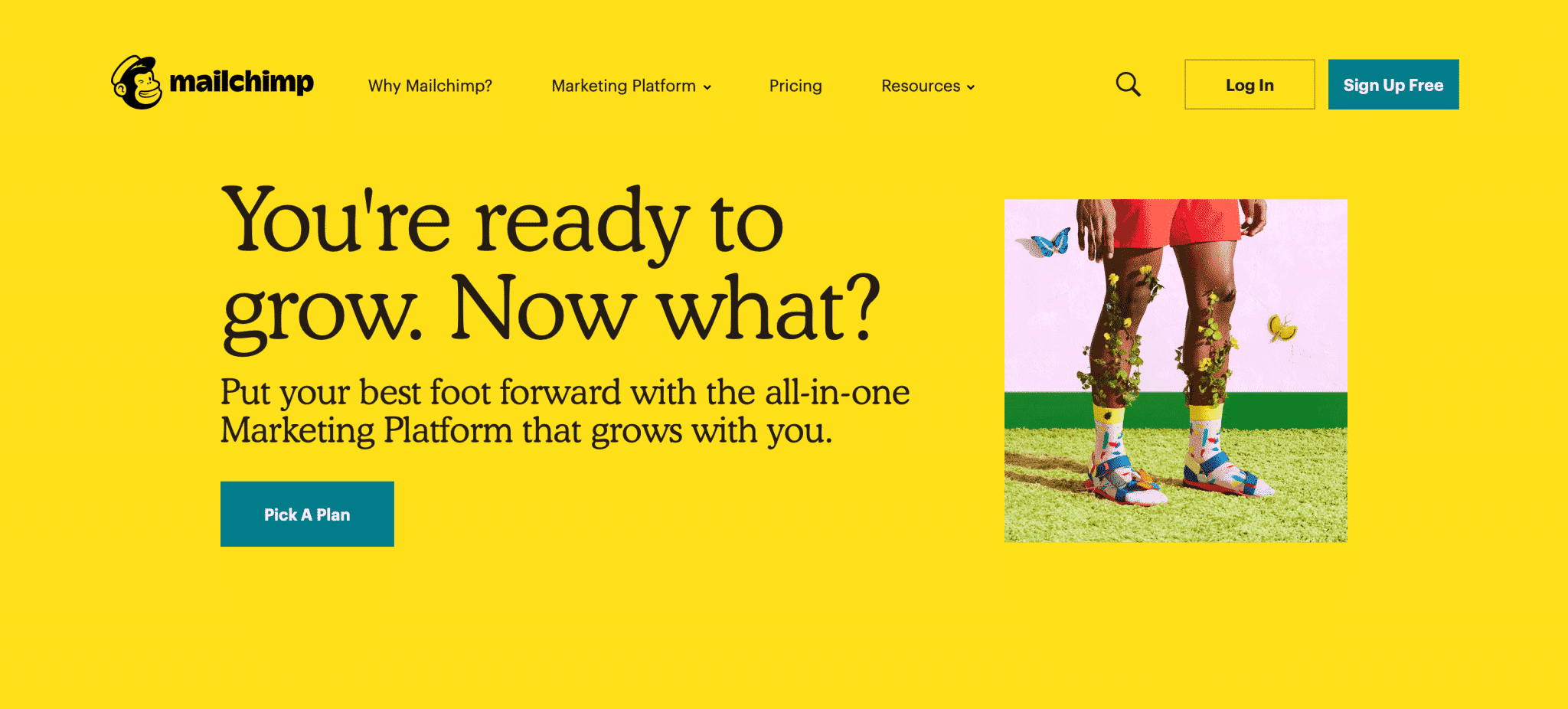 At this point, almost everyone has heard of Mailchimp. Thanks to Mailchimp's "forever free" email marketing plan, they've become one of the most popular email marketing tools in the world.
Now, you might be thinking, How good could a free tool be?
Well, despite its free plan, Mailchimp actually offers a pretty robust set of features. It's incredibly easy to build out great-looking emails, manage your email lists, schedule out email drip campaigns, set up autoresponders, segment your contacts and track basic data on clicks and opens. In addition, it's very easy to integrate Mailchimp with most major web platforms like WordPress, Magento and Shopify.
With all of these great base features, it's easy to see how Mailchimp has become so popular. However, Mailchimp does have its limitations.
First of all, that "forever free" plan is fairly limited. It allows you to send up to 12,000 emails to up to 2,000 subscribers, but you don't get to use "advanced" features like contact segmentation, send-time optimization, email testing, etc…and all of your emails will have Mailchimp's branding in them.
If you bite the bullet and sign up for their paid plans, you can expect to pay around $10/month for up to 500 subscribers, with the price increasing for every additional 500 subscribers. Unfortunately, even with the paid plans, Mailchimp's "advanced" features aren't nearly as robust as the features offered by many of the other email marketing tools we'll cover in this article.
Overall, Mailchimp is a great basic tool—especially if you don't need anything beyond what their free plan offers—but that's about it. If you don't plan on doing any complex email campaigns, Mailchimp may be perfect for your needs, but if you really want to get great results from your email marketing efforts, you may want to look elsewhere.
2. Constant Contact
If you're looking for an affordable, beginner-friendly email marketing tool with more long-term potential than Mailchimp, you may want to consider Constant Contact.
Constant Contact is perfect for small businesses. It's easy to learn and offers a variety of basic marketing automation features like a marketing calendar, free image library, Facebook Ads integration, Shopify integration, email automation and built-in-social media sharing tools.
But that's just the tip of the iceberg. In addition to all the basic email marketing features—email list management, email templates, subject line A/B testing, etc—Constant Contact also offers a ton of additional features you can use to get more out of your email marketing.
For example, want to conduct an email survey or poll? Constant Contact can do that. Want to send out coupons? Constant Contact can do that. Want to request online donations? Constant Contact can do that, too.
While it's not the perfect for every business—large companies with more complex needs may find it a bit simplistic—if you're trying to market a small business, it's hard to beat Constant Contact. And, with their base plan starting at $20/month, it's pretty affordable, too.
3. Drip
If you're really serious about email marketing, it's hard to go wrong with Drip. Designed for ecommerce businesses, bloggers and digital marketers, Drip offers all the email marketing features that most companies could ever want.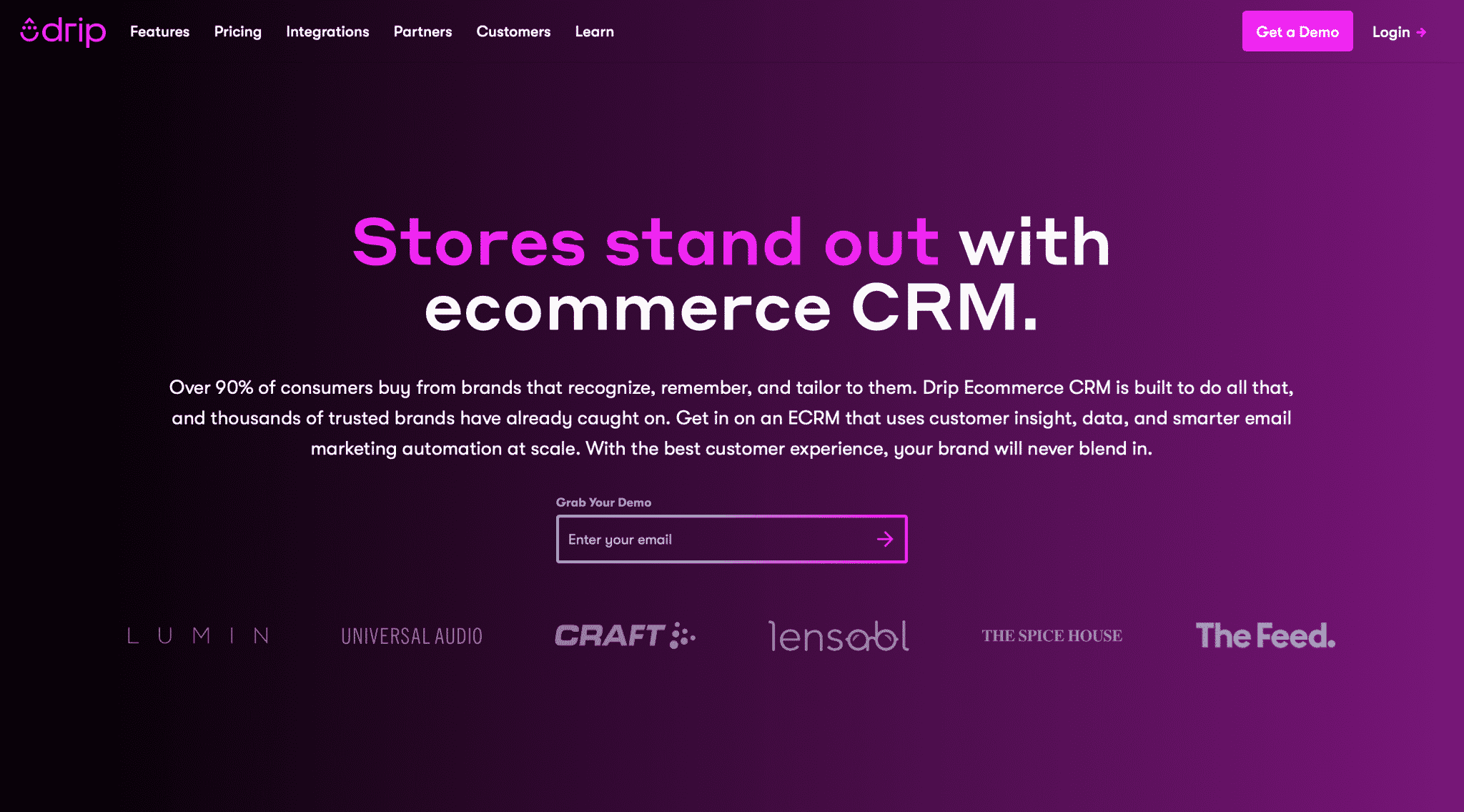 Unlike Mailchimp, Drip's "advanced" features are truly advanced. Between the visual workflow builder, intelligent marketing automation tools, smart email segmenting, list groups, etc, Drip gives you everything you need to put the right email content in front of the right subscribers…at the right time.
Feeling a little overwhelmed? Don't worry, even if you're an email marketing beginner, Drip offers a ton of support for users: webinars, detailed courses, free guides—Drip has the works.
While Drip is more expensive than most of the other email marketing tools on this list ($49/month), it's perfect for anyone who wants to get serious about email marketing.
4. SendinBlue
Want to incorporate both email marketing and SMS marketing into your marketing plan? You may want to give SendinBlue a try.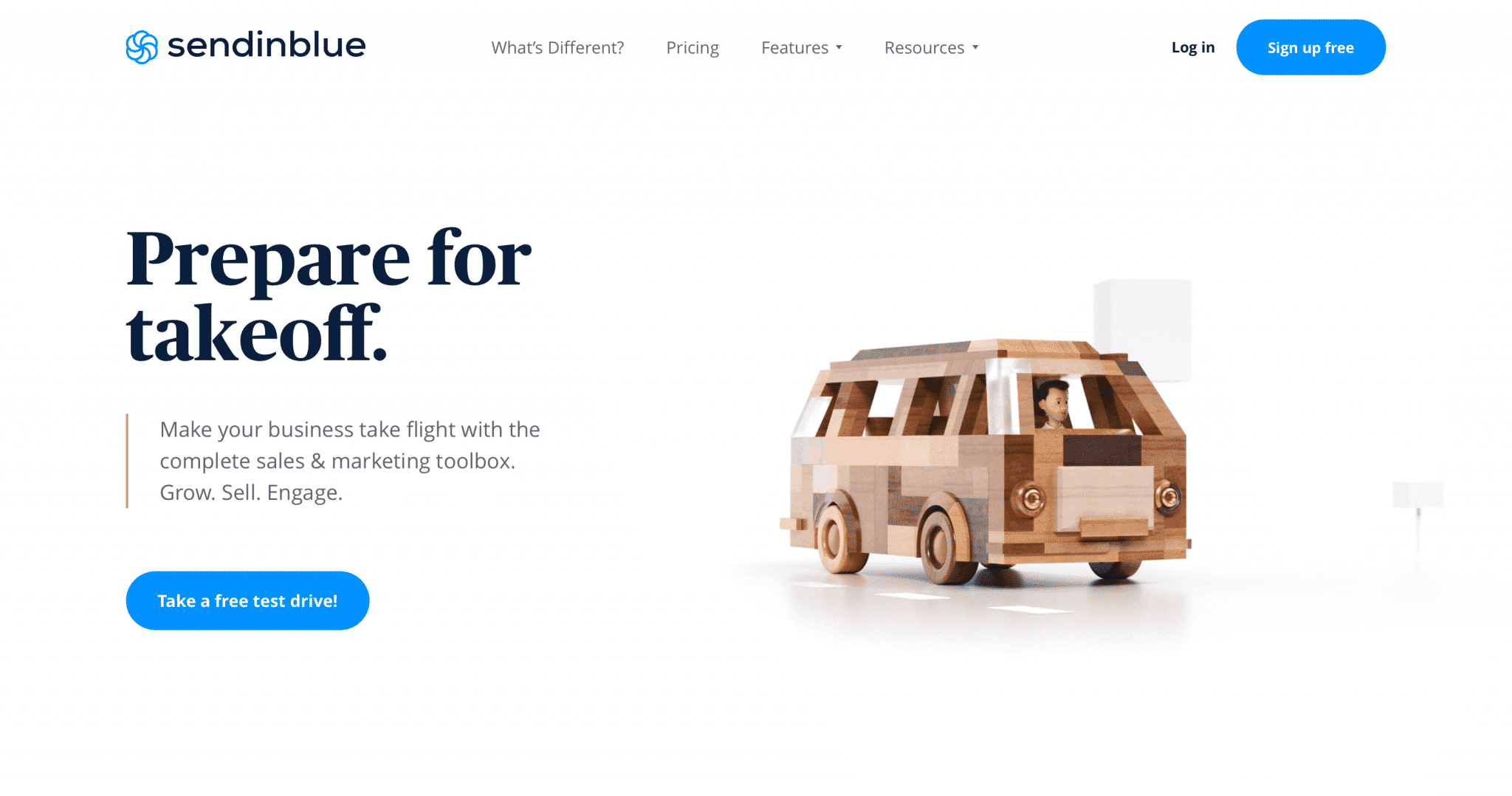 In addition to being a really solid email marketing tool, SendinBlue offers a ton of other marketing features. SMS marketing, live chat, landing page design, Facebook Ads, CRM integrations—if you're looking for an email marketing tool that works seamlessly with every aspect of your digital marketing, SendinBlue is a great option to consider.
From an email marketing perspective, SendinBlue's drag-and-drop email builder is a great way to build attractive and engaging emails. It's incredibly user-friendly, so even if you're new to email marketing, it won't take long to create emails that get results.
Finally, SendinBlue offers a variety of marketing automation tools that you can use to do things like create workflows, send transactional emails and segment users. You can also use their AI algorithms to identify the best times to send your emails, helping you get even more out of your campaigns.
Technically speaking, you can get all of this for free—provided that you don't send more than 300 emails per day and you're okay with having SendinBlue's branding on your emails. Otherwise, their paid plans start at $25/month, but you'll have to pay extra to add things like SMS to your account.
5. ConvertKit
Last, but not least, we have ConvertKit. Unlike some of the other email marketing tools on this list, ConvertKit is primarily designed for creators.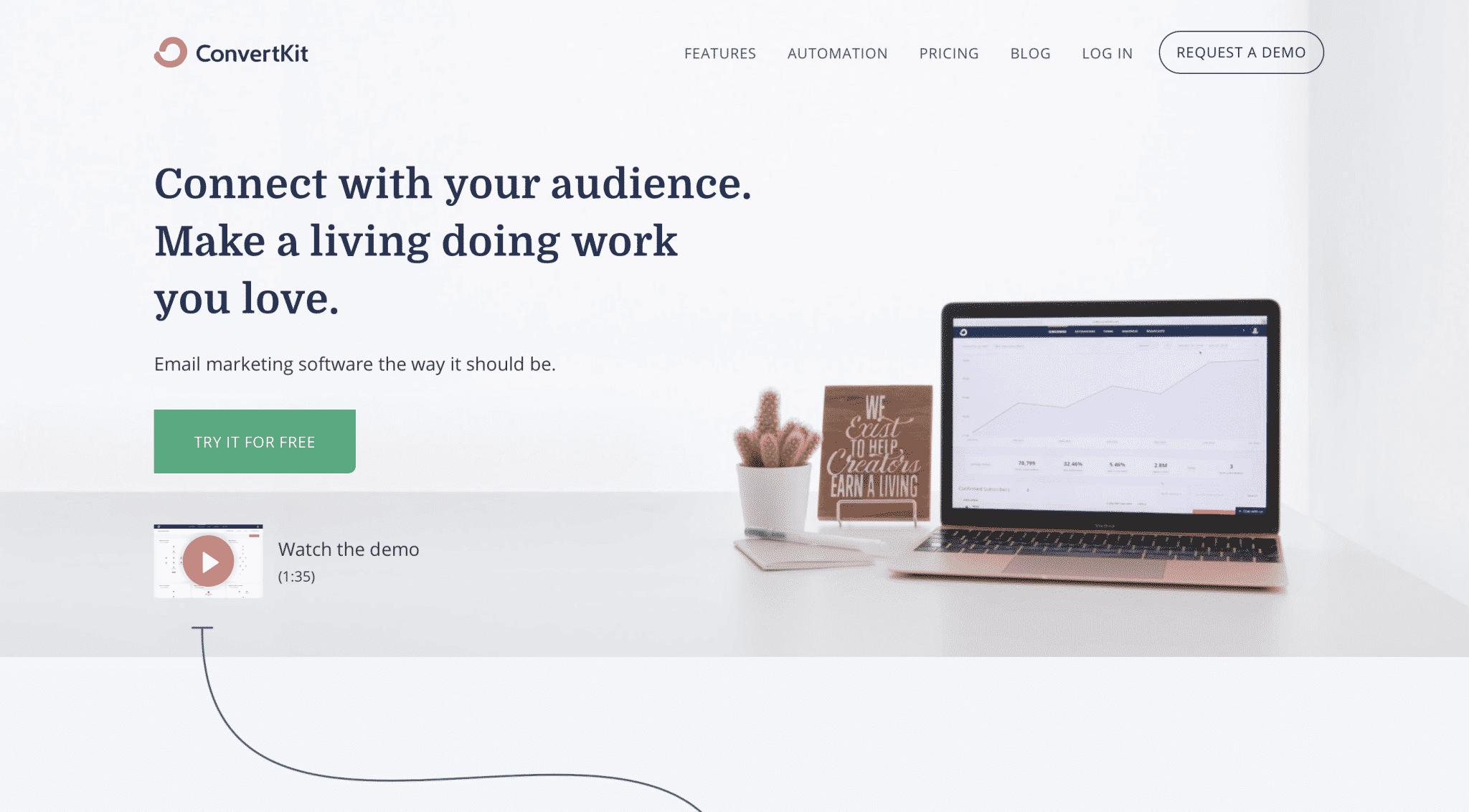 If you're a professional blogger, author or content marketer, you have very different needs from, say, an ecommerce business. ConvertKit is designed to meet those needs.
For example, if you want to offer content upgrades or other incentives with email signup forms, ConvertKit makes that easy. In addition, ConvertKit makes it easy to segment your subscribers based on their interests and conduct targeted email marketing that keeps the right content in front of the right people.
ConvertKit isn't right for every business, but if you're in the creative or educational space, give ConvertKit a look. Their suite of features is designed to help you get the most out of your content, so it's one of the best email marketing tools for this market segment. And, with their base price starting at $29/month, it won't cost you an arm and a leg, either.
What's the Right Email Marketing Tool for You?
When it comes to email marketing, having the right email marketing tool can have a huge impact on the success or failure of your campaigns.
So, which tool is right for you? Here are our thoughts.
If you're running a small business with fairly basic email marketing needs, consider Constant Contact. Between their affordable pricing and broad feature set, Constant Contact should have everything you could want in an email marketing tool.
If you're looking for a more advanced email marketing tool that will support complex email marketing campaigns, you may want to try Drip. This is especially true if you're running an ecommerce business. Drip might be overkill for a small business, but for ecommerce companies or larger businesses, its powerful suite of tools are exactly what you need.
Alternatively, if you're a professional blogger or content creator who wants to cultivate a thriving base of subscribers, ConvertKit is a great option to explore. It'll help you build out your fan base and turn them into actual customers.
Finally, for businesses that want a fully integrated marketing automation suite, it's hard to beat SendinBlue. Part email marketing tool, part marketing automation platform, SendinBlue will help you communicate across all of your channels with ease.
By the way, if you'd like some specific advice on which email marketing tool is right for your business and help setting up your email marketing campaigns, let us know here or in the comments. We'd love to help!
What do you think of these recommendations? Have a favorite email marketing tool that didn't make the list? Leave your thoughts in the comments below.
Leave a comment