How to Write Emails Your Customers Can Relate to
by Emil Kristensen • April 6, 2020
Being relatable is a big deal for companies today.
But creating connections with your customers isn't just the right thing to do—relatability goes hand in hand with building a better business.
Food for thought: companies that emphasize authenticity in their marketing score higher sales and longer-term customers.
And authenticity is especially important to younger customers (think: millennials and Gen Z) when it comes to brand loyalty.
Email is undoubtedly one of the best channels for engaging with customers and relating to them.
Think about it. You're able to talk to customers one-on-one. Rarely is there any other marketing channel where someone gives you their total, undivided attention.
Not sure if your emails are relatable and engaging to customers, though? That's exactly why we put together this guide.
10 Ways to Make Your Marketing Emails More Relatable
Below are ten data-driven strategies to make your emails more meaningful and personable to customers.
Note that there is no "silver bullet" here: a combination of these tips and tactics are your best bet for making your messages more relatable.
1. Refer to Your Customers Directly
Subject lines are a solid place to start as they serve as a sort of "barrier to entry" to engage readers.
After all, you can't connect to customers without getting them to read your messages.
Arguably one of the best ways to encourage opens and click-throughs is by referring to your customers directly. That is, use their names in your subject lines or the opening line of your email copy.
According to research by HubSpot, subject lines that contain names typically score higher click-through rates than headlines that don't.
Beyond populating your customers' names, also make a point to refer to your customers directly by frequent use of "you" and "your." Doing so instantly makes your message feel more conversational and less stuffy.
Here are some of the examples of DigitalMarketer's best email subject lines which use "you" (note that some examples provide a double whammy of "you and your recipient's name"
"[NAME], are you part of the 41%?"
"I don't see your name on my list, [NAME]"
"Don't say I didn't warn you 😬"
See how that works? The language you use throughout your emails is important, but especially emphasize your customers' names and "you" whenever possible.
2. Address Your Messages from a Person, Not a Company
This is a simple trick but an effective one.
Present your messages as being sent on behalf of an employee rather than your company account itself.

This isn't something you have to do with every marketing email, but it's a great way to grab your readers' attention and make your messages more personable.
For example, seeing "John" or "Mary" from [YOURCOMPANY.com] is a welcome change of pace from just your company name. Seeing a new name will pique your readers' curiosity, especially if you send messages frequently.
This not only highlights the human side of your business but also allows your employees' personalities to shine.
Below is an awesome example of an employee-centric email sent by Candid, presented as if it was crafted by an actual employee rather than a personal account. Note the frequent use of "you," too!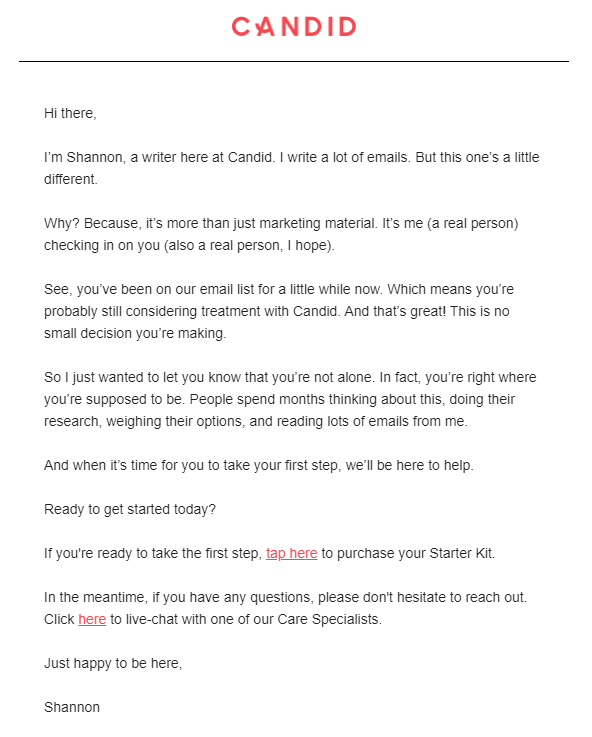 Another extra step to insert some personality into your messages is by showcasing yourself or your employees in your email signature.
For example, HubSpot boasts a free email signature generator that allows you to showcase a headshot and social media accounts. Tagged onto an email, this definitely makes your message feel like it was sent by a person.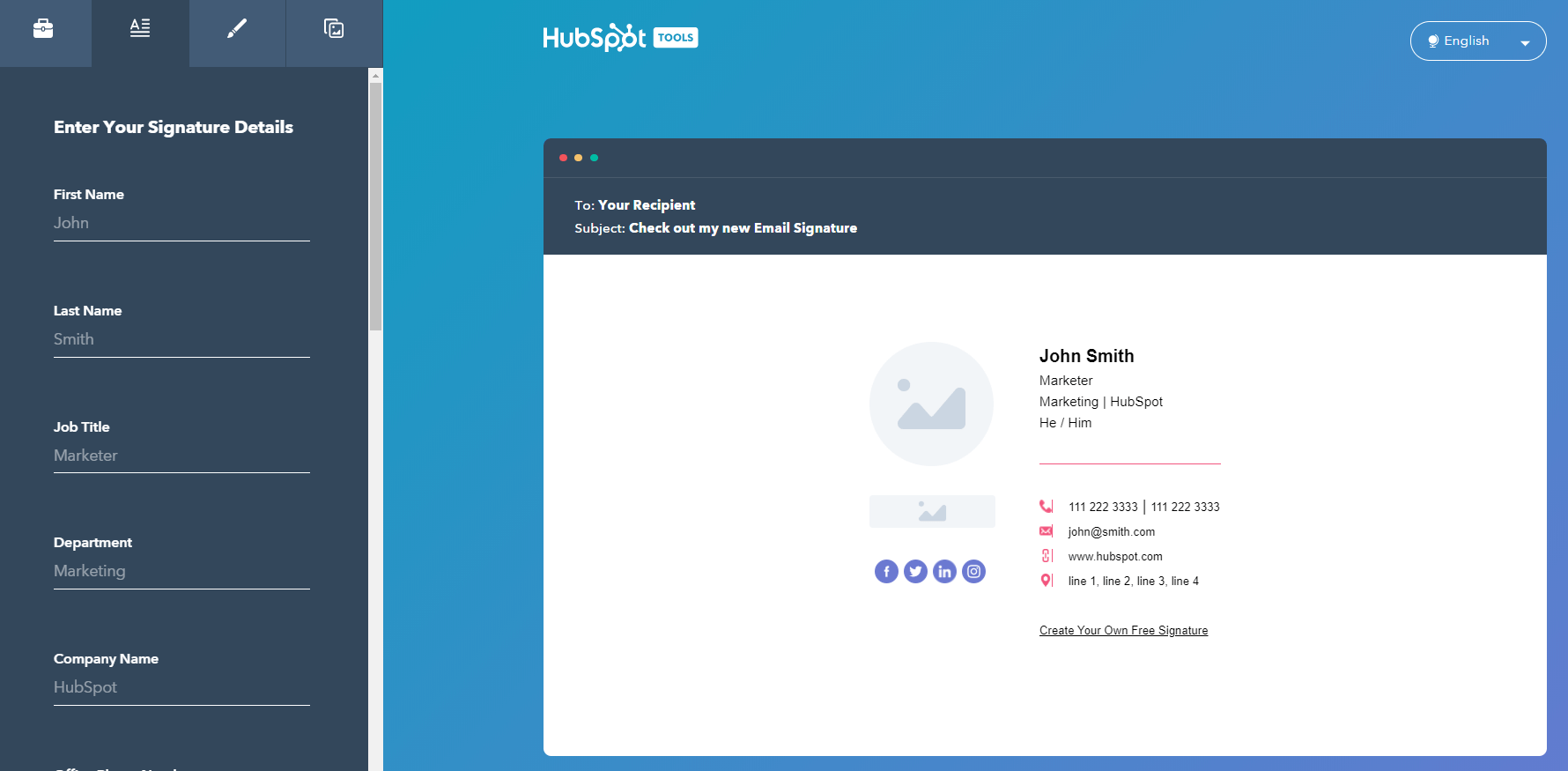 You can use similar tools such as WiseStamp as well, providing a slightly more compact signature.

Regardless, don't pass up opportunities to inject a personal touch into your marketing messages.
3. Featured Images of Your Satisfied Customers
User-generated content (UGC) such as customer photos and reviews are some of the best pieces of marketing you could ask for.
And both are awesome at driving engagement. In fact, user-generated content drives a staggering 73% increase in email click-through rates.
UGC makes your business more relatable by showing off your satisfied customers. By highlighting your products in real-world settings, your recipients can visualize your products in their hands as well.
In short, UGC serves as proof that you're a real, human company that cares about its customers enough to showcase 'em.
Below is a great example from Adidas. Presenting customer photos and brief testimonials, the messaging here is both effective and authentic. Your customers are arguably your best billboards and email is a fantastic place to highlight their successes.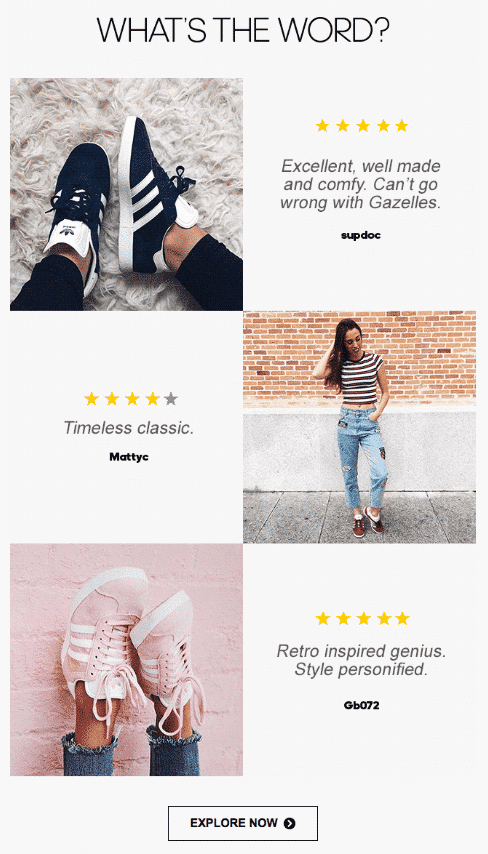 In terms of where your user-generated content comes from, consider sources such as social media or in-person events. If someone has written a testimonial or shouted out your brand, think about how you can weave those moments and stories throughout your marketing.
Anything you can do to put an actual person in your emails is a plus. Whether it's a customer, employee or even yourself, brainstorm ways to put that human touch in your messages.
Side note: make sure you get permission and acquire the rights to any customers images you use within your marketing!
4. Tell a Story
It might be cliche, but everyone loves a good story.
The beauty of email is that it's the prime channel to create a narrative to relate to your readers.
Storytelling via marketing is all the rage right and again drives home the importance of authenticity. Some storytelling ideas that work for just about any business or industry include:
Customer or company success stories
Inspiring or major company milestones
A heartfelt message from your customers or CEO
You don't have to be a master storyteller or copywriter to convey a narrative to your audience, either. Below is an awesome and straightforward example from Charity Water.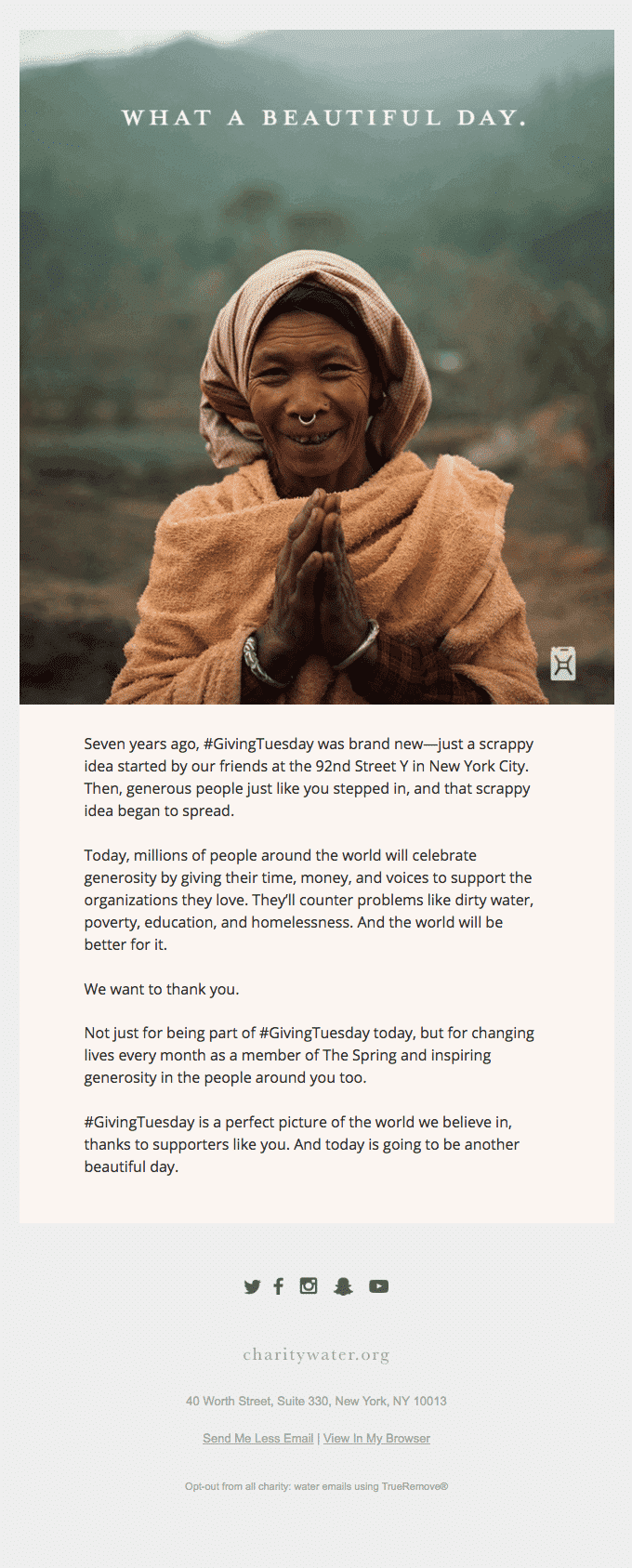 Storytelling emails don't necessarily need to be a cornerstone of your marketing campaigns, but they're definitely an avenue to make your marketing more relatable.
5. Center Your Messages Around a Problem or Pain Point
No matter who your customers are, we all have our struggles.
Appealing to your customers' biggest challenges immediately makes your brand appear empathetic and understanding. Below's a brilliant example of a problem-centric email from OfficeVibe, touching on the recent COVID-19 crisis by talking about the pressing need for better leaders in the workplace.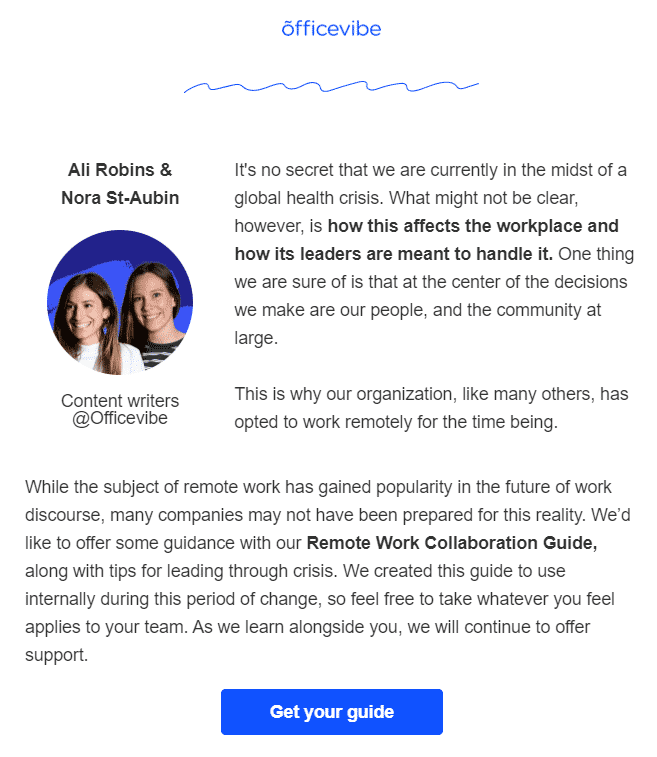 Focusing your emails around a problem allows you to frame a solution, typically your business or product.
Start brainstorming what your average customers' problems are. For example, what's stressing them out on a day-to-day basis? What do they need help with?
From ecommerce to digital businesses and beyond, most people struggle with some combination of the following:
Saving time
Saving money
Saving energy
Staying organized
Staying motivated or focused
If you can focus on at least one of these struggles in any given message, you're golden.
Here's a fascinating example from Bellroy. The brand managed to showcase the problem-solving power of wallets with a before-and-after video via email which showcased the organizational power of their products.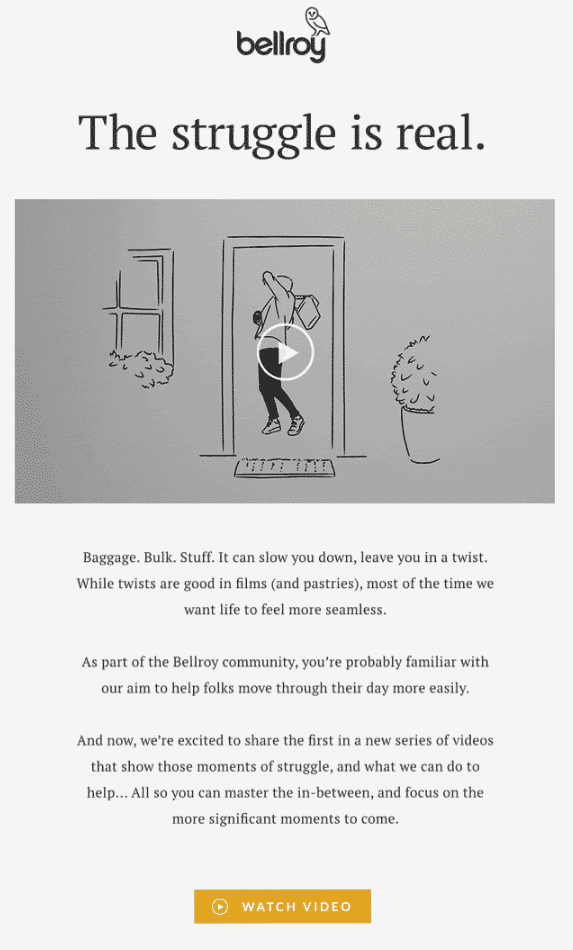 This just goes to show that just any type of business can brand themselves as a helper to their customers, making you all the more relatable in the process.
6. Simplify Your Language
Another quick tip to keep in mind!
When possible, avoid industry jargon and overly "sales-y" language ("CLEARANCE!" "DOUBLE YOUR MONEY!" "INCREDIBLE OPPORTUNITY!"). Staying away from this sort of language helps you seem less aggressive and likewise ensures that you avoid the spam folder.
When crafting your messages, ask yourself: does this sound like it was written by a person or a salesperson? What about a robot?
We're seeing a lot more "human" messages from companies, especially in the wake of the previously noted COVID-19 pandemic.  This message from SkyScanner is a brilliant example of a relatable message that's short, to-the-point and doesn't feel like a sales pitch.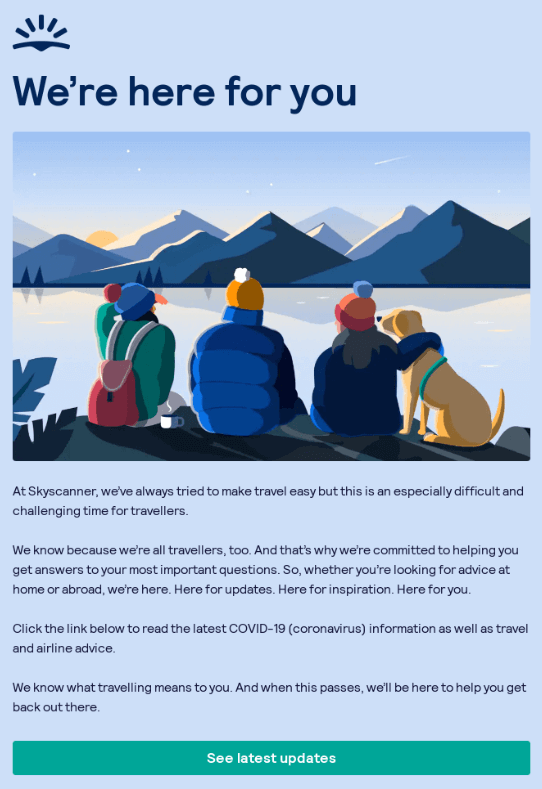 Here's another tip: run your email copy through an app like the Hemingway Editor before you hit "send." This tool can help you avoid awkward language and phrasing, ensures that your messages are easy to read and understand.
7. Ask a Question
Questions serve as natural conversation-starters between you and your customers.
They're particularly powerful when using in emails, too. As highlighted by Campaign Monitor, question-based subject lines are engaging and create a sort of instant dialogue.
Whether in your subject line or introduction, questions are a great hook to keep your reader wanting to see what else you have to say.
Below are some real-world examples of question-based subject lines that you can draw inspiration from:
 "Should you keep posting?" (MeetEdgar)
"What's better than birthday cake?" (Chipotle)
"Don't feel ready to publish your site? Read this" (GoDaddy)
All of these messages feel like they were written by a real person and engage customers as they naturally want to know "what's next."
8. Keep Your Messages on The Shorter Side
Imagine that your message is being read on-the-go or by someone in a hurry.
Reality check: most of your emails are!
As a result, you shouldn't try to overload your messages with information. That's the opposite of "relatable" to modern customers, honestly.
Keeping your messages shorter keeps you from dumping too much information on your readers. As an added bonus, they're less work for you to put together.
How long should your messages be, though? According to research, the ideal email length sits anywhere between 50 and 125 words.
Sure, that's a bit of a range. But the key takeaway is this: emails should follow the principle of "less is more."
9. Don't Lead Your Emails with a Promotion or Call-to-Action
You may not think that your links or call-to-action impact relatability, but consider that where you put your promos might be off-putting to readers.
There's plenty of debate about call-to-action placement. However, we suggest putting your links or buttons below at least some text so your promotions aren't too in-your-face.
Doing so also provides context to whatever your offer or deal is. This again helps you seem less spammy.
Below is an example from Tens Sunglasses, which comes off as conversational and manages to showcase a clear call-to-action without having to be spammy about it whatsoever.

Take note of the brief copy and image featuring an actual person, too. See how these tips work together?
10. Sprinkle Some Reassuring Power Words into Your Email Copy
To wrap things up, here are some quick power words to make your messages more friendly and relatable.
Whether in your subject lines, body copy or calls-to-action, any combination of these phrases is fair game.
"Thank you," serving as a way to show you gratitude and appreciation
"Welcome," providing a warm greeting to your readers
"Invite," again, framing your message as a friendly arrangement and not a sales pitch
"Understand," highlighting your sense of empathy and understanding
"Need," presenting your message or information as valuable and must-see
"Honest," showing that you're being real and authentic with your audience
"Listen," highlighting your willingness and desire to communicate (think: you want to talk with customers, not at them)
"Safe," reassuring your customers of risk or worry
"Now," making your messages seem timely and actionable
"Easy," showing that your offer or solution doesn't require a bunch of steps or a steep learning curve
And with that, we wrap up our guide to relatable marketing via email!
How Relatable are Your Business' Emails?
Conventional wisdom tells us that the more relatable your marketing and approachable your business is, the better.
Creating connections isn't always easy and there isn't a "right" way to do it.
But with a combination of these steps, however, you can craft messages with a serious personal touch that customers will actually remember and respond to.