Images in Paid Search Ads? Introducing Google's New Gallery Ads!
by Aden Andrus • June 12, 2019
If a picture is worth a thousand words, how many text ads does that work out to?
As great as paid search on Google is, it does have its limitations. It's great to tell someone about how great your cruises are, but wouldn't it be great if you could show someone what they're like? Reading an ad about how tasty and fresh your food is can be nice, but does it make you salivate the way a good picture of steak does?
Unfortunately, when it comes to paid search, we've had our hands tied this way for decades. We can tell, but not show.
Now, this isn't universally true. If you're in ecommerce, product listing ads (PLAs) allow you to show a simple image of your product on the Search Engine Results Page (SERP), but even Shopping ads are fairly limited. So, if you're advertising on the search network, you've always had to lean heavily on words to sell for you.
Until now.
During this year's Ads Innovation Keynote, Google announced a groundbreaking new paid search ad type: gallery ads.
To put it simply, gallery ads will allow businesses to run paid search ads with images on mobile. They won't roll out until later this year, but they have the potential to produce incredible results for many advertisers when they finally go live.
So, to help you get ready, let's take a close-up look at what gallery ads are, what they can do, what businesses will benefit most from them and what makes them such an exciting new advertising option. Sound like a plan? Let's dive in.
What are Gallery Ads?
If you've ever used carousel ads on Facebook and Instagram, gallery ads will feel very familiar. Like their social media counterparts, gallery ads are built around a swipeable carousel of images.
Basically, they'll look like this: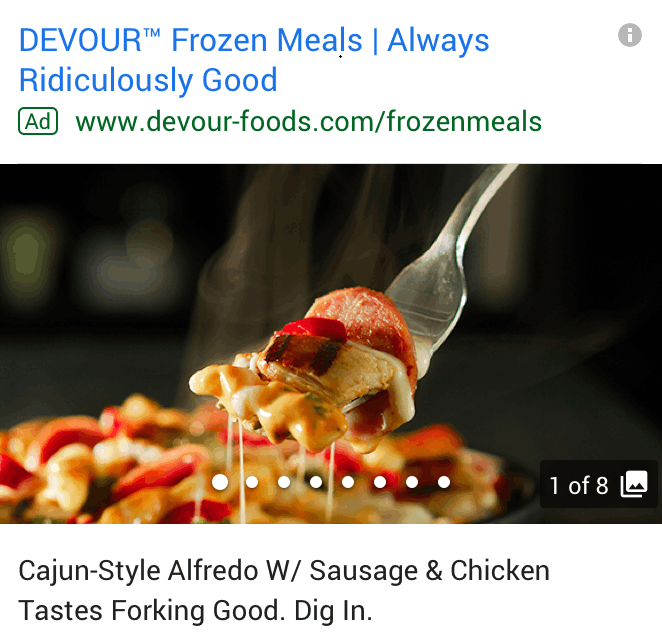 However, unlike carousel ads on Facebook or Instagram—or even banner ads on the display network—gallery ads will show up in response to a user's search query. That makes gallery ads intent-driven image ads.
Images in Paid Search Ads?
This is a big deal, because it addresses one of the fundamental problems with paid search: creating a compelling ad. Throughout the history of paid search, figuring out how to milk a compelling message out of a limited number of text characters has always been a huge headache.
How do you simultaneously reference the pain point that triggered the search, explain how your offer solves the problem, differentiate yourself from the competition, establish credibility and incentivize someone to click in 270 characters or less?
Tis a mystery that has stumped many marketers.
With the right picture, however, you can convey a lot of things in a single glance. That's what makes gallery ads so exciting. With these ads, instead of trying to pack everything into a few headlines and descriptions, you can use your image to connect with your audience and focus on selling with your ad copy.
And, as far as initial test data suggests, the model works. According to Google, gallery ads drive 25% more engagement (clicks and swipes) than a standard text ad.
The Details
As far as technical specifics go, gallery ads are currently only designed to show up at the top of the mobile SERP. Like carousel ads, gallery ads will have a static headline and display URL on top. Beneath that, advertisers will be able to add 4-8 images with associated descriptions that people can swipe through to learn more.
In addition to giving advertisers a lot more potential content to play around with, gallery ads will also allow you to create up to three different headlines that Google can choose from when displaying your ad. While this isn't a groundbreaking feature, it does give advertisers even more customization options to try.
What's the Point of Gallery Ads?
As we've already pointed out a couple of times, the biggest selling point of gallery ads is the fact that you can use images to make a quicker, more succinct (and hopefully more compelling) case for your business.
This new ad format is a reflection of Google's belief that search behavior is changing. People no longer simply use the internet as a giant encyclopedia/yellow pages, it's an integral part of their life. People don't want answers, they want help on their journey. As a result, we're seeing a shift queries to the queryless, from the text-based to the visually-inspiring.
At least, that's Google's take on things.
With that in mind, is it any surprise that Google's other big announcement also revolved around creating more image-based ad options for advertisers?
Like the new discovery ads, gallery ads are designed to speak to people in a different way from text ads. Instead of focusing solely on providing standard search result-type text content, gallery ads incorporate images in an effort to give people the experiences and solutions they're looking for—not just a text ad.
This is all good news for advertisers. Whether you believe in Google's new internet paradigm or not, images are a key part of selling many products and services, so having this new option at our disposal can only help increase our odds of creating effective ads.
What Kinds of Businesses will Gallery Ads Work for?
At first glance, gallery ads seem like they're designed for the same sorts of businesses that do well on Facebook or Instagram. Whether you're selling gym memberships, spa experiences or hotel stays, businesses with great visual content are a natural fit for gallery ads.
For example, say you are marketing for a car dealership. You could easily run gallery ads on upper-funnel keywords like "car dealership", "best suv" or "new car" that showed off exciting pictures of the vehicles you have in stock, how nice your dealership is, or new cars in epic locations.
I mean, this carousel ad is from Facebook, but just look at how compelling the visuals are!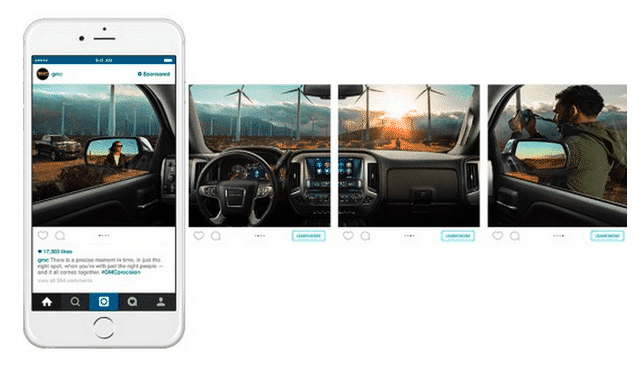 Alternatively, depending on how you wanted to market things, you could also highlight deals, prices or any number of things with your images. And that's just the tip of the iceberg.
So, if imagery is a key selling point for your business, you should be jumping on the gallery ads train as soon as it becomes available. If you don't, your competitors certainly will and you'll end up losing clicks to them.
That being said, since gallery ads only show up on mobile, ecommerce businesses probably aren't a great fit. Shopping ads are already image-based and dominate most of the SERPs for product searches. However, if you're advertising for an ecommerce company and have been running text ads on relevant keywords that don't trigger PLAs, you should definitely try swapping your text ads out for gallery ads.
But what about less photogenic businesses? Do gallery ads still work for them?
In a word, certainly! How many times have you seen a SaaS company, consulting service or even a law firm run ads on Facebook? How about display or video ads? Visual content works well for any type of business. Sure, it's easier to come up with compelling visual content for a spa than a plumber, but visuals convey emotions and ideas in ways that words can't. That's true no matter what you're advertising.
The trick with visually boring companies is to identify the right sort of imagery. To figure that out, you have to get at the heart of the value your business offers.
What's the value of signing up for a gym membership? Getting an attractive, healthy body. What's the value of hiring an accountant? The relief of knowing that your finances are being handled by a professional. Both of these concepts can be easily communicated visually—you just have to figure out what you want your images to convey.
What Makes Gallery Ads Exciting?
So, are gallery ads worth all of this extra effort? Well, think about it this way: Our brains process images 60,000 times faster than text. We make a first impression in less than 50 milliseconds and process images in 13 milliseconds.
You don't have to be a mathematician to realize that this means that most people form a first impression of your business before they finish processing your text ad. And, since people only remember 20% of what they read, all most people will remember about your ad is that improperly formed first impression.
But throw images into the mix…
Suddenly, people are processing your message before they form their first impression. Your actual ad copy will still lag behind, but you're out in front of the eight ball now. And, since people remember 80% of what they see, your ad is likely to be more memorable, too.
While text ads certainly work, they're somewhat lacking as an ad format. Gallery ads potentially solve many of these problems, so you can expect that they'll outperform text ads when used properly.
In fact, we already have good evidence for the effectiveness of gallery ads. As we mentioned earlier, the design of gallery ads isn't exactly novel. Facebook and Instagram have been using this format with their carousel ads for years, so let's take a look at some data on how carousel ads perform.
According to Facebook, City Beach—a beach-themed lifestyle brand—saw a 52% increase in (return-on-ad-spend (ROAS) and a 50% decrease in cost-per-action using carousel ads.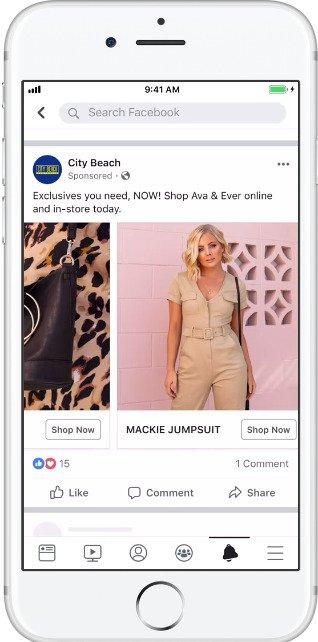 Similarly, Designs by Juju—an embroidery design company—increased their ROAS by 16x with carousel ads. While both of these examples are from ecommerce businesses advertising on Facebook, they clearly highlight how effective the carousel model is.
Couple that model with the high intent of online search and you could see some truly incredible results…which is why gallery ads are something you should consider trying as soon as they officially launch. It's hard to say at this point how gallery ads will perform for every business, but they are certainly an exciting new option!
Conclusion
After decades of limiting paid search ads to text-only content, Google is opening the door to image-based advertising on the SERPs. No one can predict what sort of an impact this will have on ad performance, but things certainly look promising.
Once this option is officially released later this year, you can expect to see a lot of advertisers trying it out. Unlike many new updates and features, this change is so big and obviously beneficial that most businesses will at least want to give it a try. Make sure you're among them, or you just might get left behind.
What do you think of gallery ads? Do you believe the hype or are you in "wait and see" mode? Does this move make sense to you? How do you think this will affect the future of paid search advertising? Leave your thoughts in the comments.