Your B2B "Buyer Journey" Sucks…Here's Why
by Aden Andrus • June 1, 2020
For B2B businesses, their customer journey is their business. To varying degrees, this is true for all businesses, but the customer journey is the lifeblood of B2B businesses.
An ecommerce site selling impulse buy products doesn't have to worry about building long-term relationships, dislodging pre-existing suppliers, providing killer onboarding experiences and offering ongoing, ever-increasing value to ensure that they don't get dislodged by a competitor in the not-so-distant future.
But for many—if not most—B2B companies, the customer journey is an integral part of every aspect of their business. From marketing to sales to fulfillment and beyond, the B2B customer journey is about forming a partnership between businesses, not just a way to make a quick buck.
As a result, if you don't truly understand your customers and their journey, you don't truly understand your business.
Unfortunately, we can't tell you how many times we've run into companies that didn't understand their customer journey and incorporate that journey into their marketing strategy—let alone their overall business strategy.
Not surprisingly, those businesses were struggling to achieve their goals and reach their full potential.
We want to spare you all of that. So, in this article, we're going to talk about what it takes to create a truly effective buyer journey for your customers. It's not an easy task by any means, but if you follow our recommendations, you'll be well on your way to landing more customers and growing your business.
Why Do Businesses Buy from You?
Before you can make any progress on your buyer journey, you have to take a step back and answer a fundamental question about your business: "Why do people buy your products, software or services?"
Odds are, you probably had an answer come to mind right away. Maybe you've got a great set of features. Maybe you're the cheapest option on the market. Maybe your team has an awesome track record.
Maybe your…we're gonna stop you right there.
You see, while all of these are great selling points, none of them actually answer the question, "Why do people buy your products, software or services?"
As a business—especially a B2B business—you're in constant competition with other companies. You work hard to make your products, software or services are as good and compelling as possible.
[clickToTweet tweet="Your customer don't care about features OR benefits. They care about MEETING A NEED." quote="Your customer don't care about features OR benefits. They care about MEETING A NEED. "]
Your customers, however, don't care about any of that. What they want to know is whether or not you can make life easier for them.
If they're actively searching for a new partner or vendor, they have a specific problem in mind that they want solved. You need to convince them that paying you is the best way to solve that problem.
If they're happy with their current solution, you have to convince them that what you're offering is worth switching to—which is often an uphill battle.
Either way, you can only win over a potential customer if you truly understand how your product, software or service will make life better for them. No matter how much time your business put into that new feature you just released, if your customers don't see how that feature will fix their problem, they won't buy.
Talk to Your Customers
So, why do your customers buy? If you haven't gotten on the phone and asked them lately, the answer might not be what you expect.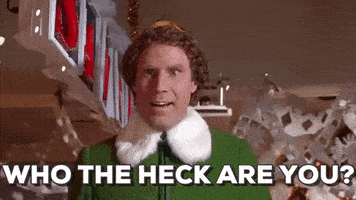 To your customers, their journey revolves around finding the best solution for their problem. Your job is to figure out how to ensure that their journey ends at your doorstep.
To do that, however, you have to understand their side of things. Consider the following:
What issues are your customers dealing with?
How are they currently handling things?
Are they happy with their current solution?
Do they even know that they have a problem?
How do your customers view your business, what you're selling and how it will affect them?
If you don't have strong, current, data-backed answers to these questions, you aren't ready to put your buyer journey together. You still need to get to know your customers.
Give a few of your clients a call, chat with your sales team, spend a day with customer service—get to know your customers and why they buy. Then—and only then—will you be ready to put together a truly effective buyer journey.
What is Your Buyer Journey?
As a B2B business, your buyer journey is probably fairly long and complex. It often starts long before a potential customer has even heard of your company…and ends long after they sign the contract.
Your buyer journey needs to account for all of that.
Here are just a few of the key questions you need to answer as you put your buyer journey together:
What core problem motivates my customers?
How do they become aware of that problem?
What makes them ready to invest in a new solution?
How do they discover my solution?
What's the sales experience like?
Does the sales process set the proper expectations?
How are those expectations met (and hopefully exceeded) once the customer decides to buy?
What is the customer's experience with our product, software or service like?
How do we ensure that the customer has such a great experience that they want to stay a customer and recommend our business to other potential customers?
For your potential, current and former customers, their journey is an experience. More often than not, businesses choose a new vendor, partner or service provider because they're having a bad experience. On the flip side of things, if your customers are having a great experience, they're more likely to buy and continue buying.
If you provide a great experience at every step of your buyer journey, it'll be much easier to win and keep your customers. As a result, your marketing will perform better, your business will grow and you'll be able to reach your goals.
[clickToTweet tweet="For your potential, current and former customers, their buyer journey is an EXPERIENCE." quote="For your potential, current and former customers, their buyer journey is an EXPERIENCE."]
The customer experience you're trying to provide should be at the heart of your buyer journey. The more strategic you are about creating a great experience, the easier it will be to incorporate that experience into every aspect of your marketing and business.
Refining and Improving Your Buyer Journey
All that being said, running and marketing a business is an evolutionary process. Markets change. New technologies emerge. The solutions your business offers will grow and develop.
To account for all of that, you can't just create a single buyer journey roadmap and call it good. Your customer experience is a living thing…and so is your buyer journey.
If you build out a solid buyer journey and call it good, you'll quickly lose touch with your customers, your customer experience will suffer and you'll be back at square one.
To prevent that, you'll want to constantly cycle through the following process:
Assess customer needs and segments
Map out your customer journey
Identify the desired experience
Figure out how to provide the desired experience
Implement your strategy
Measure results and identify opportunities
If you continue to work your way through this cycle on an ongoing basis, your customer journey will constantly improve. Your marketing will always be current, relevant and focused on driving the right experience for your customers—and the right results for your business.
Creating a Customer Journey Map
Marketing, sales, fulfillment, customer service, upsales, referrals, reviews…it's all a part of your customer journey. You'll need to think through every aspect of your journey and figure out what your business needs to do to create a consistent, compelling customer experience at each touchpoint.
For example, here's a sample journey from B2B International to give you a sense for what a solid customer journey looks like: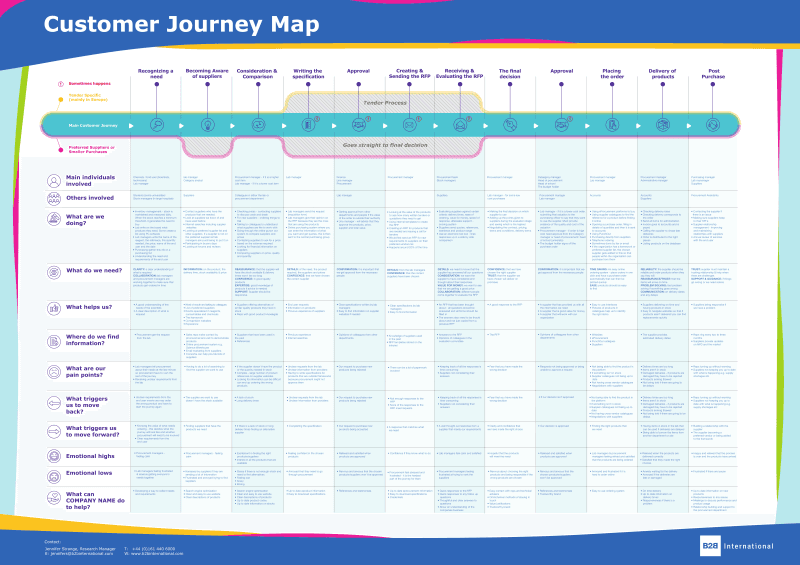 In addition, if necessary, you may need to hone in on individual touchpoints. For example, if your marketing strategy for the knowledge phase is particularly complex, you may want to break down your funnel inn detail in a separate document.
Getting all of your flows, timelines, messaging, targeting strategies and any other important aspects of a given touchpoint down in a single document can be a lot of work, but it will make it easy for you to integrate all of that content with the rest of your journey.
This level of granularity won't be necessary for every business, but for certain businesses, it can make a huge difference.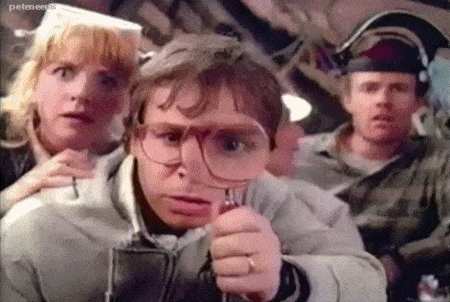 The more detail you put into your customer journey, the easier it will be to see how all of the pieces fit together. And, the better you (and everyone else at your company) understand your customer journey and how what you're doing fits into that journey, the better your overall customer experience will be.
Conclusion
If you're like most of the B2B businesses we've worked with over the years, your customer journey (if you have one) could probably use some work. At a minimum, it likely needs a refresh.
The good news is, the principles outlined in this article should put you on the road to success. It won't be easy, but if you're willing to call up your customers, see things from their perspective and then boil that down into a detailed roadmap that outlines how your business interacts with your customers in every stage of their journey, you should be well on your way to success!
By the way, if you'd like some help improving your customer journey and your marketing in general, let us know here or in the comments. We'd love to help!
Have you created a customer journey before? What did you learn? Any tips to share? Leave your thoughts in the comments below.