Brew Up Some Spooktacular Halloween Marketing Ideas
by Cydney Hatch • October 12, 2018
Double, double, toil and trouble, the holiday shopping season is upon us!
Watch out! First stop, Halloween.
Believe it or not, Halloween is the fourth most popular holiday that gets consumers to open up their wallets (after Christmas, Thanksgiving and Easter), but most of the time, retailers put their holiday marketing focus on Thanksgiving onward and miss out on a lot of great marketing opportunities.
Do not make this mistake.
Halloween is a big deal. From candy to pumpkins to even costumes, Halloween marketing is a massive industry (I mean, look at how successful the retailer Halloween Spirit is…it's like a corporate hermit crab just waiting for something else to go out of business so it can move into its shell, be open for a month and disappear. Mad respect.)
This year, the US alone is predicted to spend $9.1 billion in Halloween expenditures.
But, Halloween is more than that, it is truly a consumer holiday that allows people to express themselves, be creative and festively celebrate. So, to help you start your holiday marketing right, let's take a look at Halloween marketing and Halloween ideas you can use to kickstart your business's holiday season craze!
Halloween By The Numbers
To help your business get ready for this holiday, here's a glance at Halloween by the numbers:
Total planned spending is estimated to reach $9.1 billion, up from last year's $8.4 billion. Costumes will make up the largest share of spending, coming in at roughly $3.4 billion. Men ($96) plan to spend nearly $20 more, on average, than women ($77).
64% of celebrants don't plan to begin shopping until October, but over a third will start in September or earlier.
What's the cost of a few bags of Halloween candy? In 2017, more than two-thirds or 70.6% of Americans handed it out, spending around $25 each.
The number of those shopping this early has grown 11% since 2013, when we first began asking this question.
Men (24%) are significantly more likely than women (17%) to wait until the last two weeks of October to begin their shopping.
49% marketers say they will launch a holiday campaign before Halloween, according to Experian Marketing Services, a global information services company. They indicate the most popular time to launch holiday campaigns overall is the first 15 days of November.
158 million consumers who will participate in Halloween activities
$2.6 billion is expected to be the total TOT +0.05% spending on costumes, from the 43.6% of people who plan to dress up (NRF). Children's costumes rack up $1.04 billion while adult costumes are expected to reach $1.22 billion. And…
$360 million is the amount expected to be spent on greeting cards (NRF).
29% of people who plan to shop for Halloween at a department store (ADRS) (and in preparation for the other holidays…).
Typically the best time to start your Halloween marketing is in September, depending on your target audience
With these numbers in mind, there are definitely perks to including Halloween marketing in your holiday plans!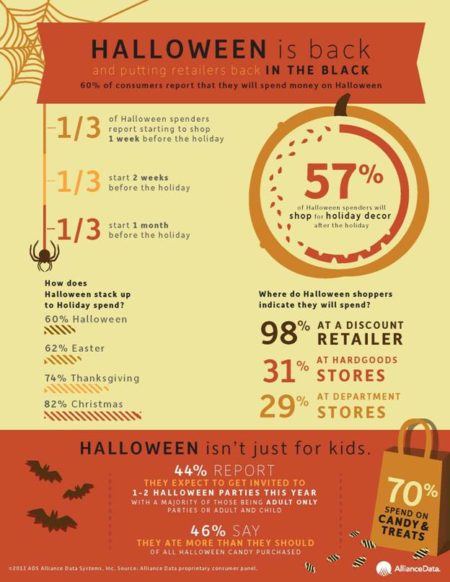 If this is a new holiday you want to include in your holiday marketing campaigns or you just want some more ideas, let's take a look at some Halloween marketing you can use below!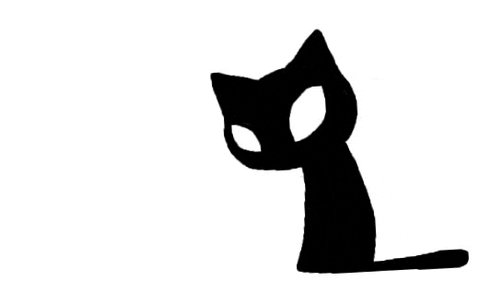 Don't be a scaredy cat!
Halloween Marketing Ideas to Brew Up Business
If you're a marketer, this holiday season is a great time to build your business through Halloween-themed campaigns that spook, spell bind or frighten your customers into engaging more with your brand.
The choices may be limitless! So, let's take a look at Halloween marketing ideas you can use for your business's holiday season.
Halloween-ize Your Products
If your business doesn't sell Halloween stuff, you might be scratching your head trying to figure out how to get a boost in revenue this holiday season.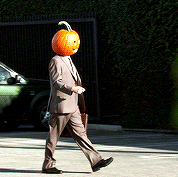 But do not fret! You can get into the Halloween spirit!
Even if your business isn't spooky, you can still "Halloween-ize" your products, services or even design your items in a festive way to bring in the Halloween shoppers! So, if you are a restaurant, offer some Halloween desserts. If you are an ecommerce business selling clothing, create a line of Halloween themed shirts or items. If you are a gym, create a fitness event that raises money for local charities and requires participants to dress up in costume.
Heck, if you are a tech company, create content that talks about how something "bytes" with vampires on it and do a Halloween photo contest giveaway to the best use of your products for Halloween.
The possibilities are endless!
As an example, Astro Doughnuts & Fried Chicken (One of my favorite places in D.C.) creates Halloween-inspired mini doughnuts every year that have fall flavors like pumpkin pie and candied apple to get their customers in the spirit. YUM!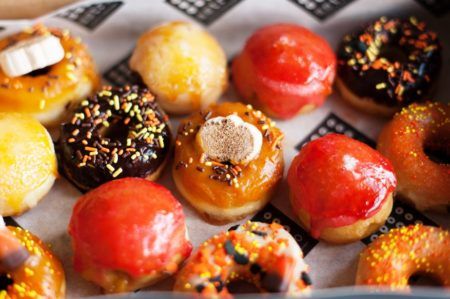 Like these examples, Halloween is not just reserved for products like masks, candy, costumes and fall agriculture. You can adapt the holiday for your products and business easily to get people involved and excited about your business!
Create a Branded Spooky Video
Video can be an effective way to communicate your brand's message as its continually growing in popularity. Halloween offers you the opportunity to get spooky about your products or what you do as a business to grab people's attention.
At Disruptive, we created an eBook and video series around the idea of Van Helsing, entitled "Van Helsing's Guide to PPC Advertising: The Monsters are Real…"
In the ebook, supplemented by the intro video above, we shared the horrors that can happen in PPC campaigns and explained exactly how to drive them out of your PPC efforts.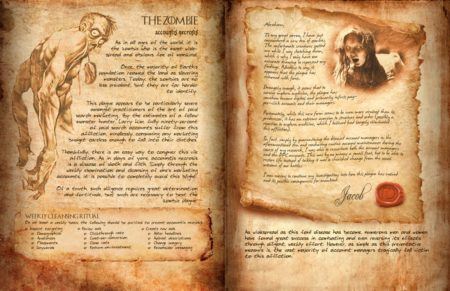 As a result, something that is often quite dry to talk about was made fun by creating analogies between monsters and PPC mistakes (to download the guide, all you have to do is click here).
Another great example of taking your brand to video is LG's new screen launch!
A few years ago, LG wanted to showcase their new "lifelike" IPS monitors. To show how realistic their displayed images could be, the company installed nine monitors into an elevator that played a video of an elevator floor breaking after anyone stepped in.
Talk about scary!
The result? A hilarious viral video (over 47 million views) of people frightened by the floor "falling" through. Again, this is a great example of how you can create perfect Halloween-like content that can drive a lot of traffic to certain products or services you feature.
By creating videos that explain what your business does, showcasing products and their features or simply sharing a funny video with your branding, you connect with your audience and educate them on your business values.
Add Halloween to Your Branding
One of the simplest ways to get your business in on the Halloween fun is to just incorporate popular Halloween symbols into your branding. Whether its simple jack o lanterns in your signage or logos for Halloween week, or having fun with pop culture references that are scary, you can create buzz around your business.
For example, check out this idea by Lyft:
Creating cultural relevance on popular Halloween trends like Stranger Things, "IT", Nightmare Before Christmas, etc can help your virality and show your potential customers that you are "hip", relevant and understand their love for Halloween things. It can be simple or small but people appreciate fun.
If that is not the way you want to go, you can simply make simple branded promotions like Kate Spade did below: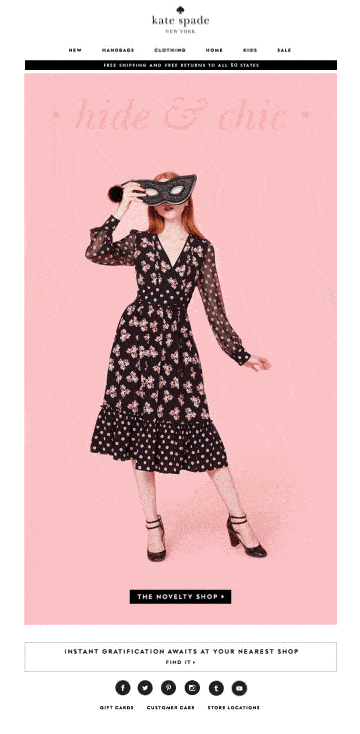 If you want to dabble in social media, add some festive flair to your online presence: Let the Halloween spirit take over your social media accounts, like Facebook and Instagram! By posting Halloween-themed images and messages you are sure to attract many likes and shares from your Halloween-obsessed followers. Awesome examples of this of businesses not typically associated with Halloween are Disney and JetBlue:
https://www.instagram.com/p/uY2kHOKMww/?utm_source=ig_embed
https://www.instagram.com/p/uawOwIganq/?utm_source=ig_embed&utm_campaign=embed_video_watch_again
Whatever you decide, Halloween branding can go hand in hand with any business! Have fun with it!
Create Interactive Halloween Promotions
Boost user engagement and conversions by hosting an online Halloween promotion. By holding a fun, gamified online promotion, you can invite potential customers to participate in your Halloween festivities! Not only that, but you'll make shopping on your website an entertaining and rewarding experience.
For example, New York jeweler Kendra Scott does this well by offering customers the chance to search its website for hidden pumpkins that reveal store discounts.
Like them, give hints that lead viewers to various spots on your website. These might require Google searches to find landing pages, finding Tweets to get links to the right pages, or scouring blog posts for additional hints. Those who finish the scavenger hunt should win something pretty sweet for participating.
The real prize, though, is how much they'll learn about your company as they skitter through the pages of your website.
Google is another great example of just having a section of their site customized for relevant times, such as holidays. One of my favorite Halloween promotions they did was the "Wizard cat" 2016 game that you could play straight from their Google Search interface.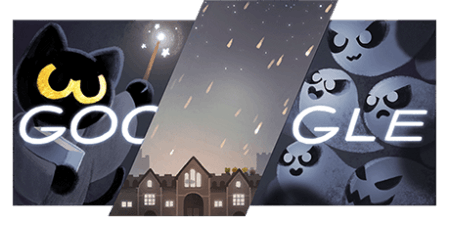 This quick and easy to use game led many people to waste more time on Google during work hours—a win for Google! People enjoyed the game so much it went viral and like anything that people talk about, it was great exposure!
Like these two examples, there are fun ways you can have potential customer's interact with your website and other platforms. Some might just be for experience, but others might be calculated for them to see things on your website and drive them to purchase. Either way, it's a win-win!
Use Some Hashtags
Hashtags are the staple of all social media because they organize events, ideas and trends into channels. Looking for #HalloweenCostumeInspiration? There are social media channels full of videos and photos specifically for that tat topic that will easily leave you inspired with new ideas!
A hashtag contest is the simplest way to gather user-generated content (UGC), increase brand awareness and reach a new audience. And people who participate in UGC campaigns are more likely to become customers.
Since this is a nifty tool, as a business, you might want to dabble with a clever, memorable hashtags and unleash it on your social media followers with some incentive, like prizes or a contest.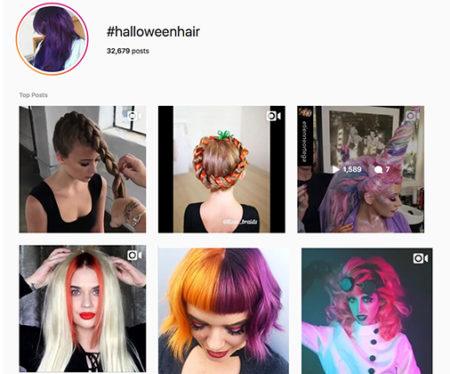 For example, if I was a haircare company who wanted to do a social media promotion for halloween I could use the #halloweenhair hashtag and run a photo contest for the best halloween inspired hair updo/hairstyle. Winners participating could win free haircuts at a salon we collaborated with on the giveaway, free products or a substantial discount code.
If you want to keep things more simple, simply post meaningful, eye grabbing  content with popular hashtags to get traffic! Hashtags are an easy way to track interaction with your brand's specific traffic!
Halloween Theme Content
People love specialty content, so a great way to drive more holiday shoppers to your website is by publishing Halloween-themed content readers will love!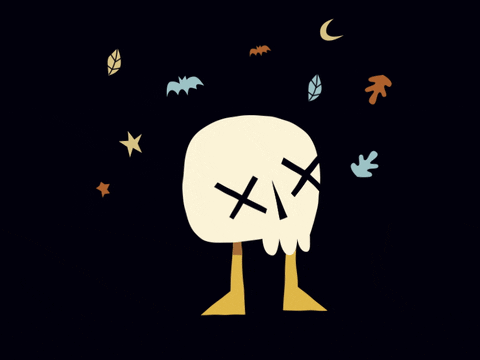 According to Demand Metric, content marketing generates approximately three times as many leads as outbound marketing and costs 62 percent less, making it the perfect strategy to boost sales for your small business this season.
So, as a business you could easily create content that is Halloween themed or can educate readers during busy times of their lives AKA the holidays! Blog posts, infographics and visuals could include topics like:
"Scary Things" About Your Industry You Didn't Know
Myths and Ghost Stories About Your Business: FAQ Answered
Pumpkin Carving Stencil Downloadables of your Brand Logo/Imagery
DIY Blog Posts
How To's
Halloween Themed Ideas
Downloadable Halloween Guide for Sales Tricks & Engagement
The list can go on, but creating valuable content that is fun to read is always a win for engaging with your potential customers!
Website Organization
A simple way to make a Halloween splash on your website is to simply create Halloween sale banners and bundle items you can pass off as Halloween-ish.

It can be as simple as changing the color on some items to orange and black and making them limited edition items to labeling "scary good prices" off of regular items in your store. Regardless, Halloween sale visuals can work for your business!
Brand Personal Connection
Customers want to interact and be a part of the conversations your business is having instead of being told to simply "buy" or "not buy. So, a great way to deepen your connection with potential and current customers is to create interactive conversations.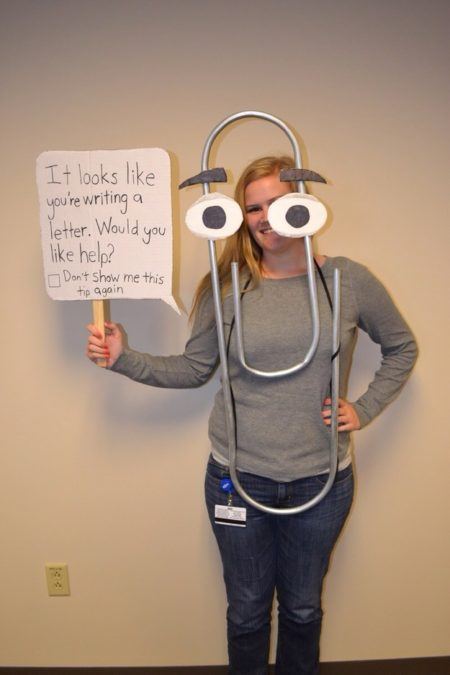 Introduce your staff members, tell people what they do at your business and have them compete in a costume contest and let your buyers be the voters during a LIVE video session, etc. Those who participate should get a little something for giving of their time which pushes them to possible purchase from you but also gives them a personal connection and positive feeling.
Collaborate With Other Ghouls
The holidays are definitely times for people to celebrate and come together. So, like your customers, you can too come together with other businesses for marketing!
Lots of downtown areas host special Halloween celebrations for families and local residents. Take advantage of these events by offering sales or special promotions, or even just having the best decorations and costumes on the block. People also love visiting attractions like apple orchards and cider mills so you can connect with one of those attractions and offer a discounted ticket or other promotion when customers shop with you. It could lead to new business for both of you.
As a business, you can also cross-promote and do combined give away packages that are Halloween-themed. For example, AirBnB two years ago, gave away a night at the Catacombs… a creepy underground ossuary! Not only was this a once in a lifetime opportunity to have an exclusive experience, but Airbnb bundled it with a dinner and a free concert.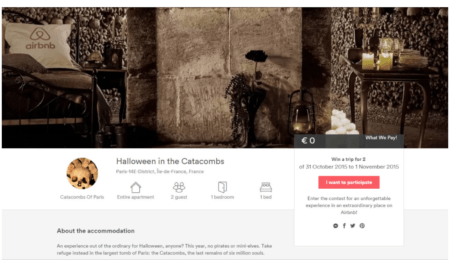 In their promotion, they asked potential customers if they would "ever be brave enough to spend the night with the remains of six million people?" The winner would spend a night there and included a free concert and dinner! Airbnb partnered with other businesses which made this experience even more desirable—leading a lot of people to their website!
Trick or Treat Shopping Carts
Although you cannot fill your customers' bags with literal treats, you can send small treats or themed gifts with customer purchases on Halloween or during special times during October. People love free incentives to justify purchasing stuff, so give them that reason!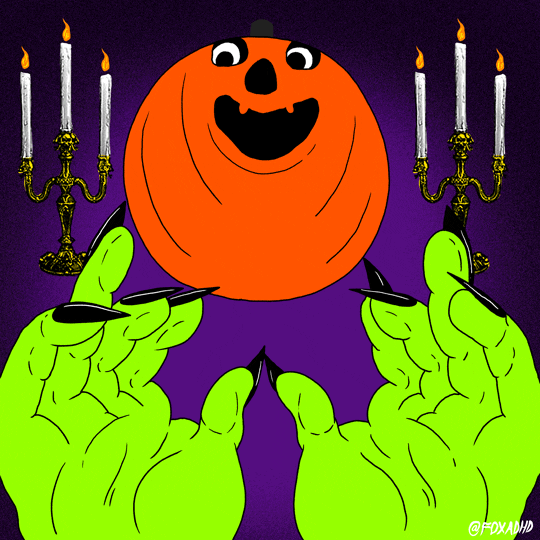 They're much more likely to remember the experience of shopping with you favorably. It's a great way to get shoppers to remember you from your marketing at Halloween.
Halloween Marketing: A Scary Good Time!
Halloween marketing…it doesn't have to suck!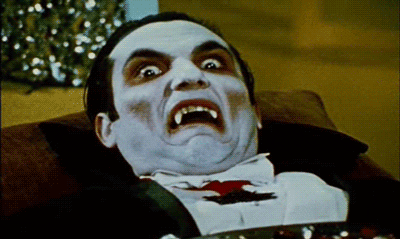 Hopefully these spooktacular ideas get your creative juices brewing on how you get jump start your holiday marketing engagement early!
Start planning and scheduling your seasonal marketing campaign as soon as possible so that by the time the most haunting night of the year rolls around, you'll be able to focus on turning trick-or-treaters into customers—instead of being frighteningly swamped. If you want some additional marketing tips for Halloween onward check out BigCommerce's holiday article here.
If you do dabble with any of these marketing ideas, we want to see what you've got! Post a picture of what your store is doing for Halloween (be sure to tag us @Disruptiveads on Twitter & Instagram) and we'll give you a shoutout!
Wishing you an eerie, spooky, hair-raising, spell-binding Halloween!