Understanding Internet Advertising: The Basics
by Cydney Hatch • February 22, 2018
Internet advertising has been around since 1994, but things have changed quite a bit in the last quarter century. Just take a look at the the first banner ad! Ta-Da!

No, this was not designed in Kid Pix or Microsoft paint. Back in 1994, the internet was a bit more simple. It was with this ad Wired Magazine started online content and advertising.
From simple banner ads like the one above, to pop ups, to now video production ads, internet advertising provides businesses with billions of opportunities to reach target customers via computer and now mobile phones.
With people spending most of their day staring at a screen looking for products, people and places, it's crucial for businesses to use internet advertising! But, internet advertising is a $82 billion dollar industry, so it can be a intimidating place to navigate with many lingo terms, options and platforms to master! Let me help you with all that in this article.
Internet Advertising Channels: Search, Social and Display
Internet advertising can split into three categories: search, social and display.
Paid Search
Search advertising, also known as paid search and search engine marketing (SEM), are online ads that appear in search engine results on platforms like Google AdWords or Bing Ads.
So, whenever a person uses a major search engine to look up a certain product, search advertisements are the ones that will be appear in the top areas of your Google or Bing search.
For example, if I wanted to buy a dog bed for my French bulldog Nigel, I could Google "dog bed" and get the following results: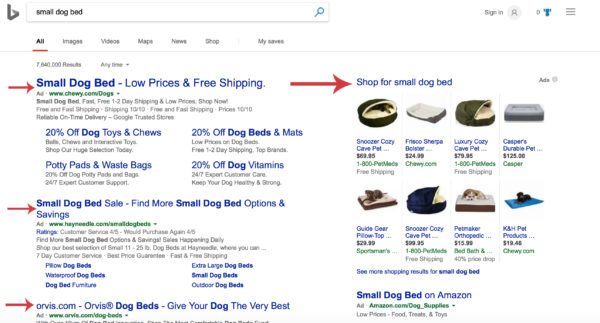 Here's what the same search would get me on Bing: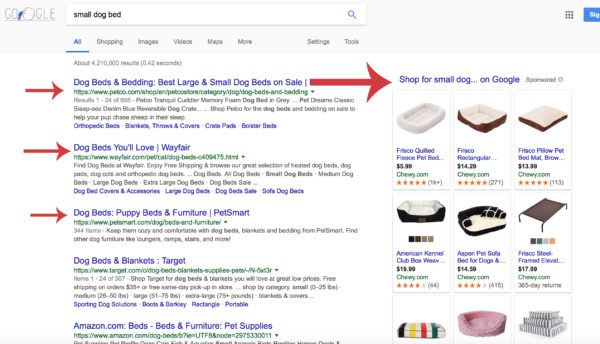 As you can see, paid search advertising is solely focused on intent-based results! You are marketing with the intent to buy!
So in the example above, Nigel would most likely be getting a bed today because I am seeing direct results I can purchase. What a happy puppy!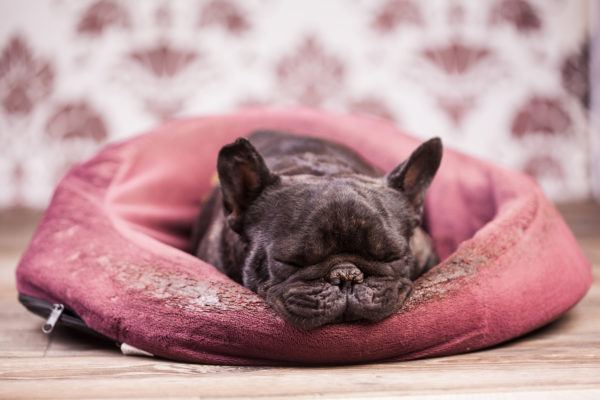 This is a great way to advertise because you're giving the potential customer products and services they want! This leads to high conversion rates and value.
So how do you pay for search advertising?
Paid search advertising uses a pay-per-click (PPC) advertising model, which means that every time your ad is clicked you pay the search engine for that traffic.
Paid Social
Social advertising or paid social ads are advertisements that appear on social media platforms. Social media platforms like Twitter, Facebook and Instagram are paid to promote a business through boosted posts, offers and promotions.
Social ads help you target potential customers by personal, professional, demographic and behavioral parameters which allow you to reach the people who are most relevant instead of buyer intent!
An example of this would be a "sponsored" Facebook post that is used to increase the post's presence or a Instagram advertisement: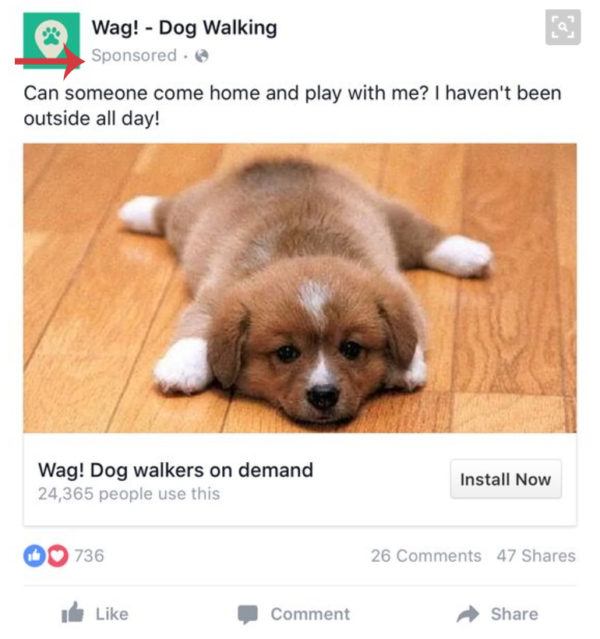 Here's what a paid social ad looks like on Instagram: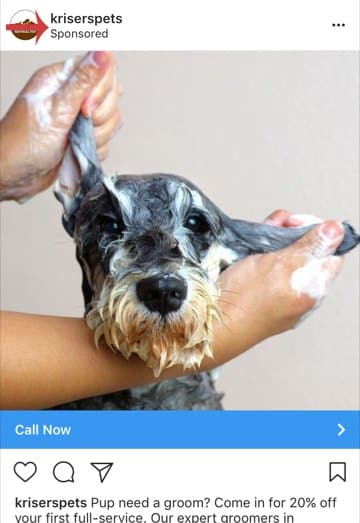 Using paid social advertisements, you are able to use effective targeting, call to action buttons, useful tracking and analytics to see fast results in relevant platforms everyone uses daily!
Display Advertising
Display ads are the ad boxes that are on the tops or sides of a website. They can be traditional banner ads or even videos. These types of ads appear on sections reserved for paid advertising and are aimed at generating call to action.
For example, many news websites are full of video ads and clickable banner ads that are even that much more aggressive making you watch five seconds of a video before you can get into the content you came for.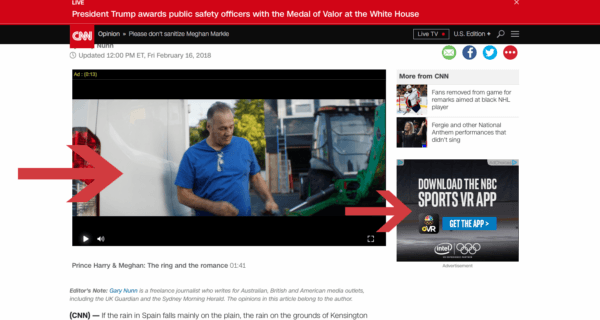 Display advertisements are effective as they have a wide spread across millions of websites reached by Google's Display Networks. These search engines share your ads to websites and apps based on keywords targeting preferences.
Display advertising is a lot like a digital billboard and there are a couple of ways to pay for it:
1. Cost per thousand impressions (CPM)
With this model, you pay to have your ad load in front of people a certain number of times. Every time your ad loads, it makes an "impression", so paying for impressions is called a "cost per impression" advertising model. Since display ad impressions rarely lead to clicks and conversions, most advertising platforms charge a cost-per-thousand-impressions (CPM).
Fixed cost
Fixed cost is when you set a specific amount you are willing to pay for your ad to be displayed for a period of time, regardless of  engagement. Usually these are created through network partners who will run your ads across a range of websites, based on your targeting.
Paid Search, Social and Display: The Perfect Combination
To progress in this digital age you need to balance search, social and display ads to maximize your marketing efforts. All will bring strong and unique elements to your strategy for a more holistic approach.
Now, to dive in deeper into using these platforms, I wanted to break down some of the campaign elements you will find in search, social and display.
Internet Advertising: Campaign Elements
In addition to the three main internet advertising channels we discussed above, there are several key campaign elements you'll want to get right as you start advertising online.
Landing Pages
Landing pages are web pages that a person is taken to after clicking an ad. Landing pages are separate from your website and are designed to only receive campaign traffic.
Now, these might be confused with a website homepage but do not make the mistake of linking an internet advertising campaign to your homepage! Your homepage is designed for people to explore your brand and has link toolbars to navigation other areas of your site. It's designed for website viewing not targeted action.
So, for example, Afton Photography has a landing page on the left that asks for people to sign up for a photography session whereas the right image is just their general homepage.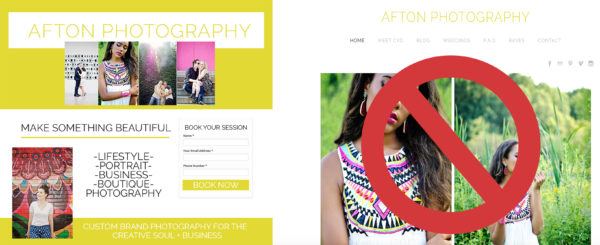 Your landing pages are designed for one purpose only: results! These results can be making a purchase, getting contact info from potential clients or downloading a piece of content for future leads.
Sponsored Content
Many advertisers choose to utilize sponsored content as a way to boost their exposure. Sponsored content can take many forms:
Native Advertising
Native advertising is paid content that is shared on a publication site that aligns with a business's established  style and provides the kind of information that the site's audience wants.
For example, Forbes shared a articles talking about Instagram Influencers you should follow: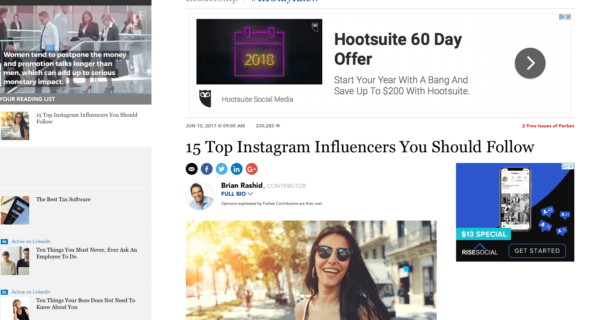 Does Forbes contain native advertising? Absolutely!
The page, obviously targeting Instagrammers, has ads portraying businesses that will help you build your social media following like RiseSocial and Hootsuite!
Social Media Boosted or Sponsored Content
Paid social media content is shared to your target audience based on parameters you set. Most social platforms have this feature, like Facebook's Sponsored Posts and Twitter's Sponsored Tweets.
Video Ads
Visuals, particularly videos, are the key to marketing success in today's world. In fact, 25% of Instagram's advertisements are now in video format with a click through rate of 1.84% (and that number is on the rise). Look around most website advertisements, many have video content!
Generally, video ads have become one of the best ways to grow your business because people are consistently hungry for content. Videos give them engaging content that you can use to directly market to your potential clients in a concise way.
Marketing Analytics
Advertising is not left to chance for magical success  Advertisers should track how ads are performing and where their traffic is coming from. This is why analytics is an important part of internet advertising strategy.
Using marketing analytics, you can examine your audience demographics, impressions, click through rates, cost per conversion and many other trends over a set of time.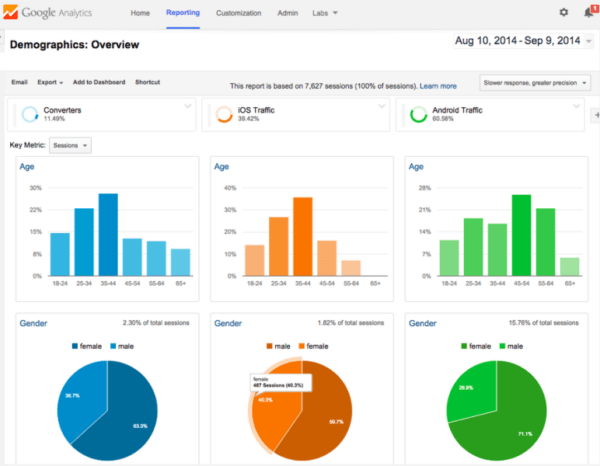 Using these insights, analytics and responses allows you to work smarter, not harder. This information helps you tweak future ads to be better. If something isn't working, you can change it. If something is working, you can figure out how to continue advancing and promoting that idea—with more money and resources.
Email Marketing
Email marketing is when a business will send some type of targeted email to a purchased lead list or a customer list. These emails can be newsletters, promotional emails, appreciations, or even content downloads.
Email marketing is the cheapest form of internet advertising as it is essentially free to complement other digital marketing efforts.  All you usually have to pay for is some sort of email marketing service like MailChimp, Hubspot or Autopilot. Easy peasy!
Remarketing
Ever browse through a website, click out the tab and later see ads featuring some of the items you were browsing? If so, you have been remarketed to!
Remarketing has become one of the most important tools in a digital marketer's toolbox as it helps people move towards final purchasing.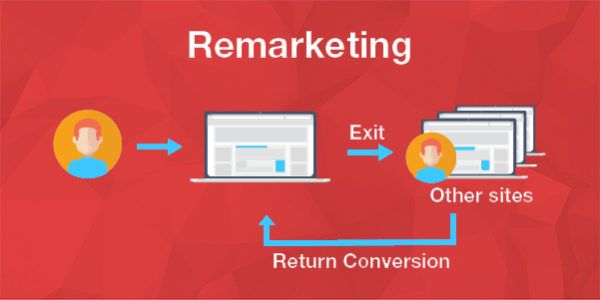 Remarketing allows you to track users who have visited your website—without a purchase or action—and shares your ads on other websites. Think of this as the ultimate digital stalking, products will stay on your mind and follow you!
This remarking strategy increases brand awareness and usually helps with conversion!
Conclusion
The above essentials are key strategies to consider when looking to expand your marketing efforts.
Dive in, setup a business plan, get creative, build meaningful relationships, and enjoy the internet marketing of today! The opportunities and level for success are endless!
By the way, if you'd like help picking the right internet advertising channel for your business, let me know here or in the comments. I'd love to help!
What is your favorite internet advertising channel? Any internet advertising tips you'd like to share? Leave your thoughts in the comments.