A Quick Guide to Local Marketing With Pokémon Go
Direct paid advertising hasn't hit Pokémon Go yet. But, you can still use the app to increase local traffic to your business.
July 5th forever changed the Pokémon world. In case you've been living under a rock, by now we've seen sights like this:
Pokemon GO is just insane right now. This is in Central Park. It's basically been HQ for Pokemon GO. pic.twitter.com/3v2VfEHzNA

— Jonathan Perez (@IGIhosT) July 11, 2016
News headlines like these: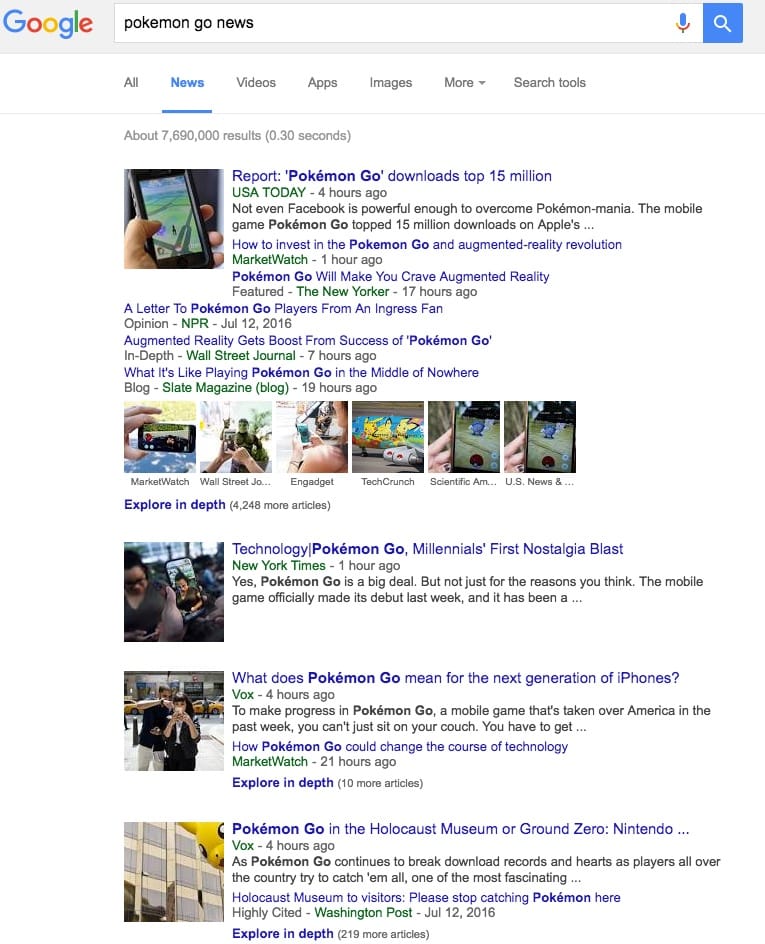 and battery/data usage like this:
Pokémon Go has taken the world by storm. Its app downloads and usage are beating Tinder, Twitter and What's App.
With all the buzz about Pokémon, it's natural that business owners and marketers alike want to know—how do we get in on the action?
Capitalizing on Pokémon Go
Unfortunately, advertising isn't available on the app, yet, although that is doubtless in the works. However, until then, there are a few easy ways to use Pokémon Go to drive local traffic to your business.
Is Your Business a Poké Stop or a Poké Gym?
If you're interested in using Pokémon Go to increase traffic for your brick-and-mortar location, start by checking to see if your business is a Poké Stop or a Poké Gym.
Just in case you haven't tried Pokémon Go yet, let me explain what Poké Stops and Poké Gyms are.
In Pokémon Go, Poké Stops and Poké Gyms are destination points for users. At Poké Stops, players can acquire items that help them capture and train their Pokémon. At Poké Gyms, people can use their Pokémon to win over that location for their team, either red, blue, or yellow.
The good news for you is, in order to use either Poké Stops or Poké Gyms, players have to be physically present.
So, if your business happens to be home to a Stop or Gym, you can expect to see people wandering in or around your business with their noses in their phones.
There are two ways to check to see if your business is a Poké Stop or a Poké Gym.
You can download and open the app in your place of business
You can search for your business here. If your business shows up on this site, there is a good chance that it's a Poké Stop or a Poké Gym.
Once you know how close your business is to a Poké Stop or a Poké Gym you can craft a strategy to attract customers to your business.
Yay! I'm a Poké Stop or a Poké Gym…Now What?
If your business is a Poké Stop or a Poké Gym, you're in luck. People will already be stopping by to collect items or train their Pokémon—the trick is figuring out how to get their attention away from their smartphones and redirect it to your business.
There are a variety of ways to approach this. For example, you might put a sign in your window saying something like:
15% off drinks when you show us your app.
Free $25 gift card to the first 20 people to snap a picture of Pokemon in our store.
One free appetizer if your team is currently occupying the local gym.
In addition, you can use social media to advertise the fact that your business is a Poké Stop or a Poké Gym. For example, check out how the Metropolitan Museum of Art is using their Gym status to get people to visit their museum.
How Do I Get More People to My Location?
If you want to get even more out of your proximity to a Poké Gym or Stop, you can try dropping Lure Modules.
In Pokémon Go, lures are used to attract Pokemon to a specific location for 30 minutes. It doesn't matter who drops the lure, anyone in the range of a lure gets the benefits of the lure. Even if you leave a location, the lure will stay at that location.
And, all Pokemon trainers can see lures within their area. Since Pokémon Go is all about finding and capturing Pokémon, players naturally head towards lures because they know that they will find more Pokémon near a lure.
In effect, by dropping a lure, you make your business a premium go-to location for Pokémon players!
In fact, lures are an even bigger draw for players than Poké Stops or Poké Gyms, so dropping a lure will almost certainly bring traffic to your location (to learn how to set a lure, click here).
For example, we recently checked out the Poké-scene at San Diego's Balboa Park. Although the park was littered with Poké Stops and Poké Gyms, guess where we found this group of 100+ people?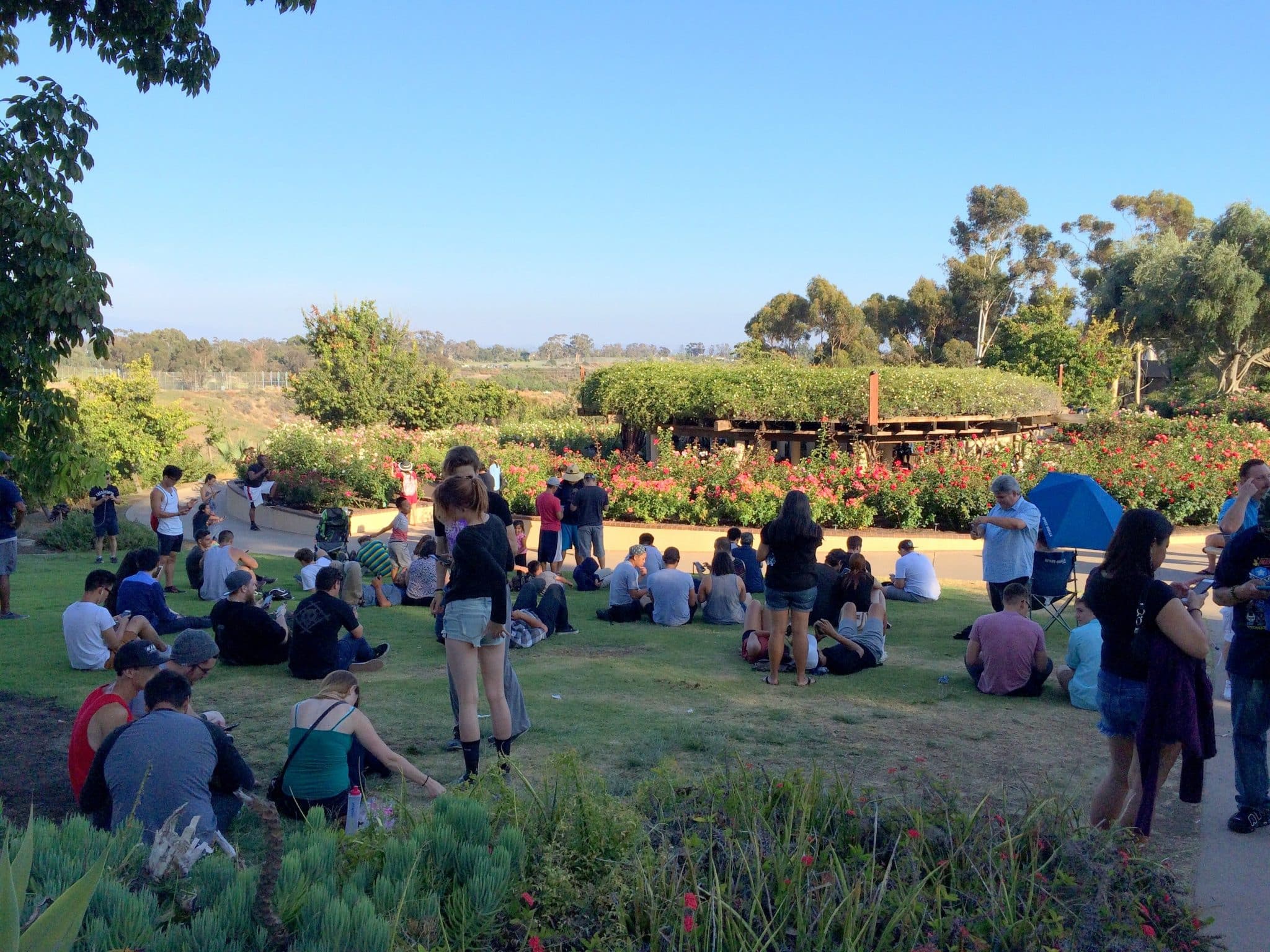 You guessed it—near a bunch of lures (the boxes with confetti around them):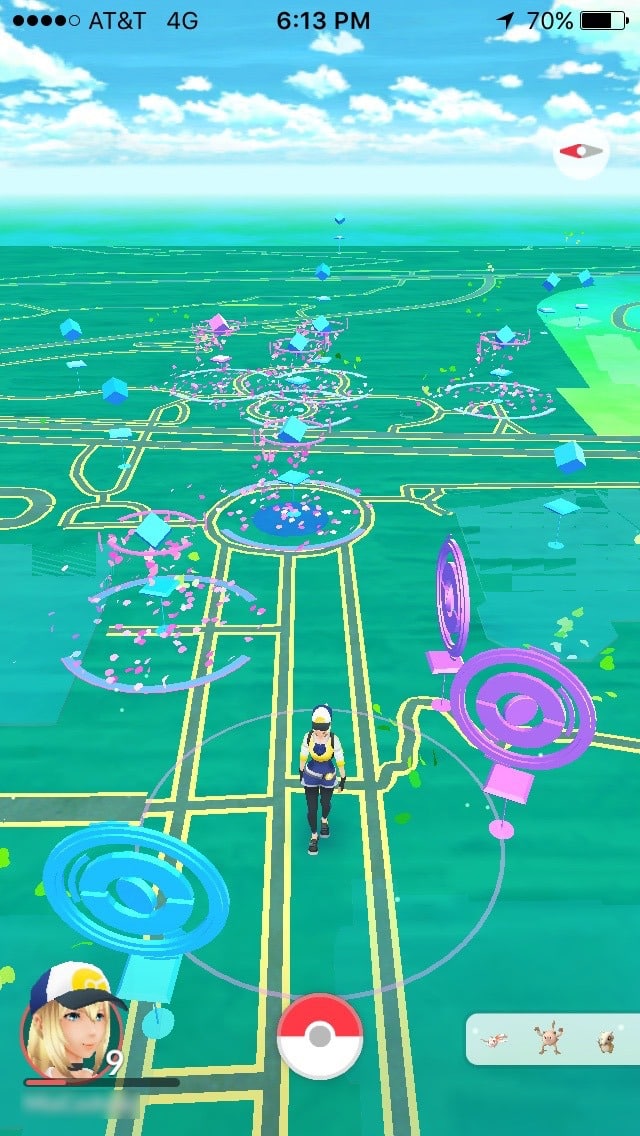 Some pubs and restaurants are even turning Pokémon Go into an event by organizing a pub crawl event on Facebook or placing lures during dinner hours to draw people to eat there.
By organizing an event during slow business hours, you are drawing in customers during a time of day you usually aren't making much money.
Best of all, lures only cost $1 (or less if you buy them in bulk), which means that you can draw a lot of extra traffic virtually for free!
Other Ways to Take Advantage of Pokémon Go
In addition to making your business an in-game stop, there are several out-of-game ways to take advantage of Pokémon Go.
Pick a Team
Pokémon Go has three different colored teams for the players to join. Players can be pretty proud of their teams, so maybe consider picking a team and offering some sort of promotion to players of that team affiliation.
It might be beneficial to see what team occupies the most local gyms to get a feel for which group might be the most prevalent in your area. Or you could just pick the team that seems to have values you like…Or you could just pick the color you like most.
Set Up a Phone Charging Station
Pokémon Go currently drains your battery like crazy. If you are capable of hosting a charging station, you can give Pokémon Go trainers access to a charging station in your business for free, a small fee, or allow players to charge their phones while they attend a program or service.
For example:
Columbia Street Baptist Church is a charging station for those playing Pokémon Go @WLBZ2 @WCSH6 pic.twitter.com/4Dlj2OMXbR

— Jackson Grimm (@JackCameraman) July 11, 2016
Create a Referral Program
Walking on foot and exploring are a core element in Pokémon Go. So, even if your business isn't a Poké Gym or a Poké Stop and you aren't willing to pay for a lure, people will still end up catching Pokémon in and around your business.
For example, our Director of Marketing recently found a bug Pokémon while out shopping for groceries.
They've got a real bug problem here in Chula Vista…LOL pic.twitter.com/n9873xBGm3

— Aden Andrus (@AdenAndrus) July 20, 2016
This sort of activity can be a great way to build awareness for your business.
To take advantage of this, you could start a referral program that offers incentives to customers for uploading screenshots of Pokémon in your businesses vicinity to social media and tagging your business.
If that isn't getting you enough traction, you can also simply take pictures of Pokémon in or around your business and post them on social media using hashtag #pokemongo to build awareness for your location.
Sponsored Locations
Finally, although in-app ads have not become a part of Pokémon Go yet, ads are coming to Pokémon Go soon in the form of sponsored locations.
Although the exact nature of these sponsored locations hasn't been disclosed yet, advertisers will be charged on a cost per visit basis…so stay tuned!
Since Pokémon Go's parent company, Niantic Labs, worked closely with Google to make Pokémon Go possible, it's likely that when sponsored locations hit Pokémon Go, they may be served through Google.
Google recently introduced Promoted Pins for Google Maps, so there may be some sort of potential synergy between advertising on Pokémon Go and creating Promoted Pins. It will be interesting to see how it all turns out.
Local Customers…Gotta Catch'Em All?
Pokémon Go appeared overnight, but it doesn't look like its going to disappear nearly that fast.
True paid advertising on Pokémon Go is still a ways off, but there are a lot of ways to take advantage of the current Pokémon craze to drive traffic to your brick-and-mortar business. Now is the time to get ready for paid advertising on the app and take advantage of free marketing strategies to attract customers to your business.
Which tips above are you going to use to catch all the potential customers? What other marketing strategies are you using to bring Pokemon Go trainers to your local business?
Leave a comment