How to Market Yourself on Quora Without Getting Your Account Flagged
Marketing
•
Social Media
•
Ana Gotter
September 13, 2017
Quora is one of the largest question and answer sites out there, and it's the perfect place to showcase your expertise on a subject. Not surprisingly, many business owners, thought leaders, and industry experts have created accounts so they can share their knowledge with those who are looking for it while building up their reputation.
This is an excellent strategy, but Quora marketing requires more finesse than other social media platforms that allow for blatant self-promotion.
Many people who try to use Quora for marketing end up getting their accounts flagged and this is mostly due to the fact that they don't fully understand what does and doesn't fall within Quora's guidelines and policies of use.
In this post, I'm going to clear that up for you and show you how to use Quora marketing without getting your account flagged or suspended.
What are the Benefits of Quora Marketing?
With its active user-base of 100+ million users and a steady stream of new traffic via Google Search, Quora can offer businesses massive visibility. These people may be potential customers searching for someone selling your products and services and, as it turns out, Quora answers rank pretty well on Google.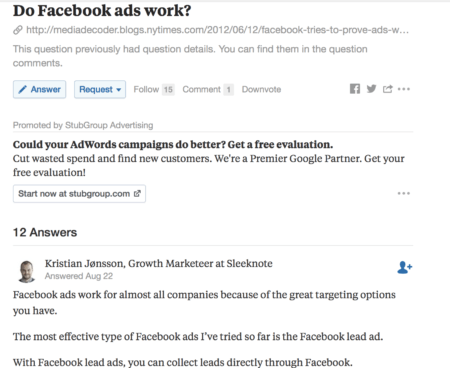 Quora is also one of the highest quality generic question and answer sites. The quality and reliability of the answers on Quora far outranks those on Yahoo answers. This makes it an outstanding platform to add content to—it's one where your answer won't just disappear over time (like answers on other sites).
What Isn't Allowed on Quora?
A lot of businesses see Quora as an opportunity to go in and dump links to their own content in response to answers. They'll typically add a "I wrote this great post on the subject, learn more here!" after providing a quick answer. Very early on in my career, I worked as a content writer for a marketing expert who told me to promote his site with this strategy.
Looking back, it's not one bit surprising I got a private message from Quora within two weeks telling me that I was violating site policies and if I continued my account would be suspended. And yet, this is the trap that a lot of marketers to fall into.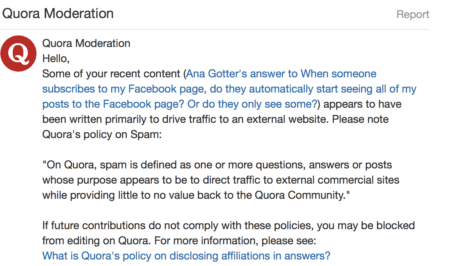 As it turns out, referring people to your content (even if that content is a great answer to the question) goes against Quora policy, but it's the most common trap people fall into on the site.
It doesn't matter if you provide a great answer before dropping your link. Quora is not meant to be used to drive external traffic—it's meant to provide value right then and there.
How to Market Yourself & Your Business Effectively on Quora
So how do you market yourself effectively on Quora if you're unable to share links to your site? There are several steps you can take and the first three should always be used together to get the most out of your Quora marketing. Unsurprisingly, it starts with creating a detailed profile.
1. Create a Strong, Detailed Profile
Your profile on Quora is your time to shine. This is where you can add links to your site and mention every single award you've ever been and business you've started. Your profile information is public, so if users like your answer enough to click to your profile, you want it to be strong enough to get them to your site.

Your profile should contain the following:
A high-quality headshot of you
Your name
A tagline that says exactly what you do
A description that describes your expertise, business and/or professional services. Not only will this help your Quora answers seem more credible, it will help you and your business look good, too.
A link to your site, with CTA-like text of "you can see more/learn more/contact me here"
Any credentials or awards
Areas of expertise
2. Mention Your Experience in Your Answer
While you shouldn't drop links to your external site in your answer, you can still mention your expertise and experience on a subject in said answer.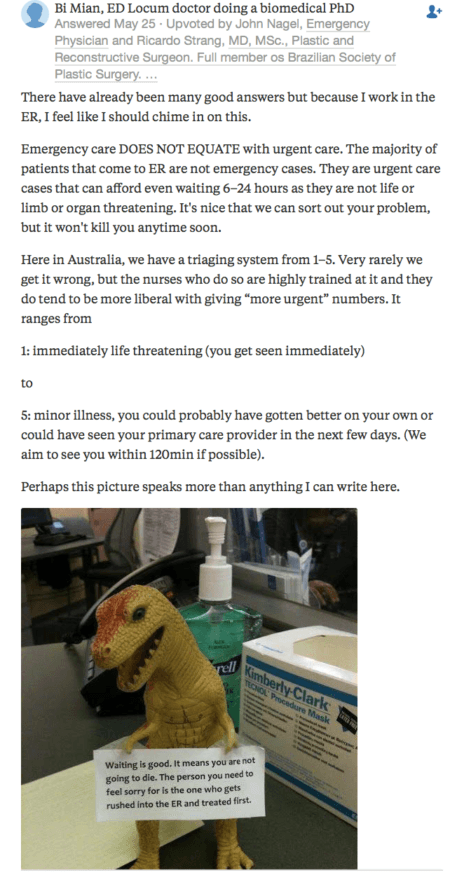 A quick line like "in my 20 years as a lawyer, I've noticed that…" or "As a chef, I…" can immediately help users register your authority on a subject, instantly giving your answer more credibility and weight. This means your answer will get more attention, getting you more upvotes, followers, and clicks to your profile.
3. Provide In-Depth, Helpful Answers
One of the reasons that I love Quora is the incredible answers that a lot of people bring to the table. It's not uncommon to see answers that are five or six paragraphs long, citing research and data while providing complete answers to a question. These answers are outstandingly in-depth and valuable.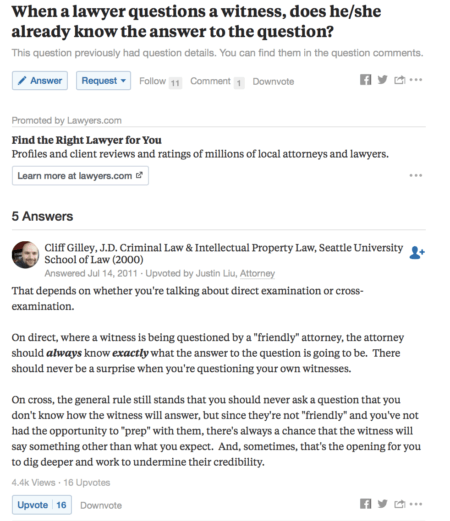 Not only will users upvote them most often, these answers will also pop up most often in Google searches. Both of these results are great for visibility and building a name for yourself.
4. Use Quora Ads
Want to increase your results with Quora marketing and get more external traffic to your site? You can use Quora Ads. Earlier this year, Quora released a self-serve ad platform that works like most other social PPC systems.
Your ad will appear on relevant questions, embedded somewhere between or towards the top of the answers. While the targeting isn't as laser-focused as Facebook's, it's still an excellent opportunity for business promotion.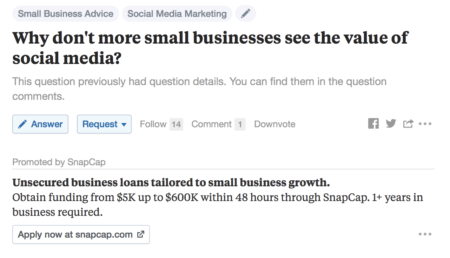 You can read our full guide on how to run Quora Ads here.
Conclusions
Quora is an excellent platform to flex your thought leadership muscles, sharing what you know with people who are actively looking for your expertise. This includes both the person who asked the question and all those who come to read it.
While blatant link sharing can get your account flagged, the white hat methods discussed above will allow you to effectively promote yourself and your business while adhering to Quora's terms of use.
What do you think? Do you use Quora for marketing? How do you promote your business with Quora marketing? Share your thoughts in the comments below!
Leave a comment