A Simple Guide to Identifying Your Niche Market
by Aden Andrus • September 18, 2019
If you're trying to build a business, finding the right niche market can be the difference between success and failure. As a new (or even relatively new) business, it can be hard to compete with big businesses like Amazon, Wal-Mart or even your local grocery store.
But you can do something they can't.
Big businesses have to appeal to big, broad market segments. They have to. They need so much revenue that they can't waste time on little niche markets. They need to invest in things that lots of people want to buy and find ways to appeal to everyone.
Small businesses, on the other hand, don't have to worry about that. They don't have to appeal to everyone—just to enough people to make their business worthwhile. That level of focus allows them to drill down on a small—but profitable—niche market in a way that bigger businesses could never hope to match.
In this article, we're going to take a look at what niche markets are, how they work and how to identify a niche market you can use for your business. Let's get started!
What is a Niche Market?
To put it simply, niche markets are markets inside of other, larger markets. While they are driven by the same general needs as the larger market they're a part of, they have an additional set of needs, priorities or goals that set them apart.
Take teaching supplies for example. On the surface, this seems like a pretty straightforward market, but let's take a look at some of the potential niche markets a business could target here.
General market: teaching supplies (pens, pencils, paper, workbooks, etc)

Specific market: teaching supplies for elementary-school teachers (crayons, grade-specific workbooks, math fact family songs, etc)

Niche market: teaching supplies for elementary-school special education teachers (base ten blocks, noise-canceling headphones, voice-to-text translating devices, large-print workbooks, etc)
As you can see above, even in a fairly simple market like teaching supplies, it's not hard to quickly identify a niche market with very different needs from the general market.
Does an elementary-school special education teacher need pens and paper? Absolutely. But they can get those anywhere. Large-print workbooks designed for children who need direct instruction in basic math concepts, however, are much harder to find.
Can you tell that my wife is a special ed teacher?
A business that specializes in selling to a niche market like elementary special ed teachers doesn't have to worry about competing with big box stores. Wal-Mart won't ever get into that market. But, it's still a big enough market that a smaller business could make decent money.
And that's the power of targeting a niche market. While niche markets might not be big enough for big businesses to bother with, they're still valuable. If you can identify a need in a niche market and target it effectively, you can build a really profitable business.
How Do Niche Markets Work?
Niche markets are a lot like cliques in high school. The high school itself is the general market—everyone is there doing the same basic thing—but the specific goals and priorities of the jocks are going to be very different from those of the goths.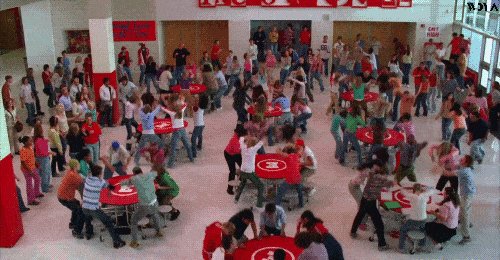 A good orchestra teacher will motivate their class in very different ways from a football coach. They both understand what their students needs and what they'll respond to.
Similarly, a good marketer who understands their niche market is a lot more likely to get people to buy than someone who is trying to market to a general audience. Different niche markets respond better to certain messaging—so the better you understand your market, the more effective your marketing will be.
The other advantage of niche marketing is the fact that they're often hard to identify from the outside. For example, a friend of mine made over a million dollars selling seed banks—tin cans with seeds for planting in the event of a disaster.
From the outside, it's easy to look at that business model and think, There's no way that people would buy that. And most people wouldn't. But most people aren't preppers. Preppers are a niche market that thinks and acts very differently from the rest of the world. So, if you don't know that market, most of the products that appeal to prepares would never even occur to you.
That's good news for you.
Because niche markets are so hard to identify from the outside, if you can figure one out, you can quickly establish yourself as the leader in that niche. In fact, you might not even have any real competition—for a while, at least. The trick is identifying a profitable niche with a need that you can meet.
How to Find a Niche Market
All of this brings us to the tricky part of this whole discussion: identifying a niche market opportunity. Niche markets are basically micro marketing opportunities. You probably won't be able to build the next Amazon from a niche market, but you can run a great, profitable business if you can identify a good niche.
With all of that in mind, there are four basic steps to identifying a new niche market. These steps apply whether you're looking to expand your business into a new niche or start an entirely new business, so let's go over each of them.
1. Identify Your Own Niche
The first key to identifying a niche market is to understand what niche markets you're already a member of. As mentioned above, niche markets can be hard to see from the outside. But, based on your interests, job, family situation and everything else that makes you unique, you are already part of a variety of niche markets.
Take me, for example. I'm a marketer and a writer with good entrepreneurial instincts. That's a niche right there. I also have a strong interest in fantasy and medieval history. There's another niche. I also love travel, photography and graphic design. Look at that…three more niches!
I already know a lot about each of these niches than most people do. For example, I could tell you all about the struggles I run into with travel photography: portability, lighting challenges, subjects who are constantly in motion, etc.
It wouldn't take much for me to identify problems that I've run into that other travel photographers are probably struggling with, too. Those problems are easy niche market opportunities that I could potentially build a business around.
Now, this isn't the only way to identify a niche market, but it's very hard to pick out a niche market from a distance. To make matters worse, niche markets have their own cultures and values, so if you want to engage with a niche market, you have to learn to "speak the language", as it were.
The less you know about a niche market, the harder it will be to identify needs and solutions in that market. And, even if you get that right, you won't know how to speak to people in that niche. So, if you want to get into niche marketing, the best place to get started is in the niches you already know and love.
2. Research Your Niche
Once you've identified a niche you want to target and come up with a few potential ways to serve that market, you need to validate your ideas. It's time to see how businesses are approaching this situation, what options are already being offered and whether or not you can offer real value.
Here are a few ways to evaluate a potential niche or business idea:
Mine Questions and Answers
Good products and services solve problems. People with problems look for answers online, so one of the easiest ways to determine product-market fit is to look at the questions people are asking online.
For that sort of information, Quora is pretty hard to beat. If you haven't tried Quora before, it's a great source of in-depth information on a wide range of topics—what better place to do niche market research?
People ask every question imaginable on Quora and the answers are filled with insights into the whys behind the questions—and the answers. Plus, if you pay attention to the upvotes, comments and view counts, you can get a real feel for which answers people are really resonating with.
There are a lot of other websites where you can read questions and answers, but very few of them offer as many insights into niche markets as Quora.
Read Reviews and Descriptions
Another great place to look for information about your market is the reviews and descriptions of your competitors.
This takes a little more thought than simply reading questions and answers, but reviews and descriptions can tell you a lot about a niche market, what they like and what they're looking for.
For example, if you want to sell a physical product, Amazon is an incredible resource. Reviews—especially the negative ones—can tell you a lot about unmet needs in the marketplace. That can be as simple as poor customer service or as complex as a missing feature that people really, really want.
This tactic works for services or digital products, too. You won't quite have the same wealth of information as you get from Amazon, but you can still learn a ton from the company's reviews.
For example, if you're thinking about creating an online training program, you might start by looking at sites like Udemy or Skillshare. Browse through similar courses on these sites and read through their reviews and testimonials
In addition to telling you about how good the existing options are, this sort of research can also give you a lot of insight into the reason people bought the course. What problem were they trying to solve? How well did they feel like their problem was addressed? Were there any gaps in the content?
Another great place to research online course content is the Kajabi Marketplace. Kajabi is a curated list of online courses, so it's a great place to find the best-of-the-best.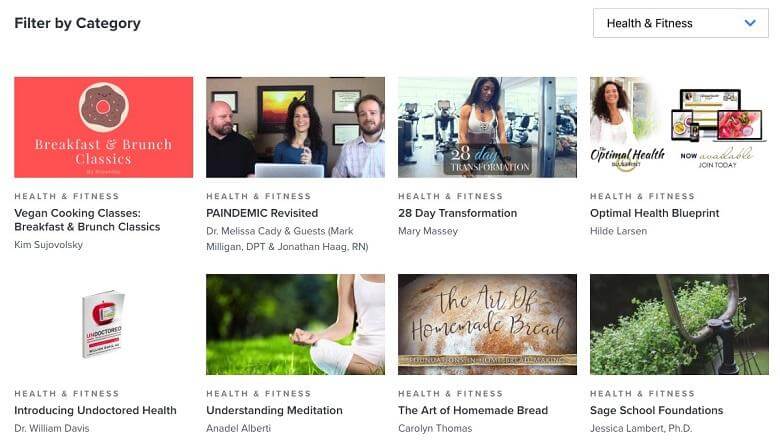 As a quick example, if you click on "Health & Fitness", you find a variety of different courses about exercise, healing, meditation, pain management, etc. This is helpful in and of itself, but it's when you click on a specific course that things get really interesting.
If you were thinking about creating a meditation course, you might check out Anadel Alberti's offer. On his landing page, it quickly becomes clear what sorts of terms his target market cares about.
Remember, the courses on Kajabi are extremely successful, so if the creators of these courses believe that this content is important, it's probably something that resonates well with your target market.
Whether it's Amazon reviews, testimonials or course outlines, if you take the time to read and research what the competition is doing, you can learn a ton about your target market and what they're looking for.
Get Social
For even more insights into what sort of product or service your niche wants, check out social media. People love to express their frustrations on social media, so it's a great way to identify opportunities in the market.
The trick is figuring out how to track down that information.
One easy way to do that is to use a social media monitoring tool like Mention. This will allow you to track public sentiment around your competitors and the conversations people are having about topics related to your idea.
For more information on social listening and different tools you can use to track public sentiment, check out this article.
In addition, you can also look at trend history on sites like Twitter and Google. While this won't give you the same level of insight that you get from reading social media posts, it can be another great way to gauge how big your potential audience is.
Define Your Niche Market
If you've thoroughly researched your niche market and your business concept and it looks like you've uncovered a real opportunity, it's time to create a buyer persona.
Simply put, a buyer persona is a representation of your ideal customers. A fully detailed profile includes everything from demographic information to hobbies, fears and dreams, career and schooling to even family size.
All businesses can benefit from a good set of buyer personas, but buyer personas become particularly important when you're targeting a niche market. After all, niche businesses are hyper-focused on a very specific type of customer, so it pays to know that customer in detail.
For example, if I had done my research and decided to open a coffee shop called "Free People" targeting young, millennial, hipster, socially charged people in San Francisco, my buyer persona might look like this:
Defining your buyer persona ensures that you really understand your niche market. Niche businesses work because they can connect with their customers and meet their needs in a way that bigger companies can't match. If you can't fill out a detailed buyer persona like the one above for your niche market, you aren't ready to get into that market.
Conclusion
These days, with all the gigantic businesses out there, it can be hard for new companies to get started. That's where niche markets come into play.
Niche markets are too small and specific for big businesses to spend time on, but they're perfect for smaller, scrappier companies that really understand their customer base. If you can identify an unmet need in a niche market, you can run a really fun business and make good money.
The only trick is figuring out the right niche market.
Fortunately, by applying the principles we've covered in this article, you should be able to identify and vette a good niche market opportunity. From there, it's up to you to make the most of your target market!
How do you feel about niche marketing? Have you tried it? Any advice you'd like to share? Leave your thoughts in the comments below.