Outbrain Advertising: How It Works
As consumers, we're swamped with advertisements daily. Our feeds and searches and even the emails we receive are so overwhelmed with advertisements that we may not even fully register seeing half of them anymore.
Right now, when users are installing ad blockers at record highs and people are starting to automatically block out ad content, it's more important than ever to ensure that your ad is being shown to the right people in the right place at the right time. Your message needs to be hyper-relevant to them, or you can't expect to see any results.
Outbrain advertising is a platform that can potentially help with this, offering native advertising solutions that are designed to help you expand your reach while delivering relevant content to your target audience.
In this post, we're going to take a close look at what Outbrain advertising is, how it works, and if it's a good fit for your brand to consider testing.
What is Native Advertising?
Before we dive too deep into Outbrain's specific platform, it helps to have a basic understanding of how native advertising works.
Most ads that you see are PPC campaigns, where advertisers bid to have their ad placed in front of users based on triggered searches or in newsfeeds based on the audience demographics, behaviors, and their past relationship with your brand.
Native advertising takes a different approach. Instead, it lists your ad like an article, a newsletter section, or a display ad on specific publications. The idea is to purchase listing space on specific publications so you can line up your ad with the right reader intent and demographics. This ensures that your ad is shown to users who aren't just receptive to it in general, but who are most likely to be receptive to it right now.

When I'm researching information for a financial blog post that I'm writing, for example, I'm not going to take time to click on an ad from a brand that makes homemade pasta. Cooking is a hobby for me, so even if I'd normally click and convert, I'm not in the right mindset. If, however, I saw the same ad when I was browsing recipes on my own downtime, I'd be much more likely to take interest. The focus here is on context, creating seamless ads that are hyper-relevant.
So What Is Outbrain Advertising?
Outbrain is a third-party, independent platform that offers native advertising.
It works by opening up the platform to both advertisers and publishers. Publishers monetize their content by allowing ads to appear on their site in designated areas, which can include in the sidebar, below the content, within the content, or as a banner. When certain actions are taken (which are predetermined and can include a set number of impressions, clicks, or video views), the publisher receives financial compensation.
The advertiser, on the other hand, will pay to drive results from these placements. They'll be able to look for placements that could benefit them, and pay for a specific number of impressions or results. They can use this to increase brand lift, brand awareness, lead generation, and sales. When you advertise through Outbrain, you're paying per click (CPC).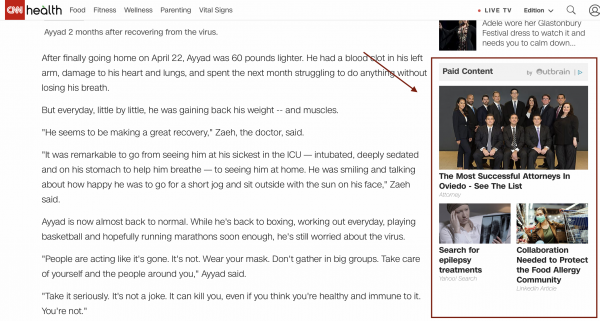 Outbrain advertising is commonly used, and there is an extensive network of high-profile publishers who have ad placements on their site. It's particularly popular amongst media publishers, including CNN, the Guardian, Hearst, and many more.
What are the Benefits of Outbrain Advertising?
Outbrain advertising does come with a number of benefits to consider.
The biggest pros consist of the following:
Costs may be lower than other platforms. Likely because there's a mix of slightly less competition and you aren't fighting over high-intent searches, some brands report lower CPCs on platforms like Outbrain than traditional PPC campaigns on other platforms. A case study with Nissan, for example, saw a 50% lower CPC on Outbrain than other paid channels they were using.
You can reach relevant audiences who are interested in seeing content like yours. This is a benefit to native advertising, and it's one worth considering. People might scroll past your ad on Facebook without thinking twice, but if they're actively reading content on a major news site, they might be in a better mindsight to read the content that you're promoting, too.
More platforms means more potential connections. The ability to reach your audience in more locations online is always an advantage, and these are trusted, high-authority placements that you can appear on. That works in your favor, because it can help with customer trust from the get-go.
You can adjust bids in $0.01 increments. This gives you enormous flexibility, especially considering that some native ad platforms require you to pay a flat fee or to bid in larger increments. You get more control over what you're spending and how.
How Outbrain Advertising Works
To get started with Outbrain advertising, you first need to create an account. You can do this here. You can then start creating your actual campaigns to reach audiences on premium publications.
Creating Your Outbrain Campaign
Once you do this, you can create video and image ads that essentially show up like display ads or suggested content, but that all fit seamlessly into the platform they're featured on.
There are two main types of formats you can choose from here.
The first is going to be their Native Smart Ads, which are going to include an image and text. These are delivered based on context and timing, increasing the likelihood that the user will be receptive to the content when they see it, increasing the likelihood of a click.
Outbrain also offers video content, which is called "Native Outstream Video." These videos can last anywhere from 6 to 120 seconds, giving advertisers an enormous range of flexibility, and they come with great features.
One of those features is sound detection, which looks at competing videos already playing on the page to ensure that you're not creating a negative experience for users and that your video won't be in direct competition with another that's actively playing. Videos are particularly powerful on mobile, but they can be effective on desktop, too.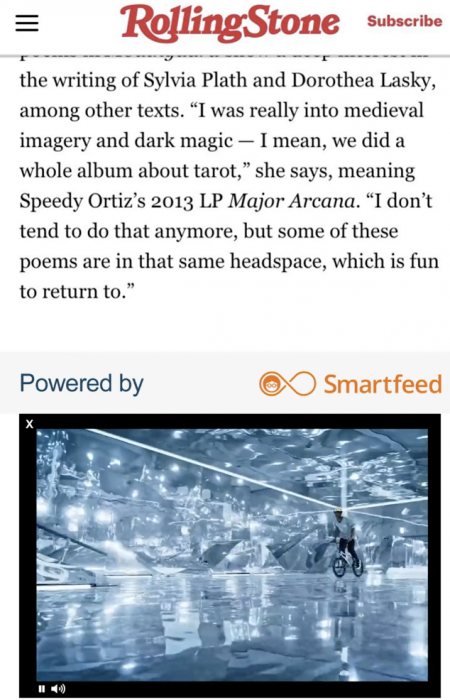 Outbrain Advertising Targeting Options
The audience targeting options on Outbrain advertising are strong, particularly when compared to some of their direct competitors. These include:
Interest targeting. You can reach your target audience based on their interests and what they're reading. Outbrain creates user profiles based on the content that users are actually consuming, not just they've shared or searched for. They look at what users are truly interested in based on their past experiences when choosing who to show a specific ad to.
Lookalike audiences. You can reach users who have similar profiles to your active customers or site visitors, much like you can on Facebook.
Data marketplace targeting. Leverage data from Outbrain's marketplace partners to better connect with your audience. You can either reach new unique cold audiences or reconnect with high-value customers.
Bid strategy targeting. Some audiences cost more than others, so if acquisition cost is a major concern, you can choose this option. It will automatically adjust which audiences are seeing your campaigns while keeping CPA low and conversions as high as possible.
Outbrain Campaign Best Practices
Outbrain has an extensive list of best practices that they recommend using when setting up your campaigns, but there are a few that are most impactful for brands of all sizes.
These are the best practices that, in our experience, are most impactful and most likely to lead to success:
Test out multiple pieces of content at once. We recommend using a minimum of at least five pieces of content to see what your audience is responding to and to hopefully increase repeat site visitors through the platform.
Launch your campaigns early in the week. According to Outbrain, sites within their network typically have the most traffic on Mondays, Tuesdays, and Wednesdays, so this increases the chance of your content being placed and served right away.
Create multiple campaigns as needed. Each audience that's utilizing different targeting should get separate campaigns for maximum results. It's best not to layer targeting here, unlike on other platforms, or you may severely struggle to scale your campaigns.
Pair tablet and desktop together, not tablet and mobile. Even though tablets are technically mobile devices, for this platform, desktop and tablet are actually going to have more similar CTRs.
Bid what you can afford or are comfortable paying. You want to be as competitive as possible with your bids to increase your potential number of placements, especially since Outbrain will optimize your costs down. Even if you're willing to bid $0.50, if it will only cost $0.20, that's what they'll charge. If you are layering targeting options, your bids should absolutely be as competitive as possible to combat potential issues with scalability.
Monitor your campaigns carefully. This is no surprise, because we recommend this for all paid advertising and organic marketing alike. You want to make sure that you're getting results at an affordable cost. If not, you'll want to switch up your campaigns or even try a different platform isntead.
Final Thoughts
If you're looking to drive high-quality traffic to relevant content or landing pages on your site, Outbrain could be a platform to consider. Their affordable CPC prices are appealing, and the ability to have your ad displayed natively and seamlessly on high-authority, well-respected, and well-trusted publications like the BBC shouldn't be ignored.
Outbrain advertising may not be right for all brands, we recommend starting small, testing it out to see how it works for you, and scaling up from there. It should never be your entire PPC or advertising strategy, but it can be a valuable addition.
Wondering which platforms would benefit you most and looking to get started? We can help! Get in touch with us to learn more about the best platforms for your brand.
What do you think? Have you ever used Outbrain advertising, or other types of native advertising? What results did you get, and would you use the platform again? Share your thoughts and questions in the comments below!
Leave a comment