How to Use Keyword Research to Determine Product-Market Fit
by Aden Andrus • August 3, 2019
Which came first? The product? Or the market?
Often, when it comes to business, people tend to focus on what to sell, rather than who they're going to sell it to. It's only natural. After all, if you have a great product or service, there's got to be a market for it, right?
Well, maybe.
Unfortunately, countless businesses have met their end—not because they didn't have a good product—but because either the market wasn't large enough or they didn't understand how to reach the right market.
It's not that starting with your product or service is bad, but if you don't figure out your market early, you may just find yourself selling to an empty room.
With all that in mind, before you launch your next product or service, you may want to vette your idea with a little market research first. In this article, we're going to take a look at a few easy ways to determine your product-market fit that will hopefully help you avoid headaches in the future.
This post was selected as one of the top digital marketing articles of the week by UpCity, a B2B ratings and review company for digital marketing agencies and other marketing service providers.
Researching Your Target Market
Perhaps the easiest way to research your target market is to do a little keyword research.
Now, hear me out. Although keyword research is generally seen as a search engine marketing (SEM) or search engine optimization (SEO) tactic that you can use to improve your marketing, it's actually a great way to scope out a potential market.
After all, if no one is actively searching for terms related to what you want to sell, wouldn't it be better to figure that out before you start selling?
While it's not quite as in-depth as some market research tactics, if you're looking for a quick way to feel out an idea, keyword research is easy, accessible and, best of all, free!
Why keyword research for product-market fit?
For many businesses, SEO and SEM are an afterthought. To rank well, companies bid on keywords or write content that they hope will rank well for relevant searches.
But here's the thing, if there's no relevant search volume, it doesn't matter if you're sitting at #1 on the search engine results page (SERP).
If you want your SEO and SEM efforts to succeed—or any online marketing effort, really—you can't just put together great ads and content. You need an audience and you need to know how to reach that audience.
Product-market fit is one of the first things you should think about before launching a new product or service, and it's something you should be thinking about the whole time you're marketing. Your audience is constantly changing—their needs, goals, and priorities evolve—and your marketing needs to evolve, too.
While this might sound complicated, if you have a product or service that people want and you're staying on top of your market research, it's actually not too hard to adjust to the changing demands of your audience.
Fortunately, keyword research makes all of this easy. Using the techniques in this article, you can stay on top of what your audience wants with very little extra effort.
Determining Product-Market Fit
So, how do you actually use keyword research to determine product-market fit? There are a lot of tactics you can use, both upfront and over time. Let's take a look.
1. Mine Questions and Answers
Good products and services solve problems. People with problems look for answers online, so one of the easiest ways to determine product-market fit is to look at the questions people are asking online.
There are a lot of ways to use online questions to do market research. For example, if you want to visualize search data, you can check out Answer the Public. 
On Answer the Public, all you have to do is enter a topic and the site will give you a visualization of the related questions people are asking online. Best of all, this visualization is really easy to export into another format or tool, so it's a quick, easy way to look at and store search data.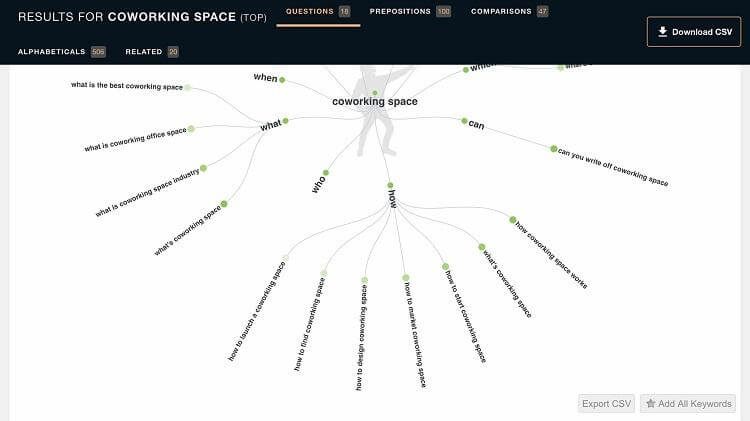 Now that voice search is becoming a major way to discover products and services, Answer the Public is a great way to learn about whether or not what you're considering is something people would even be interested in.
The limitation of Answer the Public, however, is the fact that it primarily deals with online search queries. It doesn't actually tell you a whole lot about how people feel about the available solutions or what they're really after.
For that sort of information, Quora is a fantastic resource. If you haven't tried Quora before, it's a great source of in-depth information on a wide range of topics.
People ask every question imaginable on Quora and the answers are filled with insights into the whys behind the questions—and the answers.
Quora won't give the same sort of hard numbers that you'll get from Answer the Public, but it will give you a much better feel for the motivations behind the data. Plus, if you pay attention to the upvotes, comments and view counts, you can get a real feel for which answers people are really resonating with.
2. Reviews and Descriptions
Another great place to look for information about your market is the reviews and descriptions of your competitors.
This takes a little more thought than simply reading questions and answers, but reviews and descriptions can tell you a lot about your target market, what they like and what they're looking for.
For example, if you want to sell a physical product, Amazon is an incredible resource. Reviews—especially the negative ones—can tell you a lot about unmet needs in the marketplace. That can be as simple as poor customer service or as complex as a missing feature that people really, really want.
This tactic works for services or digital products, too. You won't quite have the same wealth of information as you get from Amazon, but you can still learn a ton from the company's reviews.
For example, if you're thinking about creating an online training program, you might start by looking at sites like Udemy or Skillshare. Browse through similar courses on these sites and read through their reviews and testimonials.
In addition to telling you about how good the existing options are, this sort of research can also give you a lot of insight into the reason people bought the course. What problem were they trying to solve? How well did they feel like their problem was addressed? Were there any gaps in the content?
Another great place to research online course content is the Kajabi Marketplace. Kajabi is a curated list of online courses, so it's a great place to find the best-of-the-best.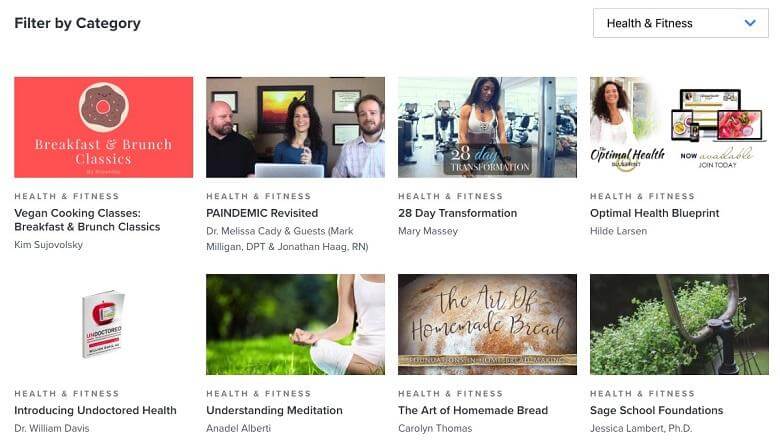 As a quick example, if you click on "Health & Fitness", you find a variety of different courses about exercise, healing, meditation, pain management, etc. This is helpful in and of itself, but it's when you click on a specific course that things get really interesting.
If you were thinking about creating a meditation course, you might check out Anadel Alberti's offer. On his landing page, it quickly becomes clear what sorts of terms his target market cares about.
Remember, the courses on Kajabi are extremely successful, so if the creators of these courses believe that this content is important, it's probably something that resonates well with your target market.
Whether it's Amazon reviews, testimonials or course outlines, if you take the time to read and research what the competition is doing, you can learn a ton about your target market and what they're looking for.
3. Traditional Keyword Research Tools
In addition to these keyword research hacks, there are a lot of classic keyword research tools out there that you can use to determine product-market fit.
The right tool for the job, of course, depends on where you're at in your business.
If you're still in the ideation stage, tools like the Google Keyword Planner or Moz's Keyword Explorer are a great way to get keyword ideas. Often, tools like these can help you take a core idea (your main keyword) and refine it using their suggested keywords.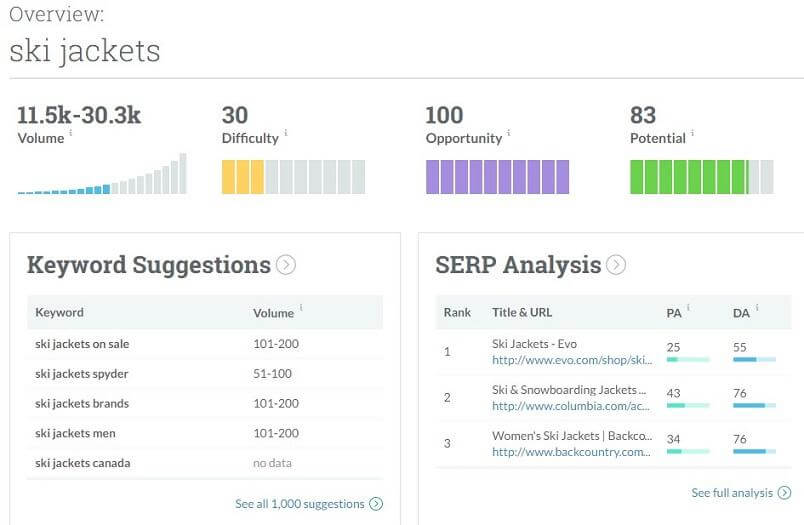 Not only can this sort of information can help you learn a lot about how much search volume different types of products or services get, but it can also inspire you with new ideas that may be less saturated—but serve a large enough market to be worth going after.
Later on, when you're settled on a product or service, you can use these tools to validate your concept by creating a pre-launch landing page. Unlike a normal landing page, a pre-launch landing page is designed to capture interest in a upcoming product or service.
With a page like this, you can use your keyword research to identify high intent keywords and then run a quick PPC campaign directing traffic to your pre-launch landing page. If you get a good response on this campaign, you're probably on to something.
4. Social Listening
Finally, if you're looking for even more insights into what sort of product or service people want, check out social media. People love to express their frustrations on social media, so it's a great way to identify opportunities in the market.
The trick is figuring out how to track down that information.
One easy way to do that is to use a social media monitoring tool like Mention. This will allow you to track public sentiment around your competitors and the conversations people are having about topics related to your idea.
For more information on social listening and different tools you can use to track public sentiment, check out this article.
In addition, you can also look at trend history on sites like Twitter and Google. While this won't give you the same level of insight that you get from reading social media posts, it can be another great way to gauge how big your potential audience is.
Find Your Product-Market Fit
Identifying the right product-market fit in advance can save you a ton of time, money and heartache. But, even after you've identified the right product or service and the market you want to sell it to, it's still important to stay on top of your target market.
People and markets change quickly, after all.
Understanding your product-market fit is the key to effective marketing. And, using the keyword research tools discussed in this article, you'll be well on your way to picking the right product or service for your market.
How do you determine product-market fit? Have you ever tried keyword research before you nail down your product or service? Leave your thoughts in the comments below.