6 Secrets to Driving Leads Online that You Need to Know
Are you trying to grow your business and gain new customers? Or at least ensuring that you're attracting enough new potential clients to combat the natural churn rates that all businesses have so that you can prevent decline?
If the answer to either scenario is "yes," then you need a new lead generation strategies.
Lead generation sounds easy enough, but some businesses will create an incredible, 20-page eBook or host a webinar with a big-name influencer and still struggle to actually convert leads as they'd expected.
An exceptional lead generational campaign needs more than just a great lead magnet—it needs to be creative, strategic, and well-executed from beginning to end. In this post, we're going to take a look at the 6 secrets to driving leads online that you need to consider when planning your next campaign.
1. Focus On Need Instead of Familiarity
I've had clients come to me, wanting me to create lead magnets for them, and they'll say "I know we can write ten good pages on this."
By that, they meant they knew there were ten pages of content for me to write up. Focusing on length exclusively meant that they were looking at quantity instead of quality, relevance, and need.
Your lead magnets, first and foremost, should be filling a need that your audience has. Whether you're offering a free thirty-minute consultation, access to a free app that can help them plan out a project, or a checklist of how to accomplish a major task, the lead magnet should always be created with your audience in mind. If it's of no value to them and doesn't help them in any way with what they need, after all, they'll have no need to download it.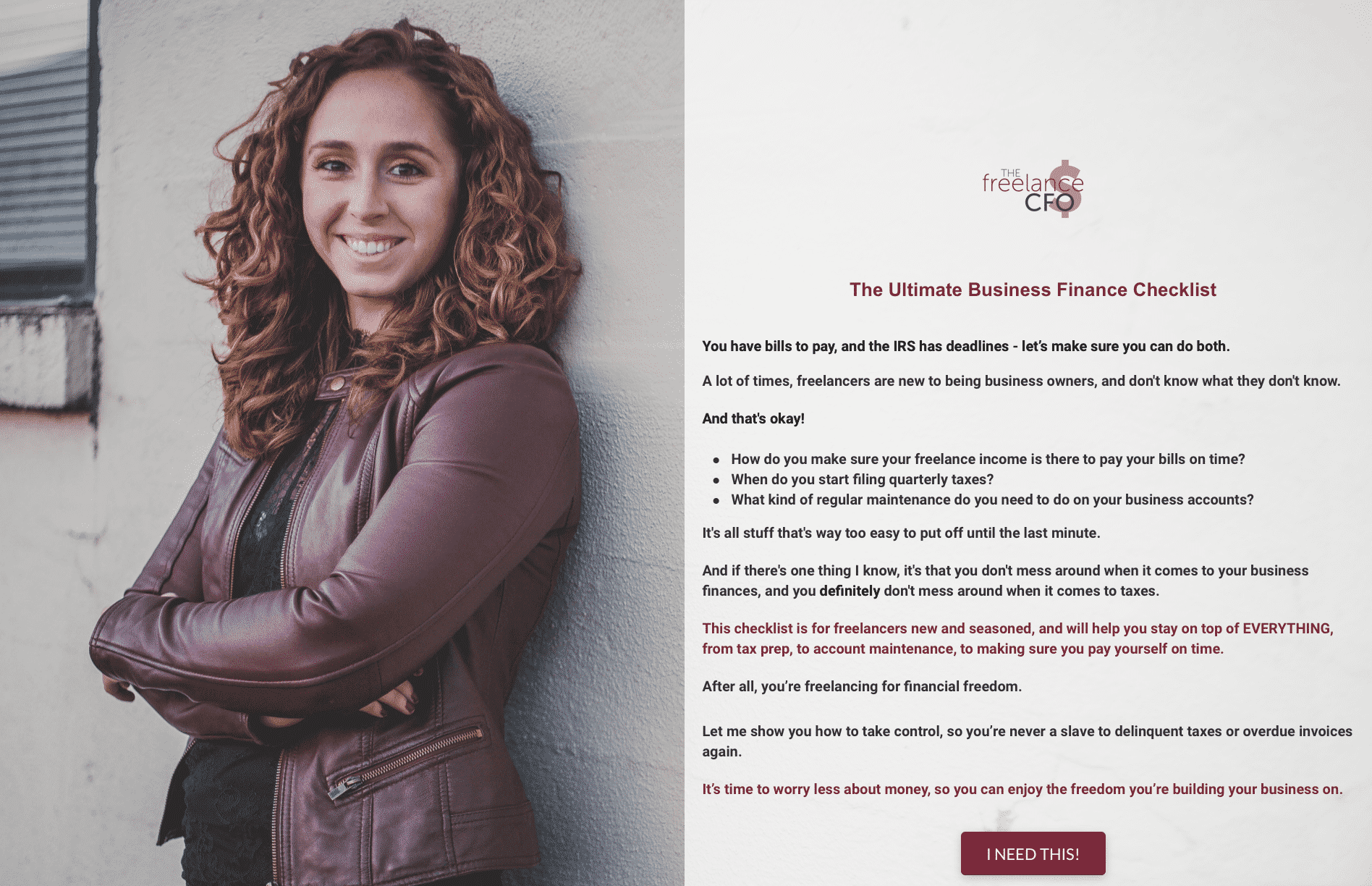 That word "need" is crucial, because relevance alone isn't enough. Let's say an accounting agency tried to get my attention. If they released a lead magnet about general tax information for freelancers, maybe it would appeal to me, but maybe not. I likely already had that info in my first few years. If, however, they released a guide about how the new tax laws would affect my business or a checklist to prepare for tax time, they'd have my attention.
2. Highlight Its Value
Many lead magnets are going to be listed on a landing page, and there will also be plenty of promotional materials in the form of emails, social media posts, or even PPC ads designed to send users straight there. In all of this content, make sure you're stressing the value of what you have to offer and how it will impact your target audience.
If, for example, you're releasing an exclusive case study about how certain office setups are more energy efficient than others, make sure you tell them why it matters to them. Don't just say "Do you know how to save energy in your office?" Instead, opt for "You can save 20% on your monthly power bill with a few small changes, and we'll show you how."
When in doubt, break down exactly what your lead magnet can help within a bullet list on that landing page. Agorapulse does this in the example below: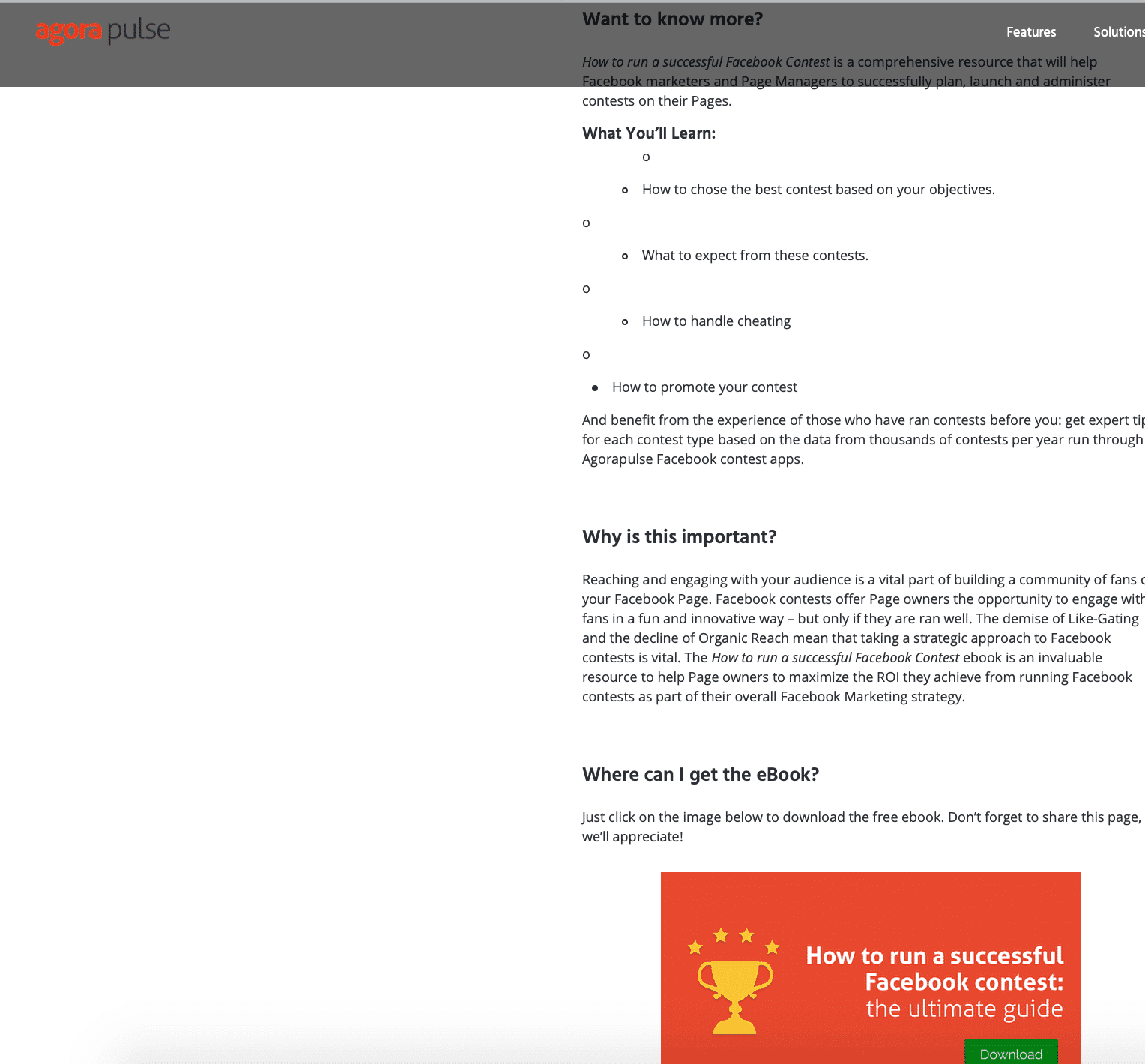 3. Use Clickable, Noticeable CTAs
Want people to click through your funnel or on your landing page to actually become a qualified lead? Whether that happens by them filling out a form for a webinar signup or to get in touch for a consultation, most landing pages will have them click somewhere. And your best bet of having that happen is by using obvious and clickable CTA buttons.
Clickable CTA buttons are a given. They're more easily noticed than your standard hyperlinked text, and they look more credible. Both factors will lead to an increase in clicks, and Copyblogger even found that using CTA buttons will lead to a 45% increase in clicks as opposed to those who used a basic link.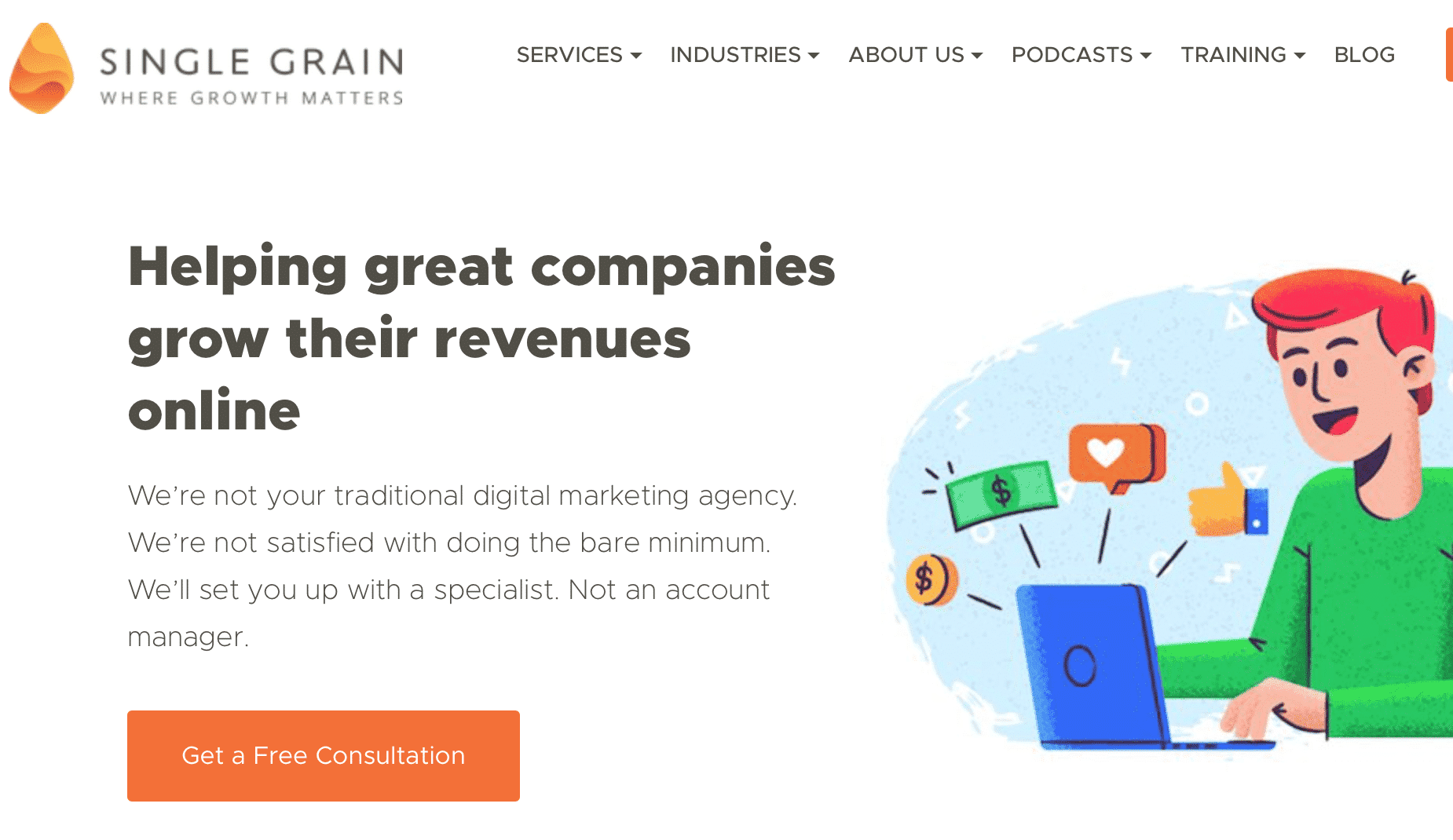 For best results, go ahead and opt for a CTA button that contrasts with its environment, and then uses contrasting, simple text. This is a winning combination that's sure to draw the eye straight to you.
4. Have Fast, Easy Lead Forms
If it's not as easy as humanly possible for your leads to convert, they won't in at least 80% of cases, even if the lead magnet you're offering is really, really good. 
Convenience is going to be key if you actually want to drive leads online. Get all the information that you need to start to qualify a lead, but don't think that you'll get everything up front from a single preliminary form and never need to handle client intake ever again.
Instead, make sure the form can be filled out quickly, and preferably with autofill. Here's what it's safe to ask for:
First and last name
Email
Business name (if a B2B company)
One qualifying question, like "What services are you interested in?"
You can also leave open a field where people can enter in additional information or ask further questions, but this is about the most you'll get away with.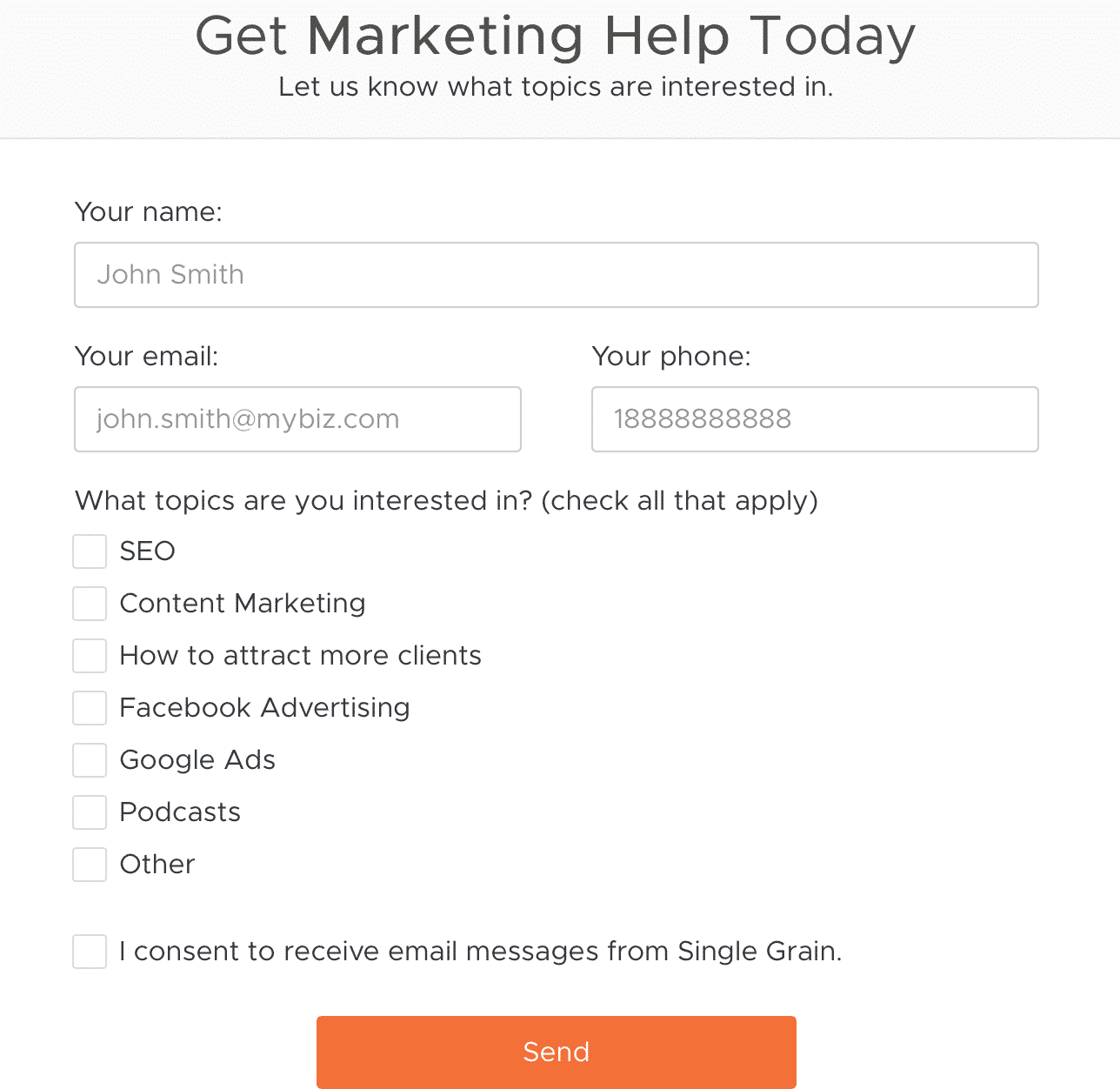 Even asking for a phone number is risky—one study found that there was a 48% decrease in lead conversions if a phone number field was added. The same study found that eliminating three fields of questions increased conversions by 11% and that when Neil Patel removed a "revenue" field from his form, his conversions went up by 26%. This shows that users are not willing to doll out personal information to get something for free, and you'll be the one missing out if you try to make them.
5. Use PPC to Reach Your Audience Where They Are
Creating a great lead magnet isn't enough—you need to have a strong promotional plan in place to get it out into the world if you want it to do its job. PPC campaigns and outbound marketing are typically going to be a good place to start because they can give you enormous reach very quickly and get your lead magnet in front of people who have never heard of you before.
Facebook Ads, Twitter Ads, LinkedIn Ads, and Google's Display Ads are typically great choices for getting your lead magnet in front of users who don't know that they need your information. Facebook's lead ads are particularly helpful, as they have mobile-friendly, auto-fill lead forms users can submit without ever leaving the app.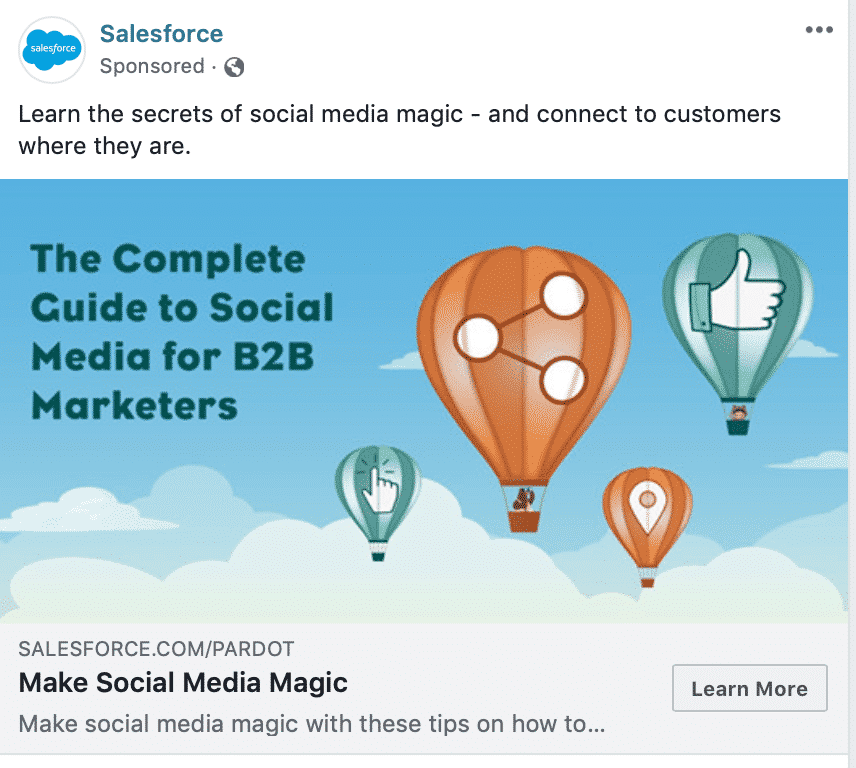 You can also run Google and Bing's search ads, promoting your lead magnet as a solution for relevant searches. If you have a personal training business, you could create a workout plan for the keywords "how to get toned fast" or "how to get bulkier arms," and then pop up in searches easily—no one else is currently targeting those keywords, and hitting these high-intent users with a free workout plan would be a great choice.
6. Use Inbound Marketing to Make Sure They Can Find You
PPC outbound strategies are an excellent start, but you also want to make sure that people can find you if they're looking instead of exclusively going out to find them.
Organic, SEO-friendly strategies are going to be a good way to go, especially as you start focusing on more long tail keywords (think "how to get toned arms" instead of just "workout routine"). These keywords are much more specific and are higher intent, but typically have a little lower competition, making them a great choice for SEO potential.
Create blog posts designed to get users into your lead funnel. If you have a lead magnet for toned arms, for example, you could write a series of relevant blog posts that all link to that lead magnet, like "What to Eat Before a Workout" and "How Often Do I Need to Workout to Get Results?"
You can also create YouTube videos targeting similar keywords, reaching an audience you likely wouldn't have connected with otherwise. All of these posts and videos should funnel users to that relevant lead magnet and hopefully increase conversions while keeping your acquisition costs down.
Conclusion
Your business can't grow—or survive—without new customers coming in the door, so it's essential to have lead generation campaigns in place.
Ideally, some of these campaigns will be relatively evergreen. Options like ebooks, checklists, guides, and even webinar replays can all be uploaded online and live there relatively permanently to continue to attract leads without substantial additional work on your part if any. This frees you up to create additional lead magnets that might appeal to different audience niches, and maximize the potential of each one that you create.
Looking for some assistance in driving leads online for your business? We can help! Send us a message and learn more about what we can do for you.
What do you think? What lead generation secrets do you use to knock your campaigns out of the park? Which ones yield the most results? Share your thoughts and questions in the comments below! 
Leave a comment