How to Save Your Online Marketing Budget When the Internet Collapses
by Allison Otting • March 1, 2017
If you work in online marketing, then you probably noticed a bit of a kerfuffle yesterday. Amazon's web servers went down.
A lot of people hearing that would probably ask, what's the big deal? Unless you needed to pre-order Lorde's new album on Amazon, you should be fine, right?
WELL, it happens that a lot of services use Amazon's web hosting, leaving a huge chunk of the internet closed for business.
With Amazon S3 down, we are all old man yelling at Cloud. #awsoutage #awscloud #amazons3 pic.twitter.com/jU2yRXc0Iv

— Josiesque Designs (@josiesquedesign) February 28, 2017
Services like Netflix, Reddit, Trello, Quora, Expedia, Slack, Mailchimp, Teamwork, GIPHY and thousands of others were affected by the outage. Even isitdownrightnow.com was unavailable, leaving people to wonder: what sites were left?
Platforms like Google and Facebook were still available, so ads were still getting clicks. But there was just one problem, with Amazon's servers down, those clicks had nowhere to go.
There's no doubt that hundreds of thousands of dollars—if not millions—of PPC ad spend was wasted yesterday from traffic being forwarded to broken sites. We saw a lot of quick thinking at the Disruptive office today, so we wanted to share how we approached the latest internet apocalypse.
1. Investigate how it affects you—quickly.
Is your PPC campaign running? Well, you better go catch it.
In all seriousness, when the internet breaks, it's important to immediately check where your paid traffic is being directed. Not only do you need to double check that your site is working, but you also need to make sure that the integrations and services you're using are all in tip-top shape.
Even if your homepage is running like a dream, HubSpot could be on fire and devouring all your "hot" leads with their melting server.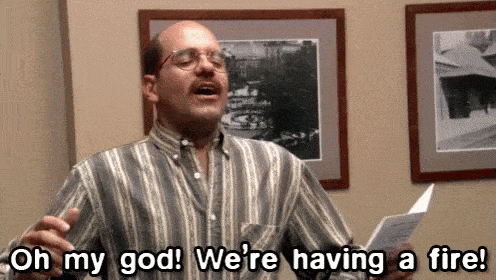 You'll also want to check your queued up social media posts so you don't look like a doofus, but that can happen later. If you're directing paid traffic to a broken link, you are throwing money away. You can always salvage your reputation after you check your campaigns.
If this process is going to take longer than 5 minutes, I suggest that you dive right into step two and come back to this later.
2. Pause your ad campaigns
The best way to save money is to shut off your campaigns. With a broken sales funnel, your campaigns are doing you zero good. It's important to stop your ads running as quickly as possible. You can always turn them back on if everything is okay, or if peace and order in the internet has been restored.
If you're a server company on the other hand…maybe you should consider turning your budget up and write some killer ads about your uptime record.
3. Contact the people who are most affected
Whether you need to talk to your boss, sales guys, or clients—it's important to immediately let everyone know what has happened. You'll be in a much better position if you're the one raising the alarm rather than the one playing catchup on the .
The quicker you are about letting people know, the more of top of things you appear.
4. Stay up-to-date
One of the biggest punches to our business yesterday was the fact that almost all of our landing pages were down. We use Unbounce to host our pages, and they were unfortunately affected by the outage.
We were able to take care of our campaigns quickly, but it was important that we understood how things were progressing and when we'd be able to set everything live again. Here's a couple ways we stayed abreast of what was happening with the Amazon servers.
Twitter – Unbounce's customer support team is super active on Twitter, so we were able get consistent updates on how things were progressing.
Status pages – Most sites have a status page telling you what part of their services are functioning, and what's currently down. Unbounce's refreshed every minute or so, making it easy to keep open in a separate window while I worked on other things.
Text messages – I'm the unofficial Unbounce rep in our office, so I get barraged with questions and frustrations when the occasional outage happens. I ended up signing up for their status text message updates so that I could know what was happening before my desk was surrounded.
RSS feed hacks – If you use Slack or any other service that can work well with an RSS feed, this is probably the way to go! We have a Slack channel where an RSS bot posts updates on Unbounce's status. This will ensure that you and your company are also the first to know about any outages that might affect you. Plus, it's super simple to set up.
It's best to prepare for these situations as much as you can in advance, so find ways to track the status of the services you rely on!
Hopefully you'll be able to survive your next internet apocalypse without too much damage to your budget and ego. Let me know in the comments about your outage horror stories! Or, maybe tell me how many games of solitaire you were able to play while you waited for everything to come back online. 🙂