Disruptive Ranked Top PPC Service & Digital Marketing Agency
by Jacob Baadsgaard • June 27, 2019
Whether it be search engine optimization, pay per click, content marketing, social media marketing, or email marketing, digital marketing is central to a company's online success. So how do you decide which is the right marketing strategy for your business?
No need to look any further to find the right digital marketing partner for your business. We at Disruptive Advertising create digital content which catches the customer's eye and creates a lasting impression.
We have over 100 client reviews on Clutch to prove our success! We don't need fluff to prove our worth, we have real reviews which show real results. And, in this article, we wanted to share a couple of those reviews and say thanks to our amazing clients for leaving us reviews and helping us become one of the top PPC services in the world!
Escape Room Company
Our most recent review on Clutch is from an Escape Room Company which we helped with Google Ad Management. We tested ads with audiences, monitored competition, and sent cookies to users to encourage future engagement!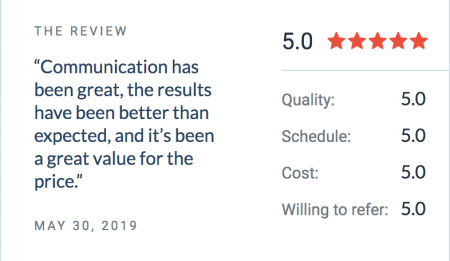 This client said that our services have pushed them to the top of Google listings and have greatly increased conversion rates, making for an excellent return on investment!
"We show up as the first name in Google searches at double or triple the rate of our competition. Conversions have far exceeded our goals—almost triple what we set up as our first goal."
– Owner, Escape Room Company
That's high praise indeed, and we're very grateful that we've been able to help this client get the results they need for their business.
Dental Practice
Another of our clients is a dental practice that we've helped with online strategy—we coordinated paid advertising campaigns, identified current trends in the industry and helped the practice get new patients.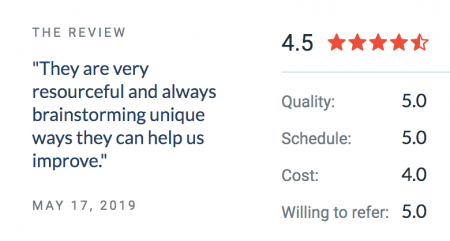 With our help, their online search ranking has improved and they've gotten new patients! These case studies are just two of dozens of our reviews on Clutch, to see more, click here to check out our full profile on Clutch!
As the owner and CEO of Disruptive Advertising, it's so gratifying to see the difference we are making for our clients. Great reviews like these really help motivate us to keep working hard and delivering great results.
Also Seen On
In addition to Clutch, our work has been featured on The Manifest, a platform for business news and tips which has also ranked us as one of the top digital marketing companies in Salt Lake City!
We have also been featured on Visual Objects, a site for creative design firms which has posted our portfolio items.
Again, we really appreciate the loyal customers who have helped us become the company we are today! We are so happy we have provided such excellent service to such excellent clients. We wouldn't be who we are without you.
By the way, if you are curious about what kind of digital marketing strategies we can provide to you or your business, reach out to us here or in the comments. We'd love to make your business our next success story!