What is Cost-Per-Action? Putting CPA to Work for You
by Aden Andrus • January 31, 2018
Cost-per-action (CPA) advertising isn't the most common form of online advertising, but it can be a great way to grow your business. In this article, we'll take a look at what cost-per-action advertising is, how to use it and what you can do to make the most of your own CPA campaigns.
What is Cost-Per-Action Advertising?
Online advertising hosts charge their customers in a variety of different ways. Pay-per-click (PPC)—where you pay every time someone clicks on your ad—is the most common model, but advertising platforms also use CPM (cost per thousand impressions) and cost-per-action models as well.
With cost-per-action advertising, you only pay when someone does takes an action that you want after they click on your ad. So, if 5,000 people click on your ad and only 4 of them actually do what you want them to do (aka, "convert"), you only pay for the 4 conversions.
As you can probably imagine, there are a lot of different actions you might be willing to pay for on your site (signing up for a free trial, submitting a lead form or making a purchase are some of the most common actions you pay for in CPA advertising). Some of these actions lead directly to sales, while others simply get people into your marketing funnel.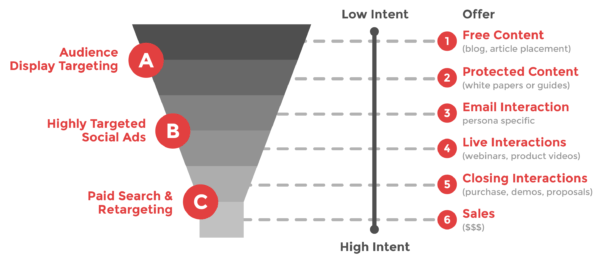 Each action is usually worth a different amount, so with cost-per-action advertising, you usually agree with a host to pay a certain fee for a given action. You might pay less for an eBook download and a lot for a new lead.
Cost-per-action is also referred to as cost-per-acquisition, pay-per-action (PPA) or performance-based advertising. Since a good CPA bidding strategy usually requires a lot of conversions to optimize, most small-to-medium businesses use the cost-per-click model to run their campaigns, but cost-per-action can be a good option if you have the conversion volume.
The Benefits of Cost-Per-Action
The great thing about cost-per-action is that you only pay when someone actually converts. That's usually a lot more interesting than paying for impressions or clicks, which may or may not produce value for your business.
For example, a couple of years ago, I promoted a blog post on Facebook entitled "How to Spice Up Your Love Life With Google AdWords".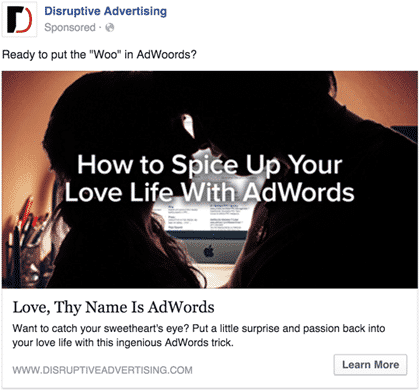 After promoting quite a few posts on Facebook, I had identified what I thought was a fairly good target audience. However, when I promoted this post to that audience, my conversion rate went down.
At first, I couldn't figure out what was going on. I was getting a ton of clicks, but the same number of conversions. So, I dove into the details and discovered that most of my extra clicks were coming from 55+ year old women.

Now, as a digital marketing agency, we don't typically get a ton of clicks from pentagenarian women, but apparently they were resonating with the whole "Spice Up Your Love Life" angle.
Once I tweaked the targeting to exclude the 55+ age group, my overall click-through-rate dropped some, but my conversion rate went back to normal.
Unfortunately, since we were using a CPC model, we ended up paying for everyone one of those post-menopausal women who clicked on the ad. Using a cost-per-action model could have prevented us from wasting a lot of money on the wrong clicks.
The Problem with Cost-Per-Action
While paying for every action may seem like a great way to go, it does have it's disadvantages. Even if you have enough conversions to run an effective CPA campaign, you still might not be able to run a profitable CPA campaign if your conversion actions aren't regularly turning into sales.
For example, a year or so ago, we were using paid search to drive leads for a client. We thought we were doing a pretty good job, but the client came to us and told us that their campaigns weren't working.
To be honest, this came as a surprise.
We had a lot of experience in this particular industry, so we knew our campaigns were driving a lot of high-quality leads. In fact, from a marketing perspective, our campaigns were a hands-down success! We were sending hundreds of high-intent leads to their sales team at a great cost-per-action.
In our experience, they should have been closing at least 10% of these leads…but they weren't. As it turned out, they were only closing 1% of their paid search leads.
The cost-per-action made a lot of sense, but the cost-per-sale didn't. Ultimately, the client couldn't figure out how to turn their leads into sales at a profitable rate, so they had to give up on cost-per-action advertising.
Using Cost-Per-Action
There are a couple of different ways to use cost-per-action advertising.
1. Conventional CPA Advertising
If your site or landing page has a strong, reliable track record of converting traffic, some hosts and publishers will negotiate a specific cost-per-action with you.
For example, Google has a CPA advertising program you can use to place your ads on Google's affiliate websites. To qualify, however, you have to prove that your website attracts the right audience, generates enough conversions and is a reliable source of income for your business.
Other networks like LinkShare, PeerFly, and Affiliate.com have their own criteria you'll need to meet if you want to use their CPA services. Individual companies and sites usually offer less reach, but they are often more flexible about who they accept and what they charge per action.
2. Target CPA
The other, less conventional way to use cost-per-action in your advertising is to use one of the cost-per-action bidding options advertising platforms like Facebook or AdWords offer.
Although you don't negotiate a specific cost-per-action that you pay, these advertising platforms have sophisticated algorithms that can figure out which clicks are more likely to produce conversions and increase your bids (and thus the likelihood of your ads being seen and clicked) for searches or users that are more likely to convert.
Technically, you pay-per-click, but you do set a target CPA and the platform uses its algorithm to try and generate actions at your target price. This CPA bidding model doesn't exactly fit the classic definition of cost-per-action, but it can be a good option if you're interested in a target CPA but don't think that the standard CPA advertising model is right for your business.
Figuring Out the Right CPA
How much you're willing to spend on a particular action is very specific to your business and the action you're trying to produce. Whether you're negotiating a price with a publisher or picking a target CPA on AdWords, it's a good idea to do some homework before you start spending money.
If you're already advertising using a PPC or CPM model, you can use your existing data to figure out how much you are currently paying for an action and then use that information to determine your target CPA. Of course, you'll want to make sure that those conversions are actually turning into profitable sales, but if your campaigns are already profitable, they're probably a good starting place.
The whole point of running a cost-per-action campaign is to decrease your CPA (and increase your profitability), so if you know what your current CPA is, it's usually a good idea to negotiate or pick a target CPA that's lower than what you're currently paying.
Improving Your Cost Per Action
Even if your cost-per-action campaigns are delivering profitable results, it's still a good idea to continue running PPC or CPM campaigns. You have a lot more control over how much you pay for an action with these campaigns and if you have a breakthrough that dramatically improves your results, you may want to renegotiate your CPA with a publisher or scrap the campaign altogether.
Alternatively, you may find that certain products, services or even ads do better on one platform or another, which is another good reason to continually optimize all of your marketing campaigns. Having a profitable CPA is great, but if you can increase the number of actions by changing up your ads or what you're offering, that can be a huge win for your company!
Conclusion
If you set it up and use it right, cost-per-action can be a great way to reliably bring new potential customers into your marketing funnel. Unlike PPC or CPM, with CPA, you pay for actions that actually move people towards making a purchase—that's almost always a good investment.
Incidentally, if you're thinking about launching a cost-per-action campaign and want some specific advice, let me know here or in the comments. I'd love to help!
What do you think of cost-per-action? Is it a good way to advertise online? What has your experience with CPA advertising been like?